To Subscribe click here
To Unsubscribe click here
---

Volume 2, Issue 1


---

---

February 28, 2002


---
[EDITOR'S CORNER] [UPCOMING EVENTS] [CHAPTER UPDATE] [DISASTER RELIEF UPDATE] [AUNT BEE'S RECIPE FILE] [MISS CRUMP'S QUIZZES] [WEAVER'S DEPARTMENT STORE] [CHAPTER NEWS] [NEWS OF CAST AND CREW] [CLOSING]
*********************************************
The eBullet
Online newsletter of
"The Andy Griffith Show" Rerun Watchers Club
Volume 2, Issue 1 February 28, 2002
*********************************************


**** EDITOR'S CORNER ****
Welcome to the fifth issue of "The eBullet," an online newsletter of "The Andy Griffith Show" Rerun Watchers Club (TAGSRWC). We're a bit late coming out with this February issue because we were waiting on the "official verification" about critical parts of some of the upcoming Mayberry events. (We figure that the information was worth stopping our virtual "presses" for-just to make sure that "eBullet" readers got the full info as soon as it became available.
Here's this month's news.

**** UPCOMING EVENTS ****
Check the Event Calendar for a complete rundown by going to the "Event Calendar" link at http://tagsrwc.com/. Several big events ("BIG-big") with cast members are in the works for this year.
Here are current and upcoming events that have been confirmed so far for 2002:
Now showing: "A Beautiful Mind," Ron Howard's latest film as director, is now in theaters nationwide and is receiving universal praise and several important awards, including a Best Picture win at the Golden Globes and a Directors Guild of America nomination for Ron. Among the movie's Oscar nominations are Best Picture and Best Director.
Mar. 9 and 10: David Browning is cast as the Mayberry Deputy at the Annual Spring Classic event at the Bass Pro Shops Outdoor World in Concord, N.C.
Mar. 9-24: Elizabeth MacRae plays the role of Rosemary the schoolteacher in a production of "Picnic" at the Cape Fear Regional Theater in her hometown of Fayetteville, N.C. Performances are Wed. to Saturday, mostly evenings with some matinees as well. The theater is located at 1209 Hay Street. For tickets or more info, call (910) 323-4233. It should be a really interesting role for Elizabeth and a wonderful show for the lucky audiences!
Mar. 10: "Inside the Actors Studio: Ron Howard" on Bravo Channel, 5 p.m. ET/2 p.m. PT
Mar. 11: Tickets go on sale for the June 28th "Tribute to Mayberry" show in Pigeon Forge, Tenn. See the calendar listing below for details.
Mar. 13: David Browning appears as the Mayberry Deputy at the grand opening of the Super Wal-Mart in Laurinburg, N.C.
Mar. 14: Tickets go on sale for the July 19 and 20th "Mayberry in the Midwest" event in New Castle, Ind. See the calendar listing below for details.
Mar. 15: David Browning emcees, "Mayberry Musikal," a benefit show, at 7 p.m., at First Redeemer Church, 2135 Old Alpharetta Road, in Cumming, Ga. Tickets are $10 in advance and $12 at the door. Children under 12 are free. Call for more info or tickets at 770-889-8302
Mar. 16: George Lindsey will be inducted into the Alabama Stage and Screen Hall of Fame in Tuscaloosa, Ala. Composer/pianist Hugh Martin and actor Dean Jones also will be inducted. Tickets to the black-tie event may be purchased by calling (205) 391-2277. (Members of several TAGSRWC chapters are making plans to attend.)
Mar. 21: David Browning revs up for the Food City Family Race Night in Kingsport, Tenn.
Mar. 23: Don Knotts will participate in the "1st 13th Annual Fancy Anvil Award Show Program Special…Live…in Stereo" on the Cartoon Network, at 7 PM ET & PT. His pre-taped appearance will be part of an all-star tribute to Scooby-Doo with the Lifetime Achievement Award.
Mar 23-24: David Browning appears as the Mayberry Deputy at the Bristol Motor Speedway NASCAR weekend in Bristol, Tenn.
Apr. 6 and 7: Hollywood Collectors Show at the Beverly Garland Holiday Inn in North Hollywood, Calif. For more info, visit the event's Web site at http://www.hollywoodcollectorshow.com/. There are usually several Mayberry stars at this show.

George Lindsey at Wally's Service in Mt. Airy, NC
Apr. 7: George Lindsey and James Best are featured in the Travel Channel's "TV Road Trip" special at 9 p.m. ET/PT. The show visits the "real" locations of favorite TV shows. George is featured in the Mayberry portion of the show, which was taped mostly in Mount Airy. (Also look for Snappy Lunch's Charles Dowell and Floyd's Barber Shop's Russell Hiatt and other familiar faces in the segment.) James Best appears in the "Dukes of Hazzard" segment. Other shows featured in major segments are "Batman," "Superman," "Dallas," "Seinfeld," "The Brady Bunch," and "The Waltons." See the iMayberry.com's review of this upcoming special by going to the TAGSRWC web site. http://www.iMayberry.com/
Apr. 13: Jim Nabors performs at the Alabama Theatre in Myrtle Beach, S.C. Call 1-800-342-0225 for tickets or info.
April 18-20: Fifth Annual George Lindsey TV and Film Festival at the University of North Alabama in Florence, Ala. The keynote speaker for the luncheon this year is entertainment entrepreneur Mike Curb, the founder of Curb Records and former Lt. Governor of California. For more info, call (256) 765-4592.
May 2 and 3: Rodney and Beverly Dillard perform in Roxboro, N.C.
May 4: George Lindsey performs with several Grand Ole Opry stars at the Honeywell Center in Wabash, Ind.
May 31 and June 2: "Barney's Day Out" in downtown North St. Paul, Minn., hosted by Mick "Barney" Kieffer and starring The Dillards. There's a "Dinner with Barney and Friends" on Friday evening, the 31st. On Saturday, June 1, a classic car/hot rod show and free Mayberry Festival will be held on the square in North St. Paul. There will be assorted vendors, entertainment and carnival-style activities, including Ernest T. Bass and Otis Campbell impersonators. (Mick Kieffer will also have his mobile Mayberry museum on hand.) Saturday evening will feature a concert by The Dillards at the Community Center. Admission is $18. Sunday's activities include a church service and a brunch followed by cruises in cars to the local ice cream parlor. For more information or tickets to the Dillards concert, call Kathy at (651) 771-4541.
May 31 and June 1: David "Mayberry Deputy" Browning and Allan "The Barber" Newsome pull into Mule Days in Gordo, Ala.
June 6: Don Knotts performs in concert with Tim Conway at Casino Rama in Mississauga, Ontario.
June 8: Don Knotts and Tim Conway bring their two-man show to the Horseshoe Casino in Robinsonville, Miss.
Jun 13: Mayberry Night at the Huntsville Stars in Huntsville, AL. David "The Mayberry Deputy" Browning and Allan "Floyd the Barber" Newsome will be on hand for the evening of Mayberry fun.
June 19-22: Jim Nabors performs at the Drury Lane Theatre in Chicago, Illinois.
June 20: Don Knotts and Tim Conway bring their two-man show to the Alabama Theatre in Myrtle Beach, S.C., for two shows. Call 1-800-342-0225 for tickets or info.
June 21 and 22: Betty Lynn is Guest of Honor at the 2nd Annual Mayberry Squad Car Nationals, which is being held in conjunction with the Brent Mule Days and Rodeo in Brent, Ala. Squad cars will be arriving June 21, but, as of now, most of the Mayberry activities (including racing and Betty's appearances) will be on the 22nd. There may be a small charge for either admission or parking, but not for both. David "The Mayberry Deputy" Browning and Allan "Floyd the Barber" Newsome will also be on hand. (Brent is located southwest of Birmingham and not far from Tuscaloosa.) If you have a Mayberry Squad Car that you want to bring, or for more information, call Kenneth Junkin at (205) 345-2120.
June 21: George Lindsey shines at the City Lights Festival in Commerce, Ga.
June 22: Don Knotts performs in concert with Tim Conway at the Grand Theater in Biloxi, Miss.
June 28: "A Tribute to Mayberry" at the Country Tonite Theatre in Pigeon Forge, Tenn. The "Tribute to Mayberry" is a 7 p.m. Friday show and stars George Lindsey, Betty Lynn, Howard Morris, Ronnie Schell, Jean Carson and Keith Thibodeaux. (Other performers might be added.) There will be a full stage show, followed by question and answers and an autograph session. David Browning will host the evening and Allan Newsome will be on hand to add his special magic. Tickets, which are $25 per show, go on sale March 11th and may be ordered by calling (865) 453-2003 or 1-800-792-4308. Maybe make a weekend around the event by using Saturday to visit area attractions and attend other outstanding shows in the Pigeon Forge area, including the regular show at Country Tonite.
This year's "A Tribute to Mayberry" event promises to be a spectacular, all-star evening of Mayberry-related entertainment. Sponsors of the event, produced by Tim McAbee and First Class Entertainment, include Echota: A Smoky Mountain Resort (call 1-800-766-5437), WVLT-TV, Country Tonite Theatre and TAGSRWC. A portion of the proceeds from the event will benefit St. Jude Children's Hospital.
July 19 and 20: "Mayberry in the Midwest" in New Castle, Ind. Mayberry stars confirmed so far include Betty Lynn, George Lindsey, Howard Morris, Maggie Peterson Mancuso, James Best and Jean Carson. Favorite Mayberry tribute artists David Browning and Allan Newsome will also be on hand. Other TAGS stars are expected to be added to the roster and should be announced very soon. The festival will be filled with performances and meet-and-greet opportunities with the stars, as well as a variety of other Mayberryish activities. Complete details are on the event's Web site at http://www.mayberryinthemidwest.com. It will have information about tickets, the schedule of activities, lodging, major sponsors, other things to do in the vicinity, etc. The site will be updated as more stars and scheduling are confirmed. (The listing at our www.tagsrwc.com site will also be kept up to date with key new information.) More info may also be received by phone at the Henry County Visitors Bureau at 1-888-676-4302.
Aug. 4: Rodney Dillard appears at the Hickory Crawdads Baseball game in Hickory, N.C.
Aug. 24 and 25: First Annual Stars of the Zone Convention at the Beverly Garland Holiday Inn in North Hollywood, Calif. It's a "Twilight Zone" event, but stars with Mayberry connections who are expected include Jean Carson, Howard Morris, Ruta Lee and Barbara Stuart. For more info., send e-mail to tzcon@mtmshow.com.
Sept. 26-28: 13th Annual Mayberry Days in Mount Airy, N.C. (It's definitely not too early to make plans. Some parts of the weekend are already close to selling out. Visit www.surryarts.org for info.)
Nov. 9: George Lindsey performs (probably at the civic center) in Crystal River, Fla.

Again, check the Events Calendar at http://www.tagsrwc.com/ for more information and updates.

**** CHAPTER UPDATE ****
The following chapters have started since our report in the last issue of "The eBullet":

Northern Michigan Mayberry 			                           Ellsworth, Mich.
"Yes Sir, I Ain't Seen a Car Yet that Wasn't Bein' Driven by Somebody"	   Wapakoneta, Ohio
WMPD-The Voice of Mount Pilot						   Kokomo, Ind.
"Fellas Don't Light Candles When They're Eatin' by Themselves"		   Midland, Tex.
"I Guess All I Deserve Is an Empty Gun"					   Mill Hall, Penn.


A group of folks is also talking about starting a chapter in Pioneer, Tenn.
If you are interested in starting a chapter of TAGSRWC, all you have to do is pick a name that has not already been chosen (check online at www.tagsrwc.com for a list of chapter names that are already taken) and submit a list of your founding members by postal mail to TAGSRWC's HQ at 9 Music Square South, PMB 146, Nashville TN 37203-3286. We'll verify your chapter name choice and then send you an official Chapter Charter.
Or if you would like to join or contact an existing TAGSRWC chapter in your area, write to TAGSRWC's HQ and we'll help get you in touch.


**** DISASTER RELIEF UPDATE****
Our Mayberry for America Fund so far has raised $2,000.00 toward relief for the World Trade Center disaster. This total was reached primarily through profits from our sale of the Mayberry for America T-shirt. The funds are being donated to the Salvation Army fund set up especially for the ongoing cleanup and relief work at the Trade Center site.
Profits from the Mayberry for America T-shirt are continuing to support general disaster relief until we sell out of our current inventory of the shirts.

**** AUNT BEE'S RECIPE FILE ****
This recipe comes from page 50 of "The All-American Cowboy Cookbook" and is contributed by Clint Howard, who of course portrayed Mayberry's leading (and certainly quietest) cowboy, Leon.

Cowboy Spuds
½ pound thick-sliced bacon
1 ½ cups sliced onions
6 medium potatoes, unpeeled and cut into ¼-inch slices
¼ teaspoon salt
¼ teaspoon black pepper, divided
1 ½ cups milk
¼ cup chopped parsley
Cut the bacon cross-wise into ½-inch pieces and sauté in a skillet until crisp. Remove, drain on paper towels, and set aside. Sauté the onions in bacon drippings until tender. Remove half of the onions. Arrange half of the potatoes over the onions in the skillet. Sprinkle with 1/8 teaspoon pepper. Add the remaining onions. Top with the remaining potatoes and sprinkle with the remaining salt and pepper. Pour the milk over the potatoes. Add half of the reserved bacon and heat to boiling. Reduce the heat and simmer, covered, for about 25 minutes. Or until the potatoes are tender. Top with the remaining bacon and sprinkle with parsley.
Makes 4 servings.


**** MISS CRUMP'S MAYBERRY QUIZZES ****
Answers to Miss Crump's Mayberry Quiz #52 (which was in the November issue of "The Pocket" and in the December "eBullet") will be published in the March "Pocket" and May "eBullet." The prize winner will be announced in both newsletters as well. Quiz #53 will officially begin in the March "Pocket."


**** WEAVER'S DEPARTMENT STORE ****
You can find Mr. Weaver's full lineup of items at http://www.tagsrwc.com/weavers. In addition, our toll-free order line is 1-877-943-9439. It operates Mon. Sat., 9 a.m.-7 p.m. CT.
You can also find most of our items at our location on the third floor of the Main-Oak Emporium at 245 City Hall Street in Mt. Airy, N.C.
And a selection of our most popular items is available at our mini-Weaver's outlet, located at 9 Music Square South in Nashville, Tenn., Mon.-Fri., from 9:30 a.m. to 5:30 p.m. (we are set up only for check or cash sales at this location).

Here are some of our newest items (and we're especially excited about the first one in the list):
* "
MEMOIRS OF A COMPOSER NOBODY EVER HEARD OF"
by Earle Hagen.
(336 pages; softcover with autographed bookplate: $28.00; hardcover with autographed bookplate: $38.00).
All of our copies have autographed bookplates that are an exclusive of Weaver's and TAGSRWC. The "Fishin' Hole"-related design for the bookplates was rendered by artist Mike Johnson and then each was personally signed by Earle. There will be a maximum of just 400 books with the signed bookplates available. The book is special just on its own, but with the signed, limited-edition bookplates, it makes for a real Mayberry keepsake. We're pleased to be able to make this special offer to TAGSRWC members and Weaver's shoppers.
Here's what Earle's publisher writes about the book:
"Earle Hagen is a famous composer nobody ever heard of. … Do you know who wrote, 'Harlem Nocturne'? Have you ever listened in wonder to Benny Goodman and Tommy Dorsey and Ray Noble and marveled at the great musicians who played with them during the Big Band era? Have you watched a television show or feature film and given any thought to the composer who wrote the score, or even won an Emmy or was nominated for an Oscar? Did you, even once, care about who did an arrangement for Marilyn Monroe or Frank Sinatra? Do you really want to know what composer has been honored with BMI's top award? Have you ever wondered who wrote and whistled the theme for 'The Andy Griffith Show'? Has it ever crossed your mind that tomorrow's film and television music will come, in large part, from the students getting much of their guidance from two singular textbooks? Of course not! That's why Earle Hagen is a famous composer that nobody, including you, ever heard of. And that's why he's written a gabby, breezy, anecdotal book about the half-century career he had in music."
Well, of course, the publisher is wrong about one thing. We Mayberry fans know very well who Earle Hagen is and what an important part his music is for TAGS. But the publisher is correct that all TV and music fans will enjoy learning about the fascinating life and brilliant music of this talented man. And yes there is a nice section devoted to TAGS in the book's 336 pages.
* MINI-MAYBERRY TV CLOCK ($24.00)
Very few of these clocks were made and are no longer in production. It's quite an interesting collectible novelty...mainly because of its size. The entire clock measures only about 1 1/2 inches high (not counting the legs and antenna) and 2 inches wide. But it weighs a whopping 1/2 pound! It's just deadweight. The clock face is about the size of a wristwatch face and features the familiar shot of Andy and Opie eating pie as Aunt Bee looks on. The color of the TV set is a hip retro lime green. The suggested price for these collectible clocks is $30.00, but Ben Weaver is an old softy and has them for a great price while the limited supply lasts. Once the current stock is gone, there will be no more of these rare clocks.
* "THE ANDY GRIFFITH SHOW" LOGO LICENSE PLATE ($7.00) and LAWMAN BARNEY LICENSE PLATE ($7.00)
Drive in style with these new Mayberry license plates. They're full size and made with high-quality, durable plastic in two swell designs. They also make distinctive decorative accessories for your home or workplace.
* EMBROIDERED LOGO CAPS ($17.00)
These ultra-stylish low-profile canvas caps come in navy and have an adjustable canvas strap to fit heads of many sizes. The "Andy Griffith Show" logo is beautifully embroidered in a grayish silver.
* EMBROIDERED LOGO SWEATSHIRTS ($58.00)
These handsome navy blue sweatshirts have the TAGS logo embroidered with amazing detail. The quality and detail of the embroidery, combined with the very limited number of these sweatshirts that are being made, make the price a little higher than for normal sweatshirts. Sizes M, L, XL and 2XL.
* EMBROIDERED DENIM LOGO SHIRTS ($39.00)
These lightweight, long-sleeved denim shirts are feature the TAGS logo. This is another embroidered item with a very limited run being manufactured. Sizes: M, L, XL and 2XL. (XL size is temporarily sold out.)
* EMBROIDERED LOGO GOLF SHIRTS ($34.00)
These fine-mesh weave shirts come in a choice of white or navy and have the TAGS logo embroidered in gray. Very few are being made. Sizes: M, L, XL and 2XL.
* ALL-CAST SWEATSHIRT ($29.00)
This is the same design as the All-Cast T-shirt, but is available while our supply lasts as a wintertime special as a sweatshirt. Sizes: M, L, XL and 2XL.
* BARNEY MULTI-HEAD SWEATSHIRT ($29.00)
This is the same design as the Barney Multi-Head T-shirt, but it is also available, while our supply lasts, as another wintertime special as a sweatshirt. Size: M, L, XL and 2XL.
Some other items added relatively recently are:
* MAYBERRY FOR AMERICA T-SHIRT ($16.00) We created this "Mayberry for America" T-shirt as a way for Mayberry fans to have a colorful, wearable way not only to show compassion for the victims of the September terrorist attacks, but also to provide real support for the ongoing efforts to help the families of the victims. The T-shirts are white, 100% cotton Hanes Beefy T. All of the profits from our sale of this shirt are going to the Mayberry for America Fund supporting disaster relief. The available sizes are M, L, XL, 2XL and 3XL.

* MAYBERRY MOUSE PADS ($10.00 each)
We have brand new Mayberry Mouse Pads in three fantastic designs: "Andy & Opie Fishing" (in full color), "Bug-eyed Barney" and "The Loaded Goat." (They also make nice coasters if you're a giant.) Check 'em out in the "What's New?" section at Weaver's.

* THE BEST OF BARNEY DVD ($14.00)
This DVD contains the following episodes: "Class Reunion," "Opie and the Spoiled Kid," "Aunt Bee's Medicine Man," "Andy's English Valet," Rafe Hollister Sings," "And Discovers America," "The Darlings Are Coming" and "Mountain Wedding".

* THE BEST OF BARNEY DVD ($14.00)
This DVD contains the following episodes: "High Noon in Mayberry," "The Great Filling Station Robbery," "The Rivals," "Dogs, Dogs, Dogs," "The Loaded Goat," "Barney's First Car," "A Wife for Andy" and "The Big House."

* DVD 2-PACK ($25.00)
Get both of the above DVD's together for the Special Price of $25.00.

* MEMORIES OF MAYBERRY BY JEWELL KUTZER ($20.00)
This new book (not to be confused with "Mayberry Memories: The Andy Griffith Show Scrapbook" by Beck and Clark, published in 2000) is a collection of Jewell's personal memories of growing up in Mount Airy during the same era as Andy Griffith. It's a very interesting look at Mount Airy and some of its connections, both old and new, to Mayberry. Lots of nostalgic and recent Mount Airy photos and drawings in 184 highly readable pages. The perfect companion for a visit to Mount Airy and almost like a visit there even if you can't visit the town yourself.

* "TOGETHER" CD by LeRoy McNees ($17.00 for CD; $19.00 for CD and TAGS photo autographed LeRoy Mack) TAGS Cast member/ace bluegrass Dobro player and singer LeRoy McNees, who performed in two TAGS episodes, has just released this new CD with the Canadian bluegrass group Jerusalem Ridge. The 14-song CD (including a cut called "The Andy Griffith Show Medley") is $17.00. Or you can get a combo deal with the CD and an autographed photo of LeRoy performing with Andy Griffith and the Country Boys in the "Mayberry on Record" episode for $19.00.

* "THINKIN' ABOUT MAYBERRY" CD with DAVID BROWNING as the Mayberry Deputy and VW BOYS ($12.00)
David Browning has brought smiles and laughter to fans of The Andy Griffith Show for years through his portrayal of The Mayberry Deputy. His wholesome family humor brings Mayberry to life at all of his performances. This CD will allow fans that have seen him in person to relive the fun over and over again and allow those that have never had the pleasure of experiencing his performance in person to share in the Mayberry fun.

* FIFE SECURITY LIGHT SWITCH PLATE ($9.00) This wiry new item is a real light touch. Coated in durable enamel and made of metal, this is a standard-sized light switch plate. Whether on or off, the light in any room is always just right with this fun switch plate.

* GOOBER'S MEMORABILIA GRAB-BAG ($20.00) Doing some rummaging around in the storeroom, Ben Weaver found a whole bunch of interesting odds and ends that he thought other folks might enjoy. Some of the items are more than 15 years old and are nearly impossible to come by. Most of these items are promotional literature from assorted Mayberry-related events and products. It's sort of a hodge-podge, but with a nice cross-section of Mayberry memories. Each Grab-Bag contains a minimum of 25 different, mostly paper items. Visit the Special Items section of Weaver's online (www.tagsrwc.com/weavers) for more details about these and other newly unearthed items with limited availability. All proceeds (not just the profits) from the sale of the Grab-Bag and other items in the "Special Items" section online go to our fund to support Mayberry events.

* ART GALLERY SKETCHES BY ROD SADLER ($15.00 each) The three newest sketches by artist Rod Sadler (available only online) are Larry Hovis (Gilly Walker), writer Harvey Bullock and Sheldon Golomb (Opie's pal Arnold Bailey). There's now a total of 10 sketches, all signed both by Rod and the sketch subjects. There's plenty of other fine Mayberry art (sketches by Brad Keim, George Murray and others) in the online Art Gallery.

* WEAVER'S GIFT CERTIFICATES
Don't forget that Weaver's now has Gift Certificates for those who just can't decide what to get. Like all of the items at Weaver's, they're available online, by our toll-free number or by mail.
http://iMayberry.com/tagsrwc/weavers/

**** CHAPTER NEWS ****
Several chapters have checked in with news in the first few weeks of the year.
Opie chapter (Orlando, Fla.) says that they had a really swell Christmas party that included attendees from as far away as Ohio.
"…And a Mr. Potato Set" (Florence, S.C.) wrote to let us know that all eyes are still on TAGS in their chapter.
Members of Mayberry chapter (Knoxville, Tenn.) had a big time at the Jellico Christmas Parade for which 33 chapter members dressed as Mayberry characters. The chapter had an outstanding meeting in January when they watched lots of episodes and played games. In February, they had a bowling night in honor of Howard Sprague. The chapter will be participating in the Dogwood Arts Festival Parade in Knoxville on April 6. And the chapter has a Mayberry squad car replica that recently changed ownership from Doug Claxton to Michael Lowery. In true Mayberry spirit, they made sure the car stayed in the chapter. And Mayberry chapter continues to publish its mighty fine newsletter, "Mayberry Minutes." To contact the chapter, just go to http://www.mayberrychapter.com.

| | |
| --- | --- |
| Ken Junkin from "The Hearty Eatin' Men and Beautiful, Delicate Women" and Betty Lynn at autograph session held before "Love Letters" in Mt. Airy, NC | "Ernest T...what you gonna do with that cotton pickin' rock?" Howard Morris enjoys his visit with the fans a the autograph session in Mt. Airy the day of the "Love Letters" performance. |
The biggest gathering of chapters so far this year took place in February at the performance of "Love Letters" by Betty Lynn and Howard Morris in Mount Airy, N.C. TAGSRWC members from at least 18 chapters and 10 states were spotted. Among the crowd were Mayberry Hotel, The Griffiths, and Mayberry Preservation Society chapters (all of Mount Airy), Barney chapter (Greensboro, N.C.), Mayberry Undercover Agents (Danville, Va.), Barney's First Car (Roanoke, Va.), "I Ain't No Rockefeller" (Bristol, Va.), Desperate Female Hunters and Pals (Cool Ridge/Beckley, W.V.), "I Can't Tell Ya," (Coeburn, Va.), "You've Got to Understand, This Is a Small Town" (Marietta, S.C.), "Some of Us Got It, Some of Us Ain't" (Clayton, N.C.), Kickin' Mule (Tullahoma, Tenn.), Andy chapter (Nashville, Tenn.), Remembering Mayberry (Chillicothe, Ohio), "The Hearty Eatin' Men and Beautiful, Delicate Women" (Tuscaloosa, Ala.) and "Mother Figure" (Huntsville, Ala.). The long-distance driving award goes to "I Was a Pawn in the Hands of a Wily Woman" (Plainview, Nebr.). Members of the "Who's Been Messin' Up the Bulletin Board?" chapter on the Internet also flew in from Illinois and California.
Young members of the "Desperate Female Hunters and Pals" recently won first-place for their school project about Mayberry and were on their way to the next level of competition as this issue was being sent out. (There was no mention of whether homemade pickles were involved in their blue-ribbon effort.)
"She Called Me a Creatster" chapter (Tullahoma/Johnson City, Tenn.) rocked the world when they announced the newest member of their Johnson City branch: Grace Colyar, daughter of Jenny and "Old Doc" Allan Colyar. A whole other kind of rockin' will be going on now for with these Ernest T. fans.
The "Web-Footed, Red-Crested Lake Loons" (McKinnney/Allen, Tex.) recently had a fine "Hello, Doll" when Fun Girl Jean Carson phoned during one of their chapter meetings.
Our "Who's Been Messin' Up the Bulletin Board?" chapter (http://www.wbmutbb.com/) on the Internet now has 1,642 members. Read about the WBMUTTB? chapter in the March 2002 issue of Delta Airlines "Sky" magazine or at http://www.delta-sky.com/editorial/skywriting/cybersurf/default.htm
Most of the big news with chapter activities is going on behind the scenes right now. All of the Mayberry-themed events that are on tap this year have TAGSRWC chapters or members as their instigators and key organizers. So we'll be hearing lots of news about chapter efforts as these events are held during the summer and fall.


**** NEWS OF CAST AND CREW ****
Andy Griffith has been sticking close to home in North Carolina this winter, but is doing just fine.
Don Knotts likewise is having a fairly quiet winter before springing into some summer dates (see the "Upcoming Events" above for some of appearances). He also has been doing some public service interviews with the media (mostly radio and print) for macular degeneration, the eye disease that Don has had since the 1980s.
"A Beautiful Mind," Ron Howard's latest film as director, is getting outstanding reviews and is receiving all sorts of award nominations. In addition to the film's winning Golden Globes for Best Picture and Best Actor (and Ron's being nominated for Best Director), Ron is also nominated for Best Director by the Directors Guild of America and for a Best Director Oscar. "A Beauitful Mind" is also up for Best Picture, Best Actor, and Best Supporting Actress Oscars. Look for father Rance Howard and wife Cheryl Howard in cameos in the film.
Rance Howard recently appeared as Mr. Bailey in an episode of the new "That '80s Show" on Fox. He also has a small part in a pilot called "The Rich Generation" and in the sitcom "Son of the Beach." And he had a bigger part in an episode of "Angel." Plus he's also writing a script called "Father Dad." Also, we probably haven't officially reported this news previously: Rance remarried last summer to a nice lady named Judy. (Many Mayberry fans will of course recall that Rance's beloved first wife, Jean, the mother of Ron and Clint, died in 2000.)
Clint Howard performs in the upcoming Austin Powers sequel and is starring in "The Clint Howard Variety Show" online at CountingDown.com. But be warned: This variety show is an "edgy" program that bills itself as "the shortest, cheapest variety show in history."
George Lindsey traveled to California in January to help the Travel Channel promote its "TV Road Trip" special that will premiere on April 7. (James Best also appears in the special.) In February, George received a lengthy standing ovation during his performance for the Chick-Fil-A convention at the Grand Ole Opry House. On March 16, George will be inducted into the Alabama Stage and Screen Hall of Fame and then in April he hosts the Fifth Annual George Lindsey TV and Film Festival at the University of North Alabama.
And here's a news item that you're not likely to see reported elsewhere and would not expect to read about in a Mayberry newsletter: George Lindsey's son, George Jr., was in the March 2 installment of "America's Most Wanted" on Fox-TV. In an audition of 200 actors, he was selected to portray the suspected kidnapper/killer in the show's re-enactment of the terrible case involving Danielle van Dam that has recently been making headlines.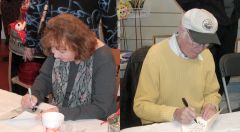 Betty Lynn and Howard Morris delighted the audience for their dinner-theater presentation of "Love Letters" in Mount Airy, N.C., in early February. As well as being a historically significant pairing, Betty and Howard delivered truly superb performances that made for an unforgettable evening of theater for the sold-out audience of 350 people at the Cross Creek Country Club.
Howard Morris is set to be in a film titled "Uh-Oh" that begins shooting in early June. He plays a captain with a heavy (and we'll bet VERY funny) German accent.
James Best is in the process of launching a Nashville-based music and film production company with music veteran Merle Kilgore.
Jean Carson is doing well in Palm Springs and looking forward to seeing fans at the Mayberry events in Pigeon Forge and New Castle this summer.
Jackie Joseph recently checked in with us all the way from England, where lately she has been spending much of her time. But even across Old Man Kelsey's Ocean, she's still filing reports for her regular "Talk with Jackie" column in "The Tolucan" newspaper back home.
Ronnie Schell hosted "Veterans of Comedy Wars V" at San Francisco State University. Stars confirmed for the two scholarship benefit concerts on Mar. 1 and 2. Guest stars included Merv Griffin, Pat Morita, Brett Butler and Kevin Meaney.
TAGS music man Earle Hagen's "Memoirs of a Famous Composer Nobody Ever Heard Of" has been published and it makes for fascinating reading about his life of performing and composing music. (See the info in the merchandise section above about specially autographed copies available through Weaver's Dept. Store.) But the good news about the publication of his memoirs unfortunately came at a time of great sadness for Earle. Lou, his wonderful wife of 59 years, passed away on Valentine's Day.
We're also sorry to report the passing of actor George Nader, who played Dr. Robert Benson in "The New Doctor," Episode 24. He died of pneumonia on February 4 in Los Angeles. He was 80 years old. Among George Nader's feature films were 1953's "Robot Monster," 1955's "Six Bridges to Cross" with Tony Curtis, "Sins of Jezebel," "The Female Animal" with Hedy Lamarr and 1956's "Away All Boats." He won the 1954 Golden Globe for best male newcomer. His TV work included starring as Ellery Queen in "The Adventures of Ellery Queen" during the 1958-59 version of that long-running series.
Mayberry fans will likely always remember George Nader most as the doctor who gave Barney his physical-including being able to wrap the blood pressure cuff around Barney's wiry "biceps" an amazing number of times.

**** CLOSING ****
We very much want your feedback about what you like and don't like about "The eBullet," as well as any technical difficulties that "The eBullet" presents for your system. You can send e-mail to us at:
ebullet@tagsrwc.com
Because of the different formatting requirements of subscribers' computers, we'll provide links to photographs rather than including photographs in the actual "eBullet," which necessarily must be a "text only" newsletter.
"The eBullet" is sent out to subscribers approximately every two months (October, December, February, May and August). "The eBullet" is teaming up with our brand new paper newsletter, "The Pocket" (published in July, November and March), to replace our long-time paper newsletter, "The Bullet." (To subscribe to "The Pocket" and/or 2001's final issue of "The Bullet," go to Weaver's Dept. Store and click on "The Bullet, The Pocket & eBullet" link. )

The Pocket/The Bullet Subscription:
http://iMayberry.com/tagsrwc/weavers/
Weaver's Dept. Store also has its own online newsletter, creatively called "The Weaver's Newsletter," that usually comes out in months that don't have either an "eBullet" or "Pocket" (January, April, June and September, and sometimes a bonus issue in November, including this year) and has more of an emphasis on news about new Mayberry products.
Weaver's Newsletter:
http://iMayberry.com/tagsrwc/weavers/privacy.htm
Between issues of "The eBullet," keep up with the goings-on in Mayberry with the more-or-less daily "Who's Been Messin' Up The Bulletin Board?" Digest. It's a free subscriber list made up entirely of comments, news flashes, and questions and answers from subscribers. You can sign up for that list by going to the "Mailing Lists" link at http://tagsrwc.com.
TAGSRWC's other main vehicle for Mayberry information is simply our Web site itself at http://tagsrwc.com. It has extensive content and links for just about everything a Mayberry fan might be looking for.
We hope that, through "The eBullet," "The Pocket," the "Who's Been Messin' Up the Bulletin Board?" Digest, "Weaver's Newsletter," tagsrwc.com and our network of over 1,200 local chapters, all Mayberry fans can easily find desired information and ways to enhance their enjoyment of watching "The Andy Griffith Show."
That's our news for this issue of "The eBullet." Look for your next issue in May. (For those who also subscribe to the online "Weaver's Newsletter," its next issue will be out in April. And for those who subscribe to the printed "Pocket," the next issue of that newsletter will be published in late March.
To UNSUBSCRIBE from eBullet:
http://www.tagsrwc.com/ebullet/unsubscribe_ebullet.htm
To Tell Folks About eBullet:
http://www.tagsrwc.com/ebullet/joinebullet.htm
eBullet Archives:
http://www.tagsrwc.com/ebullet/archive/
The eBullet is copyright 2001 by TAGSRWC