To Subscribe click here
To Unsubscribe click here
---

Volume 11, Issue 1


---

---

January/February 2011

---
If you cannot view the HTML newsletter (photos), click here to read it at our Web site.
*********************************************
The eBullet
An Online newsletter of
"The Andy Griffith Show" Rerun Watchers Club (TAGSRWC)
Volume 11, Issue 1
January/February 2011
*********************************************
Floyd's Barbershop
Bulletin Board & Event Calendar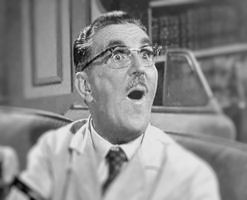 Just ask Floyd:
There's already a "good deal"
going on in Mayberry in 2011!
The Andy Griffith Museum, featuring Emmett Forrest's amazing collection of Andy Griffith artifacts and memorabilia, is open on its regular daily schedule in Mount Airy, N.C. For info, visit the Web site at www.andygriffithmuseum.org or call (336) 786-1604.
**** 2011 ****
* NOW: The Dilemma, Ron Howard's latest movie as director, is in theaters nationwide. Bonus: Rance Howard and Clint Howard are in the film.

* Mar. 3-5: The George Lindsey/UNA Film Festival in Florence, Ala. Update: Due to unforeseen circumstances, the Mar. 4 Salute to George Lindsey has been postponed until later this spring. A new date for that event will be announced as soon as it is scheduled. All other film festival events will continue as scheduled. For more info about the film festival, visit www.lindseyfilmfest.com. or contact the festival staff at lindseyfilmfest@una.edu or 256-765-4592.
* Mar. 18: Betty Lynn (Thelma Lou) will greet visitors at the Andy Griffith Museum in Mount Airy, N.C., from 12:30 p.m. to 5:00 p.m. She'll have autographed 8x10 photos available ($10).
* Apr. 8 and 9: Ronnie Schell performs at the Fantasy Springs Hotel and Casino in Palm Springs, Calif. For more info, visit http://www.fantasyspringsresort.com/.
* Apr. 15: Mail your tax return and then celebrate that you're done with that task by meeting Betty Lynn (Thelma Lou) at the Andy Griffith Museum in Mount Airy, N.C. She'll have autographed 8x10 photos available ($10) from 12:30 p.m. to 5:00 p.m.
* Apr. 15: Karen Knotts, daughter of Don Knotts, will perform her one-person "Tied Up in Knotts" show about life with her dad, at Central Magnet School in Murfreesboro, Tenn., at 7 p.m. Details TBA, but we do know that tickets will go on sale in March. Check at the Event Calendar at iMayberry.com for details.
Don Knotts was diagnosed with macular degeneration while in his fifties. This fundraiser will benefit the Discovery Eye Foundation/Macular Degeneration Partnership in Los Angeles, Calif. (www.amd.org). The event is being hosted by Java with Julie/Courageous Living.
* Apr. 15 and 16: Mayberry Comes to Westminster, S.C. (location change from Walhalla, S.C.). The official host will be Darling boy Rodney Dillard, with entertainment by David "Mayberry Deputy" Browning, Allan "Floyd" Newsome and several other Mayberry tribute artists, and also an evening concert by the VW Boys. There also will be a pancake breakfast, spaghetti supper, parade, downtown arts & crafts, music venues, a look-a-like contest selecting the best "Opie" and "Aunt Bee," a street dance and more. The event's website is http://www.jneg.org/jneg.org/Events.html.
* May 3-8: Ronnie Schell performs at Harrah's Improv Club in Las Vegas. For more info, visit http://www.harrahslasvegas.com/.
* May 14: Altoona Day in Altoona, Ala. (near Gadsden), from 11 a.m. to 7 p.m. Organized by TAGSRWC's Robert E. Lee Natural Bridge Residents chapter, the festival will feature a parade, music, arts & crafts, Mayberry tribute artists and a beloved TV star or two TBA.
* May 18-22: Ronnie Schell entertains in the Comedy Room at Harvey's Hotel and Casino in Lake Tahoe. For more info, visit http://www.harveystahoe.com/.
* May 29: Jim Nabors sings "Back Home Again in Indiana" (again) at the Indy 500 in Indianapolis, Ind.
* June 2 and 3: Darling Boy Dean Webb and his Missouri Boatride band perform at the John Hartford Memorial Festival at 11:45 a.m. on June 2 and Rodney Dillard and the Dillard Band perform at 2:40 p.m. on June 3. The festival is being held at the Bill Monroe Music Park in Bean Blossom, Ind. For more info, visit www.johnhartfordmemfest.com or call (812) 988 6422.
* June 3 and 4: Mule Days in Gordo, Ala., featuring Mayberry tribute artists, music and more TBA.
* July 9: 11th Annual Mayberry Squad Car Nationals and 7th Annual "Mayberry Comes to Graysville" Festival in Graysville, Ala. (near Birmingham). Guests and other details TBA.
* July 23 and 24: Rodney Dillard and the Dillard Band perform at a Mayberry Festival at St. John's Evangelical Protestant Church in Cullman, Ala., on the 23rd, and Rodney and Beverly Dillard present their Mayberry Values program at the church on the 24th. Details TBA.
* Aug. 27: Rodney Dillard and Maggie Peterson are joined by several of the Mayberry Tribute Artists (including David "Mayberry Deputy" Browning, Kenneth "Otis" Junkin, and Jeff "Howard" Branch) for a concert benefiting the Montgomery County DARE program. The evening concert will be at the James H. Garner Center in Troy, N.C. Details TBA. For more info, visit www.bluegrassintroy.com.
* Sept. 23-25: 22nd Annual Mayberry Days in Mount Airy, N.C. Shows already confirmed include two concerts by The Doug Dillard Band, a new one-man show with Ronnie Schell, "An Afternoon with James Best," "Tied Up in Knotts" starring Karen Knotts, "Memories of Elvis" with Michael Hoover, "Salute to Mayberry" with the VW Boys, Professor Brower's Lecture with Neal Brower, the Mayberry Days Golf Tournament and Banquet, and Colonel Tim's Talent Time. Tickets are on sale online at http://www.mayberrydays.org. More stars and events TBA.
* Nov 12-17: A Cruise to Mayberry 6: A 5-day Western Caribbean cruise aboard Royal Caribbean's Jewel of the Seas. Leaving from Tampa, Fla., with ports-of-call in Cozumel and Costa Maya, and 2 days at sea. For more details, contact Sharon at All About Cruises by phone (10 a.m.-5 p.m. ET) at 1-800-832-7993. Or visit the Mayberry Cruise section of the All About Cruises web site. (Note: You must have booked through All About Cruises and be part of the "Mayberry Cruise" in order to attend Mayberry portions of the cruise.)


****News of Cast & Crew ****
Andy Griffith has had a quiet winter at home in North Carolina. A few blasts of unusual cold and snow have hit the coastal area where he lives, so he has been hunkered down like so much of the rest of the country.
Millions of viewers caught glimpses of Ron Howard during this year's Super Bowl broadcast. He was singled out by commentators during a shot of the crowd at Cowboy Stadium. He was also in a "Happy Days" clip used during an ad for the NFL. And this summer's Cowboys & Aliens movie (starring Harrison Ford and Daniel Craig) had a prominent commercial during the broadcast. Ron is one of the producers of the film.
Ron is also narrator for a short video introducing the government's new Consumer Financial Protection Bureau. You can watch it here: http://www.youtube.com/watch?v=1V0Ax9OIc84.
Ron is executive producer for the current "Parenthood" TV series on NBC and the upcoming Arrested Development movie. He's also a producer for J. Edgar, currently filming under the direction of Clint Eastwood.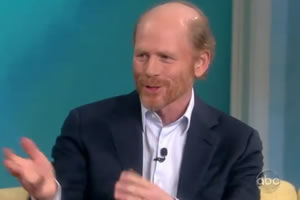 But Ron's most ambitious project right now-and maybe his most ambitious ever-is the film adaptation of Stephen King's seven Dark Towers novels. The current plan is for three feature films with one TV series between the first and second films and another TV series between the second and third films. The word is that Ron will direct the first film and the first TV series. The first film is not scheduled for release until 2013.
With all that going on, it's hard to "imagine" that Ron will have time to direct a proposed movie based on the TV series 24 (which was also produced by Ron's Imagine Films), but there's industry speculation suggesting that it's barely possible.
The 14th Annual George Lindsey/UNA Film Festival at George Lindsey's alma mater, the University of North Alabama, in Florence, Mar. 3-5.

The festival has really become a creative force in the region, and also attracts national and international entries and accolades. A special evening of tribute to George, originally planned for Mar. 4. during the festival, has been postponed until later this spring. We'll have updates about that in our next issue and on the Event Calendar at www.imayberry.com.
Betty Lynn continues to greet visitors and sign autographs once a month at the Andy Griffith Museum in Mount Airy, N.C. She's usually there during the afternoon of the third Friday of the month, but check the museum's website for the schedule and updates at www.andygriffithmuseum.org.
Elinor Donahue was a guest star as Judge Marie Robinson in three September episodes of "The Young and the Restless." Trivia: Two of her episodes included child actor Max Page, now famous for playing Darth Vader in the Super Bowl commercial for Volkswagen Passat.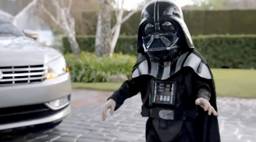 YOUNG AND RESTLESS-Elinor Donahue's soap costar Max Page in his latest adventure.
Peggy McCay (Andy Taylor's high school sweetheart Sharon DeSpain in "Class Reunion") has continued this year in her Emmy-nominated role as Caroline Brady on "Days of Our Lives." It's a role she has been playing since 1983!
Maggie Peterson has been singing regularly with husband Gus Mancuso, who has a steady gig at the legendary Bootlegger Bistro in Las Vegas. She'll be heading out to several Mayberry events as the year rolls along. She and Rodney Dillard are doing some dates together (keep an eye on Floyd's online event calendar for more of those dates as they're confirmed), and Rodney will also be on the road at festivals and churches in support of his I Wish Life Was Like Mayberry CD.
Darlings boy Dean Webb and his Missouri Boatride band are starting to book some dates outside of their Missouri home base. You can keep up with their happenings and schedule at www.missouriboatride.com.
Doug Dillard has been pretty much staying close to home in Nashville with this winter's harsh weather. Smart as a groundhog, that man! Keep up with Doug at www.dougdillard.net and www.hillbillyhollywood.com.
Barbara Stuart (one TAGS episode and best known as Miss Bunny on "Gomer Pyle, U.S.M.C.") has been under the weather, but is improving and, as always, is very much appreciative of her many fans around Mayberry.
Joy Ellison (Mary Wiggins and other friends of Opie's) had a busy 2010 as dialect coach for several major Hollywood movies (including Dinner for Schmucks), and she has already completed work on three 2011 releases: The Ledge, Beastly and Fright Night.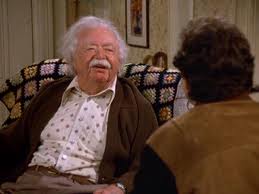 Bill Erwin in his Emmy-nominated role on "Seinfeld."
We're sad to report that legendary character actor and all-around grand fella Bill Erwin, who had small parts as Mayberry townspeople in two episodes of TAGS, passed away from age-related causes on Dec. 29 at his home in Studio City, Calif. He was 96.
Bill played gas-station owner George Saperly in "Stranger in Town": (Episode 12) and one of the investors in "Mayberry on Record" (Episode 19) on TAGS. His Hollywood career spanned more than 50 years, from You're in the Army Now with Jimmy Durante in 1941 to NBC's "My Name Is Earl" with Jason Lee in 2006.
A person could almost randomly name a TV series from the 1950s through the '80s and more often than not Bill would have been in at least one episode of that show.
Of his more recent work (that is, the career's worth of performances in the last 20 years!), he is no doubt remembered best for his Emmy-nominated portrayal of grumpy Sid Fields in "The Old Man" episode of "Seinfeld." Though the roles of gruff men and grouches were common for Bill, he was the jolliest of people off camera.
Bill also had a busy career in live theater. He began performing at the famed Pasadena Playhouse in 1940. He received the Los Angeles Drama Critics Circle Award in 1983 for his performance in Old Friends.
He is survived by sons Mike and Timothy, daughters Lindsey Thomas Erwin and Kelly Erwin; and his sister Mary Gene Cosper.
More about Bill's life and career can be found on the website in his honor: http://www.bochynski.com/billerwin/.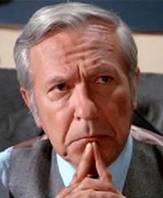 Peter Hobbs (1918-2011)
We also have news of the passing of actor Peter Hobbs on Jan. 2. He passed away surrounded by family in Santa Monica, Calif., at age 92.
He played in Mayberry school principal John Tracy in "Big Brother" (Episode 217) and school board head Mr. Lockridge in "Helen's Past" (Episode 243). He was also in two episodes of "Gomer Pyle, U.S.M.C.," "Daughter of the Sarge" and "Gomer the Would-Be Hero."
Born in Etretat, France, Peter was raised in New York City, and was graduated from Bard College with a degree in Drama. He was sergeant in combat engineering during World War II and fought in the Battle of the Bulge.
Peter was an actor in theater, TV and film for five decades. His Broadway credits include Teahouse of the August Moon and Billy Budd. His longest-running role was on TV, as Peter Ames in "Secret Storm" from 1954 to 1962. He also had parts on "Perry Mason", "The Dick Van Dyke Show," "Bonanza," "All in the Family," "The Odd Couple," "The Streets of San Francisco," "Happy Days," "Barney Miller," "Lou Grant," "M*A*S*H," "Knots Landing," "L.A. Law" and many more.
His movies include Sleeper, The Man with Two Brains, 9 to 5, Any Which Way You Can, The Andromeda Strain, In the Mood and The Lady in Red.
His published obituary describes Peter as a "devoted husband and loving father, a good and generous friend and neighbor, an amiable, passionate and good- humored man who loved life, all kinds of people, progressive politics, reading, acting, spirited conversation, laughter, and a cocktail or two now and then. He was a vibrant man who, whether you knew him on the screen or in life, put a smile on your face and joy in your heart."
Peter is survived by his wife of 28 years, Carolyn Adams Hobbs; three daughters, Anna Hobbs of Barcelona, Jennifer McVeigh of Prospect, Maine, and Nancy Hobbs of New York City; two stepsons, Mark and Adam Richards of Santa Monica; and six grandchildren and two great-grandchildren.
**** Chapter Update ****
We're pleased to welcome three new chapters since our last eBullet:

"All Right, All Right, All Right, You Smell Gas! 'Course You
Smell Gas. What Do You Think This Car Runs on, Coal?"
Deposit, N.Y.
"If There's Anything That Upsets Me, It's Having People
Say I'm Sensitive"
Roanoke, Va.
"The Hardware Store Is Right Down the Street"
Greencastle, Penn.
We now have had 1,366 chapters founded since TAGSRWC started in 1979. If you're interested in starting a chapter of TAGSRWC, all you need to do is choose a name that hasn't already been picked, and submit it with a list of your founding members by to TAGSRWC's HQ in Nashville (see addresses below). The hardest part is simply finding a name that hasn't already been chosen. There's a searchable list of chapter names at www.tagsrwc.com.
Once you successfully choose a name that's "all yours and nobody else's," you'll receive your Official Chapter Charter, fancily inscribed (and "suitable for framing") by Sherry Hyatt, one of our "Compelsion Nuts" in East Tennessee.
What you do as a chapter is entirely up to you. Your group can do as much or as little as you like. The idea is simply to have lots of Mayberry fun with whatever you do.
Or if you're feeling more like a joiner than a starter, you can write to us about how to contact a chapter near you. Our mailing address is TAGSRWC, 9 Music Square South, PMB 146, Nashville TN 37203-3211. Our e-mail address is Goober@iMayberry.com.
Or you can join our online "Who's Been Messin' Up the Bulletin Board?" chapter. (It's really quick and easy to do. Info is at tagsrwc.com.)
Either way, we hope you can enjoy the fun of being part of a TAGSRWC chapter!
**** Merchandise Update ****
****Sneak Peek****
Don Knotts: Tied up with Laughter! DVD
http://www.weaversdepartmentstore.com/catalog.php?item=322
Release Date: April 26, 2011
Available to Pre-Order Now at Weaver's!
Beyond Mayberry's beloved Barney Barney Fife, this Don Knotts:Tied up with Laughter! DVD shows Don in a series of wonderful, hilarious stand-up routines and sketches in rare performances from the 1960s and '70s.
In this special hour-long comedy collection, Don is joined by singer-actress Joey Heatherton, actress Jane Powell, former Dallas Cowboys player Lance Rentzel, comic (and Mayberry deputy) Jack Burns, Don's Love God movie co-star Maureen Arthur (also wife of "Andy Griffith Show" producer Aaron Ruben), and the legendary Jimmy Durante.
Bonus material includes Don with Lucille Ball and an early look at Don's comedy career and some "never before seen" special features.
This DVD is sure to be a great treat for all fans of our favorite deputy--one of the true, cherished comedy legends of our time...and of all time.
NOTE: Any other items in the same order with this DVD will wait to ship with this DVD when it's released around April 26. If you wish to receive other items earlier, you can either order them in a separate order or tell us in the Comments section of our online order form that you want to pay a separate $5 shipping & handling fee to have the rest of the items in your order shipped earlier than this DVD's release date.
As excitement about the 50th Anniversary of "The Andy Griffith Show," rolls on in 2011, here are some of the newest items. And there's another really cool Mayberry-related DVD coming out in late April that we'll be able to tell more about in our next issue. But for now, we'll just say... "It's big!"
"The Andy Griffith Show 50th Anniversary-The Best of Mayberry" DVD
http://www.weaversdepartmentstore.com/catalog.php?item=304
$25.00 $22.00 New!!
O.K., this is a really exciting new item-one we've long been hoping for-but it's really going to be cutting it close for Christmas. The official release date is Dec. 21. Yipes! The good news is that we're counting on our shipment arriving in time for us to ship a little bit before that date, so that the DVDs can be delivered to all Mayberry homes in time for Christmas. All indications from the distributor are that that should happen.
In any case, this is definitely a DVD worth waiting for. Here's some of what's on it:
* 17 Favorite Episodes:
"Christmas Story"

"The Pickle Story"

"Barney and the Choir"

"Mr. McBeevee"

"Convicts-at-Large"

"Man in a Hurry"

"Class Reunion"

"The Darlings Are Coming"

"Barney's First Car"

"Dogs, Dogs, Dogs"

"Mountain Wedding"

"Opie the Birdman"

"The Sermon for Today"

"Citizen's Arrest"

"Fun Girls"

"Barney's Sidecar"

"Goober and the Art of Love"
* "Danny Meets Andy Griffith" (the "Danny Thomas" pilot for TAGS)
* Clips from Season Premiere nights for the 1962-63 and 1963-64 seasons
* The 1986 Return to Mayberry reunion movie
* "Fishin' Hole" montage
* Sponsor commercials featuring cast members
* And a couple of more special features

This collection is chockfull of great Mayberry moments. And the price makes for a truly unbeatable combination of quantity, quality and value. It's a dream come true for Mayberry fans everywhere.

Limited Edition "Together Forever" 50th Anniversary Color Lithograph
http://www.weaversdepartmentstore.com/catalog.php?item=298

by Dave Barnhouse $130.00 $100.00 NEW!!!
This spectacular print is titled "Together Forever" and is brand new and just in time for the 50th Anniversary of "The Andy Griffith Show." It's a beautiful rendering by renowned Americana artist Dave Barnhouse.
The image size of the full-color lithograph measures a generous 17.75 in. x 28 in. and includes 21 favorite Mayberry characters.
The Edition is limited to a total of 5,900 pieces, all signed by the artist. We expect them to sell out very quickly.
What a marvelous commemoration for the 50th and beyond that Dave Barnhouse has created for Mayberry fans!
And even better for Weaver's customers... we've now got this beautiful print for $30 off the suggested price. We've reduced it from $130 to $100 as a way to celebrate the 50th and make it a little kinder to Christmas budgets as we head into the holiday shopping season.
I Wish Life Was Like Mayberry CD
http://www.weaversdepartmentstore.com/catalog.php?item=301
by Rodney Dillard $16.00 NEW!!!
This CD, released in September, features Rodney Dillard singing lots of favorite Darlings tunes from "The Andy Griffith Show," along with other popular Dillards tunes and some later songs about the Darlings. These are some classic bluegrass and Mayberry songs for any fan of, well, bluegrass and Mayberry!
Features 19 tracks and some bonus material. Ol' Ben Weaver knows a toe-tappin' good deal when he sees one!
TRACKS:

1. MAYBERRY MOMENT

2. THE DARLIN' BOYS

3. THERE GOES THE NEIGHBORHOOD

4. THERE IS A TIME

5. WICKER ROCKING CHAIR

6. DOOLEY

7. DOUG'S TUNE (Instrumental)

8. SALTY DOG

9. EBO WALKER

10. THE MAYBERRY HAT

11. BANJO IN THE HOLLOW (Instrumental)

12. LEANING ON THE EVERLASTING ARMS

13. THE ANDY GRIFFITH SHOW

14. WET SHOES IN THE SUNSET SUITE

15. LEAKY BOAT

16. G-MAN BARNEY

17. PICTURES

18. GOOBER AND ROY

19. PARENTING
Bonus Material: A Tribute to Mayberry Values
From the archives of the popular radio show "Mayberry Minute," hosted by Rodney. The radio show ran nationally for three years as Rodney took a look back at "Andy Griffith Show" episodes and the life lessons they taught.
What Would Andy Do? T-Shirt NEW! $18.00
http://www.weaversdepartmentstore.com/catalog.php?item=302
This design on a preshrunk 100% cotton T-shirt in Carolina Blue poses the question whose answer will always get our attention. (Of course, we all already know the answer..."the right thing.")
Sort of like a rebus puzzle or the old "Concentration" TV game show, this shirt might give passersby a slight pause before they break into a knowing grin and nods of agreement.
This is a shirt that makes a statement without ever saying (or even spelling!) a word.
* 50th Anniversary T-Shirt $18.00
http://www.weaversdepartmentstore.com/catalog.php?item=290
Can it really be 50 years? Shazam! This shirt has a classic image of Andy, Barney, Opie and Gomer on a heavyweight 100% preshrunk cotton shirt. The color of the shirt? Courthouse Coffee, of course!
Limited Edition "The Andy Griffith Show" 50th Anniversary Portrait
Special Price: $60.00 $40.00
http://www.weaversdepartmentstore.com/catalog.php?item=259
What a beautiful way to celebrate the 50th Anniversary of TAGS! This handsome print is sure to be a cherished lifetime keepsake marking this special time in the history of TAGS. But more than a keepsake, it's a superb work of art whose many smiling faces will bring instant grins to the faces of everyone who sees it.
Printed with premium inks on archival paper, this outstanding 12 in. x 16 in. collage pencil portrait is signed and numbered by talented Wilmington (N.C.) artist George Murray and officially licensed by CBS Consumer Products. It's limited to a maximum of 10,000 prints.
The suggested gallery price for this commemorative print is $60, but we've got it at Weaver's for just $40.
And More...
* We have the first six seasons of "Matlock" (the Sixth Season was released just last month) along with all seasons of TAGS (including a Box Set with all eight seasons, the "Danny Thomas" pilot and the Return to Mayberry movie) and all five seasons of "Gomer Pyle, U.S.M.C." And we have a nice assortment of the best movies starring Andy Griffith and Don Knotts. They're in the DVDs Section at Weaver's.
* Joey Fann has added a touching new Introduction (and a new cover) to his The Way Back to Mayberry: Lessons From a Simpler Time book, based on the Mayberry Bible Study Class that he created. And best of all, it's still at the same great price ($13.00).
Also, be sure to check out our Collectibles & Special Items at Weaver's. There are some unique and rare items there that could make really special gifts or additions to your own collection. And we have a wide assortment of great licensed Mayberry products in the Cool Gifts section and throughout the Weaver's shopping area at http://www.imayberry.com.

On the Move

Old Ben Weaver recently closed the little Weaver's booth Bert Miller was running for us at the Main-Oak Emporium in Mount Airy for the last 10 years. The good folks at the Andy Griffith Museum acquired some of the items for their jam-packed gift shop, so be sure to check out their selection when you're in Mount Airy.
We've put the rest of the items back in our online store at www.iMayberry.com, so we're well-stocked on many items, including some rare and discontinued items that we haven't had online in a while.
Phone Orders
In addition to accepting orders online or by mail, our Weaver's Dept. Store has a phone number FOR ORDERS ONLY (615) 604-1298. The phone number is generally in operation from 9 a.m. to 6 p.m. CT Monday through Saturday. (They sneak out to go fishin' for carp and pike a lot, so if you miss them during business hours, just leave a message with a number where they can call you back.)
Please call this number only for ordering or for inquiring about orders placed by phone. All inquiries about online orders and mail orders should be made online and by mail, respectively.
**** Coming Soon! ****
Mayberry's Finest Brand Foods, the official food licensee of "The Andy Griffith Show," is commemorating the show's 50th Anniversary with the issue of...
Mayberry's Finest Special 50th Anniversary Edition Lithographed Gift Tin
http://www.weaversdepartmentstore.com/catalog.php?item=303
(Price TBA)
Being Released in "Early 2011"
Still scheduled to be popping out of the oven sometime in "early 2011, this gift tin will contain four of the most popular varieties of Mayberry's Finest baking mixes, such as Peach Cobbler and Cinnamon Toast muffins. As a treat for fans of the show, the collectible tin will feature images of some of Mayberry's most representative memorabilia.
And as a special feast for the ears, the gift tin will include a brand new CD of Mayberry tunes by the awarding bluegrass band The Grascals. Among the songs that will make you laugh is a tune they worked up just for this CD. It's called "Boy, Giraffes Are Selfish."
There's still no definite production date yet for this special gift tin. The original plan was to have the tins available in time for Christmas. When all the ducks didn't get in a row for that target date, the company put on its "square wheels." But not to worry. If you're among those who pre-ordered, we still have your orders ready to go (at your original pre-order price) just as soon as the tins become available. We think they'll be worth the wait. Meanwhile, continue to ask for Mayberry's Finest baking mixes wherever you shop for groceries.
.
**** Chapter News ****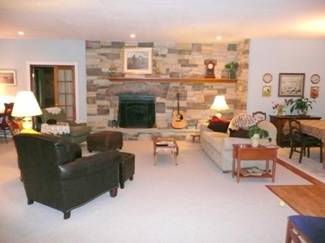 Inside the Taylor Home Inn. And there's a Courthouse in the basement and Wally's Service Station outside. The attention to detail and the hospitality of hosts Marsha and Dave are a pure delight for any fan of Mayberry.
Many chapters checked in during the Christmas season with greetings, including two Wisconsin chapters. Mayberry Sheriff's Department (Chilton) and Mayberry Memories (Eau Claire) both said they're doing well. The Mayberry Memories group recently acquired a Mayberry squad car replica. They've already won two trophies at car shows. And the car will come in handy for chapter leader Ken Anderson, who is a popular speaker about Mayberry. He and wife Linda are also regular guests at the Taylor Home Inn Bed & Breakfast, which is operated by our Mayberry Scout Troop #44 (Clear Lake, Wis.). Their website is: http://www.taylorhomeinn.com/.
The Schwumpsters (Stephens City, Va.) says they had a wonderful Christmas gathering with a record 17 people attending. They talked about favorite TAGS moments, ate dessert and watched the "Christmas Story" episode.
Barney chapter (Greensboro, N.C.) also had a great Christmas meeting, which is always their biggest meeting of the year-complete with Mayberry-related gifts for everybody.
"Shakedown! Shakedown!" chapter (Laurinburg, N.C.) had 25 people in attendance for their December meeting. And a couple of days later, some of the chapters made the trek over to a meeting of Wally's Front Porch chapter (Wilson, N.C.). The Wally's bunch meets in their replica of Wally's, which is also a functioning antique store and basically a museum with lots of Mayberry influence. Check out their website at http://wallysfillingstation.com/.
Mayberry chapter (Knoxville, Tenn.) participated in the local Christmas parade in Karns, Tenn., as they do most years. The chapter didn't have its Christmas meeting until January. (Never a hurry in Mayberry, of course.) They also celebrated Maggie (Charlene Darling) Peterson's birthday at the same meeting. And they are planning to gather this month to celebrate Elizabeth (Lou Ann Poovie) MacRae's birthday.
Word has leaked out that Laura Lee Hobbs chapter (Westminster, S.C.) is deep into the final details for this April's Mayberry festival that their organizing. See Floyd's event calendar for the link. And let 'em know if you see a gold truck coming through.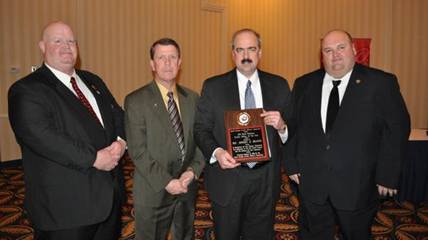 DARE-ING DO—Jeff Branch (holding his plaque) is joined by (l-r) former Stanly County Sheriff and Oakboro Police Chief Joe Lowder, retired Montgomery County Sheriff Jeff Jordan and Sheriff Dempsey Owens of Montgomery County.

Check out an news interview with Gary Matthews, leader of Barney's One Bullet Volunteers chapter (Morristown, Tenn.), on YouTube at http://www.youtube.com/user/morristowntv#p/search/3/FgR5omJydQQ
And here's a link to coverage of an 87th birthday party for Mount Airy barber Russell Hiatt (aka America's Barber) in January: http://www.wxii12.com/r/26653781/detail.html. Several TAGSRWC members from at least three states were in attendance.
We're especially pleased to share the news that well-known Howard Sprague tribute artist Jeff Branch was named 2010 North Carolina D.A.R.E. Officer of the Year at the state's annual D.A.R.E. conference in early January. Jeff has worked with D.A.R.E. programs in North Carolina for 18 years, including currently for the Montgomery County Sheriff's Department. He was also named Artist of the Year by the Montgomery County Chamber of Commerce last year for his work to bring entertainment to the county, including an annual Mayberry-themed fundraiser for D.A.R.E. Good works by a good man!
And popular Otis Campbell tribute artist and all-around Mayberry instigator Kenneth Junkin was surprised with a retirement party by fellow members of the "Hearty Eatin' Men and Beautiful, Delicate Women" chapter (Tuscaloosa, Ala.) No, Kenneth isn't retiring from hearty eatin' or his Otis duties. He's just retiring from the company where he has worked since about the time "Mayberry R.F.D" ended its primetime run on CBS.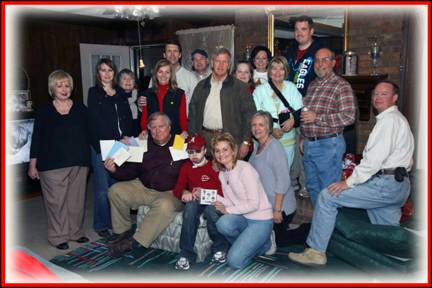 HEARTY MEETIN'—Members of the "Hearty Eatin' Men and Beautiful, Delicate Women" gather to salute Kenneth Junkin (seated and holding many cards with good wishes) during the group's February meeting. Even Opie Taylor (far left) showed up to give Kenneth a nod. Staff photo by Alan Thornton.
Kenneth was already Mayberry dynamite (a Loaded Goat, you might say!) at spearheading Mayberry (and other) events and charity efforts (including the local Eagles' Wings). With more free time on his hands, there's no telling what all he'll accomplish along those lines. We don't expect he'll be taking up the art of mosaics, though-not even if a Warren Ferguson tribute artist encourages him to do so.
Any chapters wanting to get in touch with potential new members (and vice versa) should let us know by writing to Goober@imayberry.com and we'll help spread the word through The eBullet and in the Chapters area of www.tagsrwc.com, and we'll let fans looking for chapters know how they can reach a chapter near them. And we encourage news and photos from all chapters and members at large.
**** Mayberry on the Web ****
For over two years now, http://www.iMayberry.com/podcasts has been the home of the Two Chairs, No Waiting Internet Radio Show (a podcast) hosted by Allan Newsome.
As most of our readers likely know, Allan is our webmaster at imayberry.com and has been very active in TAGSRWC since 1992. If you've attended various Mayberry events through the years, you've probably seen Allan as an outstanding tribute artist for Floyd the Barber.
Two Chairs, No Waiting has TAGS news, interviews and pretty much whatever happens to be going on in and around Mayberry. Allan is doing a really bang-up job on these podcasts. There's a new episode every Tuesday and also an Archives in case you want to listen to episodes you've missed. (There have been more than 10 dozen episodes so far!) We think you'll find these podcasts creative, fun and informative. There's a lot of info and discussions that you simply won't find anywhere else, including rare interviews (vintage and new) with cast and crew members of TAGS.
If you've got sound on your computer or have an iPod or similar device, you can easily tune in or download these podcasts. There are all sorts of ways to interact with the podcasts, including several options for giving your feedback. So pull up a chair and enjoy the fun of bringing what is basically Radio Free Mayberry to you wherever you are!
And there's also a Brother Figure podcast to Two Chairs, No Waiting.
It's hosted by longtime TAGSRWC member Kevin Burke, who does a great job of describing and discussing individual episodes. It's called Burke on Mayberry. Check it out.
TAGSRWC's official page on Facebook recently celebrated its first year! So far, nearly 7,000 friends have joined our Facebook group, which you can find at www.facebook.com/tagsrwc. We hope you'll check out our Facebook page and be a part of helping it grow and spreading the word about Mayberry news and activities by becoming a fan with TAGSRWC. Drop by when you have a chance and say, "Hey!"
"My, Myself, and i"
"Trained noticers" have likely noted that our website addresses in this issue now say iMayberry.com instead of just mayberry.com. Both versions still work for getting to various areas with TAGSRWC's content on the web, but iMayberry.com is the one that we're going to be primarily promoting from now on. To make sure you can always find us, remember the saying, "E before N in Chicken and i before Mayberry in www.iMayberry.com. (i always forget that rule, but not anymore!)
**** Miss Crump's Mayberry Quiz #80 ****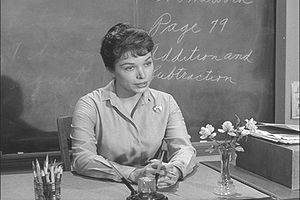 She's baaaa-aack!
We can't quite tell from her expression whether Old Lady Crump is happy to be back on the job with new quiz questions. We guess we'll find out when we see what kind of questions she has come up with for her class after her extended sabbatical in the last several issues of The eBullet.
The prize for the most right answers to this quiz is a copy of the 50th Anniversary DVD. (Or the winner's choice of another item priced at $25 or less at Weaver's.)
Here are the questions:
1. Using visual detective methods employed by someone as keen as Barney Fife, what are two topics most likely discussed on page 79 of one of the textbooks used in Miss Crump's classroom?
2. Name two principals at a school where Miss Crump is a teacher.
3. Name a head of the school board in Mayberry.
4. Who once "got a rude" in Miss Crump's classroom?
5. What does Goober say makes more noise than Mr. Wilson's fan belt?
BONUS: Name four distinct occurrences of the number 44 in Mayberry, or distinct references to the number 44 by or to Mayberry residents. (In other words, not the same basic reference to 44 being mentioned several times.)
Submit your answers by e-mail to OldLadyCrump@iMayberry.com or mail them to Old Lady Crump c/o TAGSRWC, 9 Music Square South, PMB 146, Nashville, TN 37203. The deadline for entries to e-mailed or postmarked is March 31, 2011. If there is a tie for the most correct answers, we'll draw a winner from Briscoe Darling's hat. Good luck to all!
**** Post Note ****
If you ever miss receiving an issue of The eBullet, you can always catch up by reading it in the eBullet Archives in the Newsletters section at imayberry.com. Each issue is usually placed in the Archives within about a week of its being distributed to subscribers.
Between issues of The eBullet, keep up with the goings-on in Mayberry with the daily "Who's Been Messin' Up the Bulletin Board?" (aka WBMUTBB) Digest. It's a free subscriber list that consists entirely of comments, newsflashes, and questions and answers from subscribers. You can sign up for that list by going to the "Mailing Lists" link at tagsrwc.com. WBMUTBB has its own password-protected Archives where you can follow the ongoing stream of messages.
TAGSRWC also publishes Weaver's Newsletter in more-or-less alternate months to The eBullet. Like The eBullet, the Weaver's Newsletter is free. Its focus is mainly on new Mayberry merchandise and collectibles and quick newsflashes. To sign up, go to: Weaver's Newsletter Sign-Up
TAGSRWC's other main vehicle for Mayberry information is simply our Web site at www.tagsrwc.com (and its sister site www.imayberry.com). Both sites have extensive content and links for just about everything a Mayberry fan might be looking for.
The next issue of The eBullet is scheduled for early April, with the next Weaver's Newsletter planned for March.