To Subscribe click here
To Unsubscribe click here
---

Volume 10, Issue 4


---

---

September 2010

---
If you cannot view the HTML newsletter (photos), click here to read it at our Web site.
*********************************************
The eBullet
An Online newsletter of
"The Andy Griffith Show" Rerun Watchers Club (TAGSRWC)
Volume 10, Issue 4
September 2010
*********************************************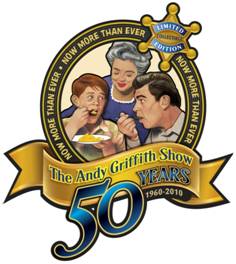 Welcome to our fourth eBullet for 2010, the 50th Anniversary Year for "The Andy Griffith Show"! Celebrations of next month's milestone anniversary are really getting revved up now. Several more 50th Anniversary products have just come out (see the Merchandise section below), and more are on the way. It's looking more and more like Oct. 3 is going to be not the culmination, but instead the kick-off for many more months of celebration of the 50th Anniversary! (No complaints here!) We'll get to all the 50th Anniversary news in a moment, but first we have a more somber commemoration.
Remembering Mitch Jayne 1928-2010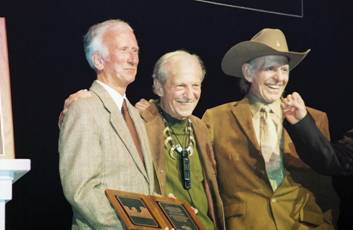 Mitch with Dean Webb (left) and Doug Dillard (right) at last October's IBMA Hall of Fame induction of The Original Dillards in Nashville.
Amid our anticipation about the 50th Anniversary, Mayberry and the world lost one of the all-time greats when Mitch Jayne died this summer. Mitch was the pipe-puffing bass player in Mayberry's Darling family and he was the storytelling voice of The Dillards. He was also so much more.
Mitch was a person who was beloved by all. He's also one of those people who, even after they have passed, leave you still feeling their presence. Not in the way of a Hiram, the fiddling ghost in Mitch's awarding-winning Fiddler's Ghost novel, but simply in the way that his love of life and adventure, the embroidery of his velvety storytelling, and his wry laugh stay with you.
Mitch lived life to the absolute fullest. He savored every moment in a total embrace. When the time came for him to leave us, he did so with tremendous grace and humor and peace, just as he had lived.
There's so much that could be said about Mitch, but the official obituary from his family says it about as well as anybody except maybe Mitch himself could say it. Here's the text they submitted:

Author, musician and humorist Mitch Jayne, 82, died Monday, Aug. 2, 2010, in Columbia. Jayne was the author of five books, a weekly newspaper column published in the rural Ozarks for 20 years, and more than a dozen bluegrass songs recorded by The Dillards. He hosted a radio show in Salem that attracted national attention for its satire, including the "Snake and Tick Market Report," a regular feature that reported market prices for Hoo-Boy White Dot Crushproof Dry Valley Wonder Ticks and black, copperhead, coachwhip, garter and rattle snakes.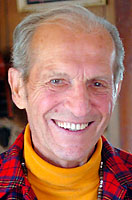 A memorial service is planned for the fall in the Ozarks, the time and place Jayne loved best and never tired of sharing through his stories and music.
Jayne was born July 5, 1928, in Hammond, Ind., the son of Bea and Gus Jayne. After a stint at the University of Missouri, he began teaching in one-room schools in Dent County, where he documented the use of the forgotten words and phrases of Elizabethan English spoken by his pupils.
He once asked a 6-year-old what his father did for a living. "He principally farms," the youngster told him, "and when he isn't farming, he sits on the porch and plays the fiddle, just to beguile the time." One day when a student learned he wanted to see a beaver in the wild, the student told him, "Mr. Jayne, there's a beaver a workin' forenent the mill." When Jayne asked a student to stay after school for some chore, the boy replied, "No, Mr. Jayne, I'd best haste home. Mother don't sanction us being dilatory."
Jayne published his recollections of his students' use of Elizabethan English in 2000 in Home Grown Stories & Home Fried Lies, illustrated by his wife, artist Diana Jayne. He lamented the consolidation of one-room schools, comparing it to the influence of TV and radio that brought homogeneity to language and culture, ultimately leading to the demise of the rich old English phrases in their last sanctuary in the remote Ozarks mountains.
In 1962, Jayne befriended talented bluegrass musicians Douglas and Rodney Dillard, who invited him along to seek their musical fortunes in California. Jayne learned to play the bass lying down in the back of their station wagon en route to the West Coast. They played several venues, including the hungry i in San Francisco, where they caught the attention of critics for their hard-driving melding of electrified bluegrass and rock. They were invited to play on "The Andy Griffith Show," where they appeared regularly as the Darling Family for three years.
Jayne authored many of The Dillards' best-known works, including "Dooley," "The Old Home Place" and "The Whole World Round." The group recorded more than 20 albums from 1963 to 2006, but Jayne's participation in the group waned in the late 1970s.
While in California, Jayne also published his first books, The Forest in the Wind in 1966, and Old Fish Hawk in 1973. Old Fish Hawk, about an Osage Indian, was made into a movie starring Will Sampson in 1979. Jayne returned to Missouri around 1974 and built a house adjacent to the Marcoot region of the Mark Twain National Forest. One week before Christmas in 1981, a spark from the massive stone chimney of his house caught the handmade shakes of the roof on fire and destroyed his home. Two weeks later, his bluegrass friends held a benefit concert to raise money to rebuild the house, which he moved into in 1983.
His popular radio show, "Hickory Holler Time," broadcast on KSMO in Salem, featured local news, bluegrass music, "The Snake and Tick Market Report," and a variety of satirical sketches, including a July Fourth episode in which Thomas Jefferson and George Washington trade foxhounds. He invented a character, Zeke Reeferzottum, who shared folklore such as predicting the severity of winter by looking at "wooly caterpillows. Not their color, their size! I been skinnin' 'em and tannin' their hides!" "Mother Mitch's News" was a spin-off of the "Mother Earth News," providing practical advice for living off the land, including making your own toilet paper ("perforations can be added with a spur or pizza cutter") or a sturdy truss out of old shoe tongues and Band-aids.
The radio show-especially "The Snake and Tick Market Report"-had a wide following. A pilot once told Jayne he diverted his plane to fly over Salem so he could entertain passengers as they passed through his air space.
Jayne started a third novel, the yet-to-be-published Glory Hole War, a story about Ozarkian saboteurs who take exception to a government plan to dam their spring. He also began writing his weekly column, "Driftwood," which appeared in several Missouri newspapers and magazines, and went on the lecture circuit to talk about conservation, not just of natural resources, but of culture and history.
In his last decade, he received the official praise that in earlier years might have been the object of his gentle jokes. In 2002, The Dillards reunited to play to a packed audience in Carnegie Hall. In 2009, they were inducted into the Bluegrass Hall of Fame at the Grand Ole Opry.
The publication of his fourth novel, Fiddler's Ghost, in 2007 led to the 2008 Governor's Humanities Book Award, and it was named one of the 10 best books of the year by the St. Louis Post-Dispatch.
In addition to his wife of 16 years, Diana Jayne, he is survived by a brother, Sears Jayne of Boston; and daughters Carole Jayne of Eminence, and Valerie Jayne of St. Charles.
Family and close friends were with him during his final days of compassionate care at Truman Memorial Veterans' Hospital, where he entertained and told stories until he was too weak to talk. When asked by a friend how he was doing, he replied, "I don't know. I've never died before."
We've put several links to other remembrances of Mitch in the Memorials section dedicated to him on the front page at www.iMayberry.com. We also have created an album of photos of Mitch on TAGSRWC's Facebook page at this link Mitch Jayne Photo Album.
TAGSRWC is making a donation in Mitch's memory to the Surry Arts Council and its efforts with the annual Mayberry Days festival.
****
Floyd's
Barber
shop
Bulletin
Board
&
Event
Calendar
The Andy Griffith Museum, featuring Emmett Forrest's amazing collection of Andy Griffith artifacts and memorabilia, is open on its regular daily schedule in Mount Airy, N.C. For info, visit the Web site at www.andygriffithmuseum.org or call (336) 786-1604.
* Now-Sept. 24: TV Land is currently counting down the days leading up to the golden anniversary of "The Andy Griffith Show" with "50 Days of Andy," Monday through Friday from 3:00 p.m. to 6:00 p.m. ET/PT. Each day during this block, TV Land is sharing fun show facts and showcasing special episodes selected by celebrities and super-Goober "Andy Griffith" fans. From now through September 22nd viewers can log on to www.tvland.com/andy to vote for their all-time favorite episodes.
The final results of the voting will air on Sat., Sept. 25th, from 8:00 a.m. to 9:00 p.m. ET/PT and Sunday, Sept. 26th, from 8:00 a.m. to 8:30 p.m. ET/PT during a 50th Anniversary top 50 countdown. TVLand.com/andy also includes nostalgic photo galleries, bios, trivia and games for TAGS fans of all ages.
* Sept. 10 & 11: Tom Johnson RV revs up with David Browning in Marion, N.C.


* Sept. 11: James Best performs his one-man show at 7:30 p.m. at the H.J. Ricks Centre for the Arts, in Greenfield, Ind. He will show film clips as he leads the audience through his experiences in Hollywood and beyond. Tickets to the show are $15 per person. Seating at the one-night only performance is limited, so get your tickets today at Eventbrite at http://roscovisitsgreenfield.eventbrite.com/ or by taking a check to the Hancock County Visitors Bureau.
* Sept. 11: Rodney Dillard and The Dillard Band take the stage at 4 p.m. and 9 p.m. during the Bluegrass & BBQ Festival in Salem, Ill. For more info visit: www.bluegrassbbq.info
* Sept. 16: Rodney Dillard and The Dillard Band perform at the Boom Days festival in Fort Payne, Ala. For more info, visit boomdays.org.


* Sept. 21: Betty Lynn greets fans at the Andy Griffith Museum in Mount Airy, N.C., from 12:30 to 5:00 p.m. Autographs are $10 each and include an 8x10 photo.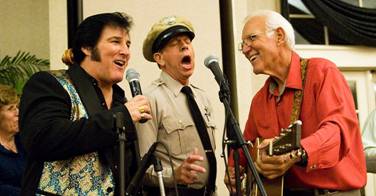 "ME-THEY, ME-THEY"—Michael Hoover, David Browning and LeRoy McNees pickin' and grinnin' during Mayberry Days last year. Photo by Hobart M. Jones

* Sept. 23-26: 20th Anniversary Edition of Mayberry Days in Mount Airy, N.C. This is the big one! Guests include: Betty Lynn (Thelma Lou), Doug Dillard (the banjo-playing Darling boy), Maggie Peterson (Charlene Darling), Elinor Donahue (Ellie Walker), James Best (Jim Lindsey), Ronnie Schell (two TAGS episodes and Duke Slater on "Gomer Pyle, U.S.M.C."; his Mayberry Days debut!), Jackie Joseph ("Sweet Romeena"), LeRoy McNees (one of the Country Boys in "Mayberry on Record"), George Spence (Frank the FiancÚ in "Guest in the House"), Margaret Kerry (Bess Muggins and Helen Scobey; her first time at Mayberry Days!), David Morris (son of Howard Morris), Laura Hagen (widow of Earle Hagen), and Karen Knotts (daughter of Don Knotts).

Other festival favorites include a lecture by Neal Brower and concerts by The Doug Dillard Band (featuring Ginger Boatwright, Roger Rasnake, Buddy Griffin and Jim Vipperman) and by the VW Boys, the Rafe Hollister Band (no kidding!) and others.

Some highlights to look for include Karen Knotts singing a brand new song about somebody close to her that we all love; a screening of "The Pickle Story" with commentary by Robert Dean, who worked as an extra in the episode; the Mayberry Days Trivia Contest; the North Carolina State Barbecue Championship; and Colonel Tim's Talent Time. And look for author Joey Fann and licensed Mayberry artists George Murray and Dave Barnhouse onsite with their works in and around the Andy Griffith Playhouse and Andy Griffith Museum.

Full details, updates and tickets to those portions of the weekend that require a ticket are available online at www.surryarts.org.

* Sept. 25: Release party for Rodney Dillard's I Wish Life Was Like Mayberry CD in Mount Airy, N.C.

* Oct. 1: Christ Lutheran Church in Rochester, Minn., hosts an evening titled "Mayberry Reflections." Ken Anderson, author of the book "Mayberry Reflections: The Early Years," will talk about his connection to Mayberry and about the ideals and values that Mayberry continues to instill upon its viewers. "The New Housekeeper" will be shown. Authentic Mayberry desserts will be served. Free childcare will be provided. Christ Lutheran Church is located at the corner of 20th Street and Marion Road, S.E. Call 507-289-0271 for more info. A free-will offering will be taken.


* Oct. 2: Long Branch Baptist Church in Autryville, N.C., will celebrate the 50th Anniversary of TAGS with a day of music, memories, and down-home fun.

Scheduled to appear: Rodney Dillard and The Dillard Band, Maggie Peterson, David "Mayberry Deputy" Browning, Jeff "Howard Sprague" Branch and Allan "Floyd" Newsome.

The day will feature two shows by the performers listed above as well as a meet-and-greet lunch. There will also be a pickle-making contest, a whistling contest, trivia contests, and other activities throughout the day. There may be a Facebook page and Web site up in the coming weeks.
Autryville is located approximately 60 miles south of Raleigh, 15 miles east of Fayetteville/Ft. Bragg and 80 miles northwest from Wilmington.

* Oct. 3:
50th Anniversary of the airing of the first episode of "The Andy Griffith Show" on CBS.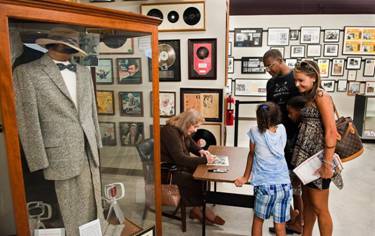 Betty Lynn signing photos in the Andy Griffith Museum, amid some iconic Mayberry items. (Yes that is a salt-and-pepper suit worn by Don Knotts.) Photo by Hobart M. Jones.
* Oct. 3: Betty Lynn greets fans at the Andy Griffith Museum in Mount Airy, N.C., from 2:00 to 4:00 p.m. Autographs are $10 each and include an 8x10 photo.
* Oct. 3: TV Land celebrates the 50th Anniversary of TAGS with a special marathon of landmark episodes beginning at 4:00 p.m. ET/PT.
* Oct. 7: Andy Griffith is among the second group of inductees into the North Carolina Music Hall of Fame in Kannapolis, N.C. (He won't be attending the ceremony.) For more info, visit www.northcarolinamusichalloffame.org.
* Oct. 16: The "Andy Griffith Show" stock car, driven by Travis Kvapil (#34), has its maiden race at the Banking 500, part of the NASCAR Sprint Cup Series, at Charlotte Motor Speedway. The race will be broadcast on ABC-TV. Look for some licensed Mayberry merchandise to be connected with Mayberry car. (Our Weaver's Dept. Store will be stocking any stock-car items that might make good stocking stuffers.)
* Oct 16-21: A Cruise to Mayberry 5 to the Bahamas aboard Carnival's Fascination with Jackie Joseph (Mayberry's Sweet Romeena), the VW Boys and Mayberry tribute artists. For more info, call (336) 538-4926 or toll-free (800) 832-7993, or visit www.allaboutcruisesnc.net
* Oct.19: Doug Dillard is the featured Master Artist at the Annual Bluegrass Concert at Glenville State College in Glenville, W.V. Doug will be interviewed about his career and then do a concert with the college's highly respected bluegrass band led by Buddy Griffin.

To add some extra Mayberry flavor to the evening, David Browning, a local Ernest T. Bass and a Mayberry squad car replica will be part of the evening. The show starts at 7 p.m. Advance tickets are on sale at the college at (304) 462-6340 for $10. If any tickets remain, they'll be available at the door for $15.

**** 2011 ****

* Jan. 14: The Dilemma, Ron Howard's latest movie as director, opens in theaters nationwide.

* Mar. 3-5: The George Lindsey/UNA Film Festival in Florence, Ala. Details and guests TBA. For more info, visit: www.lindseyfilmfest.com.

****News of Cast & Crew ****

Andy Griffith dodged most of the force of Hurricane Earl last week. He also got lots of attention and weathered some partisan controversies about his recent public service TV commercial for Medicare. In case you've missed it, here's a link: AndyGriffithMedicarePSA. And, the North Carolina Music Hall of Fame will induct Andy on October 7.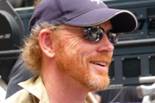 Ron Howard's next film as director is The Dilemma, which stars Vince Vaughn, Jennifer Connelly and Winona Ryder. It'll be in theaters in January.
Clint Howard has a fun, politically-tinged video that's getting lots of attention online. Here's a link: ClintHowardHeritageforAmericaVideo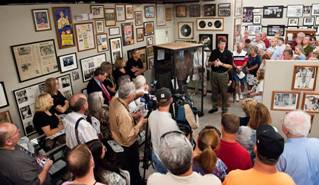 An overflow crowd gathered at the Andy Griffith Museum for the unveiling of the suit donated by George Lindsey to Emmett Forrest's Andy Griffith Collection. Photo by Hobart M. Jones.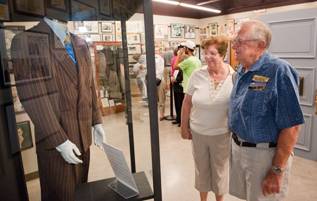 Margaret and Sparky Sparkman of Walkerton, N.C., admire George Lindsey's suit following the unveiling. Sparky is also blocking our view of the original Sheriff sign from the courthouse door on TAGS. (Attaboy, Sparky!) Photo by Hobart M. Jones.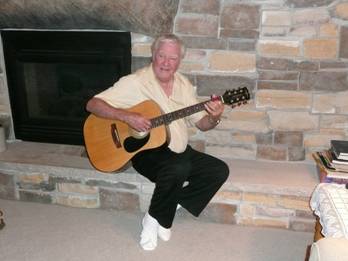 At the Taylor Home Inn, James Best recreates a Mayberry scene from "The Guitar Player Returns." Jim Lindsey may have had a spiffy "set of threads" back in the day, but it appears the Mid-Mountain Finance Company may finally have repo'd his shoes!

George Lindsey got an incredible amount of media coverage in the last few weeks. Or at least a suit he wore on TAGS and others shows did. George donated a brown striped suit he wore as Goober to the Andy Griffith Museum in Mount Airy. George was unable to attend the unveiling on Aug. 27th in person, but he did offer this comment: "It's an honor for me both to have my stuff on display and also that people want to see it. Of course, this 'stuff' was on TV a long time-and still is. Generations of TV watchers continue to love Mayberry and all of its characters. I'm proud to have portrayed one of those characters. The love is mutual."

Mount Airy residents Betty Lynn and Emmett Forrest, Andy Griffith's lifelong friend whose collection makes up most of the museum's exhibits, were on hand for the unveiling and to welcome a capacity crowd. The suit's unveiling made the front pages of at least two newspapers and also received prominent coverage in dozens of other newspapers across the country, including the Los Angeles Times and Kansas City Star, as well TV stories. It was big!

Maggie Peterson and Rodney Dillard were a big hit for the annual DARE fundraiser in Troy, N.C., on Aug. 7. Here's a link to their performance of "There Is a Time" in memory of fellow Darling Mitch Jayne, who passed away just days before the Troy event: ThereIsATimeTroy. (Also, read about Maggie and Rodney's appearance at July's Mayberry Squad Car Nationals in Chapter News below.)

Doug Dillard is rearing to go for his 21st consecutive appearance at Mayberry Days in September. (That would be every year of the event!) Keep up with Doug at www.dougdillard.net and www.hillbillyhollywood.com.

Dean Webb is in the middle of another season performing with the Missouri Boatride Bluegrass Band. Most of their dates are near the band's home base in Missouri. You can see their complete schedule at www.missouriboatride.com.




James Best has had a busy summer (and soon fall) performing, making personal appearances and promoting his Best in Hollywood memoirs. Here's a photo from his recent visit to the Taylor Home Inn Bed & Breakfast in Clear Lake, Wis.

You can see more photos of James' visit and of the Taylor Home Inn in general on their Facebook page: TaylorHomeInnOnFacebook

The Taylor Home Inn is a really amazing place, especially for Mayberry fans. And what's more...it's an officially licensed "Andy Griffith Show" property!

And here's one more Cast & Crew link, this one from near the Pebble Beach Links. It's a nice newspaper article from August about TAGS director Peter Baldwin, one of the great talents behind the camera: PeterBaldwinmontereyherald.

**** Chapter Update ****

We're "pickled tink" to welcome seven new chapters since our last eBullet:
| | |
| --- | --- |
| "A Button Off the Uniform of General George Washington" | Timmonsville, SC |
| "All Right Lefty, You and Me's Bustin' Out of Here Tonight" | Henderson, Ky |
| Big Barn at the Bruin Lounge | Katmai National Park, Alaska |
| Singin' "Eating Goober Peas" with Ernest T. | Fillmore, Ind. |
| Looking for Mayberry | Phoenix, Ariz |
| "Gas It Up, Chickie" | Richmond, Ky. |
| "That Haircut of Yours May Be City-Style, but Your Heart Was Shaped in a Bowl" | Cuba, Ill. |
We now have had 1,359 chapters founded since TAGSRWC started 31 years ago. We also currently have one chapter (that we know of) pending as they try to decide on a name in Taft, Calif.
If you're interested in starting a chapter of TAGSRWC, all you need to do is choose a name that hasn't already been picked, and submit it with a list of your founding members by U.S. mail to TAGSRWC's HQ in Nashville. The hardest part is simply finding a name that hasn't already been chosen. There's a searchable list of chapter names at www.tagsrwc.com.
Once you successfully choose a name that's "all yours and nobody else's," you'll receive your Official Chapter Charter, fancily inscribed (and "suitable for framing") by Sherry Hyatt, one of our "Compelsion Nuts" in East Tennessee.
What you do as a chapter is entirely up to you. Your group can do as much or as little as you like. The idea is simply to have lots of Mayberry fun with whatever you do.
Or if you're feeling more like a joiner than a starter, you can write to us about how to contact a chapter near you. Our address is TAGSRWC, 9 Music Square South, PMB 146, Nashville TN 37203-3211. Or you can join our online "Who's Been Messin' Up the Bulletin Board?" chapter. (It's really quick and easy to do. Info is at tagsrwc.com.)
Either way, we hope you can enjoy the fun of being part of a TAGSRWC chapter!
**** Merchandise Update ****
Bunches of newly licensed "Andy Griffith Show" items continue to hit our Weaver's Dept. Store shelves this year. Most of the new products are tying into this year's 50th Anniversary celebration of TAGS.
Here's a sampling, including the very latest items. You'll find these and much more in the weaversdepartmentstore.com section of iMayberry.com.
Limited Edition "Together Forever" 50th Anniversary Color Lithograph
by Dave Barnhouse NEW! $130.00
http://www.weaversdepartmentstore.com/catalog.php?item=298
This spectacular print is titled "Together Forever" and is brand new and just in time for the 50th Anniversary of "The Andy Griffith Show." It's a beautiful rendering by renowned Americana artist Dave Barnhouse.
The image size of the full-color lithograph measures a generous 17.75 in. x 28 in. and includes 21 favorite Mayberry characters.
The Edition is limited to a total of 5,900 pieces, all signed and numbered by the artist. We expect them to sell out very quickly.
What a marvelous commemoration for the 50th and beyond that Dave Barnhouse has created for Mayberry fans!
Note: Other items ordered with this print may ship separately, but they will be billed together. And there will be just our single shipping charge of $5.00 per shipping address, no matter how many items or shipments are going to that same address to fill the order.
* I Wish Life Was Like Mayberry CD by Rodney Dillard NEW! $16.00
http://www.weaversdepartmentstore.com/catalog.php?item=301

Available to order now. Shipping begins in late September.


This CD is brand new in September 2010 and features Rodney Dillard singing lots of favorite Darlings tunes from "The Andy Griffith Show," along other classic Dillards tunes and some later songs about the Darlings.
Some classic bluegrass and Mayberry songs for any fan of, well, bluegrass and Mayberry!
Features 19 tracks and some bonus material. Ol' Ben Weaver knows a toe-tappin' good deal when he sees one!
TRACKS:

1. MAYBERRY MOMENT

2. THE DARLIN' BOYS

3. THERE GOES THE NEIGHBORHOOD

4. THERE IS A TIME

5. WICKER ROCKING CHAIR

6. DOOLEY

7. DOUG'S TUNE (Instrumental)

8. SALTY DOG

9. EBO WALKER

10. THE MAYBERRY HAT

11. BANJO IN THE HOLLOW (Instrumental)

12. LEANING ON THE EVERLASTING ARMS

13. THE ANDY GRIFFITH SHOW

14. WET SHOES IN THE SUNSET SUITE

15. LEAKY BOAT

16. G-MAN BARNEY

17. PICTURES

18. GOOBER AND ROY

19. PARENTING
Bonus Material: A Tribute to Mayberry Values
From the archives of the popular radio show "Mayberry Minute," hosted by Rodney. The radio show ran nationally for three years as Rodney took a look back at "Andy Griffith Show" episodes and the life lessons they taught.
Note: In most cases, other items in the same order as this CD will ship with this CD once it's available for shipping in late September.
What Would Andy Do? T-Shirt NEW! $18.00
http://www.weaversdepartmentstore.com/catalog.php?item=302
This design on a preshrunk 100% cotton T-shirt in Carolina Blue poses the question whose answer will always get our attention. (Of course, we all already know the answer..."the right thing.")
Sort of like a rebus puzzle or the old "Concentration" TV game show, this shirt might give passersby a slight pause before they break into a knowing grin and nods of agreement.
This is a shirt that makes a statement without ever saying (or even spelling!) a word.
* 50th Anniversary T-Shirt $18.00
http://www.weaversdepartmentstore.com/catalog.php?item=290
Can it really be 50 years? Shazam! This shirt has a classic image of Andy, Barney, Opie and Gomer on a heavyweight 100% preshrunk cotton shirt. The color of the shirt? Courthouse Coffee, of course!
Limited Edition "The Andy Griffith Show" 50th Anniversary Portrait Special Price: $60.00 $40.00
http://www.weaversdepartmentstore.com/catalog.php?item=259
What a beautiful way to celebrate the 50th Anniversary of TAGS! This handsome print is sure to be a cherished lifetime keepsake marking this special time in the history of TAGS. But more than a keepsake, it's a superb work of art whose many smiling faces will bring instant grins to the faces of everyone who sees it.
Printed with premium inks on archival paper, this outstanding 12 in. x 16 in. collage pencil portrait is signed and numbered by talented Wilmington (N.C.) artist George Murray and officially licensed by CBS Consumer Products. It's limited to a maximum of 10,000 prints.
The suggested gallery price for this commemorative print is $60, but we've got it at Weaver's for just $40.
Old Favorites
* We continue to stock three books, audio cassettes and an audio book (on four cassettes) by late Dillards storyteller and writer Mitch Jayne. You can find them in the Dillards section at Weaver's. What a blessing it is for us still to be able to hear his voice and read his words--not to mention all the great music and memories he has left us!
* Two Mayberry books have come out with new editions in time for the 50th Anniversary. First, Joey Fann has added a touching new Introduction (and a new cover) to his The Way Back to Mayberry: Lessons From a Simpler Time book, based on the Mayberry Bible Study Class that he created. The price is still the same ($12.99).
And The Andy Griffith Show Book by Goobers Beck and Clark is marking its 25th year with...a new starburst that says 50th Anniversary Edition instead of 40th Anniversary Edition. (After 25 years of letting the writers tinker with updates, we guess the publisher was just too happy with things to encourage more changes.) And while the new edition will now cost you 4 cents more in stores (with a cover price going up from $17.95 to $17.99), it's still just $15.00 at Weaver's.
**** First One Thing and Then Another ****
Whether you're looking for a Mayberry T-shirt, something Mayberry for your car, decorative wooden building fronts, Mayberry-related comedy and music CDs, all variety of books and cookbooks, and even Barney Fife light switch covers and a thermometer (get ready for those winter temperatures!), we've got most things Mayberry online at Weaver's at iMayberry.com. Drop by and have fun looking around.
And More...
We also have added a lot of vintage, unique and rare items to our online Weaver's Dept. Store at iMayberry.com this year. You'll find them throughout the site, but the greatest concentration is in the Collectibles & Special Items section.
Rare Complete Set of Eight Collector Plates
http://www.weaversdepartmentstore.com/catalog.php?item=296
Most of these items are designated as fundraisers for Haiti Earthquake Relief, Flood Relief, the George Lindsey/UNA Film Festival, Mayberry Days and other charitable efforts. And there's just one or two of most of these items, so check them out while they're still available.
Weaver's Sneak Peeks
Here are three items that will be available soon:
http://www.weaversdepartmentstore.com/catalog.php?category=10
The second and third licensed paintings from artist Dave Barnhouse are set to be released within the next few days. (They'll be open-edition prints, not limited editions like the licensed 50th Anniversary prints by both Dave Barnhouse and George Murray.) We have these two new prints available to order now at Weaver's. Here's a glimpse of these next two exciting works in the series:
Coming soon!
On shelves soon from Mayberry's Finest

* Mayberry's Finest Brand Foods, the official food licensee of "The Andy Griffith Show," is celebrating 50 years of Mayberry with the issue of a Special 50th Anniversary Edition lithographed gift tin.

The gift package will contain some of the most popular varieties of Mayberry's Finest baking mixes, such as Peach Cobbler and Cinnamon Toast muffins. As a treat for fans of the show, the collectible tin features images of some of its most representative memorabilia. The 50th Anniversary gift tin is scheduled to be available for purchase in time for Christmas on the company's Web site and through Weaver's Dept. Store and several major retailers nationwide. Stay tuned for more details! (Pssst! There's going to be a really neat surprise bonus included in the tin.)

* One last product note: We probably won't be stocking this item at Weaver's, but Hallmark has an official 50th Anniversary TAGS Christmas ornament this fall. You can find it at Hallmark locations. It's similar to the TV set ornament that plays the TAGS theme that Carlton produced a couple of years ago.

Phone Orders

In addition to accepting orders online or by mail, our Weaver's Dept. Store has a phone number FOR ORDERS ONLY (615) 604-1298. The phone number is generally in operation from 9 a.m. to 6 p.m. CT Monday through Saturday.
Please call this number only for ordering or for inquiring about orders placed by phone. All inquiries about online orders should be made online by writing weavershop@aol.com.

**** Chapter News ****

TAGSRWC and Mayberry lost a great friend and talent person when Mick Kieffer passed away last month. Mick, who among his many talents was a popular uniformed ambassador of Mayberry (that is, a Barney Fife impersonator). Mick worked mostly in the Midwest (where he earned the nickname Barney of the Midwest) and the western U.S. But he traveled to festivals all over the country, including the Mayberry Squad Car Rendezvous in Ohio and events in North Carolina, including Mount Airy. He

Mick traveled with his meticulously refurbished 1963 Mayberry squad car replica and his fascinating Mobile Mayberry Museum, which also served as the hauler for his squad car. Just how meticulous was his squad car maintained? Well, last October it sold at auction for $121,000. Nuff said.

Mick's 1963 Galaxie
Mick was a virtuoso computer chip designer, ran a family-owned specialty advertising business, played banjo and guitar (and who knows what all), and was a nationally recognized expert and enthusiast for hot-rod automobiles. He was active in all kinds of fundraisers for charities, but was perhaps best known for his annual Barney's Day Out in the Twin Cities.
Mick overcame serious health problems since childhood. He easily could have settled for less out of life, and no one would have thought less of him for it. But he blessed the world and all who knew him with constant cheerfulness and infectious joy. He was indeed a wonderful member of the greater Mayberry family and is greatly missed.
Here's the official obituary about Mick:
Kieffer, Michael J. Sr. 'Mick,' Age 63, of St. Paul. Beloved Husband, Father and Grandfather passed away on August 23, 2010, following a lengthy battle with lung disease. Survived by loving wife of 43 years, Kathy; children, Michael Jr. (Sue), Patrick (Debbie), and Laura (Bryan) Rodriguez; grandson, Austin; brothers, David (Sharon), Chuck (Sandra), Earl Jr. (Patty); numerous nieces, nephews, other relatives and friends. After retiring from a career in electrical engineering, Mick enjoyed making children and adults laugh by impersonating Barney Fife, locally and across the country. A Gathering of Family and Friends, and Celebration of Mick's Life, was held on Saturday, Sept. 4, 2010.
TAGSRWC is making a donation to the Surry Arts Council and Mayberry Days in Mick's memory. Our thoughts and prayers are with his family.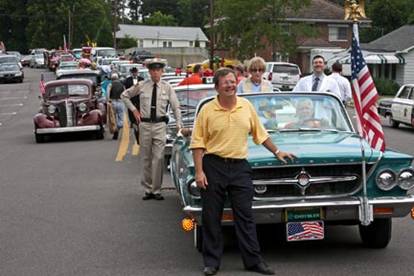 Graysville Mayor and Mayberry Minutemen chapter leader Doug Brewer prepares to unleash the opening parade for the Mayberry Comes to Graysville festival/Mayberry Squad Car Nationals. Perched in the car is Maggie Peterson, flanked by David "Mayberry Deputy" Browning and Allan "Floyd" Newsome. Photo by Alan Thornton.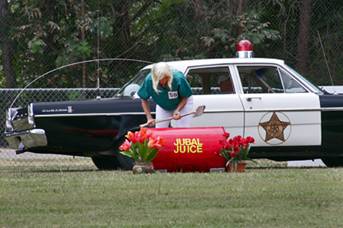 "POW-POW-POW!"—With husband Neil behind the wheel, Pat Coleman of Remembering Mayberry chapter (Chillicothe, Ohio) smashes Jubal Foster's still as part of the obstacle course race. At each stop on the course, Pat slowly morphed from a costume as Convict-at-Large Naomi into the wardrobe of Mount Pilot Fun Girl Daphne (she's about half-way done here). It was her homage to Jean Carson, who played both parts on TAGS. Photo by Alan Thornton.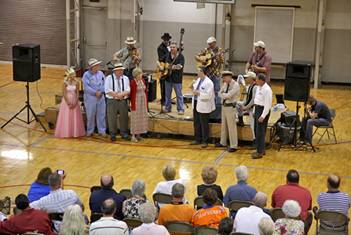 The finale of the evening band concert at the Mayberry Day in Graysville. Rodney Dillard and The Dillard Band are onstage with a little help from Jeff "Howard Sprague" Branch on bass. Standing (l-r) are Potato Queen Sara Babb, Bob "Briscoe" Mundy, ringleader Kenneth "Otis" Junkin, Maggie Peterson, Allan "Floyd" Newsome, David "Mayberry Deputy" Browning, Phil "Ernest T." Fox and Tim "Goober" Pettigrew. Photo by Alan Thornton.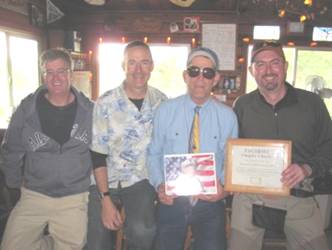 REMOTE FANS—Members of one of our newest and most far-flung chapters, Big Barn at the Bruin Lounge (Katmai National Park, Alaska,) show off their new chapter charter (and a shiny photo of Big Barn). Pictured (l-r): Kevin Miller and Jeff Gard (both of Boulder, Colo.) and year-round Katmai locals Jim Albert (in the Old Sam-shaped tie) and Jason Hughes.
Mick Kieffer would have enjoyed July's 10th Annual Mayberry Squad Car Nationals (MSCN) as much as anybody, but you never would have seen his car racing and kicking up red-clay dust on the ball field at the Graysville (Ala.) Community Center! (He kept it "sitting on a velvet pillow.")
This year's Nationals was considered by many attendees to be one of the best yet. Cars and fans turned out from at least eight states. Nice weather, good-sized crowds, stars Maggie Peterson and Rodney Dillard, and a record 11 Mayberry squad cars all contributed to the fun. Add a slew of Mayberry tribute artists, good food, trivia, music and other entertainment, and it was an all-around great day-and evening.
For the record, the Overall Winner for the 2010 MSCN was the car owned by Tommy "The Hammer" Hammock of Springville, Ala. The team's car also finished first in the Obstacle Course Race. The winner for Best Appearance (as voted by all the car owners) was the car owned by Don and Joyce Kernan (aka Mr. and Mrs. Schwamp) of Foley's Market chapter (La Salle, Ill.).
"Hearty Eatin' Men and Beautiful, Delicate Women" (Tuscaloosa, Ala.) is the organizing chapter for the MSCN each year. The group also participated with one of their Mayberry squad car replicas in Hot Rod Magazine's 10-state 2010 Power Tour of classic cars in June. Their picture is even in the October issue of the magazine (page 62).
Also making news is Lindsay Browning, an affiliated member of "I Ain't No Rockefeller"chapter (Bristol, Va.). She would disappear and reappear in magician Michael Grasso's magic act on "America's Got Talent." They made the final ten but sadly didn't make the final four. Mayberry fans everywhere, especially her parents David and Patty, have a right to be mighty proud of their performance. (You can catch past performances on YouTube.)

And last, we have a report from the August meeting/cookout of "Shakedown! Shakedown!" chapter (Laurinburg, N.C.). Leader Dewey Lamb says, "We had 25 in attendance. We added a Mayberry touch to our dessert selection. We churned our own ice cream. The smaller kids were totally mesmerized by these contraptions.
"We have three members who drive a hundred miles to each quarterly meeting. Everyone had a terrific time. We now have to start planning for our Christmas chapter meeting. Lotta work, but the sight of smiling faces makes it worthwhile."
He adds, "A few of our members are also looking forward to being in Mount Airy for Mayberry Days. Our chapter has been recruited to run the pie-eating contest." The chapter is also very involved in our "Who's Been Messin' Up the Bulletin Board?" chapter's silent auction at Mayberry Days, which raises money for the Surry Arts Council. And the chapter helped out with the charity auction for DARE at the Mayberry event in Troy, N.C., in August. Nineteen chapter members attended that event.
And don't think we let the chapter get away with not giving us more details about the ice cream served at their August meeting. Using our intense interrogation methods, we were able to wheedle out of them that they cranked one churn of vanilla and one churn of strawberry. And they had chocolate syrup and blueberries for toppings.
And, well, that's the scoop from some of our chapters for now.
**** Mayberry on the Web ****
Some of the most energized daily and weekly Mayberry activity is on the Web. For nearly two years now, www.iMayberry.com/podcasts has been the home of the wonderful Two Chairs, No Waiting Internet Radio Show (a podcast) hosted by TAGSRWC's own Allan Newsome.
Two Chairs, No Waiting has TAGS news, interviews and pretty much whatever happens to be going on in and around Mayberry. Each one lasts between 10 and 20 minutes. There's a new episode every Tuesday and also an Archives in case you want to listen to episodes you've missed.
If you've got sound on your computer, or have an iPod or similar device, you can easily tune in or download these podcasts. There are all sorts of ways to interact with the podcasts, including several options for giving your feedback. And there are other links, including a companion Facebook page, to keep up with all the goin's-on. And probably the easiest way to make sure you don't miss an episode is to subscribe to the podcasts. (They're free.)
So pull up a chair, grab a bottle of pop and enjoy the fun of listening to what is basically Radio Free Mayberry wherever you and your ears happen to be!

An
d did you know...TAGSRWC has a page on Facebook? It's www.facebook.com/tagsrwc. We started the page less than a year ago and have been averaging about 100 new friends a week.
We hope you'll check out our Facebook page and be a part of helping it grow and spreading the word about Mayberry news and activities. Lots of folks enjoy just trading favorite lines or memories from the show. And it's a great place to find rare photos (we're adding more as often as we can) and interesting links. It's frequently where news about Mayberry first breaks.
We invite you to share whatever's on your mind about Mayberry, and see what others are saying.
**** Miss Crump's Mayberry Quizzes ****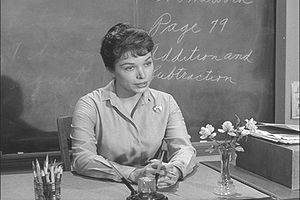 Well, as you can see, Miss Crump isn't happy with us, because there's no trivia quiz again for this issue. There's so much news going on in advance of Mayberry Days and the 50th Anniversary that, to paraphrase Barney, "We don't have time to stand around here and discuss trivial trivialities."
And besides, we figure that many of the trivia mavens are hard at work preparing for the Mayberry Days Trivia Contest in just a couple of weeks. Maybe Miss Crump will return with a quiz in our next issue. (But then again, she might not.)
**** Post Note ****
If you ever miss receiving an issue of The eBullet, you can always catch up by reading it in the eBullet Archives in the Newsletters section at iMayberry.com. Each issue is usually placed in the Archives within about a week of its being distributed.
Between issues of The eBullet, keep up with the goings-on in Mayberry with the daily "Who's Been Messin' Up the Bulletin Board?" (aka WBMUTBB) Digest. It's a free subscriber list that consists entirely of comments, newsflashes, and questions and answers from subscribers. You can sign up for that list by going to the "Mailing Lists" link at tagsrwc.com. WBMUTBB also has its own password-protected Archives where you can follow the ongoing stream of messages.
TAGSRWC also publishes Weaver's Newsletter in more-or-less alternate months to The eBullet. Like The eBullet, the Weaver's Newsletter is free. Its focus is mainly on new Mayberry merchandise and collectibles and quick newsflashes. To sign up, go to: Weaver's Newsletter Sign-Up
TAGSRWC's other main vehicle for Mayberry information is simply our Web site at www.tagsrwc.com (and its sister site www.iMayberry.com). Both sites have extensive content and links for just about everything a Mayberry fan might be looking for.
The next issue of The eBullet is scheduled for late October, with the next Weaver's Newsletter planned for late September or early October.