To Subscribe click here
To Unsubscribe click here
---

Volume 10, Issue 1


---

---

January/February 2010

---
If you cannot view the HTML newsletter (photos), click here to read it at our Web site.
*********************************************
The eBullet
An Online newsletter of
"The Andy Griffith Show" Rerun Watchers Club (TAGSRWC)
Volume 10, Issue 1
January/February 2010
*********************************************
Welcome to our first eBullet for 2010 and the 50th Anniversary Year for "The Andy Griffith Show"! This year is shaping up to be jam-packed with events and several exciting new products, including a special 50th Anniversary Commemorative Print and a cool new tin sign in this issue that are helping kick off this big anniversary year with a bang.
Remembering Aaron Ruben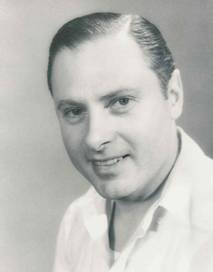 Even as we anticipate a wonderful year of celebrating TAGS and all that Mayberry means to us, we have some very sad news to report about one of the key people in creating this show we love. Though most of our readers, being some of the world's most avid fans of Mayberry, likely will have heard by now, it is with great sadness that we note the passing of producer/director/writer Aaron Ruben, who died of pneumonia at his home in Beverly Hills on Jan. 30. He was 95.
There's some good information about Aaron and his career available online, including a video interview with Aaron for the Archive of American Television at www.emmytvlegends.org. We've also put our own interview/profile about Aaron from the October 1995 issue of The Bullet (the printed predecessor of The eBullet) online on the front page of www.iMayberry.com. We recommend both of these for anyone wanting to learn more about Aaron Ruben-much of it in his own words.
In addition to the photos in this issue of The eBullet, we have an album with some photos of Aaron on our Facebook page (www.facebook.com/tagsrwc).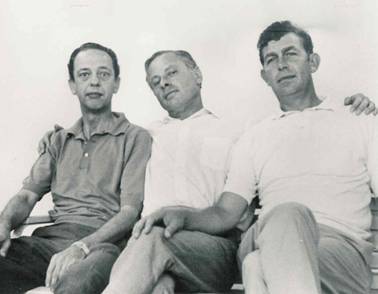 Best Friends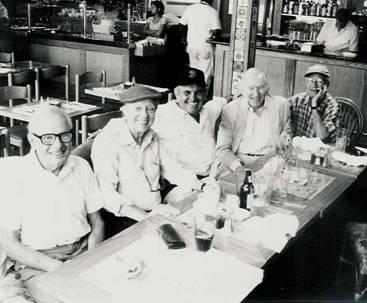 What a lunch bunch!- Enjoying a meal together in Beverly Hills in August 1997 are (left to right) Aaron Ruben, Don Knotts, Ronnie Schell, Everett Greenbaum and Howard Morris. You won't often find that much talent sitting at the same table in a little café. (That's why they had to put three tables together for them!) Photo copyright TAGSRWC.

Several people have posted comments about Aaron on our Facebook page. One of the first to do so was Jackie Joseph (our Sweet Romeena). She wrote, "Aaron was the best person. He gave me my job on TAGS and on "Gomer Plyle" and other delightful stuff. Aaron was an angel on my shoulder and he was and is an angel on the shoulders of children who needed someone to care about them."

Jackie's reference to children is because of Aaron's 25 years working with the Los Angeles chapter of CASA (Court Appointed Special Advocates), which was his passion after he retired from show business. He produced results with that program, including the Aaron Ruben Scholarship Fund, the same way he did with all the shows he worked on through the years.

No one was more familiar with Aaron and his work, both in his professional career and as a volunteer with CASA, than Andy Griffith, who provided this heartfelt comment to The eBullet:
"I said to Aaron's beautiful wife on Saturday [the day Aaron died], 'No one knows how sad I am.' Then, my wife and I sobbed for hours. While Cindi and I knew this was coming (Aaron would be 96 on March 1), while he was still on earth, we could still talk. We spoke every year on Christmas Day. When we were working together or not, we were always friends. We spoke this last Christmas and laughed together.

"Aaron did many things in the show business we both loved. Most importantly, Aaron would want to be known for his work with CASA, and other charities he and Maureen worked with.

"Aaron, Maureen, Don, Francey [Knotts], Cindi and I were and will remain best friends. We will see one another again one day."

While few were as lucky to know Aaron Ruben as well as Andy and Cindi Griffith, Aaron's work touched the lives of millions who never knew him. Just his contributions as producer/head writer for the first five seasons of TAGS have had a profound impact on the lives of all of us who love Mayberry. And that's not to mention his five seasons as executive producer of "Gomer Pyle, U.S.M.C."

Aaron was always generous with his time and offered encouragement for TAGSRWC. Though Aaron never attended any of the fan-oriented TAGS reunions, a few us in TAGSRWC were fortunate to be around him in person on a handful of occasions. It was a thrill to be in the same room with him-even when it was a very large room!

Through years of correspondence and occasional phone calls, Aaron also provided valuable insights about the production of TAGS and the craft of writing. It was obvious that he never stopped caring deeply about TAGS and its continuing legacy. He regarded TAGS as the crown jewel of his show business career, which was filled with many jewels. And that's fitting because Aaron J. Ruben will always be remembered as true Mayberry royalty and a real prince of a fellow.

Aaron is survived by his wife, actress Maureen Arthur, sons Tom and Andy, two grandchildren and three great-grandchildren.

On behalf of TAGSRWC as a group, we've made a donation in Aaron's memory to CASA of Los Angeles (201 Centre Plaza Drive, Suite 3, Monterey Park CA 91754-2142). You can learn more about the L.A. chapter at www.casala.org, where there's also an option for online donations. (For more information about Aaron and his work with CASA, there's an article in the back of Aunt Bee's Delightful Desserts, which, thanks to Aaron's inspiration, also shares its proceeds with CASA.)

Floyd's

Barber

shop

Bulletin

Board

&

Event

Calendar
Any listings for falcon-keeper?
Here are some upcoming events that folks have posted on Floyd's bulletin board. Look for continual updates on our Event Calendar online at www.iMayberry.com.

* Feb. 23: Author and teacher Neal Brower gives the first in a series of five lectures at the Andy Griffith Museum in Mount Airy, N.C. The topic of this lecture is "The Aspects and Appeal of 'The Andy Griffith Show.'" Each lecture starts at 2 p.m. and costs $10, which includes admission the Andy Griffith Museum. To register for a lecture, e-mail jessica@surryarts.org or call (336) 786-1604.
* Feb. 27: Ronnie Schell hosts Veterans of Comedy Wars X at 7:30 p.m. at McKenna Theater on the campus of San Francisco State University. Stars performing include Tim Conway, Rich Little, Tommy Smothers, Kevin Pollack, Steve Rossi and Will Durst. Tickets are $35, $45 and $70 and are available online at www.creativearts.sfsu.edu.


* Mar. 4-7: 13th Annual George Lindsey/UNA Film Festival at the University of North Alabama in Florence, Ala. Special guests include actress Lea Thompson, actor James Tolkan, actor Marc McClure, and screenwriter, director and producer Bob Gale. All have extensive credits, but their common bond is that they all worked on Back to the Future. So, the film festival will in part be a mini-reunion for that movie. (There will also be a replica of the Delorean Time Machine on hand throughout the festival!) For more info, visit www.lindseyfilmfest.com.
* Mar. 23: Neal Brower gives the second in his series of five lectures at the Andy Griffith Museum in Mount Airy, N.C. The topic of this lecture is "The Beginning of 'The Andy Griffith Show.'" Each lecture starts at 2 p.m. and costs $10, which includes admission the Andy Griffith Museum. To register for a lecture, e-mail jessica@surryarts.org or call (336) 786-1604.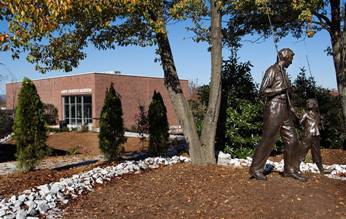 Make your plans to visit to visit the Andy Griffith Museum, adjacent to the Andy Griffith Playhouse.
Get a pork chop sandwich at the Snappy Lunch and a haircut next door at Floyd's City Barber Shop, stroll around town, tour the museum and then take in a performance at the Playhouse, Blackmon Amphitheatre or Downtown Cinema. It's all part of a fun day in Mount Airy! For more info, visit www.andygriffithmuseum.com.
(Photo by Hobart Jones.)
* Apr. 17: Neal Brower gives the third of five lectures at the Andy Griffith Museum in Mount Airy, N.C. The topic of this lecture is "The Production of 'The Andy Griffith Show.'" Each lecture starts at 2 p.m. and costs $10, which includes admission the Andy Griffith Museum. To register for a lecture, e-mail jessica@surryarts.org or call (336) 786-1604.

* May 1: Neal Brower gives the fourth in the series of five lectures at the Andy Griffith Museum in Mount Airy, N.C. The topic of this lecture is "Music and Musical Scoring of 'The Andy Griffith Show.'" Each lecture starts at 2 p.m. and costs $10, which includes admission the Andy Griffith Museum. To register for a lecture, e-mail jessica@surryarts.org or call (336) 786-1604.
* June 5: Neal Brower gives the final installment in his series of five lectures at the Andy Griffith Museum in Mount Airy, N.C. The topic of this lecture is "The Influence of Southern Culture and Mount Airy on 'The Andy Griffith Show.'" Each lecture starts at 2 p.m. and costs $10, which includes admission the Andy Griffith Museum. To register for a lecture, e-mail jessica@surryarts.org or call (336) 786-1604.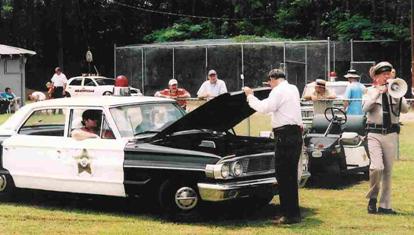 * July 10-11: 10th Annual Mayberry Squad Car Nationals and 6th Annual "Mayberry Comes to Graysville" Festival in Graysville, Ala. Doug Dillard and Rodney Dillard are the first guests announced. Other guests and details TBA.

* July 23-24: Mayberry in the Midwest IV in New Castle, Ind. After an absence of a few years, one of the favorite Mayberry events returns to the lineup to help celebrate the 50th Anniversary of "The Andy Griffith Show." Stars and other details TBA. And a Web site with ongoing updates will be up and running soon. For now, just mark the date!


* August 7: Doug Dillard and Rodney Dillard are joined by Maggie Peterson and several of the Mayberry Tribute Artists (including David "Mayberry Deputy" Browning, Allan "Floyd" Newsome, Kenneth "Otis" Junkin, and Jeff "Howard" Branch for a concert benefiting the Montgomery County DARE program. The evening concert will be at the James H. Garner Center in Troy, N.C. Tickets are $20 reserved and $15 general admission. For tickets and more info, visit www.bluegrassintroy.com.


* Sept. 11: Doug and Rodney Dillard are featured at the Bluegrass & BBQ festival in Salem, Ill. For info, visit www.toursalem.com.


* Sept. 23-26: 20th Anniversary Edition of Mayberry Days in Mount Airy, N.C. Guests confirmed so far include: Betty Lynn (Thelma Lou), Doug Dillard and Rodney Dillard (two of the Darling boys) and their current Dillards band, Maggie Peterson (Charlene Darling), Elinor Donahue (Ellie Walker), James Best (Jim Lindsey), Jackie Joseph ("Sweet Romeena"), LeRoy McNees (one of the Country Boys in "Mayberry on Record"), George Spence (Frank the Fiance in "Guest in the House"), David Morris (son of Howard Morris), Laura Hagen (widow of Earle Hagen), and Karen Knotts (daughter of Don Knotts). More to come. Other festival favorites include a lecture by Neal Brower and a concert by the VW Boys. Full details, updates, and tickets to those portions of the weekend that require a ticket are available online at www.surryarts.org.
* Oct. 3: 50th Anniversary of the airing of the first episode of "The Andy Griffith Show" on CBS.

* Oct 16-21: A Cruise to Mayberry 5 to the Bahamas aboard Carnival's Fascination with the VW Boys and Mayberry tribute artists and others TBA. For more info, call (336) 538-4926 or toll-free (800) 832-7993, or visit www.allaboutcruisesnc.net
**** News of Cast & Crew ****
Andy Griffith is wintering well at home in Manteo, N.C.
Ron Howard is executive producer for "Parenthood," which begins on NBC in March after its premiere last fall had to be postponed because of an illness in the cast. His next film as director is currently scheduled to be Your Cheating Heart with Vince Vaughn. It's slated for release in 2011.
George Lindsey is getting geared up for his 13th Annual George Lindsey UNA Film Festival in early March in Florence, Ala.
Doug Dillard and Rodney Dillard have been performing some since our last issue, including a recent date in Michigan and one coming up about the time this issue comes out in Asheville, N.C. And more dates are being added here and there. (See Floyd's bulletin board above for details.)
Maggie Peterson says she doing well and has several irons in the fire, including some Mayberry appearances starting in the summer. And she has been doing occasional jazzy singing performances, accompanied by sister Phyllis Eaton on piano.
Betty Lynn is enjoying a restful winter in Mount Airy, N.C. She's getting to see a lot of beautiful snow on the Blue Ridge Mountains outside her window-a big change of scenery after more than 60 years in Los Angeles!
At the other extreme, Richard O. "Dick" Linke says he continues to enjoy ever breeze and every ray of sun of his year-round paradise in Hawaii.

We're very sad to report that writer Barry Blitzer died on Jan. 27 in Santa Monica, Calif., from complications following abdominal surgery. He was 80.
Though "A New Doctor in Town" (Episode #201) was his only TAGS episode, Barry Blitzer had strong connections to Mayberry and its cast and crew. Among them, he wrote 15 episodes of "Gomer Pyle, U.S.M.C." He won an Emmy for Best Comedy Writing in 1956 for his work on "The Phil Silvers Show," and he was nominated for a Writers Guild Award for an episode of "Get Smart."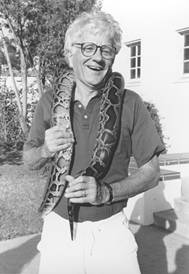 He wrote for numerous sitcoms and variety shows, especially in the 1960s and '70s, and was prolific in writing for animated shows, especially for Hanna-Barbera, from the 1960s through the '80s.
Barry Blitzer was Born on April 21, 1929, in New York City. He attended the University of Georgia and was in the Army, where he worked for Armed Forces Radio during the Korean War.
Fellow TAGS writer Sam Bobrick had this to say about Barry in the Palisadian-Post in Pacific Palisades, Calif., where Barry and his wife, Elsie, resided since 1973: "His sweetness came out in his writing. He was the nicest, nicest man you could imagine, and I'm going to miss him very much. He used to say some very funny things, and somehow they always ended up in my shows. He had such a dry sense of humor, and he never tooted his own horn. I don't know anyone who has ever said a bad thing against him-and that's very rare in this business."
In retirement, Barry wrote humor and music columns for the Palisadian-Post, whenever the notion struck. And he later cornered the market for Jewish Misfortune Cookies by creating his own line of cookies with humorous sayings inside.
TAGS is blessed with good fortune to have even a glancing connection to Barry Blitzer, a true Mayberry mensch.

**** Chapter Update ****
There are no new chapters since the last issue of The eBullet. With all of the recent storms, everybody has been hermitizing themselves like Ernest T.
And of course part of the slowness with new chapters these days is that we've already had 1,348 founded. They represent better network coverage of the map than Verizon or AT&T. (We know because Sarah told us so.)
But there's always plenty of room for new chapters. And what better year to start your own chapter of TAGSRWC could there be than this, the 50th Anniversary of TAGS?
If you're interested in starting a chapter of TAGSRWC, all you need to do is choose a name that hasn't already been picked, and submit it with a list of your founding members by U.S. mail to TAGSRWC's HQ in Nashville. The hardest part is simply finding a name that hasn't already been chosen. There's a searchable list of chapter names at www.tagsrwc.com.
Once you successfully choose a name that's all yours and nobody else's, you'll receive your Official Chapter Charter, fancily inscribed (and "suitable for framing") by a genuine Compelsion Nut in East Tennessee.
What you do as a chapter is entirely up to you. Your group can do as much or as little as you like. Just have lots of Mayberry fun with it.
Or if you're feeling more like a joiner than a starter, you can write to us about how to contact a chapter near you. Our address is TAGSRWC, 9 Music Square South, PMB 146, Nashville TN 37203-3211.
Either way, why not join the fun of being part of a TAGSRWC chapter!
**** Merchandise Update ****
We have two exciting new items to announce in this issue. And there are more items in the works throughout this year. Also, don't forget about the full array of Mayberry-related products (T-shirts, books, board games, music, DVDs and much more) available at our Weaver's Department Store online at www.iMayberry.com.
We've also been digging into ol' Ben Weaver's storeroom and the TAGSRWC Archives and have found ones and twos of some really rare items. They're scattered throughout our online site, but you'll find the highest concentration of them in the Collectibles & Special Items section at this link: http://www.weaversdepartmentstore.com/catalog.php?category=46
We have more rare and special items that we haven't yet loaded onto the Web site, but we'll be doing so during the next few weeks, so check back regularly because there will be only one or two of most of the items.
Meanwhile, here are the newest items and some of our top sellers:
Limited Edition "The Andy Griffith Show" 50th Anniversary Portrait
Winken's Early Bird Special Price: $60.00 $44.00
http://www.weaversdepartmentstore.com/catalog.php?item=259
What a great way to start off the celebration for the 50th Anniversary of TAGS! This beautiful print is sure to be a cherished lifetime keepsake marking this special year in the history of TAGS. But more than a keepsake, it's a superb work of art whose many smiling faces will bring an instant grin to the face of everyone who sees it.
Printed with premium inks on archival paper, this outstanding 12 in. x 16 in. collage pencil portrait is signed and numbered by talented Wilmington (N.C.) artist George Murray and officially licensed by CBS Consumer Products. It's limited to a maximum of 10,000 prints.
The suggested gallery price for this commemorative print is $60, but our Early Bird Special gets the Nod at just $44. (Don't tell Ben Weaver!) And if you spend too long blinkin', you just might miss out on this price!
Mayberry Law Tin Sign $13.00
www.weaversdepartmentstore.com/catalog.php?category=12
This keen tin is brand new in '10! It measures 16 in. x 12.5 in. Get tough in your neighborhood with a tin that'll really make folks grin! (And of course, no law office or law enforcement or security location is complete without one!)
And remember what Barney says, "Don't be square, be rectangular!"
Note: There's also a set of all seven of the licensed Mayberry tin signs at a super-duper price!
Goober Says Haiti Relief Grab-Bag of Assorted Mayberry Stuff
http://www.weaversdepartmentstore.com/catalog.php?item=196
This is the same Grab-Bag of items as our 50th Andy-versary Grab-Bag. The only difference is that we're designating sales of this one for the American Red Cross and its Haiti Relief instead of the Surry Arts Council and Mayberry Days. Both are worthy efforts, but Haiti is obviously an urgent life-or-death tragedy, so we want to offer this opportunity for Grab-Bag Purchasers to designate funds for Haiti Relief.
Here's the scoop on this Grab-Bag. Goober and the gang have been rummaging around in the garage again while taking inventory and looking for fundraising ideas for supporting causes during this 50th Anniversary year.
We think they've come up with another outstanding Grab-Bag of interesting Mayberry items. All of the items are no longer in production and are therefore now in the category of "collectible."
At a minimum, each Grab-Bag has the following items:
* 1 Officially Licensed T-Shirt with Barney Fife on it (The shirt design included is our choice according to availability, but you'll need to specify in the Comments section of the online order form whether you want Small, Medium, or Large. (Sorry, but larger sizes not available for this offer.) The default choice if you don't indicate a size is Large.
* 1 Mayberry-related book with an original retail price of at least $10
* 1 "Andy Griffith Show" logo ornament
* 1 Newspaper with coverage of a major Mayberry event
* 1 Officially-licensed Mayberry license plate
* 1 Vintage (that is, not 2010) Mayberry wall calendar (still in its original shrink wrap)
* 3 Different wooden Mayberry building fronts (Bluebird Diner, Mayberry Hotel, and Mrs. Mendelbright's Boarding House)
* 1 Mayberry bumper sticker
* 1 Mayberry-related audio or video tape (still sealed)
* 1 Pre-owned and very used Jim Nabors album (the vinyl LP variety). Most will date from the 1970s or '80s.
* 2 Different Mayberry photos (8x10)
* 2 Different oversized Mayberry posters
* 1 Barney Sipping Soda Lithograph
* 1 Pair of 2 different Mayberry birthday balloons (a total of 2 balloons)
* Assorted Mayberry event and news publications and materials (fliers, newsletters, fans, magnets, buttons, etc.)
If the items were sold separately, their suggested retail prices would easily total over $120. But Goober is not the best at arithmetic and Ernest T. wasn't around to help us count by stomping his feet, so our price is only $50 for the whole Grab-Bag. We have only a handful to offer with this configuration of items because most of the items are in extremely short supply. Get 'em while you can.
All proceeds (not just the profits, but 100% of the $50 price) are going toward our support of the American Red Cross and Haiti Relief. So with a Grab-Bag purchase, you get a good deal while also helping folks in dire need!
Special Offer: When George "Goober" Lindsey heard we were doing this special Grab-Bag for Haiti Relief, he wanted to participate. So, he signed a few photos that can be added to this Grab-Bag. You can add one of these autographed photos to your Grab-Bag for an extra $20 (a total of $70). Just select the option to Goober-Size your order.
We truly appreciate George for giving his support to our efforts to help the people in Haiti. And we thank all Weaver's visitors for considering a purchase of this Grab-Bag.
Hal Smith Scripts for Haiti Relief
www.weaversdepartmentstore.com/catalog.php?category=50
We have a selection of original scripts that were used by actor Hal Smith, Mayberry's Otis Campbell. Beyond Mayberry, Hal was one of the all-time busiest character actors and voice-over actors in movies, TV and commercials. He was also one of the kindest and most generous people you could ever meet.
Note: All profits from the sale of these original scripts of Hal Smith go toward the financial support given by Weaver's Dept. Store and "The Andy Griffith Show" Rerun Watchers Club to the American Red Cross and Haiti Disaster Relief.
Hal himself unfortunately passed away in the aftermath of the Northridge earthquake in 1994. (It will never be clear whether stress and trauma associated with the quake itself in some way contributed to Hal's death from a heart attack a week later.) It seems fitting to us that these scripts of his can be used 16 years later to help victims of another earthquake. We think that would have pleased Hal.
Each of these scripts is an original used by Hal. Special features of each are indicated. All of the scripts are priced individually. Our standard shipping charge of $5.00 per shipment (not per item) applies. If you have questions about any of the scripts, you can inquire by e-mail at weavershop@aol.com.
* 2010 Andy Griffith Show Wall Calendar $15.00
www.weaversdepartmentstore/2010 Wall Calendar
Like the 2009 calendar, the 2010 edition has all black-and-white images. Many will seem very familiar. It's a super item for marking the show's 50th year.
We also have a Special Combo with 2009 and 2010 Wall Calendars for $23.00. And we still have several calendars from previous years. (The previous editions have become very popular collectibles!)
As of now, it looks as though there won't be an official "Andy Griffith Show" Wall Calendar for 2010, which make this year's edition the Last of the Mayberrians. So if you don't already have a Mayberrycalendar to enjoy this year, get one while you still can. The year is still young!
* Box Set of All Eight Seasons of "The Andy Griffith Show," plus the "Danny Thomas" Pilot and Return to Mayberry $192.00
www.weaversdepartmentstore.com/catalog.php?category=35
We know one Goober (we won't mention any James), who has decided to celebrate the show's 50th Anniversary by watching all 249 episodes in order...backwards! That's right. The fella is using this box set to watch the shows in the reverse order of their original broadcast. He's hoping to land on "The New Housekeeper" around October 3 and then watch the pilot. The whole experience will be sort of a Mayberry Time Machine (take that, Back to the Future Delorean!). For a Goober who has watched the 249 episodes every which way for about 50 years, reverse order seems like an interesting twist.

Anyway, the suggested retail price for this Box Set of every episode of "The Andy Griffith Show" (plus the "Danny Thomas" pilot episode and the 1986 Return to Mayberry movie) is over $240.00. The previous 8-season box-set release (without the pilot and the movie and now also discontinued) carried a suggested retail price of $320.00. We think that makes our $192 price a pretty swell deal...about 77 cents an episode, plus the pilot and reunion movie!
We also have individual complete seasons of TAGS on DVD at a nice price. And we have individual seasons and the Complete Series box set of "Gomer Pyle, U.S.M.C." and the first three seasons of "Matlock." (We'll also have the Fourth Season of "Matlock" when it's released in early March.)
Coming Attraction: The movie version of No Time Sergeants starring Andy Griffith and featuring Don Knotts is being released on DVD in early May. The quartermaster at Weaver's has promised to have it locked and loaded on our shelves as soon as it's available.
Phone Orders
In addition to accepting orders online or by mail, our Weaver's Dept. Store has a phone number FOR ORDERS ONLY (615) 604-1298. The phone number is generally in operation from 9 a.m. to 6 p.m. CT Monday through Saturday.
Please call this number only for ordering or for inquiring about orders placed by phone. All inquiries about online orders and mail orders should be made online and by mail, respectively.


**** Chapter News ****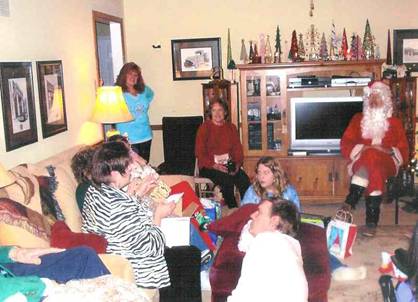 Members of Barney Chapter (Greensboro, N.C.) gathered in December to open Mayberry-themed gifts from each other. In a tradition of almost 20 years, no gifts can be repeats of any given in any previous year…which makes the gifts more difficult and interesting each year. Oh, there is one exception: There's an Old Sam gift that is secretly given every year. In this photo, we can't help but notice the second skinniest Santa we've ever seen. And a very relaxed Santa at that…almost as if he'd just finished listening to a pleasant band concert. Photo by Terry Mayhew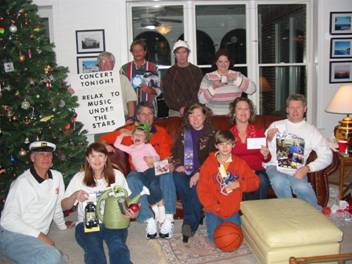 Speaking of band concerts…That appears to have been a theme for Mayberry Chapter (Knoxville, Tenn.) when they gathered for their Christmas party. The gung-ho chapter recently published this year's first of three large issues of their chapter newsletter, Mayberry Minutes…and the big news in this issue was that the newsletter went all out with color photos. Big!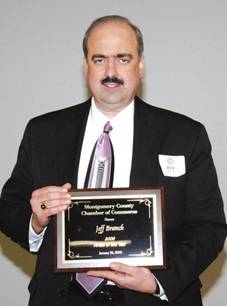 And Big wasn't the word for it recently when Howard Sprague tribute artist Jeff Branch was recognized as Artist of the Year by the Montgomery County (N.C.) Chamber of Commerce. Attaboy, Jeff, for this much-deserved recognition!
Since this issue of The eBullet is already running longer than any to date because of so much news to report, we'll be brief with Chapter News and just show a few photos and then some brief updates.
And before we wrap up this issue's Chapter News, we do want to note that "Shakedown! Shakedown!" chapter (Laurinburg, N.C.) had a chapter social in early December that was attended by 43 folks, including a dozen first-timers. The chapter also borrowed Jeff Branch's Mayberry squad car replica for their local Christmas parade.
On New Year's Day, "Never Hit Your Grandma with a Great Big Stick" chapter (Tifton, Ga.) held its annual vittles and music pickin' party. By all accounts, a fun time was had by all the folks attending. They are big believers that if you've got time to breathe, you've got time for music.
And finally, we were delighted as always to get a card from "Up at State Prison" chapter (currently residing in Bayport, Minn.) This is one of our oldest and most dedicated chapters and, well, the chapter name describes the location where the chapter card comes from. We're just glad the Hubacher brothers have good company and continue to hold strong to Mayberry.
**** Mayberry on the Web ****
For the past 16 months, www.iMayberry.com/podcasts has been the home of the Two Chairs, No Waiting Internet Radio Show (a podcast) hosted by Allan Newsome.
As most of our readers likely know, Allan is our Webmaster at iMayberry.com and has been very active in TAGSRWC since 1992. If you've attended various Mayberry events through the years, you've probably seen Allan as a tribute artist for Floyd the Barber.
Two Chairs, No Waiting has TAGS news, interviews and pretty much whatever happens to be going on in and around Mayberry. Allan is really doing a bang-up job on these podcasts. There's a new episode every Tuesday and also an Archives in case you want to listen to episodes you've missed. (They're have been about 70 so far!) We think you'll find these podcasts creative, fun and informative. There's a lot of info and discussions that you simply won't find anywhere else.
If you've got sound on your computer or have an ipod or similar device, you can easily tune in or download these podcasts. There are all sorts of ways to interact with the podcasts, including several options for giving your feedback. And there are other links, including a companion Facebook page, to keep up with all the goin's-on. And probably the easiest way to make sure you don't miss an episode is to subscribe to the podcasts. (They're free.)
So pull up a chair and enjoy the fun of bringing what is basically Radio Free Mayberry to you wherever you are!
And TAGSRWC now has an official page on Facebook, too! It's www.facebook.com/tagsrwc. We've just launched our page during the last few months. Of course, there are several tribute pages to TAGS on Facebook, including some for individual TAGSRWC chapters and members. There a lot of mighty good folks to have as Facebook Friends. It's fantastic to see much interest in TAGS and Mayberry bursting out in all corners of the Web.

The purpose of our official TAGSRWC page (it's the page called "The Andy Griffith Show" Rerun Watchers Club if your searching for it) is to serve as our Facebook clearinghouse for links to all of the assorted Mayberry fan and TAGS-related pages on Facebook-much as www.iMayberry.com has always been as our go-to place for Mayberry and TAGS info and links to related sites. We can just direct TAGSRWC members and others to our Facebook page and the iMayberry.com Web site, rather than needing to continually provide a laundry list of links, pages and sites one at a time. It makes it simpler for us from an administration and communication standpoint, and, we hope, also easier for fans.
Our Facebook page is just getting underway, so you can be a part of helping it grow and spreading the word about Mayberry news and activities by becoming a fan with TAGSRWC on Facebook. We hope you'll check in regularly when you have a chance and say, "Hey!" (And no matter what Barney says, on Facebook, it's always O.K. to write on walls!)
**** Miss Crump's Mayberry Quizzes ****

Maven Mulik

Miss Crump is back from her extended sabbatical to offer a new quiz. Well, sort of. She has invited a guest quizmaster to conduct this quiz. He's one of the best...Mayberry trivia maven Paul Mulik, who's also a master of puzzles, games and quizzes of many varieties. Miss Crump hopes this test will be a fun and challenging one for all levels of Mayberry knowledge.

Prizes will be awarded to a minimum of two people for this quiz-maybe more if Miss Crump is feeling kind and can wheedle an extra prize or two out of Ben Weaver. Main prize winners receive their choice of any single item available at Weaver's. That is, no box sets of multiple seasons of shows or grab-bags and other combos.

If there are more entries with the most right answers than there are prizes, we'll draw winners from a hat. One additional prize will also be a door prize selected at random from all the entries that have at least one correct answer, so even if you don't know a lot of the answers, you could still win something just by entering the contest and knowing at least one of the answers.

With our appreciation to Paul for offering this quiz, here are his questions:


1. Who in Mayberry once read aloud from a magazine article entitled "Little-Known Facts Known by Few?"
2. Name a person in Mayberry County who is known to own a beagle.
3. Name an instance in Mayberry where one can see a piece of metal stamped with an acorn design.
4. Name a Mayberry business that moved into the location formerly occupied by Sid Elson.
5. According to information available in Mayberry, why are 110,000 Chinese living in trees?

BONUS: Name a dozen games normally played on a table that are seen or mentioned in Mayberry.

The deadline for entries to be e-mailed or postmarked is March 15, so you have a few weeks to work on this homework assignment. E-mail your answers to OldLadyCrump@iMayberry.com or mail them to TAGSRWC, 9 Music Square South, PMB 146, Nashville TN 37203-3211. The answers will be in the next eBullet in late March or early April. Good luck!

**** Post Note ****

If you ever miss receiving an issue of The eBullet, you can always catch up by reading it in the eBullet Archives in the Newsletters section at iMayberry.com. Each issue is usually placed in the Archives within about a week of its being distributed.

Between issues of The eBullet, keep up with the goings-on in Mayberry with the daily "Who's Been Messin' Up the Bulletin Board?" (aka WBMUTBB) Digest. It's a free subscriber list that consists entirely of comments, newsflashes, and questions and answers from subscribers. You can sign up for that list by going to the "Mailing Lists" link at http://tagsrwc.com. WBMUTBB also has its own password-protected Archives where you can follow the ongoing stream of messages.

TAGSRWC also publishes Weaver's Newsletter in more-or-less alternate months to The eBullet. Like The eBullet, the Weaver's Newsletter is free. Its focus is mainly on new Mayberry merchandise and collectibles and quick newsflashes. To sign up, go to: http://mail.weaversdepartmentstore.com/mailman/listinfo/newsletter_weaversdepartmentstore.com

TAGSRWC's other main vehicle for Mayberry information is simply our Web site at http://www.tagsrwc.com (and its sister site http://www.iMayberry.com). Both sites have extensive content and links for just about everything a Mayberry fan might be looking for.

The next issue of The eBullet is scheduled for late March or maybe early April, with this year's first Weaver's Newsletter planned for later in February.