To Subscribe click here
To Unsubscribe click here
---

Volume 9, Issue 5


---

---

September 2009

---
If you cannot view the HTML newsletter (photos), click here to read it at our Web site.

*********************************************

The eBullet
An Online newsletter of
"The Andy Griffith Show" Rerun Watchers Club (TAGSRWC)
Volume 9, Issue 5
September 2009
*********************************************

TAGSRWC
Celebrating 30 Years 1979-2009

Welcome to our fifth issue of The eBullet for 2009. This is peak season for Mayberry each year as we head toward Mayberry Days in Mount Airy, N.C., Sept. 24-27, and remember the 49th anniversary of the airing of the first episode on Oct. 3.

Mayberrry Days is always big, but it's big-big this year with the 20th annual celebration and the Grand Opening of the new Andy Griffith Museum during the festival. Aw, big ain't the word for it! The festival is hosting 9 TAGS cast members and Karen Knotts, daughter of Don Knotts.

There's a lot of Mayberry activity coming up elsewhere. Here's a quick countdown of some of many of the events on the calendar for the rest of this year and on into 2010.

**** Floyd's Barbershop Bulletin Board & Event Calendar ****

Looking for a falcon-keeper?
* Sept. 24-27: 20th Annual Mayberry Days in Mount Airy, N.C. Guests confirmed so far include Doug Dillard, Rodney Dillard, Maggie Peterson, Betty Lynn, James Best, Elizabeth MacRae, LeRoy McNees, Jackie Joseph, George Spence, and Karen Knotts, daughter of Don Knotts, in her Mayberry Days debut. Tickets (for those parts of the festival requiring a ticket) and full info are available online at www.surryarts.org. Or call 336-786-7998.
This August photo shows that the new Andy Griffith Museum in Mount Airy is really taking shape in its home nestled next to the Andy Griffith Playhouse and the TV Land Landmark statue of Andy and Opie. The museum is on schedule for its grand opening during Mayberry Days, Sept. 24-27. Photo by Hobart Jones.
And here's a Museum shot from early September: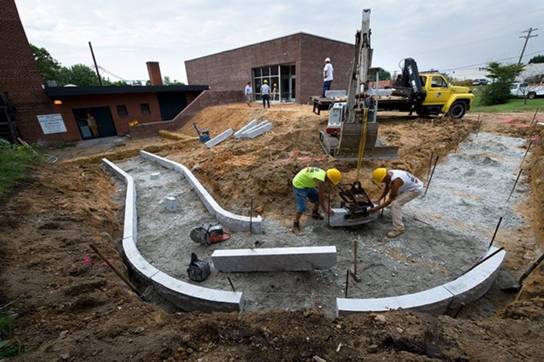 Photo by Hobart Jones
* Oct. 1: IBMA Awards Show, including the induction of The Original Dillards into the International Bluegrass Music Hall of Fame, at the Ryman Auditorium in Nashville, Tenn. For more info, visit www.ibma.org.
* Oct. 10: All right now, fall in with Mayberry Deputy David Browning for the Vinton Fall Festival in Vinton, Va.
* Oct. 12-17: A Cruise to Mayberry 4 is a five-day trip and it's sure to be another relaxing, fun time for all. Being on the cruise is a bit like sitting on Andy's front porch and watching the traffic on the road-only there's no road and no traffic, just the waves and a breeze. Visit www.iMayberry.com for links to more info and photos from previous Mayberry cruises.
* Nov. 21: "I Didn't Know You Stranged" chapter in Moundville, Ala., hosts Mayberry in Moundville, a family social at the Moundville Church of the Nazarene gym, at 6:00 p.m. Several music groups will be performing. Local Mayberry squad car replicas will be on hand, as well as Mayberry tribute artists, including Kenneth "Otis" Junkin. There will be whistling and trivia contests, episode watching, food, and who knows what-all. All proceeds will benefit the American Cancer Society's Relay for Life. More details TBA.
* Dec. 14: All aboard with Mayberry Deputy David Browning and a trainload of celebrities and others filled with goodwill in Stuart, Va., as they head out to spread holiday cheer to those in need in the Appalachian Mountains with the 23rd Annual Morgan Shepherd Charitable Fund Trip. For more info, visit www.morganshepherd.com.
2010
* Mar. 3-7: 13th Annual George Lindsey/UNA Film Festival at the University of North Alabama in Florence, Ala. Details TBA. For more info, visit www.lindseyfilmfest.com.
* July 10: 10th Annual Mayberry Squad Car Nationals and 6th Annual "Mayberry Comes to Graysville" Festival in Graysville, Ala. Guests and details TBA.
* Oct. 3: 50th Anniversary of the airing of the first episode of "The Andy Griffith Show" on CBS.
---
**** News of Cast & Crew ****
There's really good word of mouth about Play the Game, the feature film starring Andy Griffith that has just gone into wider release nationwide at the end of August. At the North Carolina premiere in Andy's hometown of Mount Airy on Aug. 23, a full house laughed throughout and enthusiastically applauded at the end. Among the faces in the crowd were Mount Airy residents Betty Lynn and Emmett Forrest, Andy's pal since childhood.

Andy Griffith and Liz Sheridan having a good time in Play the Game.
Andy's performance as Joe is getting outstanding responses both from audiences and critics. The superb cast of Play the Game also includes Paul Campbell, Marla Sokoloff, Doris Roberts (Raymond's mom on "Everybody Loves Raymond"), Liz Sheridan (Jerry's mom on "Seinfeld") and Rance Howard and Clint Howard, so the film (rated PG-13 for some sexual content and language) has a lot going for it to draw good crowds and reviews. You can see a trailer and get more info at www.playthegamemovie.com.
Ron Howard is executive producer of the upcoming "Parenthood" TV series on NBC. It's the second series based on the 1989 Parenthood feature film directed by Ron. Already in production, the series was originally scheduled for the Fall lineup, but was postponed until mid-season after star Maura Tierney was diagnosed with breast cancer. (She has since opted out of the series because of scheduling conflicts with the show's filming and her cancer treatments.)
George Lindsey and Larry the Cable Guy cut up backstage during production of the upcoming CMT Christmas special. (We'll have a photo of George in character in our October issue.) Photo by Carrie Moore Reed.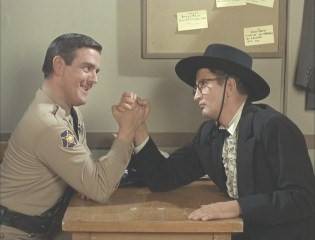 Richard Jury (right) shows his strength as Clarence Earp with Jack Burns as Warren Ferguson.

George Lindsey is featured in "Larry the Cable Guy's Hula-Palooza Christmas Luau," which was taped in Nashville in August and will premiere on Country Music Television on Nov. 20.

A DVD of the 90-minute special will be released on Nov. 24. A busy George also is a guest on an installment of RFD-TV's "Crook & Chase," which taped in August and airs 8:00 p.m. ET on Sept. 17, with repeats on Sept. 18 at 11:00 a.m. ET and Sept. 19 at 7:00 p.m. ET.

As the song says, "There Is a Time" for things to happen, and everybody agrees it is indeed about time that the Original Dillards (Doug Dillard, Rodney Dillard, Mitch Jayne and Dean Webb), Mayberry's Darling boys, were inducted into the International Bluegrass Music Hall of Fame. It'll be happening Oct. 1 at the Ryman Auditorium in Nashville. It's long overdue and well-deserved recognition for the foursome, who, with their special blend of musicianship, storytelling and Ozark moxie, introduced the wonders of bluegrass to countless people around the nation and the world. Read more about their induction (including how to get tickets to the show) at www.ibma.org.

In August, Doug and Rodney and TV sister Maggie Peterson and the current Dillards group also performed for a capacity audience for a DARE fundraiser in Troy, N.C.

James Best was a guest at the Mid-Atlantic Nostalgia Convention in Maryland the last weekend in August. And the really exciting news for James is that his memoirs, Best in Hollywood-The Good, the Bad and the Beautiful, was published in July! (See the listing in the Merchandise section below.) The lively book has been selling well and getting fantastic reviews from readers.

The beautiful home of Richard O. (Dick) Linke and wife Bettina was featured in a large and photo-filled spread in At Home magazine, a monthly supplement in the West Hawaii Today newspaper. In the text of the story, Dick says that at this stage of his life he is a "contented man" and that he and Bettina feel very blessed with their wonderful life together in Hawaii.

We're sad to report that Richard Jury, who rode into Mayberry as Clarence Earp in "Wyatt Earp Rides Again" (Episode #179), died in Denver July 24 at age 82 from Alzheimer's disease.

He was born in Denver in 1926. He studied theater at the University of Denver. In addition to his four dozen TV productions, such as "I Love Lucy," "Gunsmoke" and Centennial (again with Andy Griffith), he had a long career on the stage. He was on Broadway in Inherit the Wind and was in numerous productions in the Denver area and elsewhere. He also stayed busy with voiceover work in commercials on radio and TV. He and wife Liz, an actress, director and producer, had six children.

There's no doubt Richard Jury was the man who was right to fight as Clarence Earp in Mayberry.

**** Chapter Update ****

We have had no new chapters start since the July/August eBullet, so we're still sitting on a total of 1,344 chapters founded since 1979. If you see Horatio, tell him that that works out to 44.8 chapters founded per year during TAGSRWC's 30 years. What? You've never seen 8/10 of a chapter? (It's really more common than you might think.)

Folks in a couple of places are mulling names for their chapters, but haven't hit upon just the right name yet. If six more chapters happen to start this year, we'll have an average of an even 45 per year. (Poor Horatio.)

If you're interested in starting a chapter of TAGSRWC, all you need to do is choose a name that hasn't already been picked, and submit it with a list of your founding members by U.S. mail.

What you do as a chapter is entirely up to you. Your group can do as much or as little as you like. Or write to us also if you would like to contact a chapter near you. Our address is TAGSRWC, 9 Music Square South, PMB 146, Nashville, TN 37203-3211.

**** Merchandise Update ****

A couple of great books written by TAGS cast members have been published this summer. And the 2010 TAGS Wall Calendar is now in stock at our Weaver's Dept. Store. It's a great way to commemorate the 50th Anniversary!

* 2010 Andy Griffith Show Wall Calendar $15.00
http://www.weaversdepartmentstore.com/catalog.php?item=111


We've got the 2010 TAGS Wall Calendar in stock now. Like the 2009 calendar, it has all black-and-white images. Many will seem very familiar. We also have a Special Combo with 2009 and 2010 Wall Calendars for $23.00. And we still have several calendars from previous years. (They've become popular collectibles!)
* Best in Hollywood-The Good, the Bad and the Beautiful by James Best $25.00 (autographed!) http://www.weaversdepartmentstore.com/catalog.php?item=90
If you know James mostly as Rosco P. Coltrane on "The Dukes of Hazzard" and of course as Jim Lindsey on TAGS, then you'll have an opportunity to learn a lot more about his fascinating life, including the Golden Era of Hollywood. The 320-page book includes more than 150 photos from James' personal collection. It's getting a great response from readers all over the country. (And yes it does include a chapter on TAGS!)
We have a limited number of autographed copies (including a custom-made bookplate) of the soft-cover book for the cover price of $25 at Weaver's.
* Forest in the Wind, a novel by Mitch Jayne $15.00
http://www.weaversdepartmentstore.com/catalog.php?item=92
Originally published in 1966 when author Mitch Jayne was still making visits to Mayberry as one of the Darling Boys, "Forest in the Wind" has been revised and re-released this summer, and now includes wonderful illustrations by Diana Jayne, Mitch's wife.
The adventure story is told from the point of the animals, primarily a family of foxes in the Ozarks. This is a book for readers of all ages and for the Ages. This novel is 150 pages of reading that tells an inspiring story and leads us to a greater understanding of and appreciation for the beauty and power of Nature.
* Complete Third Season of "Matlock" $39.00
http://www.weaversdepartmentstore.com/catalog.php?item=141
After all that reading, are you ready just to sit back and watch a legendary actor perform? Well, this may be just the ticket for you. This Third Season of "Matlock" has 20 episodes on five discs. Released this summer, the list price for this set is $50, but we've got it for only $39.00. And we also carry the first two seasons of "Matlock" for the same bargain price.
**** First One Thing and Then Another ****
Whether you're looking for a Mayberry T-shirt, something Mayberry for your car, decorative wooden building fronts, Mayberry-related DVDs and CDs, artwork (including some autographed pieces), books, board games and even Barney Fife thermometers and light switch covers, we've got most things Mayberry online at Weaver's. Drop by and have a look around.
Phone Orders
In addition to accepting orders online or by mail, our Weaver's Dept. Store has a phone number FOR ORDERS ONLY (615) 604-1298. The phone number is generally in operation from 9 a.m. to 6 p.m. CT Monday through Saturday.
Please call this number only for ordering or for inquiring about orders placed by phone. All inquiries about online orders and mail orders should be made online and by mail, respectively.
NOTE: This order number does not ring to TAGSRWC HQ, so you shouldn't call this number with questions about general fan club operations, trivia or various events, etc., but only to place an order by phone or inquire about orders placed by phone.
**** Chapter News ****
"I Ain't Talkin', I Ain't Talkin'. The More You Ask, the More I'm Balkin'" chapter (Lawrenceburg, Tenn.) is involved with their town's Christmas Festival of Lights from Nov. 10 to 22. This year's theme is "Christmas Is a State of Mind." They'll have trees decorated to salute every state in the Union. The North Carolina tree will have a Mayberry theme. Folks can bid on trees and decorations. For more info, e-mail the chapter at abmorrow@bellsouth.net.
Dozens of chapters are heading to Mount Airy for Mayberry Days this month. We'll report on news from some of them in our next issue.
Meanwhile, for the last eleven and a half months, www.iMayberry.com/podcasts has been the home of the Two Chairs No Waiting Internet Radio Show (podcast) hosted by Allan Newsome.
As most of our readers likely know, Allan is our Webmaster at iMayberry.com and has been very active in TAGSRWC since 1992. If you've attended various Mayberry events through the years, you've probably seen Allan as a tribute artist for Floyd the Barber. (In the early days, Allan had to add a few little white highlights to his dark hair to capture the look of Floyd. These days...he's a natural!)
Two Chairs No Waiting has TAGS news, interviews, and pretty much whatever happens to be going on in and around Mayberry. Allan is really doing a bang-up job on these podcasts. There's a new episode every Tuesday and also an Archives in case you want to listen to episodes you've missed. We think you'll find these podcasts creative, fun and informative.

If you've got sound on your computer or have an ipod or similar device, you can easily tune in or download these podcasts. There are all sorts of ways to interact with the podcasts, including several options for giving your feedback. And there are other links, including a companion Facebook page, to keep up with all the goings-on. And probably the easiest way to make sure you don't miss an episode is to subscribe to the podcasts. (They're free.)

So pull up a chair and enjoy the fun of bringing what is basically Radio Free Mayberry to you wherever you are!

As we continue to celebrate our 30th year in 2009, we're especially eager to hear from chapters with news and photos, either by e-mail (PresidingGoober@iMayberry.com) or by U.S. Mail.

**** Answers Miss Crump's Mayberry Quiz #78 ****

As usual we had lots of entries for this contest, including many that were quite enthusiastic and thorough. Old Lady Crump appreciates that.

We had several entries with all the answers correct. An especially generous-feeling Miss Crump has drawn not one, not two, but three names from a hat filled with the correct entries as winners of their choice of any single item at Weaver's Dept. Store online. Those winners are Chris Ingle of Tazewell, Tenn.; Ken Anderson of Eau Claire, Wis.; and Dennis Beal (yawn!) of Mayberry chapter in Knoxville, Tenn. Congratulations to all!

And as promised, Miss Crump has also drawn the name of one other person from all entries that had at least one right answer in their quizzes to receive a prize. That person is Johnny Phillips of "Hit One for the Ol' Goober" chapter (Killen, Ala.).

Here are answers Miss Crump was looking for in the quiz:

1. Name two places in Texas that are mentioned in Mayberry.

* Texarkana in "A Singer in Town" and "Class Reunion",
* Abilene in "A Singer in Town"
* El Paso in "Goober the Executive",

2. Name two times that Andy is asked to rescue a stranded cat.


* Mrs. Peterson asks Andy to rescue Fluffy in "High Noon in Mayberry

* Andy doesn't have the ladder to rescue Mrs. Cruteck's Queenie in "Andy's Vacation"

* Mrs. Purvis' cat was on the roof in "The Rivals"

3. Identify a Mayberry resident who owns a set of golf clubs or is seen
playing golf with a golf club.

Here's Dennis Beal's answer:

"Ah, this is one of Miss Crump's trick questions! Miss Crump would want to trick her trusting, innocent students into saying Tom Wilson of the Esquire Club, but he lives in Raleigh, not Mayberry! Or another incorrect answer would be George Hollander in "Opie Steps Up in Class," but he lives in Walnut Hills, not Mayberry. So my answer is Dr. Thomas Peterson in "New Doctor in Town". He is seen playing with them in his office and they are in his car when he arrives in town."

4. Name six people who are described in Mayberry as having a headache
(or head pain).



* Andy in "Andy's Vacation"
* The Mayberry Band gives Andy a headache
* Mrs. Sprague in "The County Clerk"
* Clara in "Aunt Bee's Crowning Glory" and "The Lecturer"
* Opie in "Look, Pa, I'm Dancing"
* Goober in "Goober the Executive"
* Floyd (sinuses) in "A New Doctor in Town"
* Aunt Bee in "A New Doctor in Town"
* In "Mind Over Matter," Johnny Harris is said to have been kicked in the head by a mule (that has to smart, at least for a split second)
* Howard Sprague in "Howard the Bowler"
* Andy in "Opie's Girlfriend"
* Helen in "Opie's Girlfriend"
* The ladies in "Aunt Bee's Medicine Man" after tasting Col. Harvey's Indian Elixir
* Otis in "Aunt Bee the Warden" ("I've got a head that feels like it was in a drawer all night")
* Millie Hutchins on the train in "Howard and Millie"
* Mary Grace Gossage in "A Date for Gomer",
* Thelma Lou in "A Date for Gomer"
* Flora Mahlerbe in "Goober's Replacement"
* Mike Jones in "Opie and Mike"

5. Name two times that a cigarette lighter is seen in Mayberry.

* A shaky Barney holds a lighter to read the dynamite case in "The Loaded Goat"
* A steady Otis lights a cigarette with a lighter in "Wedding Bells for Aunt Bee"
* Andy holds a lighter for "Guest of Honor" Thomas A. Moody
* Barney lights the lady prisoner's cigarette in "Prisoner of Love"
* Mr. McBeevee uses a lighter to make smoke come from his ears
* Congressman John Canfield uses a lighter when he returns and courts "Aunt Bee the Swinger"
* Morley of the State Police uses a lighter behind the "Big House"
(thanks to non-prize-winner Dennis Marshall for that one!)

This was actually the "trick" question that tripped up the most quiz entrants. The lighter seen in "Aunt Bee the Juror" was not in Mayberry. That trial was in a Mt. Pilot courtroom.

BONUS: Name 15 different places outside of the continental United States
that are mentioned in Mayberry.



Among the many possibilities are these:
* The Far East, Bangkok, Australia, Africa, Mozambique, Brazil and Canada are mentioned by "Aunt Bee's Cousin" Bradford J. Taylor, who also claims to be the financial adviser to the crown prince of Denmark
* Barney says he read a National Geographic article about Africa
* Outer Mongolia, South America, Brazil, Asia, Bogota (still the capitol of Colombia) and Quito (still the capitol of Ecuador) are mentioned during the visit of "Aunt Bee and the Lecturer"
*Malcolm Merriweather says he's from Heckmondwike, England ("Andy's English Valet")
*Atlantic Ocean, Pacific Ocean, Canada Mexico ("The Education of Ernest T. Bass")
*Goober says Andy went to Alaska in "Andy's Trip to Raleigh" (Barney talked about Baked Alaska at the Esquire Club, but that was in Raleigh, so it doesn't count)
*"Quiet Sam" Becker says he served in Korea
*Andy says he served in the Army in France in "A Feud Is a Feud"
*Ernest T. Bass thought Malcolm Merriweather was from County Cork, Ireland,
* Goober mentions Tokyo in "Aunt Bee's Canton Restaurant",
* When the Count grants "Three Wishes for Opie," we learn a lot about the world. For example, "ESP? Extra Sensitive Perception. They're doing a lot of that in the Himalayas. And also Arabia has a little different atmosphere than the Southeastern United States
* Barney tells Andy rich girls like Peggy go to Paris, France ("Andy's Rich
Girlfriend"),
* Nuit de Paris
* Siamese cats are said to be straight from the Orient in "Opie's Carnival"
* Marne River and Battle of Château-Thierry in "Barney's Sidecar",
* San Salvador and the West Indies are discussed in "Andy Discovers America"
* "Come to Mayberry, folks-Gateway to Monte Carlo!"
* St. Benedict's Island, the Caribbean and Trinidad in "Howard's New Life"
* Aunt Bee and friends talk about traveling to Mexico City, Mexico, in "Trip to Mexico"
* Italy, where Vincentes are from ("Mayberry, RFD")
* Gomer mentions China and Japan in "Gomer Pyle, USMC"
* Floyd thinks Aunt Bee's wig is from China ("Aunt Bee's Crowning Glory")
* Dubrovnik and Istanbul are mentioned "Girl-Shy"
* Andy tells Mayor Stoner that policemen in London, England, carry just sticks instead of guns.
* Barney mentions Canada in "Andy's English Valet"
* Barney says Otis is making for Canada when he's interrogating Otis' subconscious
* Goober mentions Hawaii
* Goober mentions Tokyo
* TR's cannon is said to have been dragged up San Juan Hill in "The Horse Traders"
* Uncle Todd was a wiper on an oil tanker and traveled to Singapore and Hong Kong.
* "The dingo dog is indigenous to Australia."
* Sonya Wallachaka in Warsaw, Poland, is mentioned in "A Warning from Warren"
* The Soviet Union/Russia in "Barney Hosts a Summit Meeting"
* Barney gave Aunt Bee handkerchiefs imported from Tijuana ("The Return of Barney Fife")
* Barney says Aunt Bee's pickles "are scattered all the way from Oregon to Nova Scotia"
* The president of Belmont Pictures was in Egypt when Andy called the studio in "Taylors in Hollywood"
* The moon ("Stranger in Town")
* Weather station CQL Greenland with reports about the Arctic Circle ("The Gypsies")
* For polo, golf, or tennis, there's no place like...Venice
* Rudolph Rabbit visited Venus in "The Mayberry Chef"
* Now showing: Moon Men Invade Venus on Giant Bats, The Monster From the Moon,The Monster From Mars and The Anteaters From Outer Space
* Warren says the inside of "The Cannon" "looks like the black hole of Calcutta"
* Abyssinia...
* See ya Samoa!


After that trip around the world and with the Mayberry Days Trivia Quiz coming up in a few days, Miss Crump is going to take another sabbatical as quiz master this issue, but she'll return with a new quiz in the November issue. And that'll give ol' Ben Weaver a chance to restock his shelves with plenty of swell prizes, too. (Bah!)

**** Post Note ****

If you ever miss receiving an issue of The eBullet, you can always catch up by reading it in the eBullet Archives in the Newsletters section at iMayberry.com. Each issue is usually placed in the Archives within about a week of its being distributed

Between issues of The eBullet, keep up with the goings-on in Mayberry with the daily "Who's Been Messin' Up the Bulletin Board?" Digest. It's a free subscriber list that consists entirely of comments, newsflashes, and questions and answers from subscribers. You can sign up for that list by going to the "Mailing Lists" link at http://tagsrwc.com. It also has its own password-protected Archives where you can follow the ongoing stream of messages.

TAGSRWC also publishes Weaver's Newsletter in more-or-less alternate months to The eBullet. Like The eBullet, the Weaver's Newsletter is free. Its focus is mainly on new Mayberry merchandise and collectibles and quick newsflashes. To sign up, go to: http://mail.weaversdepartmentstore.com/mailman/listinfo/newsletter_weaversdepartmentstore.com

TAGSRWC's other main vehicle for Mayberry information is simply our Web site at http://www.tagsrwc.com (and its sister site http://www.iMayberry.com. Both sites have extensive content and links for just about everything a Mayberry fan might be looking for.

The next issue of The eBullet is scheduled for November, with a Weaver's Newsletter planned for October.