To Subscribe click here
To Unsubscribe click here
---

Volume 9, Issue 4


---

---

July/August 2009

---
If you cannot view the HTML newsletter (photos), click here to read it at our Web site.
*********************************************
The eBullet
An Online newsletter of
"The Andy Griffith Show" Rerun Watchers Club (TAGSRWC)
Volume 9, Issue 4
July/August 2009
*********************************************
TAGSRWC
Celebrating 30 Years 1979-2009
Welcome to our fourth issue of The eBullet for 2009. The pace of Mayberry events has picked up with the very successful Mayberry Squad Car Nationals/Mayberry Comes to Graysville festival this month in Alabama. And momentum is building as we head toward Mayberry Days in Mount Airy, N.C., in September.
Here's a quick countdown of some of the fun events coming up in the world of Mayberry during the rest of this year.
**** Floyd's Barbershop Bulletin Board & Event Calendar ****
* Aug.6: David Browning takes a bow and wows the crowd at the Bark in the Park Festival in Bristol, Va.
* Aug. 7: David Browning doubles the Mayberry Deputy at the Elizabethtown (N.C.) Twins game
* Aug. 2: Fundraiser concert for VW Boys band member Larry McPeak at 2:00 p.m. at the East Montgomery High School auditorium in Biscoe. N.C. (Larry needs a kidney transplant.) The Lonesome River Band, other bands and Mayberry tribute artists are among the performers. Tickets are $15. More details are at http://www.bluegrassintroy.com/.
* Aug. 8: Maggie Peterson Mancuso joins two of her TV brothers, Doug Dillard and Rodney Dillard, and their band for a performance at the Third Annual Mayberry in Troy, a fundraiser for the Montgomery County DARE program, at the James H. Garner Conference Center in Troy, N.C. Several Mayberry tribute artists will be on hand, too. Tickets are $20 reserved, $15 general admission and $10 for kids 6-12. More details are at http://www.bluegrassintroy.com/.
* Aug. 14: David Browning will tell a few Mayberry yarns at the Bristol (Va.) White Sox game.
* Aug. 22: If you have the courage, go see David Browning at the Danville (Va.) Braves game.
* Aug. 27-29: James Best is among the stars at the Mid-Atlantic Nostalgia Convention in Aberdeen, Md. For more info, visit http://oldtimeradiotapes.homestead.com/conventionhome.html.
* Aug. 29: One of our faves (you know who!) gets raves when he patrols the Mississippi Braves game in Pearl, Miss.
* Sept. 5: It'll be one big happy family in the community of Crossville (Tenn.) when David Browning entertains at Community Family Day.
* Sept. 11 and 12: No need for an SOS. Everything will be O.K. at Tom Johnson's RV event in Marion, N.C., as long as D.B. the M.D. is there.
* Sept. 24-27: 20th Annual Mayberry Days in Mount Airy, N.C. Guests confirmed so far include Doug Dillard, Rodney Dillard, Betty Lynn, Maggie Peterson, James Best, LeRoy McNees, Jackie Joseph, George Spence, and Karen Knotts, daughter of Don Knotts, in her Mayberry Days debut. (Karen will be the guest for Neal Brower's Lecture on Sat., and she will also be performing her one-woman show, Tied Up in Knotts.) Further details TBA, but tickets are available online now for certain parts of the festival at http://www.surryarts.org/. And don't forget to book your hotel rooms early because they become scarce that week.
Construction is well underway for the new Andy Griffith Museum adjoining the Andy Griffith Playhouse in Mount Airy. This photo was taken on June 3. The museum will be home to Emmett Forrest's Andy Griffith Collection and other cultural exhibits and programs for the community. The museum is on track to be open this fall-likely in time for Mayberry Days. Photo by Hobart Jones.
* Oct. 12-17: A Cruise to Mayberry 4 is a 5-day version this year and it's sure to be another relaxing, fun time for all. Being on the cruise is a bit like sitting on Andy's front porch and watching the traffic on the road-only there's no road and no traffic, just the waves and a breeze. Visit the website for information and links to photos from previous Mayberry cruises.
* Nov. 21: The "I Didn't Know You Stranged" chapter in Moundville, Ala., will hold a Mayberry in Moundville family social at the Moundville Church of the Nazarene gym at 6:00 p.m. Several music groups will be performing. Local Mayberry squad car replicas will be on hand as well as Mayberry tribute artists, including Kenneth "Otis Campbell" Junkin. There will be whistling and trivia contests, episode watching, food, and who knows what-all. All proceeds will benefit the American Cancer Society's Relay for Life. More details TBA.
**** News of Cast & Crew ****
Angels & Demons, Ron Howard's current release as director has had a very strong showing in theaters this summer. It has topped the $130 million-dollar mark in U.S. ticket sales (and has made about $500 million worldwide).
Ron also is executive producer of the new "Parenthood" TV series on NBC. It's the second series based on the 1989 Parenthood feature film directed by Ron. Already in production, the series was originally scheduled for the Fall lineup, but has been postponed while star Maura Tierney undergoes treatment for breast cancer.
George Lindsey is still awaiting word on the future of a possible TV series called "We're Not Dead Yet" with Ray Stevens and others.
James Best just got back from back-to-back events. He was Guest of Honor at the Mayberry Squad Car Nationals/Mayberry Comes to Graysville event on July 11 in Alabama. And then he joined fellow "Dukes of Hazzard" cast members and other stars for Smoky Mountain Fan Fest in Sevierville, Tenn., the next weekend.
And the really exciting news for James is that his memoirs, Best in Hollywood-The Good, The Bad and the Beautiful, is being published this month! (See the listing above in the Merchandise section below.)
Barbara Perry (Class Reunion-organizing Floss and other Mayberry characters) recently performed in Back-Up Plan, starring Jennifer Lopez. Barbara plays a dancer in the film, which is scheduled for release next year. Barbara also taped a dance segment for "The Tonight Show with Conan O'Brien" that aired this summer. And Barbara appeared in an episode of "The Unit" this spring. She is enjoying a summer break now and visiting her daughter in Vienna.
We're sorry to report the passing of legendary actor Dal McKennon, who played sculptor Brian Jackson in "The Statue," Episode 208. He died of natural causes in Raymond, Wash., on July 14, five days short of his 90th birthday.

Born in La Grande, Ore., Dal McKennon is most remembered on camera as Cincinnatus in the first five seasons of "Daniel Boone,'' the 1960s TV series starring Fess Parker. But he is perhaps even better known for his voices, including those of Gumby and Archie Andrews (of "Archie" comics).
He did lots of voices for Disney movies and theme-park attractions (perhaps most famously as Zeke in the Country Bear Jamboree). Along the way he worked for Alfred Hitchcock in The Birds and with Elvis Presley in Clambake.
For Mayberry fans, he'll always be the man who chiseled the statue of Seth Taylor. Dal McKennon is survived by Betty, his wife of 67 years, eight children, 21 grandchildren, and 20 great-grandchildren.
**** Chapter Update ****
We have two new chapters since the May/June eBullet:
"No Mail for Me?" Smithville, Tenn.
"Ain't We Lucky to Be Living in Such a Friendly Town" Burlington, N.C.

That brings our total number of chapters founded to 1,344. If you're interested in starting a chapter of TAGSRWC, all you need to do is choose a name that hasn't already been picked, and submit it with a list of your founding members by U.S. mail.
What you do as a chapter is entirely up to you. Your group can do as much or as little as you like. Or write to us also if you would like to contact a chapter near you. Our address is TAGSRWC, 9 Music Square South, PMB 146, Nashville, TN 37203-3211.
**** Merchandise Update ****
A couple of great new books written by TAGS cast members are being published this summer. Here's the scoop on how you can add an authentic touch of Mayberry to your summer reading list.
* Best in Hollywood-The Good, the Bad and the Beautiful by James Best $25.00 (autographed!) http://www.weaversdepartmentstore.com/index.php?category=25
If you know James mostly as Rosco P. Coltrane on "The Dukes of Hazzard" and of course as Jim Lindsey on TAGS, then you'll have an opportunity to learn a lot more about his fascinating life, including the Golden Era of Hollywood. The book includes more than 150 photos from James' personal collection.
We have a limited number of autographed copies (featuring a custom-made bookplate) of the soft-cover book for the cover price of $25 at Weaver's. We're taking orders now. We expect to have books in the next couple of weeks.
* Forest in the Wind, a novel by Mitch Jayne $15.00
http://www.weaversdepartmentstore.com/index.php?category=25
Originally published in 1966 when author Mitch Jayne was still making visits to Mayberry as one of the Darling Boys, "Forest in the Wind" has been revised and re-released this summer, and now includes wonderful illustrations by Diana Jayne, Mitch's wife.
The adventure story is told from the point of the animals, primarily a family of foxes in the Ozarks. This is a book for readers of all ages and for the Ages. This novel is 150 pages of reading that tells an inspiring story and leads us to a greater understanding of and appreciation for the beauty and power of Nature.
*2010 Andy Griffith Show Wall Calendar $15.00
Like to plan ahead? Well, here's a chance to start marking your calendar for the 50th Anniversary of TAGS in 2010.



We've got the 2010 Wall Calendar in stock now. Like the 2009 calendar, it has all black-and-white images. Many will seem very familiar. We also have a Special Combo with 2009 and 2010 Wall Calendars for $23.00. And we still have several calendars from previous years. They've become popular collectibles!
* Complete Third Season of "Matlock" $39.00
http://www.weaversdepartmentstore.com/index.php?category=73
After all that reading, are you ready just to sit back and watch a legendary actor perform? Well, this may be just the ticket for you. This Third Season of "Matlock" has 20 episodes on five discs. Released this month, the list price for this set is $50, but we've got it for only $39.00. We're shipping now!. And we also carry the first two seasons of "Matlock" for the same bargain price.
**** First One Thing and Then Another ****
Whether you're looking for a Mayberry T-shirt, something Mayberry for your car, decorative wooden building fronts, Mayberry-related DVDs and CDs, artwork (including some autographed pieces), books, board games and even Barney Fife thermometers and light switch covers, we've got most things Mayberry online at Weaver's. Drop by and have a look around.
Phone Orders
In addition to accepting orders online or by mail, our Weaver's Dept. Store has a phone number FOR ORDERS ONLY (615) 604-1298. The phone number is generally in operation from 9 a.m. to 6 p.m. CT Monday through Saturday.
Please call this number only for ordering or for inquiring about orders placed by phone. All inquiries about online orders and mail orders should be made online and by mail, respectively.
NOTE: This order number does not ring to TAGSRWC HQ, so you shouldn't call this number with questions about general fan club operations, trivia or various events, etc., but only to place an order by phone or inquire about orders placed by phone.
**** Chapter News ****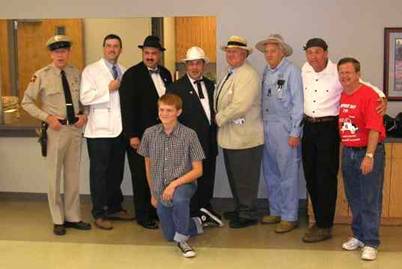 Tribute artists at the 2009 Mayberry Squad Car Nationals and Mayberry Comes to Graysville festival (standing, l-r): David "Mayberry Deputy" Browning, Allan "Floyd" Newsome, Jeff "Howard" Branch, Eric "Mayor Pike" Lowry, Kenneth "Otis" Junkin, Bob "Briscoe" Mundy, Tim "Goober" Pettigrew and Graysville Mayor Doug "Leonard Blush" Brewer. Kneeling front and center is Jamie "Opie" Sullivan. Photo by Tammy "Bee" Sullivan.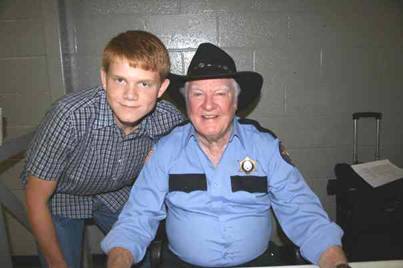 Jamie "Opie" Sullivan and Guest of Honor James Best make the scene in Graysville. Photo by Tammy Sullivan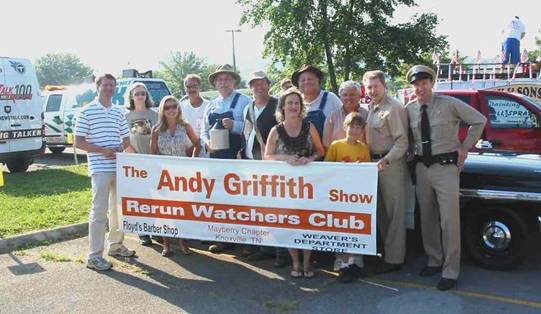 Members of Mayberry chapter (Knoxville, Tenn.) at the Fourth of July parade in Farragut, Tenn. The chapter is a popular fixture at many local parades every year. Photo courtesy of Dennis Beal.

Carloads of chapters and other fans turned out for the 9th Annual Mayberry Squad Car Nationals in conjunction with the 5th Annual Mayberry Comes to Graysville festival on July 11 in Graysville, Ala. Chapters, cars and fans came from at least 7 states roared in for this year's edition, which starred James Best. The City of Graysville hosted the event, which is organized each year by Graysville's Mayberry Minutemen chapter and also the Hearty Eatin' Men and Beautiful, Delicate Women" chapter (Tuscaloosa).

The racing machine of Remembering Mayberry race team of Pat and Neil Coleman out of Chillicothe, Ohio, was voted Best Overall Car at this year's event. Congratulations!

Pat Coleman submitted this report, which captures the Cousin Virgil aspects of the Mayberry Squad Car Nationals quite well:
At the beginning of the obstacle course, as we were being given the countdown to go, Neil was positioning the fishing pole just right to give it to me to save valuable time. The fishing pole became "wedged" in the steering wheel, making the steering wheel hard to turn. In order to keep from hitting the Mayberry Deputy, Neil put on the brakes and the car stalled. Neil quickly started the car again and we completed the course.

The parade was a rolling success and the tribute artists were in great form. The stage show was awesome. Goober did learn to make sure he knows the difference between an "a" and a "p", as in a.m and p.m., when scheduling air flights. (Editor's note: Sometimes she'll tell you got yourself an "a" when you've really got yourself a "p.") Kenneth Junkin, Doug Brewer and the people and community of Graysville really rolled out the red carpet for us. A great time was had by all!
The date for the 10th Annual Mayberry Squad Car Nationals and 6th Annual Mayberry Comes to Graysville festival is already set. Mark your 2010 Mayberry Wall Calendar for July 10.
Here's a report from our "Shakedown! Shakedown!" chapter (Laurinburg, N.C).
On June 13, we had our quarterly meeting at a local state park. We had a cookout with Jeff Branch (aka Howard Sprague) and our local county sheriff as our guests. While the burgers and dogs were cooking, most everyone was bending Jeff's ears with questions and having their picture taken behind the wheel of his squad car. He was very gracious and obliging.

We had 31 people attend, up from 17 at our last meeting. Our local newspaper was there to take pictures and conduct interviews. We hope this will generate new members.
The group is making plans now for its September meeting/social.
For the last nine months, www.iMayberry.com/podcasts has been the home of the Two Chairs No Waiting Internet Radio Show (podcast) hosted by Allan Newsome.
As most of our readers likely know, Allan is our Webmaster at iMayberry.com and has been very active in TAGSRWC since 1992. If you've attended various Mayberry events through the years, you've probably seen Allan as a tribute artist for Floyd the Barber. (In the early days, Allan had to add a few little white highlights to his dark hair to capture the look of Floyd. These days...he's a natural!)
Two Chairs No Waiting has TAGS news, interviews, and pretty much whatever happens to be going on in and around Mayberry. Allan is really doing a bang-up job on these podcasts. There's a new episode every Tuesday and also an Archives in case you want to listen to episodes you've missed. We think you'll find these podcasts creative, fun and informative.
If you've got sound on your computer or have an ipod or similar device, you can easily tune in or download these podcasts. There are all sorts of ways to interact with the podcasts, including several options for giving your feedback. And there are other links, including a companion Facebook page, to keep up with all the goings-on. And probably the easiest way to make sure you don't miss an episode is to subscribe to the podcasts. (They're free.)
So pull up a chair and enjoy the fun of bringing what is basically Radio Free Mayberry to you wherever you are!
As we continue to celebrate our 30th year in 2009, we're especially eager to hear from chapters with news and photos, either by e-mail (PresidingGoober@iMayberry.com) or by U.S. Mail.
**** Miss Crump's Mayberry Quiz #78 ****
This is the same quiz Miss Crump presented in the last issue. You've still got about a month to turn in your answers. Miss Crump hopes this test is proving to be a fun and challenging one for all levels of Mayberry knowledge.
Prizes will be awarded to a minimum of two people for this quiz-maybe more if Miss Crump is feeling kind and can wheedle an extra prize or two out of Ben Weaver. (Main prize winners receive their choice of any single item available at Weaver's. That is, no box sets of multiple seasons of shows or grab-bags and other combos.)
If there are more entries with the most right answers than there are prizes, we'll draw winners from a hat. One additional prize will also be a door prize selected at random from all the entries that have at least one correct answer, so even if you don't know a lot of the answers, you could still win something just by entering the contest and knowing at least one of the answers.
Here are this issue's questions:
Name two places in Texas that are mentioned in Mayberry.
Name two times that Andy is asked to rescue a stranded cat.
Identify a Mayberry resident who owns a set of golf clubs or is seen playing golf with a golf club.
Name six people who are described in Mayberry as having a headache (or head pain).
Name two times that a cigarette lighter is seen in Mayberry.
BONUS: Name 15 different places outside of the continental United States that are mentioned in Mayberry.
The deadline for entries to be e-mailed or postmarked is August 31, so you have the rest of the summer break to work on this homework assignment. E-mail your answers to OldLadyCrump@iMayberry.com or mail them to TAGSRWC, 9 Music Square South, PMB 146, Nashville TN 37203-3211. Good luck!
**** Post Note ****
If you ever miss receiving an issue of The eBullet, you can always catch up by reading it in the eBullet Archives in the Newsletters section at iMayberry.com. Each issue is usually placed in the Archives within about a week of its being distributed
Between issues of The eBullet, keep up with the goings-on in Mayberry with the daily "Who's Been Messin' Up the Bulletin Board?" Digest. It's a free subscriber list that consists entirely of comments, newsflashes, and questions and answers from subscribers. You can sign up for that list by going to the "Mailing Lists" link at http://tagsrwc.com/. It also has its own password-protected Archives where you can follow the ongoing stream of messages.
TAGSRWC also publishes Weaver's Newsletter in more-or-less alternate months to The eBullet. Like The eBullet, the Weaver's Newsletter is free. Its focus is mainly on new Mayberry merchandise and collectibles and quick newsflashes. To sign up, go to: http://mail.weaversdepartmentstore.com/mailman/listinfo/newsletter_weaversdepartmentstore.com
TAGSRWC's other main vehicle for Mayberry information is simply our Web site at http://www.tagsrwc.com/ (and its sister site http://www.iMayberry.com/. Both sites have extensive content and links for just about everything a Mayberry fan might be looking for.
The next issue of The eBullet is scheduled for September, with a Weaver's Newsletter planned for August.