To Subscribe click here
To Unsubscribe click here
---

Volume 8, Issue 6


---

---

November 17, 2008

---
If you cannot view the HTML newsletter (photos), click here to read it at our Web site.
*********************************************
The eBullet
An Online newsletter of
"The Andy Griffith Show" Rerun Watchers Club (TAGSRWC)
Volume 8, Issue 6
November 17, 2008
*********************************************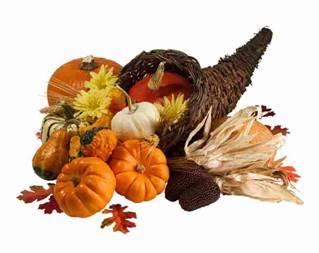 Welcome to our sixth and final issue of The eBullet for 2008! Here's what's going on as we cruise toward the end of this year and into next.
**** Floyd's Barbershop Bulletin Board & Event Calendar ****
2008
* Nov. 20: David Browning is booked for the Friends of Smyth-Bland Regional Library Meeting in Marion, Va. No word yet on whether he'll be reading from Poems of Romance by T. Jonathan Osgood.
* Dec. 15: David Browning is aboard for the 22nd Annual Morgan Shepherd Christmas Charity Trip in Stuart, Va., and through the mountains to nearby communities. For more info, visit http://www.morganshepherd.com
2009
* Jan. 23-Feb. 15: Ronnie Schell performs in the musical-comedy revue Don't Leave It All to the Children at Hollywood Playhouse in Hollywood, Fla. For more info, visit http://www.hollywoodplayhouse.com/.
* Mar. 5-9: 12th Annual George Lindsey UNA Film Festival in Florence, Ala. Details TBA.
* July 11: 9th Annual Mayberry Squad Car Nationals and 5th Annual "Mayberry Comes to Graysville" festival in Graysville, Ala. Details TBA.
* Sept. 24-27: 20th Annual Mayberry Days in Mount Airy, N.C. Details TBA, but tickets are available online now for certain parts of the festival at http://www.surryarts.org.
**** News of Cast & Crew ****
Brad Paisley's hit music video "Waitin' on a Woman," which stars Andy Griffith, won a Country Music Association Award for Music Video of the Year on Nov. 12. Of course, we all knew it would win because…it was indeed the year's best. Sa-lute to Brad and Andy!
Brad Paisley and Andy Griffith making the video for "Waitin' on a Woman."
There's still no release date announced for Play the Game, the movie Andy filmed in fall of 2007. The film also features Rance Howard and Clint Howard.
Frost / Nixon, the latest film directed by Ron Howard, will begin opening in theaters on Dec. 5 and have wider release Dec. 26. The movie is based on the hit play about David Frost's interviews with Richard Nixon after he resigned. The film had its world premiere last month at the Times BFI 52nd London Film Festival.
Also, Ron is currently in post-production Angels & Demons, the sequel to The Da Vinci Code that stars Tom Hanks. The release date is set for May 15, 2009.
And look for Ron in "Ron Howard, 50 Years in Film," a 90-minute special about his career. It premieres on Turner Classic Movies (TCM) at 8 p.m. ET on Dec. 29 (and it runs again three hours later and will likely have other airings). TCM will also be showing a couple of the movies Ron directed that night.
And we know it's controversial, especially if you were for the other guy, but politics aside, the political ad that Ron Howard and Andy Griffith did in support of Barack Obama was a significant bit of history. If nothing else, it was the first time that Ron sort of directed Andy in a film, even though they were on different coasts at the time. Not to in any way promote one side or the other (it's a moot issue now, anyway), but just to present a piece of Mayberry-related history, here's a link to the video they made:
http://www.funnyordie.com/videos/cc65ed650d/ron-howards-call-to-action-from-ron-howard-and-henry-winkler
Doug Dillard, Rodney Dillard, Betty Lynn, Maggie Peterson Mancuso, James Best, Jackie Joseph, LeRoy McNees, George Spence and David "Ernest Too" Morris (son of Howard Morris) were all on hand in September for the 19th Annual Mayberry Days in Mount Airy, N.C.
There were big doin's throughout the four-day event, but the biggest news was the groundbreaking for the Andy Griffith Museum, which will house Emmett Forrest's spectacular collection of Andy Griffith and Mayberry memorabilia. All of the stars and other dignitaries were onstage inside the packed Andy Griffith Playhouse for the ceremony.
Betty Lynn read a beautiful statement by Francey Knotts, widow of Don Knotts. A little later in the ceremony, Maggie Mancuso read a very nice letter from Cindi and Andy Griffith. And then a recorded audio message of Andy Griffith thanking Maggie and congratulating Mount Airy and Emmett was played for all to hear.
SOMEBODY HAD BETTER CHECK THE EQUIPMENT INVENTORY
IN THE TRUNKOF THE SQUAD CAR!—TAGS stars and local officials
show that they "dig" the new Andy Griffith Museum during Ground-
breaking festivities in Mount Airy. Among those seen here are Betty
Lynn (third from left), Emmett Forrest (fifth from left), Maggie Mancuso
(in red sweater), Mayor Jack Loftis (red tie) and James Best (far right).
With a little luck and lots of hard work ("Damp under there. Could be spiders."), by Mayberry Days 2009, we'll all have a sparkling new building to visit when enjoying Emmett's collection. And the museum building will also be home for other arts-related functions that will benefit the local community and visitors.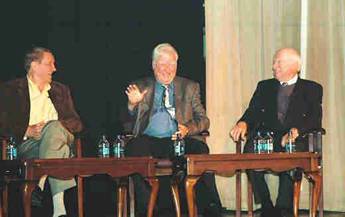 George Lindsey, James Best and Norman Lloyd share a laugh during their discussion of "The Jar" episode of "The Alfred Hitchcock Hour" during a seminar at the University of North Alabama in October.

In addition to donating several nice items that belonged to Don Knotts to Emmett Forrest's collection in Mount Airy, Francey Knotts also recently donated some items to West Virginia University in Morgantown (Don's alma mater and hometown). Among the items was a watch presented to Don by the cast and crew of TAGS when he left the show. (Yes, it's inscribed with "5" on it, and also this message: "See, we thought we'd put '5' on it because you've been here 5 years.")

George Lindsey filmed a pilot for a TV comedy with Ray Stevens earlier this month. And at the end of October he participated with James Best and Norman Lloyd (father of Josie Lloyd, aka Lydia Crosswaith) in a seminar about "The Jar," an episode of "The Alfred Hitchcock Hour." It was an outstanding evening of discussion about one of the finest hours in TV history.

Elinor Donahue reports that she and husband Lou have been enjoying traveling and visiting family members all around the country. She says hey to all her friends and fans in Mayberry. She's also scheduled to receive the Gold Circle Award from the National Academy of Television Arts and Sciences honoring her 50 years in television. The presentation of the award will take place next year in Palm Desert, Calif.

Bernard Fox says that he's doing fine and sends greetings to his many friends in Mayberry. If the logistics are favorable, maybe he'll be able to participate in another Mayberry fan event before long. It has unfortunately been a few years now since his last Mayberry outing. He receives a good number of scripts and film offers, but he generally declines more roles than he accepts these days. He's just waiting for one that's a real bobby-dazzler!

**** Mayberry Mourns Loss of True Friend L.P. Venable ****

Mount Airy, N.C., and the whole Mayberry world lost one of the all-time greats when L.P. Venable passed away suddenly last month. With wife Alma (affectionately known to many Mayberry friends as Aunt Bee), L.P. was proprietor for more than 40 years of the Mayberry Motor Inn, on the Andy Griffith Parkway. Their friendship has made the Motor Inn the home away from home for many Mayberry fans and countless others.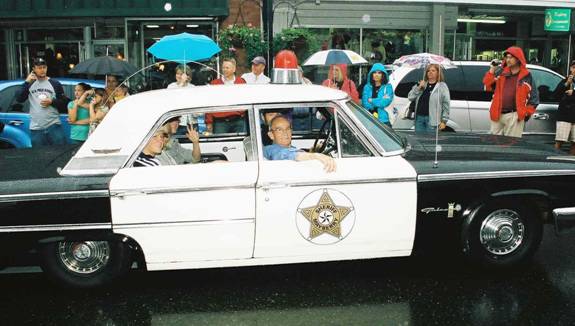 MAYBERRY MOTORIN'—Great Mayberry friend L.P. Venable flashed a familiar smile while riding in this year's Mayberry Days parade with grandsons Mikel, Josh and Jeremy.
It has always been reassuring to arrive in Mount Airy after what was often a full-day's drive, pull into the Motor Inn and to be welcomed like family by L.P. or Alma at the front desk. Or as often as not, both would be there, especially during Mayberry Days.
You simply can't find better folks to be around than L.P. and Alma and their entire family. And everybody who knew L.P. certainly would agree that there wasn't a more honorable, decent, generous and humble man than L.P. You always knew where L.P. stood. If you weren't standing with him, that was a sign that you probably needed to reexamine where you stood. L.P. was one of those rare people who was usually right about most things. He had great wisdom. But most of all, L.P. was a tremendous friend.
Here's the obituary that was published in the Mount Airy News:
MOUNT AIRY—Mr. Luther Parker "L.P." Venable, age 72, of 501 N. Andy Griffith Pkwy. in Mount Airy passed away Friday, Oct. 24, at his home. Mr. Venable was born June 25, 1936, in Surry County to the late Raymond Esker and Ruby Parker Venable. He was the owner and operator of Mayberry Motor Inn for over 42 Years, was a member of Calvary Baptist Church and enjoyed landscaping, gardening and woodworking.
Surviving are his wife of 53 Years Mrs. Alma Marsh Venable of the home, one daughter who he was so very fond of, Vicky Venable Snow of Mount Airy; three grandsons who looked up to their grandfather as a father figure and who were his pride and joy: Mikel Snow, Joshua Snow and Jeremy Snow, all of Mt. Airy; and one brother Don Venable of Pinnacle. In addition to his parents, Mr. Venable was preceded in death by a sister Glenda Sutphin and by a brother Harold Venable. Funeral services were be held Monday, Oct. 27, at the Moody Funeral Home Chapel in Mt. Airy with services conducted by Rev. Bill Watson and Rev. Dean Eaton. Burial followed in the Skyline Memory Gardens.
Our sympathies continue to go out Alma and all of L.P.'s family. And while our visits to Mount Airy and the Mayberry Motor Inn will have a vacant chair now, our hearts will be full of love and memories of this wonderful friend.
**** Chapter Update ****
We have five new chapters since the last eBullet:
The Robert E. Lee Natural Bridge Highlanders Huntsville, Tenn.
Briscoe of Mayberry Indianapolis, Ind.
Andy, Barn and the Fun Girls! Gardendale, Ala.
Starbricks Nelsonville, Ohio
Sundays with Andy Kokomo, Ind.
That brings our total number of chapters founded to 1,336. If you're interested in starting a chapter of TAGSRWC, all you need to do is choose a name that hasn't already been picked, and submit it with a list of your founding members by U.S. mail.
What you do as a chapter is entirely up to you. Your group can do as much or as little as you like. Or write to us also if you would like to contact a chapter near you. Our address is TAGSRWC, 9 Music Square South, PMB 146, Nashville, TN 37203-3211.
**** Merchandise Update ****
With the holidays approaching and economic times that are even more jittery than Barney, Ol' Ben Weaver has softened his Scrooge-like image and come up with some really great values in his store. With the stock market so iffy, what better time to invest in the tried-and-true happiness that Mayberry brings!
Holiday Shipping Notice
We'll be shipping orders received at our offices as late as 10 p.m. CT on Mon., Dec. 22, in time for Christmas. However, orders received after Noon CT on Fri., Dec. 19, will require FedEx service (an extra charge) for guaranteed delivery on or before Christmas Eve. So plan ahead, shop early, save that rush delivery charge, and then sit back, relax, and enjoy the holidays.
Phone Orders
In addition to accepting orders online or by mail, our Weaver's Dept. Store has a phone number FOR ORDERS ONLY (615) 604-1298. The phone number is generally in operation from 9 a.m. to 6 p.m. CT Monday through Saturday. Again, please call this number only for ordering or for inquiring about orders placed by phone. All inquiries about online orders and mail orders should be made online and by mail, respectively.
NOTE: This order number does not ring to TAGSRWC HQ, so you shouldn't call this number with questions about general fan club operations, trivia or various events, etc., but only to place an order by phone or inquire about orders placed by phone.
O.K., enough with the logistics. Here are some highlighted items. And browse the complete lineup of items at Weaver's Dept. Store at http://www.iMayberry.com.
* Christmas Is Here Again! DVD featuring Andy Griffith $15.00
http://www.weaversdepartmentstore.com/index.php?new=yes
New for 2008...Now in Stock!
Even Scrooge-like Ben Weaver is excited to offer this brand new Holiday DVD featuring Andy Griffith as Santa Claus! The all-star cast of voices in this 75-minute animated production includes Ed Asner, Kathy Bates, Shirley Jones, Norm MacDonald and Jay Leno as the narrator.
Enjoy watching the beginning of a fun new Holiday tradition!
P.S. We also still have a handful left of Andy Griffith's other recent holiday DVD, The Very First NoŽl. $11.00 http://www.weaversdepartmentstore.com/index.php?category=73
Andy tells the story of the first NoŽl, based on the beloved Biblical story. Accompanied by an endearing Hawaiian Christmas carol soundtrack. Length: 23 minutes.
* Andy Griffith's The Christmas Guest book and CD Single $12.00
http://www.weaversdepartmentstore.com/index.php?category=33
This handsomely illustrated hardcover book measures 6 x 6 inches and has 64 pages.
The hero in this classic story of delight and despair, sacrifice and celebration shows us the beauty of a life where Jesus is not just a guest in the home, but a resident in the heart. Andy Griffith brings new life to this timeless tale. Included in the back cover of the book is a CD, which has a narrative of the story by Andy Griffith.
This CD single also features Andy singing "Go Tell It on the Mountain."

* 2009 Andy Griffith Show Wall Calendar $14.00
http://www.weaversdepartmentstore.com/index.php?category=44
After having all color photos in the 2008 calendar, this 2009 edition turns back the clock and has all black-and-white photos, all of which are also from the black-and-white seasons (1960-65).
There's a nice variety of Mayberry characters in this calendar. In addition to Andy, Barney, Aunt Bee, Opie and Gomer, there are photos of Goober, Floyd, Fun Girl Daphne and even Mr. McBeevee. Several of these photos have never before been published.
Also, if you haven't gotten your 2008 Wall Calendar, we still have some left, including in a special combo offer with this 2009 calendar for only $22.00.
* The Incredible Mr. Don Knotts $27.00 $22.00
Hot Off the Press This Fall and at a Really Nice Discount!
http://www.weaversdepartmentstore.com/index.php?category=26
This brand new, oversized 320-page hardcover book (coffee-table style) is compiled by Steve Cox and Kevin Marhanka. The thoroughly researched book has lots of interviews with people who worked with Don Knotts, and it has more than 200 photos, including a 16-page section of color photos.
It's a great gift for any Barney Fife and Don Knotts fan to give or receive. And best of all, we've got it for $5.00 off the cover price right out of the gate!
As Barney himself said, "Aw, big ain't the word for it!"
* And Weaver's also has nice deals on these great DVDs of favorite Don Knotts movies—the ideal accompaniment to this fascinating book about Don's film career:
* Don Knotts 4-Movie Reluctant Hero DVD Pack $29.00
http://www.weaversdepartmentstore.com/index.php?category=73
Featuring The Ghost and Mr. Chicken, The Reluctant Astronaut, The Shakiest Gun in the West and The Love God? This super Hero collection of four classic Don Knotts movies from the 1960s on DVD is hard to beat. You get all four movies for a nice price that even cost-conscious Barney Fife would jump at.
* The Incredible Mr. Limpet DVD $16.00
http://www.weaversdepartmentstore.com/index.php?category=73
This classic film starring Don Knotts and featuring the voice of Elizabeth MacRae is a wonderfully entertaining and innovative use of animation and live action. Includes an introduction by Don Knotts and other special features.
* "Gomer Pyle U.S.M.C." DVDs
http://www.weaversdepartmentstore.com/index.php?category=91*
The final season (the fifth) of "Gomer Pyle, U.S.M.C." is scheduled for release on Nov. 25. We're taking orders now. We also carry the other four seasons. And we have a brand new Box Set of All Five Seasons of "Gomer Pyle," too. Individual seasons are $32.00 each (vs. a list price of $40.00). The Five-Season Box set is just $145.00 (vs. a list price of $190.00). Shazam indeed!
* Otis the Artist's Grab-Bag of Mayberry Art $25.00
http://www.weaversdepartmentstore.com/index.php?maincat=16
This special Grab-Bag, inspired by Otis and his artistic efforts with mosaics, pieces together several collectible Mayberry items that will add beauty and grace to any wall in home or office...or courthouse cell!
Each of Otis's Grab-Bags contains at least the following:
* 1 Officially Licensed Large Limited Edition Lithograph of Barney Sipping Soda by artist Brad Keim
* 1 2008 "Andy Griffith Show" Wall Calendar (it's officially a collectible now)
* 2 Oversized Mayberry event posters
* 1 Portrait of Otis (8 x 10)
All proceeds (not just the profits, but 100% of the $25 price) are going toward our annual support of the Surry Arts Council and its Mayberry Days festival in September in Mount Airy, N.C. So with a Grab-Bag purchase, you get a good deal while also supporting a good Mayberry cause!
* Classic Barney Necktie $25.00
http://www.weaversdepartmentstore.com/index.php?category=7
This tie is out of production, so it's now even more of a collectible. We've unexpectedly received one last small shipment from the licensed manufacturer. We've got just those few left, and then that'll be it for this popular fashion statement.
This silk necktie features Barney in black and white (it therefore coordinates with any outfit). Anyone who wears this tie is guaranteed to look suave and worldly. Wear it with the old salt and pepper and it'll be just right for the dips. Made with fine silk from the Orient.
* And More…
We also have several classic, out-of-print Mayberry books, including Mayberry My Hometown and Aunt Bee's Mealtime in Mayberry. (Both of those titles are in especially pristine condition and even still in their original shrink wrap from the publisher!)
**** Chapter News ****
Event organizer and Howard Sprague tribute artist Jeff Branch received TAGSRWC's Mayberry Friendship Award during the fan club's Annual Meeting during Mayberry Days. And Deloris Cummings of "Hearty Eatin' Men and Beautiful, Delicate Women" chapter (Tuscaloosa, Ala.) received the Jim Schwenke Memorial Award. The two awards are the highest honors presented by TAGSRWC each year. Congratulations to Jeff and Deloris, two very deserving recipients!
The Taylor Home Inn (an official "Andy Griffith Show" licensee operated by Mayberry Scout Troop #44 chapter in Clear Lake, Wis.) is featured in the Winter issue of Out Here, the newsletter for Tractor Supply Co. You can pick up a copy, while they last, at any Tractor Supply Co. store. And you can read the story and take a Mayberry trivia quiz online at http://TractorSupply.com/OutHere. (Once there, click on the link that says "Now Available at Your Local Tractor Supply store" to get to the online version of the story about the Wisconsin B&B. The Mayberry quiz is found through a separate link.)
The Mayberry Days Silent Auction (sponsored by the online members of TAGSRWC) raised $2,542, funds that will be earmarked by the Surry Arts Council for Mayberry Days. Thanks to all who donated items, helped with manpower and bid on items. And a special thanks to Jeff Koontz, organizer of the auction.
Jeff, who now lives in Nashville, also had this report from his old stomping grounds in Raleigh, N.C.
"I was working in the Raleigh office the past 10 days and got to see some great friends again at the "Some of Us Got It...Some of Us Ain't" chapter (Clayton, N.C.) meeting on Oct. 17th. The guys pull out the stops for the October meetings each year, and Sandy Stephenson hosted another memorable one— complete with a fishing hole, ghost stories, a campfire, dinner with roast venison and nut brown ale for quaffing, and a "drive-in" movie (who cares what's playing?)."
He continues: "We fished at the pond on his property and Brian "Bertie Blush" Dixon caught a catfish ("You caught a catfish! You caught a catfish!"). We roasted weenies on the grill, had root beer, and ended the meeting in a big way by watching episodes on a 9-foot x16-foot rear-projection screen set up in Sandy's front yard. I figure that might have been the largest screen that any chapter has watched TAGS on during an individual chapter meeting. It was BIG!
"The chapter celebrated its 10th anniversary last April and continues to go strong. They are one of the many things that I miss in Raleigh and it was great to be a part of the October meeting this year."
Several chapters and individual members (about 200 folks in all) went on the Mayberry cruise to the Bahamas early this month. Several of the Mayberry tribute artists and the VW Boys entertained onboard.
Lots of chapter holiday gatherings are planned during the next few weeks. We hope to some reports in our next issue in January. Meanwhile, happy TAGS rerun watching to all!
**** Miss Crump's Mayberry Quiz #77 ****
For this first quiz since her two-issue sabbatical, Miss Crump has brought in a hired gun to fire some questions your way. And it's not just any hired gun, but Michelle Bryson, a former Mayberry Days Trivia champ. That's right, pupils, Miss Crump has brought in a battle-tested trivia maven to test you.
Here are Michelle's questions:
1. What object did the neighbors once see "flying" out of the window at the Darlings' cabin?
2. Name 10 aunts or uncles seen or mentioned in Mayberry.
3. Where did Andy say he was when his class had their first dance?
4. What is the title of the hymn on page 256 of the church hymnal in Mayberry?"
5. Who told Aunt Bee that "Einstein" was a dropout?
BONUS: Identify a place where we see license plate number SD 561.
Submit your answers by e-mail to OldLadyCrump@iMayberry.com or, if you just don't trust a machine with your entry, mail your answers to TAGSRWC, 9 Music Square South, PMB 146, Nashville TN 37203-3211. All entries must be e-mailed or postmarked by January 10, 2009.
The person whose quiz has the required correct answers will receive his or her choice of any single item offered online at Weaver's. (Neither a complete series box set of TAGS or "Gomer Pyle" DVDs nor a set of Wooden Mayberry Building Fronts is considered a single item. Neither are sets of tin signs, grab-bags or combos.)
If there is more than one person with the most correct answers (as is usually the case), we'll draw a winner from all the top entries.
Good luck, and also a big thank-you to Michelle from Miss Crump!
**** Post Note ****
If you ever miss receiving an issue of The eBullet, you can always catch up by reading it in the eBullet Archives in the Newsletters section at iMayberry.com. Each issue is usually placed in the Archives within about a week of its being distributed
Between issues of The eBullet, keep up with the goings-on in Mayberry with the daily "Who's Been Messin' Up the Bulletin Board?" Digest. It's a free subscriber list that consists entirely of comments, newsflashes, and questions and answers from subscribers. You can sign up for that list by going to the "Mailing Lists" link at http://tagsrwc.com. It also has its own password-protected Archives where you can follow the ongoing stream of messages.
TAGSRWC also publishes Weaver's Newsletter in more-or-less alternate months to The eBullet. Like The eBullet, the Weaver's Newsletter is free. Its focus is mainly on new Mayberry merchandise and collectibles and quick newsflashes. To sign up, go to: http://mail.weaversdepartmentstore.com/mailman/listinfo/newsletter_weaversdepartmentstore.com
TAGSRWC's other main vehicle for Mayberry information is simply our Web site at http://www.tagsrwc.com (and its sister site http://www.iMayberry.com. Both sites have extensive content and links for just about everything a Mayberry fan might be looking for.
The next issue of The eBullet is scheduled for January, with a Weaver's Newsletter planned for December.
Happy Thanksgiving and Beyond!