To Subscribe click here
To Unsubscribe click here
---

Volume 8, Issue 5


---

---

September 16, 2008

---
If you cannot view the HTML newsletter (photos), click here to read it at our Web site.
*********************************************
The eBullet
An Online newsletter of
"The Andy Griffith Show" Rerun Watchers Club (TAGSRWC)
Volume 8, Issue 5
September 16, 2008
*********************************************
Welcome to our fifth issue of The eBullet for 2008! There's a lot of news to report, so just jump in where you can and hang on!
**** Floyd's Barbershop Bulletin Board & Event Calendar ****
* Sept. 16-21: Ronnie Schell headlines in the Comedy Improv Room at Harrah's in Las Vegas, N.V.
* Sept. 25-28: 19th Annual Mayberry Days in Mount Airy, N.C. Stars confirmed so far include Doug Dillard, Rodney Dillard, Betty Lynn, Maggie Peterson Mancuso, James Best, Jackie Joseph, LeRoy McNees, George Spence, David "Ernest Too" Morris, son of Howard Morris, and Francey Yarborough Knotts, widow of Don Knotts. For more info, visit: http://www.surryarts.org.
GROUNDBREAKING NEWS: There are likely to be some updates coming from Mount Airy between now and Mayberry Days because the Surry Arts Council got a big (really big…big-big!) grant from the State of North Carolina. It's earmarked for helping to fund the building of an addition to the Andy Griffith Playhouse in order to house Emmett Forrest's amazing collection of Andy Griffith memorabilia. There's a star-studded Groundbreaking ceremony planned for 10:45 a.m., on Sat., Sept. 27, at the Andy Griffith Playhouse. Stay tuned for any updates related to this news as they're posted on the Event Calendar at iMayberry.com and at surryarts.org.
* Oct. 5: David Browning throws his hat in the ring for the Wise Fall Fling in Wise, Va.
* Oct. 11: David Browning is vintage Mayberry at the Vinton Fall Festival in Vinton, Va.
* Oct. 26: David Browning is on the track to write up any and all speeders at the Atlanta Motor Speedway's NASCAR race in Hampton, Ga. (Better bring an extra ticket book, deputy!)
* Oct. 27: The Plummeting Man: A Conversation with Norman Lloyd (father of Josie Lloyd, Mayberry's Lydia Crosswaith and others) at 7 p.m., UNA Performance Center, Florence, Ala. A one-on-one discussion (moderated by Terry Pace) with the legendary Hollywood actor (Saboteur, St. Elsewhere, Dead Poets Society), director and producer (Alfred Hitchcock Presents, The Alfred Hitchcock Hour) and longtime associate of Hitchcock, Charles Chaplin, Orson Welles, Jean Renoir, Lewis Milestone, Martin Scorsese and Curtis Hanson. Followed by a book signing of Lloyd's 1993 autobiography, Stages … Of Life in Theatre, Film and Television. More details coming soon.
* Oct. 28: Spellbound: The Hypnotic Power of "The Jar" at 7 p.m., UNA Performance Center, Florence, Ala. A screening of the Emmy Award-winning 1964 episode of The Alfred Hitchcock Hour, based on the classic gothic-horror story by Ray Bradbury. Followed by a panel discussion (moderated by Terry Pace) featuring the show's director, Norman Lloyd, plus actors James Best and George Lindsey and (via live video-conference), author Ray Bradbury. Followed by an autograph session with the stars. More details coming soon.
* Nov. 1-6: A Cruise to Mayberry (click here for more info and photos of past cruises) to the Bahamas aboard Carnival's Fascination ship. This 5-day cruise departs from Jacksonville, Fla., on Saturday, November 1, and cruises to: Nassau, Half Moon Cay, and 2- "Days at Sea" returning back to Jacksonville on Thursday, November 6. The VW Boys are joining the Mayberry family with their mixture of Music, Magic & Comedy. Tribute artists, Ken "Otis" Junkin, Allan "Floyd" Newsome, Bob "Briscoe Darling" Mundy, Jeff "Howard Sprague" Branch, Jamie "Opie" Sullivan, Gary "Gomer" Crain, Tara "Juanita" Spath and Samantha "The Manicurist" Miles. Rates start at $259 plus $179.92 Port Tax per person, based on two per cabin. For more info, call Sharon Euliss at All About Cruises in Burlington, N.C., at 1-800-832-7993. Or e-mail her at PWESJE@aol.com.
* Nov. 20: David Browning is booked for the Friends of Smyth-Bland Regional Library Meeting in Marion, Va. No word yet on whether he'll be reading from Poems of Romance by T. Jonathan Osgood.
* Dec. 15: David Browning is aboard for the 22nd Second Annual Morgan Shepherd Christmas Charity Trip in Stuart, Va., and through the mountains to nearby communities. For more info, visit http://www.morganshepherd.com
**** News of Cast & Crew ****
Elinor Donahue reports that she and husband Lou have been enjoying traveling and visiting family members all around the country. She says hey to all her friends and fans in Mayberry. She's also scheduled to receive the Gold Circle Award from the National Academy of Television Arts and Sciences honoring her 50 years in television. The presentation of the award will take place next year in Palm Desert, Calif.
Maggie Peterson Mancuso joined Doug Dillard and Rodney Dillard for a sold-out DARE fundraiser in Troy, N.C., this month. More power to 'em!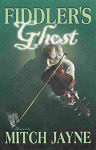 And hearty congratulations to Mitch Jayne, who has been named the 2008 Governor's Humanities Book Award recipient for his novel Fiddler's Ghost. Attaboy, Mitch! He'll receive the award in a ceremony at the Missouri governor's mansion in October. It's just one more testimony that Fiddler's Ghost is a truly great read…especially with Halloween coming up!
Bernard Fox says that he's doing fine and sends greetings to his many friends in Mayberry. If the logistics are favorable, maybe he'll be able to participate in another Mayberry fan event before long. It has unfortunately been a few years now since his last Mayberry outing. He receives a good number of scripts and film offers, but he generally declines more roles than he accepts these days. He's just waiting for one that's a real bobby-dazzler!
James Best received the Florida Motion Picture and Television Association's Lifetime Achievement Award at the association's 19th Annual Crystal Reel Awards Gala in Plant City. Way to go, Jimmie!
Richard O. "Dick" Linke called to let folks know that he's doing fine after a serious bout with pneumonia in July. He was in the hospital for several days. He's back close to full speed as he approaches his 91st birthday in October. He and wife Bettina will be making a rare trip from Hawaii to the mainland the same weekend as Mayberry Days in order to attend homecoming at Ohio University, their alma mater. Dick is being toasted by the university that week and will be grand marshal of the homecoming parade.
**** Chapter Update ****
We have one new chapter since the last eBullet:
"Calvin Coolidge Said That" Facebook.com
Possum Under a Rock Rockmart, Ga.
At the Crossroads Cleveland, Utah
That brings our total number of chapters founded to 1,331. If you're interested in starting a chapter of TAGSRWC, all you need to do is choose a name that hasn't already been picked, and submit it with a list of your founding members by U.S. mail.
What you do as a chapter is entirely up to you. Your group can do as much or as little as you like. Or write to us also if you would like to contact a chapter near you. Our address is TAGSRWC, 9 Music Square South, PMB 146, Nashville, TN 37203-3211.
**** Merchandise Update ****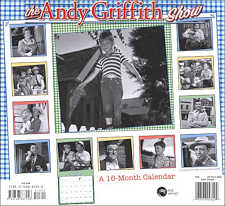 * 2009 Andy Griffith Show Wall Calendar $14.00
http://www.weaversdepartmentstore.com/index.php?category=44
After having all color photos in the 2008 calendar, this 2009 edition turns back the clock and has all black-and-white photos, all of which are also from the black-and-white seasons (1960-65).
There's a nice variety of Mayberry characters in this calendar. In addition to Andy, Barney, Aunt Bee, Opie, and Gomer, there are photos of Goober, Floyd, Fun Girl Daphne, and even Mr. McBeevee. Several of these photos have never before been published.
Also, if you haven't gotten your 2008 Wall Calendar, we still have some left, including in a special combo offer with this 2009 calendar for only $22.00.
* Otis the Artist's Grab-Bag of Mayberry Art $30.00
http://www.weaversdepartmentstore.com/index.php?maincat=16
This special Grab-Bag, inspired by Otis and his artistic efforts with mosaics, pieces together several collectible Mayberry items that will add beauty and grace to any wall in home or office...or courthouse cell!
Each of Otis's Grab-Bags contains at least the following:
* 1 Officially Licensed Large Limited Edition Lithograph of Barney Sipping Soda by artist Brad Keim
* 1 2008 "Andy Griffith Show" Wall Calendar
* 2 Oversized Mayberry event posters
* 1 Portrait of Otis (8 x 10)
All proceeds (not just the profits, but 100% of the $30 price) are going toward our annual support of the Surry Arts Council and its Mayberry Days festival in September in Mount Airy, N.C. So with a Grab-Bag purchase, you get a good deal while also supporting a good Mayberry cause!
Classic Barney Necktie $25.00
http://www.weaversdepartmentstore.com/index.php?category=7
This tie is out of production, so it's now even more of a collectible. We've unexpectedly received one last small shipment from the licensed manufacturer. We've got just those few left, and then that'll be it for this popular fashion statement.
This silk necktie features Barney in black and white (it therefore coordinates with any outfit). Anyone who wears this tie is guaranteed to look suave and worldly. Wear it with the old salt and pepper and it'll be just right for the dips. Made with fine silk from the Orient.
* It's Me, It's Me, It's Ernest T. T-Shirt $20.00
http://www.weaversdepartmentstore.com/index.php?category=3
Now you can dress like a rock star! This classic T-shirt was produced in limited quantities under the auspices of Howard Morris, Ernest T. Bass himself. We're proud to be able to offer the last handful of these officially sanctioned shirts honoring this wily and beloved character, a true rocker if there ever was one!
All proceeds from the sale of this shirt are going toward our support of the Surry Arts Council in its work to put on Mayberry Days in Mount Airy, N.C., in September.
Rock on!

* Complete First Season of "Matlock" on DVD $39.00
http://www.weaversdepartmentstore.com/index.php?category=73
After years of anticipation, "Matlock" is finally available on DVD! The first season has 23 episodes plus the movie pilot on seven discs. "Matlock" always had great guest stars, and the first season certainly set the pace with Dick Van Dyke, Roddy McDowall, Billy Bob Thornton, Pipe Laurie, Desi Arnaz Jr., Norman Fell, Billy Zane, Josť Ferrer and lots of other familiar faces. The list price for this set is $50, but we've got it in stock now for just $39.00!
* Barney Fife's Guide to Life Love and Self-Defense $15.00
http://www.weaversdepartmentstore.com/index.php?category=28
This fun 1993 book (hardback, 166 pages) by brothers Len and John Oszustowicz imagines worldly advice coming from the mind of Barney Fife. Nuff said.
The popular book has been out of print for over 10 years and is now a sought-after collectible. We have a few copies from the First Printing that are still in brand new condition. And best of all, we're offering the book for just a few dollars more than the cover price (and less than the annual inflation rate has been.) Get 'em while you can before we change our minds about the price.
And we also have several other classic, out-of-print Mayberry books, including Inside Mayberry, Mayberry My Hometown and Aunt Bee's Mealtime in Mayberry. (Those last two titles are in especially pristine condition and even still in their original shrink wrap from the publisher!)
Widening Our Scope
Along with Visa and MasterCard, Weaver's Dept. Store now is set up to accept DiscoverCard!

Brace yourself…we're flying head over heels into the 21st Century!

Unfortunately, we don't see the American Express Card in our future, so you can still leave that one at home for now.

**** Update on Mayberry's Finest Line of Packaged Foods ****
The full line of canned goods and baking mixes is now available in 1,500 to 2,000 stores and also online (with the additional offering of mail-order gift baskets) at the Mayberry's Finest Web site at http://www.mayberrysfinest.com. The Web site currently has a partial list of stores and precise locations (organized by state) in its Foley's Market section. Look for 'em in even more stores soon!

Keep an eye out for Mayberry's Finest at your favorite store. If you don't find the products in the store where you shop, ask the store manager if the store can stock the items for you and others.

There's no word at the moment about when the Mayberry's Finest Recipe Contest will resume, but there will be plenty of notice for everybody to get entered.

**** Chapter News ****




Big news came out of Mount Airy, N.C., in August from our Mayberry Preservation Society chapter. The Surry Arts Council received a $350,000 grant from the State of North Carolina's Rural Center to help pay for a new building for some of its programs and to house Emmett Forrest's spectacular collection of Andy Griffith and Mayberry memorabilia. (See related news in the Event Calendar above.) This funding, along with other financing already set aside for the building, should make the museum a reality by this time next year. It's going to be a truly special place for all fans or Mayberry, and a top-notch home for Emmett's collection.

Hazel's Balmy and Life Breathing Hot Mic Musicians (Kennard, Tex.) held their first meeting on July 4th. They met at Kennard Auto Service, an old service station that has been remodeled for music lessons and performances. (Would Gomer love that or what!) The group enjoyed delicious foods prepared by members using recipes from various Mayberry cookbooks. They watched "The Haunted House" and then proceeded to the live entertainment portion of the evening. Among the selections rendered by members were the light classic "Ciribiribin," "A Fading Flower of Forgotten Love," "Down in the Valley," The Preamble to the Constitution of the United States of America, and an always show-stopping "Flow Gently Sweet Afton."

Summing up the meeting, chapter leader Lawson Hamilton concluded, "Members were filled with a spirit of patriotism, good cheer, and bonhomie—confident that both Andy and the country were honored by our proceedings, knowing that as long as people still watch Andy and take lessons of TAGS to heart, there is hope for our glorious nation." And we might add here, "We defy the mafia!"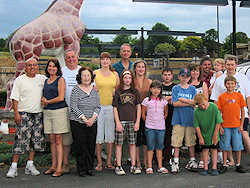 Putt-Putting—Members of Mayberry chapter (Knoxville, Tenn.) played golf over the summer. Rumor is Dennis Beal had Kent Baker shooting up near 120 by the time they got to the clown nose final hole. That's what Barney was meant by buckling down and getting bad marks. You'll find more info about the chapter at http://www.mayberrychapter.com.
Members of Aunt Bee chapter (Cookeville, Tenn.), one of our earliest chapters, report that they had a great time this summer when a parade in their town featured a Mayberry squad car and few character impersonators.
"Shakedown! Shakedown!" chapter (Laurinburg, N.C.) says that nine of its members were among the sell-out crowd for Mayberry Night fundraiser for DARE in Troy, N.C., in August. They said everybody had a swell time and that it was a real treat to see Doug and Rodney Dillard perform with Maggie Peterson Mancuso.
Mayberry chapter (Knoxville, Tenn.) put out another outstanding issue of Mayberry Minutes, its printed chapter newsletter this month. They always have tons of activities to report, ranging from cast member birthday parties to parades. As we were going "to press," they had just gotten back from Mayberry Day at the local TVA&I Fair in Knoxville. The chapter provided character look-alikes, had a squad car on hand, and conducted whistling, look-alike, and trivia contests.
And the biggest chapter activity of this month will of course be Mayberry Days, when normally about 75 chapters and thousands of other fans converge on Mount Airy to celebrate the show we all love so much. Hope to see you there. (Reminder: The TAGSRWC Annual Meeting follows the Saturday afternoon lecture by Barney chapter's Neal Brower at the Downtown Cinema. Neal's lecture is always a highlight. And admission to the TAGSRWC meeting is open to anyone and is included in the lecture's admission price.
**** Miss Crump's Mayberry Quiz ****
Miss Crump is continuing her sabbatical this issue. She figures her pupils can use the extra time to prepare for the Mayberry Days Trivia Contest. (And she knows she can use the extra time to brace herself for it!) She promises to be back with a quiz (and a nice prize!) in the November issue. Meanwhile, she encourages all of us to study—that is to say, watch all the episodes we can! (Well, O.K., if we have to, we have to!)
**** Postnote ****
If you ever miss receiving an issue of The eBullet, you can always catch up by reading it in the eBullet Archives in the Newsletters section at iMayberry.com. Each issue is usually placed in the Archives within about a week of its being distributed
Between issues of The eBullet, keep up with the goings-on in Mayberry with the daily "Who's Been Messin' Up the Bulletin Board?" Digest. It's a free subscriber list that consists entirely of comments, newsflashes, and questions and answers from subscribers. You can sign up for that list by going to the "Mailing Lists" link at http://tagsrwc.com. It also has its own password-protected Archives where you can follow the ongoing stream of messages.
TAGSRWC also publishes Weaver's Newsletter in more-or-less alternate months to The eBullet. Like The eBullet, the Weaver's Newsletter is free. Its focus is mainly on new Mayberry merchandise and collectibles and quick newsflashes. To sign up, go to: http://mail.weaversdepartmentstore.com/mailman/listinfo/newsletter_weaversdepartmentstore.com
TAGSRWC's other main vehicle for Mayberry information is simply our Web site at http://www.tagsrwc.com (and its sister site http://www.iMayberry.com. Both sites have extensive content and links for just about everything a Mayberry fan might be looking for.
The next issue of The eBullet is scheduled for November, with a Weaver's Newsletter planned for October.