To Subscribe click here
To Unsubscribe click here
---

Volume 7, Issue 5


---

---

September 21, 2007

---
If you cannot view the HTML newsletter (photos), click here to read it at our Web site.
*********************************************
"The eBullet"
An Online newsletter of
"The Andy Griffith Show" Rerun Watchers Club (TAGSRWC)
Volume 7, Issue 5
September 21, 2007
*********************************************
Welcome to our early Fall issue of The eBullet! It's a busy time for Mayberry, especially with Mayberry Days coming up next week, the new line of Mayberry Finest foods launching and then the 47th Anniversary of TAGS on Oct. 3. Here's a complete rundown of what's going on.

**** Floyd's Barbershop Bulletin Board & Event Calendar ****
2007
* Sept. 17-23: Ronnie Schell entertains at the Comedy Room at Harvey's Hotel and Casino in Lake Tahoe.
* Sept. 21: Maggie Peterson Mancuso greets fans and signs autographs between 4 and 8 p.m. during Rocky's Celebrity Meet & Greet at Hooters Casino Hotel in Las Vegas. For more info, visit http://www.celebritymeetandgreet.com.
* Sept. 25: Jim Nabors will be promoted to the rank of Honorary Corporal in the United States Marine Corps during a ceremony at 5:30 p.m. at Fort DeRussy in Waikiki. Shazam!
* Sept. 27-30: 18th Annual Mayberry Days in Mount Airy, N.C. Guest stars from the cast are Mount Airy resident Betty Lynn, Doug Dillard, Rodney Dillard, Maggie Peterson Mancuso, James Best, Elizabeth MacRae, LeRoy McNees, Jackie Joseph, George Spence and David Morris (son of the late Howard Morris). For tickets and detailed info, visit http://www.surryarts.org.
FACES IN THE CROWD--The Mayberry Days Parade makes its way down Main Street past the Snappy Lunch in Mount Airy.
Sept. 30: Karen Knotts and her one-woman show, Tied Up in Knotts about growing up with her father, Don Knotts, returns for a one-night performance at the Whitefire Theater in Sherman Oaks, Calif. That same night her comedy troupe Lafftershock will be making its debut at the theater. The price is $20 for both shows. You can make a reservation at (818) 505-1229. The theater location is on the reservation line.
* Oct. 3: 47th Anniversary of "The Andy Griffith Show" (Hooray!)
* Oct. 5 and 6: Roland White performs at the Oklahoma International Bluegrass Festival as part of a Country Gazette Reunion with: Roger Bush, Byron Berline, Alan Munde, and Kenny Wertz. For more information, visit http://www.OIBF.com.
* Oct. 13: David Browning will be inventin' new ways to patrol at the Vinton Fall Festival in Vinton, Va.
* Oct. 19 and 20: Mayberry Comes to Cocoa 2 in Cocoa, Fla. CANCELED.
* Oct. 20: David Browning hosts the Voice of Bluegrass concert in Mount Airy, N.C.
* Oct. 20 and 21: George Lindsey helps folks slow down for a fun time at the Music & Molasses Festival at Nashville's Ellington Agricultural Center (440 Hogan Road, just off I-65 on Nashville's south side). In full Goober regalia, George will be greeting fans from 1 to 3 p.m. each day.
The folks from Mayberry's Finest (the new "Andy Griffith Show" packaged foods) will be at the festival with their Mayberry squad car replica and all sorts of goodies. Enjoy country & bluegrass music, free carriage rides, outdoor kettle cooking, and old-fashioned molasses making at the Music & Molasses Festival. Other activities and events scheduled include sheep herding with border collies, clogging, and arts & crafts.
* Oct. 21-25: Cruise to Mayberry 2 starring cast members Keith "Johnny Paul Jason" Thibodeaux and LeRoy "Country Boy" McNees, the VW Boys and assorted Mayberry Tribute Artists, including Allan "Floyd" Newsome, Kenneth "Otis" Junkin, Phil Ernest T." Lee, Jeff "Howard" Branch, Bob "Briscoe" Mundy and Jamie "Opie" Sullivan, plus the Mayberry Momma, Jewell Kutzer. For details about this second annual cruise to the Caribbean, visit the cruise's Web site at http://www.iMayberry.com/tagsrwc/wbmutbb/anewsome/private/cruise.htm.
* Oct. 27: David Browning hopes you choose the Tobacco & Fall Festival for fun in Pennington Gap, Va.
* Nov. 3: Margaret Kerry is guest star for a weeklong Disney cruise to the western Caribbean. For more info, call GalaxSea Cruises and Tours at 1-800-357-9393.
* Dec. 11: Release date for the Complete Third Season of "Gomer Pyle, U.S.M.C." on DVD. Pre-orders begin at our Weaver's Dept. Store on Nov. 20.
* Dec. 31- April 2008: Ronnie Schell and Ruta Lee return for a fourth year in Senior Class at the Annenberg Theater in Palm Springs, Calif. For more info, visit: http://www.seniorclassrevue.com.
2008
*Mar. 6-9: 11th Annual George Lindsey UNA Film Festival in Florence, Ala. For more info, visit http://lindseyfilmfest.com.
* July 19: 8th Annual Mayberry Squad Car Nationals in conjunction with the 4th Annual Mayberry Comes to Graysville festival in Graysville, Ala.
**** News of Cast & Crew ****
Andy Griffith and his movie, Waitress, drew large audiences and outstanding reviews following the film's release in May. There's even early Oscar buzz about Andy's performance! Andy also provides the voice of Santa Claus in the animated Christmas Is Here Again, which will be released in November. The film has an all-star cast including Ed Asner, Shirley Jones, Kathy Bates, Norm MacDonald, Brad Garrett, Daniel Roebuck (who also is one of the producers) and Jay Leno as the narrator.
Ron Howard is currently director Frost/Nixon, based on the hit play about David Frost's interviews with Richard Nixon after he resigned. Ron is also producer of The Changeling, which is being directed by Clint Eastwood and stars Angelina Jolie.
Rance Howard, father of Ron and Clint, has been constantly busy this year (as most years) working on about 10 films. Most are independent films in which he plays traditional authority figures such as preachers (for which he has been Hollywood's "go to" actor for at least two decades), sheriffs, and civil servants. He also appeared as Dog Bite Man in this summer's Georgia Rule with Jane Fonda.
Jim Nabors will be promoted to Honorary Private First Class in the United States Marines during a ceremony in Hawaii on Sept. 25, the 43rd Anniversary of the first episode of "Gomer Pyle U.S.M.C."
Richard O. Linke, TAGS associate producer and longtime personal manager to Andy Griffith and other TAGS-related folks, celebrates his 90th birthday on Oct. 23. Friends and family are throwing him a big party on the Big Island of Hawaii where he lives. Celebrate good times and a great life, Dick!
Mayberry maestro Earle Hagen recently signed with Spirit Music Group to administer his music catalog of more than 3,000 scores and themes, including those for TAGS. That could mean that we'll soon be hearing a lot more of Earle's compositions in a variety of formats and media besides the films for which they were created.
James Best plays McClancy in Moondance Alexander, which will be in theaters nationwide this fall. The film, written and produced by James' daughter, Janeen, and her husband, Michael Damian (who also directed), has already won an award at April's Newport Beach Film Festival.
Jackie Joseph was a huge hit with the "hefty" crowd at the 7th Annual Mayberry Squad Car Nationals and 3rd Annual Mayberry Comes to Graysville festival in Alabama in July. Next stop for Jackie...Mayberry Days!
Doug Dillard, Rodney Dillard and Maggie Peterson Mancuso had a capacity crowd for a swell concert fundraiser for the DARE program in Troy, N.C. They were joined by several of the favorite Mayberry tribute artists.
We're saddened by news getting to us just this month that Billy Booth, who played Roger, one of Ollie and Nora's sons in "Family Visit" (Episode #130), died of liver complications on Dec. 31, 2006, at the age of 54. He would have been 55 on the 3rd of this month. Billy Booth was best known for playing Tommy Anderson, best friend of Dennis Mitchell, in TV's "Dennis the Menace from 1959-62.
**** Update on New Line of Mayberry Packaged Foods ****
The full line of the new Mayberry's Finest line of packaged foods from Diversity Brands won't be on our shelves at Weaver's Dept. Store (only because we're not exactly set up for cost-effectively shipping cans of beans and jars of pickles), but we are looking into carrying some of the baking mixes and other easily shippable items. The foods also will start hitting the shelves of grocery stores across the country during the next few weeks. You'll see them first in the Carolinas, then the Southeast, and later nationwide.
Keep an eye out for them at your favorite store. If you don't find Mayberry's Finest in the store where you shop, ask the store manager if the store can stock the new line for you and others.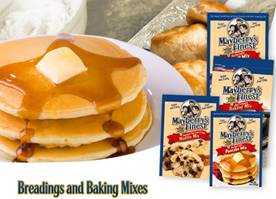 Mayberry's Finest is also a major sponsor of Mayberry Days in Mount Airy next week, so keep an eye out for them if you're attending. (The first store in the country to carry Mayberry's Finest products is Mayberry on Main, the unique foods store across the street from Floyd's City Barbershop and the Snappy Lunch in Mount Airy. You can find all available Mayberry's Finest foods there and at other retailers as they are released.)
And there's also going to be a Recipe Contest later beginning January 1, 2008. Who knows...your recipe (and your picture) just might be the winner selected to be on the packaging for Mayberry's Finest All-Purpose Baking Mix!
Check out their Web site at http://www.mayberrysfinest.com, where you can also listen to their catchy new jingle by the International Bluegrass Music Association Entertainers of the Year, The Grascals! The site has all kinds of neat features, including their Mayberry's Finest Gazette newsletter, which you can read online or download. And look for the colorful Mayberry's Finest tour bus for The Grascals as it crisscrosses the nation. You can't miss it!
**** Chapter Update ****
We have five new chapters since the last eBullet:
Hazel's Balmy and Life-Breathing Hot Mic Musicians Kennard, Tex.
Choppers and Mad Dogs Meridian, Idaho
"And the Shot Was so Loud It Was Heard Clear
Around the World." "Ahh, Get Out." Smiths Station, Ala.
Mayberry Exit Greenwood, S.C.
"Baby Makes Three" Crystal Springs, Miss.
That brings our total number of chapters founded to 1,318. If you're interested in starting a chapter of TAGSRWC, all you need to do is pick a name that has not already been chosen, and submit it with a list of your founding members by postal mail. (Folks in two locations have told us they're talking about starting new chapters: Madison, N.C., and West Lafayette, Ind.)
What you do as a chapter is entirely up to you. Your group can do as much or as little as you like. Or write to us also if you would like to contact a chapter near you. Our address is TAGSRWC, 9 Music Square South, PMB 146, Nashville, TN 37203-3211.
**** Merchandise Update ****
Here are some of our newest Mayberry items at Weaver's Dept. Store at http://www.iMayberry.com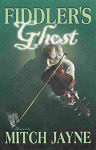 * Fiddler's Ghost by Mitch Jayne $15.00
http://www.weaversdepartmentstore.com/index.php?category=25
Step aside, Harry Potter! Darling boy Mitch Jayne's fascinating new novel, Fiddler's Ghost, has just been released. It's absorbing reading for anybody who loves a good ghost story, music, skillful writing, or just plain great storytelling from a true master. Few people have as much of a command and appreciation of language (especially the Ozark variety) as Mitch. We don't want to give away the plot, but we will say that it's a charming, entertaining and engrossing tale.
* 2008 "Andy Griffith Show" Wall Calendar $14.00
http://www.weaversdepartmentstore.com/index.php?category=44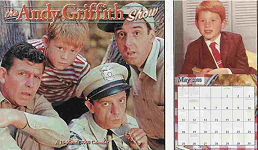 This fifth straight year of an officially licensed TAGS Wall Calendar celebrates that milestone with all color photos for 2008. Now, don't panic. "All color" doesn't mean photos only from the color seasons. Several photos are from the black-and-white era, but just in color because they are publicity stills. Some haven't been published since the first set of trading cards in 1990.
We also have a Calendar Combo with both the 2007 and 2008 Wall Calendars for only $22.00.
* All New Box Set of All Eight Seasons of "The Andy Griffith Show," Plus the "Danny Thomas" Pilot and Return to Mayberry $192.00
http://www.weaversdepartmentstore.com/index.php?maincat=72
The suggested retail price for this brand new Box Set of every episode of "The Andy Griffith Show" (plus the "Danny Thomas" pilot episode and the 1986 Return to Mayberry movie) is over $240.00. The previous 8-season box-set release (without the pilot and the movie and now also discontinued) carried a suggested retail price of $320.00.
We also sell individual complete seasons on DVD at a nice discount.
* Mayberry-opoly Board Game $30.00
http://www.weaversdepartmentstore.com/index.php?category=56
This game has just arrived this summer and we're now shipping.
This brand new board game is a dream come true for "Barney Fife, Realtor" and anyone who has ever wished to own a little piece of that paradise we know and love as Mayberry!
If you love Monopoly and Mayberry or you know somebody who does, then you'll really love Mayberry-opoly.
At just $30.00 per game, Mayberry-opoly is worth the price just to have the cool design of the box and the board to look at or display. We think it's the most fun opoly game ever created.
* Complete Second Season of "Gomer Pyle, U.S.M.C." on DVD $32.00
http://www.weaversdepartmentstore.com/index.php?category=91
This Second Season of "Gomer" is one of the best. It includes visits from Opie and Goober. Our price is just $32.00 vs. the suggested retail price of $39.00 or more.
And we still have a good supply of the Complete First Season of "Gomer Pyle" at our introductory price of $32.00, which, like the Second Season, is about 20% off the suggested retail price. (The third season is being released on DVD on Dec. 11.)
You can find Mr. Weaver's full lineup of items at http://www.weaversdepartmentstore.com. (Or go to http://www.iMayberry.com and click on the Weaver's link at the top right of that front page.)
We also have our phone order line available for shopping convenience. The number is (615) 604-1298. Our phone line has part-time hours. It is generally manned Mon.-Sat., 9 a.m.-6 p.m. CT, but there will not always be somebody there even during those times. However, you can always leave a message 24 hours a day and we'll call you back "on our nickel" to get your order at a time convenient to you. And of course you can always order online or by mail any time.
You can find most of our items at our location on the third floor of the Main-Oak Emporium at 245 City Hall Street in Mount Airy, N.C. We'll have our shelves especially well-stocked for Mayberry Days next month.
**** Chapter News ****
Several chapters have checked in with news about recent and upcoming activities. The Duck Pond Gang (Mountain City, Tenn.) wrote to say that they've been having a fine turnout for their monthly meeting the third Saturday of every month. They also sold snow cones to raise money for underprivileged children at Christmas. A bunch of the gang is heading to Mayberry Days this month.
The Kit Kat Club (Salem Ore. and Penngrove, Calif.) enjoyed to a rare opportunity to see some genuine TAGS cast members in person when The Dillards were in nearby Petaluma in June. In fact, it turned out that The Dillards were going to be in town the very weekend of the chapter's annual rendezvous. If you wrote this into a play, nobody would believe it!
"Hearty Eatin' Men and Beautiful, Delicate Women" (Tuscaloosa, Ala.) and Mayberry Minutemen (Graysville, Ala.) put on another fantastic Mayberry Squad Car Nationals/Mayberry Comes to Graysville festival in July. The squad car owned by Don and Joyce Kernan (LaSalle, Ill.) won Best of Show this year. Gee, their old squad car looked great!
"A Stranger in Town" (Grand Island, Nebr.) gave us a holler for the first time in a long time, and reported that everything is O.K. in their...hometown.
Mayberry's Sheriff Dept. (Chilton Wis.) also wrote to say that they're still enjoying TAGS and are saving up for the complete DVD set. They also hope get over to the western Wisconsin to see the Taylor Home Inn bed and breakfast in the near future.
Mrs. Mendelbright's Bulb-Snatchers (Bella Vista, Ark.) wrote to say that their interest in TAGS hasn't dimmed. They also stay in touch with other chapter members back in their original home base in Iowa.
The Macon Bus (Macon, Ga.) turned out for Mayberry Night at the Macon Music baseball game. The evening featured David Browning. Some of the chapter members who are musicians also performed bluegrass music, including several Darlings tunes.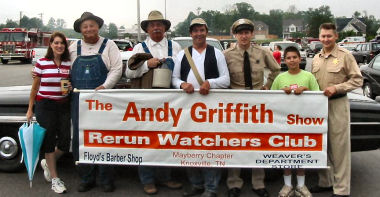 CARRYING THE FLAG-The Mayberry Chapter carries the flag at Karns Community Day in Knoxville, TN.
Mayberry chapter (Knoxville, Tenn.) has been participating in lots of local parades and festivals during the last few months, including the TVA&I Fair as this issue was going to press. They also have had a group outing for miniature golf and a lake party. They've got a bowling party planned for Oct., and will then be making plans for Christmas parades.
The chapter gets a lot of use out of their Mayberry squad car replicas, though, so far, they've not picked up the gauntlet thrown down to test their machines at the Mayberry Squad Car Nationals. (The Alabama folks aren't going so far as calling them yeller, but they're definitely big orange!) The chapter continues to do an outstanding job with its Mayberry Minutes newsletter, which comes out every few months and is currently the largest printed periodical by a TAGSRWC chapter.
Highway 6-Checkpoint Chickee chapter (Palm Bay, Fla.) was set to have its first chapter meeting as this issue was going to press. We'll let you know how it went in our next issue. They'll be meeting at 7 p.m. in the Community Room at Melbourne Square Mall in West Melbourne the third Saturday each month except for November because the room was already booked (interlopers!).
Reminder: We'll do a group photo of TAGSRWC chapter leaders following the TAGSRWC Annual Meeting on the Saturday afternoon during Mayberry Days. (The TAGSRWC Meeting follows Neal Brower's Lecture (with special guest Jackie Joseph) at the Downtown Cinema. A single $5.00 admission gets you into both the lecture and the meeting.) Also, members of our online "Who's Been Messin' Up the Bulletin?" chapter online gather for their informal meet-and-greet and group photo immediately following the Mayberry Days Trivia Contest on Friday afternoon during Mayberry Days.
**** Answer to Miss Crump's Mayberry Quiz #73 ****
We had a strong response of correct entries to last issue's one question. We put names of all of the correct entries in a hat and drew one winner: Elaine Town of our brand new "Choppers and Mad Dogs" chapter in Meridian, Idaho. She gets her choice of any single item (except box sets of DVDs and sets of tin signs or buildings).
Here again is the question: Based on what we see and hear in episodes, identify 25 occasions that somebody from Mayberry has held all or part of a newspaper in his or her hands. Too easy? Then here's the qualifier: One person's repeated handling of the same edition of a newspaper or his or her handling multiple copies of the same edition at one time counts as only one occasion. Also, the same copy of a newspaper being held by more than one person counts as only one occasion.)
Here are examples of answers we were looking for. There are others, but these are the ones submitted by Mayberry trivia maven Dennis Beal. He sent in the most answers (sorry, no prize for that this time, Dennis), so Miss Crump will just be lazy and use his impressive list of answers as samples of possible correct answers.
1. Floyd in "A Man's Best Friend"
2. George Jones in the diner in "Don't Miss a Good Bet"
3. Andy and Aunt Bee in "Prisoner of Love"
4. Andy in "Opie Flunks Arithmetic"
5. Andy in "Opie Finds a Baby"
6. Andy and Barney in "Andy the Matchmaker" after Barney cracks the
Walker robbery
7. Helen Crump in "The Hollywood Party" ("Yes, Sarah, I did see Andy's
picture with Darlene Mason in the paper....")
8. Malcolm Merriweather in "Andy's English Valet"
9. Malcolm Merriweather in "The Return of Malcolm Merriweather"
10. Emmett Clark in "Aunt Bee on TV"
11. Andy, Barney, Opie in "Barney and the Cave Rescue"
12. Andy and Aunt Bee in "Aunt Bee the Swinger"
13. Andy in "Aunt Bee the Crusader"
14. Wally in "Man in a Hurry"
15. Uncle Ollie, Andy and the boys in "Family Visit"
16. Aunt Bee in "Aunt Bee Gets a Job"
17. Martha Clark in "Emmett's Anniversary"
18. Andy, Goober and Mrs. Blanchard in "Helen's Past"
19. George Stevens in "Barney on the Rebound"
20. Bardoli and C. J. Hasler in "Andy and Barney in the Big City"
21. Andy and Ed Sawyer in "Stranger in Town"
22. Andy and Opie in "Taylors in Hollywood" at Cesar Romero's house
23. Barney in "The Bank Job"
24. Andy in "Opie's Ill-Gotten Gain"
25. Andy in "Opie the Birdman"
26. Andy and Barney in "Convicts at Large"
27. Andy in "Aunt Bee's Invisible Beau"
28. Barney in "Black Day for Mayberry"
29. Opie and Howie in "Opie's Newspaper"
30. Barney in "Opie and the Bully"
31. Aunt Bee, Goober, Andy, Floyd and Howard in "The Ball Game"
32. Barney in "Barney's First Car"
33. Barney in "Mayberry on Record"
34. Clara, Andy, Opie, Goober and Floyd in "The Battle of Mayberry"
35. Ernest T. Bass in "Ernest T. Bass Joins the Army"
36. Barney in "Bailey's Bad Boy"
37. Henry Wheeler in "Aunt Bee's Brief Encounter"
38. Barney in "Andy and the New Mayor"
39. Andy in "Goober Makes History"
40. Barney in "Barney Runs for Sheriff"
41. Mayor Purdy and Councilman Dobbs in "Sheriff Barney"
42. Barney in "Opie's Fortune"
43. Andy in "The Sermon for Today"
44. Floyd in "Big Brother"
45. Floyd in "Barney's Bloodhound"
46. Dan Caldwell in "Andy's Gentleman Crook"
47. Andy in "The Rivals"
48. Hennessey in "If I Had a Quarter Million"
49. Andy in "Andy and Opie's Pal"
That'll do, Dennis!
Miss Crump has decided not to have a quiz in this issue because so many of her pupils (including Dennis Beal) are busy studying for the Mayberry Days Trivia Contest in Mount Airy next week. Good luck to all the contestants! (We'll have another quiz in the November eBullet.)
**** Postnote ****
Between issues of The eBullet, keep up with the goings-on in Mayberry with the daily "Who's Been Messin' Up the Bulletin Board?" Digest. It's a free subscriber list that consists entirely of comments, newsflashes, and questions and answers from subscribers. You can sign up for that list by going to the "Mailing Lists" link at http://tagsrwc.com.
TAGSRWC also publishes Weaver's Newsletter in more-or-less alternate months to The eBullet. Like The eBullet, the Weaver's Newsletter is free. Its focus is mainly on new Mayberry merchandise and collectibles and quick newsflashes. To sign up, go to: http://mail.weaversdepartmentstore.com/mailman/listinfo/newsletter_weaversdepartmentstore.com
TAGSRWC's other main vehicle for Mayberry information is simply our Web site at http://www.tagsrwc.com (and it's nearly identical sister site http://www.iMayberry.com. Both sites have extensive content and links for just about everything a Mayberry fan might be looking for.
The next issue of The eBullet is scheduled for November, with a Weaver's Newsletter planned for October.