To Subscribe click here
To Unsubscribe click here
---

Volume 7, Issue 4


---

---

July 16, 2007

---
If you cannot view the HTML newsletter (photos), click here to read it at our Web site.
*********************************************
"The eBullet"
An Online newsletter of
"The Andy Griffith Show" Rerun Watchers Club (TAGSRWC)
Volume 7, Issue 4
July 16, 2007
*********************************************
Welcome to our Summer issue of The eBullet! There's a lot of exciting things happening around Mayberry, so we'll just jump right in.

**** Floyd's Barbershop Bulletin Board-Event Calendar ****
* Now: Waitress, an award-winning film featuring Andy Griffith, is in release in theaters. It has been out a while now, so catch it while you still can. There's early Oscar buzz about Andy's performance!


* Now: New release of the Second Season of "Gomer Pyle, U.S.M.C." We are shipping now at Weaver's Dept. Store.

* July 16-22: Ronnie Schell performs at the Improv Comedy Room at Harrah's Hotel and Casino in Las Vegas.

* July 17: David Browning glides into town for the Princeton (W.V.) Devil Rays baseball game.

* July 19: James Best sinks his choppers into the Woodchucks baseball fame in Wausau, Wis.

* July 21: James Best rides a wave into the Riverbats baseball game in St. Cloud, Minn.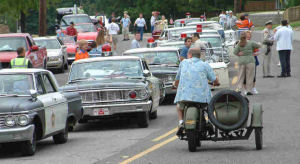 * July 21: Jackie Joseph (Ernest T. Bass' girlfriend Romeena) is the Special Guest of Honor for the 7th Annual Mayberry Squad Car Nationals in conjunction with the 3rd Annual Mayberry Comes to Graysville festival in Graysville, Ala. (just north of Birmingham).
Also on hand will be tribute artists, including David "Mayberry Deputy" Browning, Allan "Floyd" Newsome, Tim "Goober" Pettigrew, Jamie "Opie" Sullivan, Kenneth "Otis" Junkin, and any number of Ernest T. Bass wannabes hoping to "heft" Romeena. There will even be a tribute artist for Ellen Brown, the lady manicurist!
And of course there will be lots of Mayberry Squad Car replicas from several states participating in the morning Parade (free) beginning at 10 a.m. on Main Street in downtown Graysville and then the Nationals Obstacle Course Race (free) at 11 a.m. at the ball field/unofficial raceway (watch your back, Talladega!) at the Graysville Community Center.
A $20 ticket ($10 for kids 12 and under) is required for the rest of the day's festivities inside the air-conditioned Community Center. Tickets will be available at the door or in advance at the Graysville City Hall.) The ticketed activities include:
* Q&A with Jackie Joseph and screenings of "My Fair Ernest T. Bass" and other special films beginning around 1 p.m.
* Mayberry Trivia Contest (with prizes)

* In the evening, there will be a barbecue buffet dinner at 5 p.m., followed immediately by the Tip-Top Talent Show hosted by David Browning and featuring music by Mid-Life Crisis beginning about 6:15 p.m.
The Mayberry Squad Nationals is organized by TAGSRWC's "Hearty Eatin' Men and Beautiful, Delicate Women" chapter (Tuscaloosa, Ala.). Mayberry Comes to Graysville is sponsored and hosted by the City of Graysville, Ala., in association with Graysville's Mayberry Minutemen chapter of TAGSRWC. Supporting sponsors include Diversity Brands, makers of Mayberry's Finest packaged foods; Walgreens, Graysville City Attorney Greg Morris, and TAGSRWC. The sponsoring hotel is the Best Western in neighboring Gardendale, Ala.
* July 27: David Browning is fearless as he makes his whole body a weapon for the Danville (Va.) Braves baseball game.
* July 31: Doug and Rodney Dillard appear in a parade and perform at the Odon Old Settlers Festival in downtown Odon, Ind.
* Aug. 3: David Browning will be getting guitar sounds, banjo sounds and who knows what all out of his jug of tricks for the Macon (Ga.) Music baseball game.

* Aug. 5: Calling all Goobers! David Browning is in town for the South Georgia Peanuts baseball game.

* Aug. 10: It's no cliff-hanger to know who's back in town for the Salem (Va.) Avalanche baseball game.

* Aug. 11: "A Night in Mayberry" starring Darlings Maggie Peterson Mancuso, Doug Dillard, and Rodney Dillard at 7:00 p.m. at the James Garner Center in Troy, N.C. The fundraiser for DARE also features Mayberry tribute artists, including David "Mayberry Deputy" Browning, Kenneth "Otis" Junkin, Jamie "Opie" Sullivan, Allan "Floyd" Newsome, and Jeff "Howard" Branch. Reserved seats are available in advance for $20 by calling (704) 985-6987. General Admission tickets will be available at the door for $15.
* Aug. 15-19: David Browning camps out at the Winnebago County Fair in Winnebago, Ill.

* Aug. 21: David Browning checks the porosity of footwear at the Bristol (Va.) White Sox baseball game.

* Aug. 23-25: David Browning is off to the races again at the Bristol Motor Speedway in Bristol (Tenn.).
* Sept. 1-3: David Browning is looking to make arrests for a-salt and buttery at the Popcorn Festival in Casey, Ill.

* Sept. 7 and 8: There's nothing tent-ative about David Browning's appearance for an event at Tom Johnson RV in Marion, N.C.

* Sept. 17-23: Ronnie Schell entertains at the Comedy Room at Harvey's Hotel and Casino in Lake Tahoe.

* Sept. 27-30: 18th Annual Mayberry Days in Mount Airy, N.C. For tickets and more info, visit http://www.surryarts.org/.

* Oct. 5 and 6: Roland White performs at the Oklahoma International Bluegrass Festival as part of a Country Gazette Reunion with: Roger Bush, Byron Berline, Alan Munde, and Kenny Wertz. For more information, visit http://www.OIBF.com


* Oct. 19 and 20: Mayberry Comes to Cocoa 2 in Cocoa, Fla. CANCELED.


* Oct. 21-25: Cruise to Mayberry 2 starring cast members Keith "Johnny Paul Jason" Thibodeaux and LeRoy "Country Boy" McNees and assorted Mayberry Tribute Artists, including Allan "Floyd" Newsome. For details about this second annual cruise to the Caribbean, visit the cruise's Web site at http://www.iMayberry.com/tagsrwc/wbmutbb/anewsome/private/cruise.htm

* Nov. 3: Margaret Kerry is guest star for a weeklong Disney cruise to the western Caribbean. For more info, call GalaxSea Cruises and Tours at 1-800-357-9393.
* Dec. 31- April 2008: Ronnie Schell and Ruta Lee return for a fourth year in Senior Class at the Annenberg Theater in Palm Springs, Calif. For more info, visit: http://www.seniorclassrevue.com/
**** NEWS OF CAST & CREW ****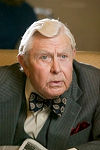 Andy Griffith as Old Joe in Waitress
Andy Griffith and his new movie, Waitress (now showing in theaters nationwide), continue to draw solid audiences and outstanding reviews. Andy also provides the voice of Santa Claus in the animated Christmas Is Here Again, which will be released in November. The film has an all-star cast including Ed Asner, Shirley Jones, Kathy Bates, Norm MacDonald, Brad Garrett, Dan Roebuck (who also is one of the producers), and Jay Leno as the narrator.
Ron Howard is in preproduction as director for the film version of Frost/Nixon, the hit play about David Frost's interviews with Richard Nixon after he resigned.
Jim Nabors had to cancel his traditional appearance at the Indy 500 (and a couple of summer concert dates) because of illness. Through the magic of satellite television, the thousands of race fans at the Brickyard sang "Back Home in Indiana" for Jim as he recuperated back home in Hawaii.
George Lindsey has been enjoying a relaxing summer while the "Find Me a Man Like Goober" music video by country duo Moore & Moore continues to get play on a solid range of outlets. He also attended one day of CMA MusicFest, where he joined pal Ralph Emery in greeting fans and signing autographs.
Betty Lynn was an invited guest for the private dedication ceremony of the Billy Graham Library in Charlotte, N.C., at the end of May. Former President Jimmy Carter was among the speakers. Betty returns to Charlotte this month for the Western Film Fair.
FINEST TIME-Doug Dillard, Maggie Peterson Mancuso, and Rodney Dillard visit with Diversity Brands President Marcela Gomez at the company's exhibit booth during the introduction of the Mayberry's Finest line of foods at the Food Marketing Institute trade show in Chicago in May.
Mitch Jayne's fascinating new novel, Fiddler's Ghost, is being released during the next few weeks (you can see the book's cover in the Merchandise section below). It's great reading for anybody who loves a good ghost story, music, skillful writing, or just plain great storytelling from a true master.
James Best has had a busy summer of personal appearances, including DukesFest in Nashville. He's also managed to find plenty of time for fishing. You can check his personal appearance schedule to get an idea of where some of the fishing spots are that he has been hitting.
James plays McClancy in Moondance Alexander, which will be in theaters nationwide this fall. The film, written and produced by James' daughter, Janeen, and her husband, Michael Damian (who also directed), has already won an award at April's Newport Beach Film Festival.
Margaret Kerry (Bess Muggins in "Christmas Story" and Helen Scobey in "Andy Forecloses") has done more than 80 press interviews and has been on a press tour to New York, Toronto, and London promoting a new Tinker Bell movie for Disney. She's also doing a Disney cruise to the western Caribbean in November. And her memoirs, Tinker Bell Talks: Tales of a Pixie-Dusted Life are scheduled to be published in the next six months or so.

We're sad to report that legendary actor Charles Lane, who played moonshining butter-and-egg man Mr. Frisbie in "Aunt Bee the Crusader" (Episode #111), died on July 9 from, well, from being 102. He died at his home in Brentwood, Calif.
He was born Charles Levison on January 26, 1905, over a year before the Great San Francisco Earthquake. He started out as an insurance salesman, but moved on to the famed Pasadena Playhouse and then into films. He was a founding member of the Screen Actors Guild. His first film was Smart Money in 1931 with Edward G. Robinson and James Cagney.
By the time he shot It's a Wonderful Life for favorite director Frank Capra in 1946, he had already appeared in about 200 films (He would go on to perform in eight Capra pictures.) It's very possible that his combined total number of movie appearances and guest appearances in scripted TV episodes is more than for any other actor between the 1930s and 1970s.
Among his movies were The Ghost and Mr. Chicken with Don Knotts. He was also in two episodes of "Gomer Pyle, U.S.M.C." He is perhaps best remembered as feisty (that goes without saying!) Homer Bedloe in "Petticoat Junction" and also as Foster Phinney in episodes of "The Beverly Hillbillies."
Charles Lane's last on-camera film performance was in 1995. He also narrated the short The Night Before Christmas in 2006. And he was in attendance at the TV Land Awards in 2005 when he was honored for his 100th birthday.
His wife of over seven decades, actress Ruth Covell, passed away in 2002. He is survived by son Tom and daughter Alice. Donations in his memory may be made to the Motion Picture & Television Fund or another charity.
Editor's Note: Don't hold us to this as definite fact, but we believe that Charles Lane is so far second the longest lived person to have worked on TAGS. We believe the longest lived was Lillian Culver (Barney's mother in "The Manhunt.) She died in 1999 at the age of 103 1/2.
**** MERCHANDISE UPDATE ****
Here are some of our newest Mayberry items at Weaver's Dept. Store at http://www.iMayberry.com
* Mayberry-opoly Board Game $30.00
http://www.weaversdepartmentstore.com/index.php?item=342
This brand new board game is a dream come true for "Barney Fife, Realtor" and anyone who has ever wished to own a little piece of that paradise we know and love as Mayberry!
Ol' Ben Weaver's brow sweats when he thinks about everybody in Mayberry having fun as they learn to wheel and deal in business the way he does. But he'll get over it.
If you love Monopoly and Mayberry or you know somebody who does, then you'll really love Mayberry-opoly.
This game seems destined to become a valued collectible years from now. In the meantime, enjoy hours for Mayberry fun actually playing the game. We think it's the most fun opoly game ever created. It's even fun to lose!
* All New DVD Box Set of All Eight Seasons of "The Andy Griffith Show," Plus the "Danny Thomas" Pilot and Return to Mayberry $192.00
http://www.weaversdepartmentstore.com/index.php?item=341

The suggested retail price for this brand new DVD Box Set of every episode of "The Andy Griffith Show" (plus the "Danny Thomas" pilot episode and the 1986 Return to Mayberry movie) is over $240.00. The previous 8-season DVD box-set release (without the pilot and the movie and now also discontinued) carried a suggested retail price of $320.00. We're pleased to be able to offer this set at a fantastic (we are fans, after all!) price of $192.00
* Complete Second Season of "Gomer Pyle, U.S.M.C." on DVD $32.00
http://www.weaversdepartmentstore.com/index.php?category=91
This second season of "Gomer" is one of the best. It includes visits from Opie and Goober. We've got it at Weaver's for about 20% off the suggested retail price. Here are the 30 episodes in this season:
Episode 1: PFC Gomer Pyle
Episode 2: Third Finger, Left Loaf
Episode 3: The Blind Date
Episode 4: Home on the Range
Episode 5: Gomer Un-Trains a Dog
Episode 6: Supply Sergeants Never Die
Episode 7: Cat Overboard
Episode 8: Gomer Captures a Submarine
Episode 9: The Grudge Match
Episode 10: Gomer, the Star Witness
Episode 11: A Visit from Cousin Goober
Episode 12: A Groom for Sergeant Carter's Sister
Episode 13: Gomer Minds His Sergeant's Car
Episode 14: Gomer, the Peacekeeper
Episode 15: Gomer Pyle, P.O.W.
Episode 16: Gomer Pyle, Civilian
Episode 17: Gomer and the Beast
Episode 18: Grandma Pyle, Fortune Teller
Episode 19: Arrivederci, Gomer
Episode 20: Sergeant Carter Dates a Pyle
Episode 21: Little Girl Blue
Episode 22: A Star Is Born
Episode 23: Gomer and the Phone Company
Episode 24: Duke Slater, Night Club Comic
Episode 25: Vacation in Las Vegas
Episode 26: Opie Joins the Marines
Episode 27: A Date with Miss Camp Henderson
Episode 28: Gomer and the Father Figure
Episode 29: Desk Job for a Sergeant
Episode 30: Gomer, the Would-Be Hero
**** Sneak Peeks ****
Here are two items that are coming to Weaver's soon:
Darling boy Mitch Jayne's new novel, Fiddler's Ghost
And the 2008 "Andy Griffith Show" Wall Calendar (with color photos for the first time!)
We expect to have Mitch's book in stock around Aug. 1 and the calendar around mid-August. (We'll also have a calendar combo special that includes both the 2007 and 2008 calendars, so if you've been procrastinating on getting your 2007 calendar, your big chance is coming...before the calendar becomes strictly a collector's item.)
**** New TAGS Licensee Update ****
The exciting new Mayberry's Finest line of packaged foods from Diversity Brands won't be on our shelves at Weaver's Dept. Store (only because we're not exactly set up for shipping cans of beans and jars of pickles), but they will be hitting the shelves of grocery stores across the country during the next few weeks.
Keep an eye out for them at your favorite store. And there's also going to be a recipe contest later this fall. Who knows...your recipe (and your picture) just might be the winner selected to be on (the inside of) a label.
Check out the Mayberry's Finest Web site at http://www.mayberrysfinest.com.
**** CHAPTER UPDATE ****
We have two new chapters since the last eBullet:
"Still Ugly, Single, and Pitting Prunes"
"Cha-weet, Cha-weet, Cha-weet"

Casey, Ill.
Gaffney, S.C.
That brings our total number of chapters founded to 1,314. If you're interested in starting a chapter of TAGSRWC, all you need to do is pick a name that has not already been chosen, and submit it with a list of your founding members by postal mail.
What you do as a chapter is entirely up to you. Your group can do as much or as little as you like. Or write to us also if you would like to contact a chapter near you. Our address is TAGSRWC, 9 Music Square South, PMB 146, Nashville, TN 37203-3211.
**** CHAPTER NEWS ****
As bunches of chapters join other members and fans in preparing for this month's Mayberry Squad Car Nationals in Graysville, Ala., we have light Chapter News this issue.
Trivial Trivialities (Georgetown, S.C.) is working on putting a gathering together with nearby chapters.
Mayberry chapter (Knoxville, Tenn.) continues to meet regularly for a variety of activities, ranging from bowling to parades. They publish their excellent Mayberry Minutes newsletter three times per year.
Barney chapter (Greensboro, N.C.) is still meeting every month. A recent meeting had them on a short road trip to Graham, N.C., to see a hometown exhibit honoring chapter member Jeanne Robertson, a former Miss North Carolina.
Members of "What Are We Going to Do, Andy?" (Jacksonville, Ill.) and Mavis Neff (Durham, N.C.) are among chapters that have visited Nashville, our headquarters town, this summer.
And that's it for Chapter News this time. See? We weren't kidding when we said it was going to be light!
**** MISS CRUMP'S MAYBERRY QUIZZES ****
Answers to Miss Crump's Mayberry Quiz #72
Old Lady Crump crosscut us with a slippery question in the first question and a real test for "trained noticers" in the second question, but many entries came through unscathed (and just as many didn't). When the dust settled, we drew a name from among all of the completely correct entries. The winner is Louisiana's Eric Marshall. Attaboy, Eric! He gets his choice of any single item (except box sets of DVDs and sets of buildings; we "aint' no Rockefeller").
Here are the answers we were looking for:
1. Four different animals seen in Mayberry that Mayberrians either appear to believe can speak English or else mistakenly believe are actually human include. Goober's dog, Spot, in "A Man's Best Friend"; the goldfish that Barney listens to in "Opie the Birdman"; Jimmy the goat that Otis thinks is his Uncle Nat in "The Loaded Goat"; silver carp Old Sam in "Big Fish in a Small Town" (though it's not clear that Old Sam was supposed to be speaking English or that anybody really believed he could talk); the rabbit in the bushes that Barney thinks is escaped convict Eddie Brooke; and the cows that are mistaken for being Baker and Charlie in "The Cow Thief."
Winken, Blinken and Nod were not accepted as correct answers because there is no indication that they might speak English, but only that Barney understands what they're saying. That was the trick part of the question that snagged a few folks. Other animals not accepted included "Barney's Bloodhound," Blue. (He might be able to recognize photos in Wanted posters, but there's no sign that he can speak English.)
BONUS: The specific instance when the name "Tommy Bradley" occurs in Mayberry is on a Wanted poster on the bulletin board in the courthouse in "The Guitar Player." About half of the entries got that one right, but it did cause stress and sometimes stumped even some of the most devoted trivia buffs. (We wonder whether Blue would have gotten that one.)
Miss Crump's Mayberry Quiz #73
It's not so much that Miss Crump is being lazy over her summer break, but she thought maybe the quiz-takers would enjoy a simpler quiz. She has prepared just one question for this quiz. It's sort of a Summer Reading List quiz.
1. Based on what we see and hear in episodes, identify 25 occasions that somebody from Mayberry has held all or part of a newspaper in his or her hands. Too easy? Then here's the qualifier: One person's repeated handling of the same edition of a newspaper or his or her handling multiple copies of the same edition at one time counts as only one occasion. Also, the same copy of a newspaper being held by more than one person counts as only one occasion.)
The person whose quiz has the required correct answers will receive his or her choice of any single item offered online at Weaver's. (Neither a boxed set of TAGS DVDs nor a set of Wooden Mayberry Building Fronts is considered a single item. Neither are sets of tin signs and combos.) If there is more than one person with the most required answers (as is usually the case), we'll draw a winner from all the top entries.
Submit your answers by e-mail to OldLadyCrump@iMayberry.com or, if you're like Stan Nicholson and don't trust a computer with your entry, mail your answers to TAGSRWC, 9 Music Square South, PMB 146, Nashville TN 37203-3211. All entries must be e-mailed or postmarked by Sept. 1, 2007. Happy watching about reading!
**** POSTNOTE ****
Between issues of The eBullet, keep up with the goings-on in Mayberry with the daily "Who's Been Messin' Up the Bulletin Board?" Digest. It's a free subscriber list that consists entirely of comments, newsflashes, and questions and answers from subscribers. You can sign up for that list by going to the "Mailing Lists" link at http://tagsrwc.com.
TAGSRWC also publishes Weaver's Newsletter in more-or-less alternate months to The eBullet. Like The eBullet, the Weaver's Newsletter is free. Its focus is mainly on new Mayberry merchandise and collectibles and quick newsflashes. To sign up, go to: http://mail.weaversdepartmentstore.com/mailman/listinfo/newsletter_weaversdepartmentstore.com
TAGSRWC's other main vehicle for Mayberry information is simply our Web site at http://www.tagsrwc.com (and it's nearly identical sister site http://www.iMayberry.com. Both sites have extensive content and links for just about everything a Mayberry fan might be looking for.
The next issue of The eBullet is scheduled for mid-September, with a Weaver's Newsletter planned for August.
Have a great rest of the summer!