To Subscribe click here
To Unsubscribe click here
---

Volume 7, Issue 3


---

---

May 4, 2007

---
If you cannot view the HTML newsletter (photos), click here to read it at our Web site.
*********************************************
"The eBullet"
An Online newsletter of
"The Andy Griffith Show" Rerun Watchers Club (TAGSRWC)
Volume 7, Issue 3
May 4, 2007
*********************************************
* Exciting New Official Mayberry Licensee
The biggest product news in Mayberry this issue is actually about something that probably won't be on our shelves at Weaver's, but only because of the logistics involved. Whether it's on our shelves or not, we're sure that Mayberry fans everywhere will be eating it up.
What it is, is a new line of packaged foods called Mayberry's Finest. It's gonna be big...really big! Here's the scoop:
Dateline: Mayberry, N.C., via Nashville, Tenn. - (May 1, 2007)
Call Goober and the Darling family. Break out the Blue Willow and the checkered tablecloths! Aunt Bee is back in the kitchen in Mayberry, and she's cooking up some down-home, delicious dishes that will soon be ready for you to bring home from your favorite grocery store.
That's right. America's beloved hometown cook and the folks at Diversity Brands are teaming up to create an exciting new line of packaged foods that will bring the flavors of Mayberry right into homes all across America, and beyond.
The new line of foods is called Mayberry's Finest and it's being introduced to America at the Food Marketing Institute Show in Chicago, May 6 to 8, and will then stroll onto store shelves in late summer.
Among the millions of us still avidly tuning into Mayberry is Phil Connelly, president of Choice Food of America, a partner in Diversity Brands.
"I've always loved 'The Andy Griffith Show,'" said Phil, who is without question the biggest Goober at the Nashville-based food company. "When I think of Mayberry, I think of good friends, family, home and delicious food. Those are all qualities that we're shooting for with Mayberry's Finest." (Let's hope his aim is better than Barney's!)
Phil adds, "While we're focused on providing only the very best foods, we also plan for the appeal of the packaging and promotion to be a reflection of the wholesome entertainment and fun of the show itself."
"We're thrilled to have an association with 'The Andy Griffith Show,' and to have this wonderful opportunity to create some delicious premium foods that also connect with the fond memories and deep affection that millions of people have for Mayberry and what "The Andy Griffith Show" stands for," says Marcela Gómez, president of Diversity Brands.
Marcela and Phil both conveniently dodge questions from us about how Mayberry's Finest plans to deal with the only two foods that Aunt Bee doesn't know how to prepare: homemade "kerosene cucumbers" and marmalade. All Phil will say is, "Wait and see. Wait and see."
And while it doesn't take a keen investigative mind like Barney's to predict that the companies involved with creating Mayberry's Finest would be enthusiastic about the new line of foods, what is the reaction on Main Street in Mayberry-that is, among the show's many devoted fans?
For the answer to that question, no one is in a better position to know than Kenneth Junkin, leader of TAGSRWC's "Hearty Eatin' Men and Beautiful, Delicate Women" chapter (Tuscaloosa, Ala.) and one of the biggest fans of TAGS.
"This is the biggest thing to happen with Mayberry in years. I couldn't be more excited about anything," says Kenneth. "There's nothing I like more than good food and Mayberry," he adds. "To have them combined and to actually be able to get a real taste of Mayberry is the best of both worlds," says Kenneth, who apparently was so overwhelmed by the big announcement about Mayberry's Finest that he forgot to mention any passion he might have for University of Alabama football. (Shazam!)
But that's just the sort of effect that the news about Mayberry's Finest is having on people. Mayberry's Finest will be featured in the Diversity Brands booth at the Food Marketing Institute Trade Show at McCormick Place in Chicago, May 6 to 8. Along with information about the new Mayberry Finest line of packaged foods, the booth will host three of Mayberry's finest-Darling cast members Maggie Peterson Mancuso, Doug Dillard and Rodney Dillard.
The booth will also feature a full-size replica of the Mayberry squad car. We could say a lot more about the Mayberry's Finest line of packaged foods, but as Andy Taylor and Briscoe Darling both once told Aunt Bee, "Eatin' speaks louder than words."
We'll follow their lead and leave it at that for now. But be sure to check out their Web site at www.mayberrysfinest.com. It'll be active in a few days, and will be updated regularly as products and fan-oriented promotions begin to reach stores later in the summer.
* Don Knotts Legacy Fund
The Don Knotts Legacy Fund, established by the Greater Morgantown (W.V.) Community Trust, is going to create a Memorial Park that will include a welcoming statue of Don sitting on a bench. Don's family has given wholehearted approval for this effort, which should be a wonderful tribute to Don and his memory.
TAGSRWC is supporting this effort by selling officially licensed, limited-edition photos (matted and framed) of Barney Fife that were signed by Don. http://www.weaversdepartmentstore.com/index.php?category=9
The proceeds from the sale of these autographed photos are being split evenly among the Legacy Fund, the American Lung Association and the Surry Arts Council (in support of Mayberry Days), all in memory of Don. We encourage folks to make donations directly to the Legacy Fund, if they wish to offer further support for the creation of the Memorial Park effort.
You can learn more about the Legacy Fund and the Memorial Park at these two sites: http://www.donknottsstatuefund.com/?cid0 and http://www.lestersculpture.com/
The Morgantown Legacy Fund should provide a beautiful and lasting tribute in his hometown.
The Knotts family also has donated some of Don's scripts, his only original poem and other special items to his alma mater in Morgantown, West Virginia University, and to other collections. Don also had donated some items to the university before his death.
* More Don Knotts News
Mount Airy's Emmett Forrest received a special package from Francey Knotts, widow of Don Knotts, with several new pieces for his Andy Griffith Memorabilia Collection.
"I'm honored that Mrs. Knotts chose our Collection to be the permanent home for these special items," Emmett said. "I'm proud to accept them on behalf of our community. They are tremendous additions to our existing Collection. I think they will be of great interest to fans of Mr. Knotts and Mayberry."
Photo by Hobart Jones
A PAIR OF SUITS IMPRESSES PAIR-Emmett Forrest and Betty Lynn pose with the two salt-and-pepper suits donated by Francey Knotts to Emmett's memorabilia collection in Mount Airy.
One of the salt-and-pepper suits was worn by Don on "The Andy Griffith Show" and in The Ghost and Mr. Chicken, among other occasions. Current information is that he wore the other suit in the 1986 reunion movie Return to Mayberry and for personal appearances.
New Mount Airy resident Betty Lynn was filled with mixed emotions as she viewed the special pieces of wardrobe worn by her dear friend. With tears coming into her eyes, she said, "We're supposed to be happy!" and smiled.
Emmett has been speaking with Francey Knotts regarding other possible donations to the Collection. He also has shared with Francey his excitement about the upcoming new Mount Airy Visitors Center that is to be located beside the Andy Griffith Playhouse and that will be the new permanent home of the Collection.
According to Betty Lynn, "Francey looks forward to a visit to Mount Airy."
As do all fans of Mayberry and Don Knotts. It will be wonderful to see this part of Mayberry and show business history on display with other items in Emmett's collection at the new Visitors Center when we visit Mount Airy.
These new donations are just two more reasons why Mount Airy suits us so well!
**** Floyd's Barbershop Bulletin Board-Event Calendar ****
Here are some upcoming happenings around Mayberry. It's becoming another jam-packed year.
* Now: Waitress, featuring Andy Griffith, is in limited release in theaters.
* May 16: David Browning patrols the Small Business Expo in Sanford, N.C.
* May 25: It's time to rock and roll when David Browning is in town for the Salem (Va.) Avalanche game.
* May 26: David Browning is off to run the bases at the Lexington (Ky.) Legends baseball game.
* May 27: Jim Nabors sings "Back Home Again in Indiana" again at the Indy 500.
* May 29: New Box Set release of "The Andy Griffith Show" from CBS Paramount Network Television. This release will contain all eight seasons (249 episodes), plus the show's pilot episode from "The Danny Thomas Show," and the 1986 reunion movie, Return to Mayberry. We're taking pre-orders at Weaver's Dept. Store at http://www.iMayberry.com now.
* May 31: David Browning helps hand out citations at the DARE graduation in Rocky Mount, Va.
* June 1-3: James Best appears at CMT DukesFest in Nashville, Tenn. (He calls in David Browning for additional crowd control on the 3rd.) Tickets are available through Ticketmaster at (615) 255-9600. For more info, visit http://www.cootersplace.com/.
* June 6: David Browning wings it at the Peninsula Pilots baseball game in Hampton, Va.
* June 8-10: Jim Nabors performs at the Mohegan Sun Casino's Cabaret Theatre in Uncasville, Conn. Tickets for the concerts are on sale now at Ticketmaster. Additional info about the venue is available at http://www.mohegansun.com/entertainment.
* June 10: Orange you glad to see that David Browning is able to squeeze in a night at the Bradenton (Fla.) Juice baseball game.
* June 12: David Browning lands a whopper at the Charlotte County (Fla.) Redfish baseball game.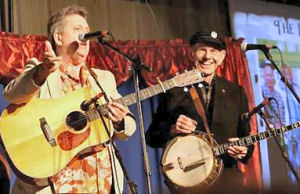 Photo by Carolyn Smith
PICKIN' AND GRINNIN'-Rodney and Doug Dillard light up the stage with music and smiles in 7th Annual Country Bluegrass Show in North Platte, Nebr. (Note Dean Webb and Maggie Mancuso in the backdrop photo on the right.)
* June 15-17: Doug and Rodney Dillard float in for the Huck Finn Jubilee in Victorville, Calif. For more info, visit http://www.huckfinn.com/.
* June 23: David Browning suits the Edenton (N.C.) Steamers to a tea for their baseball game.
* June 26: Tentative release date for the Second Season of "Gomer Pyle, U.S.M.C." Pre-orders will begin at our Weaver's Dept. Store on June 1.
* June 28: David Browning receives applause with claws at the Hickory (N.C.) Crawdads baseball game. They'll have a Mayberry Squad Car replica on hand, too.
* June 29: Rut-ro! David Browning is a star at the Greenville (Tenn.) Astros baseball game.
* July 1: David Browning is slowly on the move for Summer Motion Festival in Ashland, Ky.
* July 6: Heeeey, Joe! David Browning is like a cup of hot coffee at the Anderson (S.C.) Joes baseball game.
* July 7: David Browning is on the run for the Aiken (S.C.) Foxhounds baseball game.
* July 12: David Browning doubles your pleasure for the Elizabethton (Tenn.) Twins baseball game.
* July 13: David "Hat-Trick" Browning is back in town for the Salem (Va.) Avalanche baseball game.
* July 17: David Browning glides into town for the Princeton (W.V.) Devil Rays baseball game.
* July 21: This new date is now confirmed for the 7th Annual Mayberry Squad Car Nationals in conjunction with the 3rd Annual Mayberry Comes to Graysville festival in Graysville, Ala. Stars and details TBA.
* July 27: David Browning is fearless as he makes his whole body a weapon for the Danville (Va.) Braves baseball game.
* Aug. 3: David Browning will be getting guitar sounds, banjo sounds, and who knows what all out of his jug of tricks for the Macon (Ga.) Music baseball game.
* Aug. 5: Calling all Goobers! David Browning is in town for the South Georgia Peanuts baseball game.
* Aug. 10: It's no cliffhanger to know who's back in town for the Salem (Va.) Avalanche baseball game.
*Aug. 11: An as-yet-unnamed Mayberry event in Troy, N.C., featuring TAGS stars, and tribute artists, including David "Mayberry Deputy" Browning, Kenneth "Otis" Junkin, Jamie "Opie" Sullivan, and Jeff "Howard" Branch. Details TBA.
* Aug. 15-19: David Browning camps out at the Winnebago County Fair in Winnebago, Ill.
* Aug. 21: David Browning checks the porosity of footwear at the Bristol (Va.) White Sox baseball game.
* Aug. 23-25: David Browning is off to the races again at the Bristol Motor Speedway in Bristol (Tenn.).
* Sept. 1-3: David Browning is looking to make arrests for a-salt and buttery at the Popcorn Festival in Casey, Ill.
* Sept. 7 and 8: There's nothing tent-ative about David Browning's appearance for an event at Tom Johnson RV in Marion, N.C.
* Sept. 27-30: 18th Annual Mayberry Days in Mount Airy, N.C. For tickets and more info, visit http://www.surryarts.org/. Stars and other details TBA this summer.
* Oct. 19 and 20: Mayberry Comes to Cocoa 2 in Cocoa, Fla. This event is separate from but timed to be in conjunction with "Cruise to Mayberry 2" below. The cruise leaves from nearby Port Canaveral the day after this two-day event. The main day of the Cocoa festival is Sat., the 20th. That day opens with "A Gospel According to Mayberry" presentation at a local chapel, followed by festivities all day on Main Street in downtown Cocoa, and then a concert with the VW Boys that night. Additional activities, Mayberry stars attending and other details are TBA, but especially if you're planning on doing the cruise, you'll want to keep this event in mind for your advance planning.
* Oct. 21-25: Cruise to Mayberry 2 starring cast members Keith "Johnny Paul Jason" Thibodeaux and LeRoy "Country Boy" McNees and assorted Mayberry Tribute Artists, including Allan "Floyd" Newsome. For details about this second annual cruise to the Caribbean, visit the cruise's Web site at http://www.iMayberry.com/tagsrwc/wbmutbb/anewsome/private/cruise.htm
**** NEWS OF CAST & CREW ****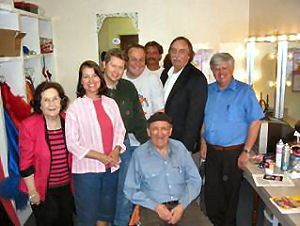 Photo courtesy of Dennis Beal
HEY STACK-Members of Mayberry chapter visit with George Lindsey backstage at the Country Tonite Theatre.
Andy Griffith and his new movie, Waitress (now showing in selected theaters), both have been getting great reviews. The film has already won several awards. Opening in the looming shadow of summer blockbusters, this independent film might not be in theaters for very long, so if you see it listed at theater near you, don't wait to see it.
George Lindsey just returned from a successful performance with saxophone legend Boots Randolph at the Country Tonite Theatre in Pigeon Forge, Tenn.
Also if you missed seeing clips of "Find Me a Man Like Goober," the country music video starring duo Moore & Moore and featuring George and bunches of country music legends on GAC-TV in recent weeks, you can catch it on YouTube at http://www.youtube.com/watch?v=VO1py1hI4bk
Betty Lynn traveled to her home state of Missouri for the Second Annual Marshfield Cherry Blossom Festival. (You may recall that she was inducted into their Walk of Fame last year.) This year she was honored with an 80th birthday luncheon that included remarks by Mayberry Missourians Mitch Jayne and Dean Webb. That same week she addressed the Missouri State Senate and visited with Governor Matt Blunt at the Governor's Mansion.
Photo by Diana Jayne
MISSOURIANS LOVES COMPANY

-

Betty Lynn

(center with corsage) poses with other special guests at April's Cherry Blossom Festival in Marshfield, Mo. Seated next to Betty is Karolyn Grimes, who played Zuzu Bailey, the little girl who says, "Every time a bell rings, an angel gets its wings" in It's a Wonderful Life. Seated next to Zuzu is Mickey Carroll a Munchkin in The Wizard of Oz. Standing in the back row next to Miss Cherry Blossom Festival is

Mitch Jayne

and next to him is

Dean Webb

.
Mitch Jayne has generously shared with us his reflections about the day in Marshfield:
Ozark weather being capricious as it is, I worried about making a trip on Friday the 13th to Marshfield, Missouri, to celebrate Betty Lynn's 80th birthday. Betty Lynn being better known as Thelma Lou, the sweet tempered girlfriend of Barney Fife on "The Andy Griffith Show."
Friday the 13th didn't worry us, but the forecast gave me the fantods; heavy storms, wind and driving rain with a chance of sleet and snow, sounded like the best advice to make excuses and stay home that I'd heard lately.
But if you knew Betty Lynn, you'd have made the trip, too. Betty's from Missouri, and for 60 some years has made us all look good in her reflection on the big screen, while staying the same person she started out. Andy
Griffith knew what he was doing when he made her Barney's girlfriend. Thelma Lou always saw the best in Barney, and through her, we saw it too. He might be a self-important, officious little twit, but the kindhearted Thelma Lou
saw past all that to the good soul beneath, and adored him. Betty Lynn was playing herself and loved it.
Maybe because of this, we all adored her too; for she never gave anyone reason not to. When Don Knotts died, she called to tell us that he had taken his wife Francine and Betty to dinner the week before, two people important
to his life. It was like Betty to share this story with friends, and we feel honored every time she does it, which is every time we hear her voice. There was simply no way we would miss her 80th birthday; after all, she was only
in town for a visit.
Betty Lynn now lives in Mount Airy, North Carolina, Andy Griffith's hometown, where we know she will be appreciated forevermore, and that's comforting. Betty loves her fans, and Hollywood is not where they live. It's
just that up in Mount Airy I'm afraid folks will stop her on the street and talk her to death like an old neighbor.
They pretty much did that in Marshfield, too, but they meant well; it's just that they gave her a big plate of lunch and birthday cake first, then paraded everybody by her to get theirs, and she never got more than a bite before somebody'd reach out of the line to shake her hand and talk, Missouri style.
Dean Webb and I, the only Darling boys there (our sister Charlene only missing because of a doctor's orders), got up and said a few words about Betty, but nobody needed us to. They already knew as much about her as they needed to know about somebody from the Show Me State--she had already showed us all.
Betty was just one of a few Missouri folks Marshfield had chosen to celebrate at their Cherry Blossom Festival, but she was the only true celebrity-- the shining little supporting actress for stars, who outlasted them all, to become our Thelma Lou.
Speaking of Mitch Jayne, he has a new book coming out called Fiddler's Ghost. We'll of course be stocking it at Weaver's as soon as it's available, which we expect to be within just a few weeks. And here's a link to a nice story about Mitch: http://www.dhss.mo.gov/OlderAmericansMonth/MitchJayne.html
Doug and Rodney Dillard, the other two Darling boys recently returned from concert dates in Park City, Kans. and North Platte, Nebr.
Photo by Gary Wedemeyer
SHINING STAR

--Elizabeth MacRae is radiant for a TV interview during the Eagles' Wings golf tourney.
And it was a fantastic weekend with two cast members, the VW Boys and several Mayberry tribute artists for the second annual Mayberry-themed fundraiser for Eagles' Wings (a proposed facility for adults with disabilities) in Tuscaloosa, Ala. Elizabeth MacRae and Keith Thibodeaux delighted audiences. Elizabeth almost took the old show business saying of "break a leg" too literally, but proved she is truly a trouper with magical performances all weekend.

We're saddened to report that Dabbs Greer, who played different characters in four episodes of TAGS, passed away on April 28 in Pasadena, Calif. He had turned 90 on April 2.

Born Robert William Greer in Fairview, Mo., he took his mother's maiden name for his stage name and became one of the great character actors of his time-on stage (including many years at the revered Pasadena Playhouse), in movies and on TV. His roughly 600 episodes of TV included recurring roles on "Gunsmoke," "The Ghost and Mrs. Muir," "Little House on the Prairie" and "Picket Fences," among others.

In addition to his four episodes of TAGS (as Councilman Dobbs in "Sheriff Barney," as the store clerk in "The Bed Jacket," as a quarreling husband in "Andy's Vacation," and, probably most memorably, as prospective home-buyer Harry Simms in "Barney Fife, Realtor"), he was in two episodes of "Gomer Pyle, U.S.M.C."

His 50-year career in movies began in 1949 and wrapped in 1999 in The Green Mile, in which he played the aged Paul Edgecomb, a prison guard portrayed for most of the film by Tom Hanks.

Dabbs Greer never married and had no survivors. But his impressive body of work will be with us for generations. And he'll have a favored place in Mayberry, especially for playing the character who almost bought Andy Taylor's house.

That's all for News of Cast & Crew for this time.

**** MERCHANDISE UPDATE ****

Here are some new and recent offerings at Weaver's. Our shelves are well-stocked with many other popular items, including some that had temporarily sold out in recent months.
* All New Box Set of All Eight Seasons of "The Andy Griffith Show," Plus the "Danny Thomas" Pilot and Return to Mayberry $192.00
http://www.weaversdepartmentstore.com/index.php?item=341
The suggested retail price for this brand new Box Set of every episode of "The Andy Griffith Show" (plus the "Danny Thomas" pilot episode and the 1986 Return to Mayberry movie) is over $240.00. The previous 8-season box-set release (without the pilot and the movie and now also discontinued) carried a suggested retail price of $320.00.
We offered the original 8-season set at a steep discount of just $249.00. We've knocked an additional 20% off the already-lowered price of this new edition and are offering this collection for just $192.00! While the previous 8-season box set was a great deal at $249.00, this new set, at a still lower price and with the additional features, is an even better deal.
If you procrastinated in getting the original box set, you missed out on a few months of viewing of some great-quality DVDs, but you've lucked into an even sweeter deal with this new Complete Series Collection release. (As Barney might say, "This set has just been sitting on a velvet pillow.")
We're taking pre-orders now. The official release date is May 29. We'll ship all pre-orders by that day.
* All Souls Church Fundraiser
http://www.weaversdepartmentstore.com/index.php?category=89
We're pleased to make this All Souls Church Wooden Building Front available in larger quantities as a potential fundraiser for church groups and other civic organizations. The numbered building fronts, which had a limited-edition production of no more than 5,000 pieces, are no longer in production.
The painted pieces, part of the retired Mayberry Main Street Collection, measure approx. 5 in. x 5 in. x 1 in. thick. The manufacturer's suggested retail price for each building front was $18. We sell them individually at Weaver's for $15. While they last, we're offering the All Souls Church in lots of 20 for $100.
Our thought is that, at this price (below wholesale), church groups and civic organizations could re-sell the buildings for $10 to $15 each and thereby produce a pretty good fundraiser. This price might even make it feasible for Mayberry Bible Study groups to use the buildings as nice items to present to Bible Study participants who complete the course.
Any which way your group uses the buildings, one thing's for sure--Mayberry is always a good place for All Souls!
* 2007 "Andy Griffith Show" Wall Calendar $13.00
http://www.weaversdepartmentstore.com/index.php?category=44
Nope, it's not too late. We've still got some copies of this year's official Mayberry Wall Calendar. Get one and get some good use out of it before it becomes a hard-to-find collectible. We would suggest that you get a second one and keep in the shrink wrap as a pristine collectible, but Bert Miller says that's too pushy, so we won't suggest it.
**** CHAPTER UPDATE ****
We have one new chapter since the last eBullet:
| | |
| --- | --- |
| "He's 57, Isn't He?" | Viroqua,Wis. |
That brings our total number of chapters since TAGSRWC was founded in 1979 to 1,312.
If you're interested in starting a chapter of TAGSRWC, all you need to do is pick a name that has not already been chosen, and submit it with a list of your founding members by postal mail. What you do as a chapter is entirely up to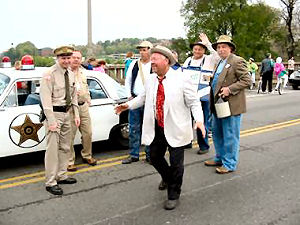 Photo courtesy of Dennis Beal
WHERE'S MY PLAQUE?-An Mayberrily motley crew from Mayberry chapter hangs around their squad car in the Dogwood Arts Festival. The chapter was awarded a plaque saluting their entry as the "Most Outstanding Specialty Unit" of the parade.
you. Your group can do as much or as little as you like. Or write to us also if you would like to contact a chapter near you. Our address is TAGSRWC, 9 Music Square South, PMB 146, Nashville, TN 37203-3211.
**** CHAPTER NEWS ****
Several TAGSRWC chapters from at least six states attended the Eagles' Wings fundraiser in Tuscaloosa in April. The Mayberry aspects of the event, which spanned four days, were spearheaded by TAGSRWC's local "Hearty Eatin' Men and Beautiful, Delicate Women."
Several more chapters, including "Irritatin', Ain't It' (Fall Branch, Va.) and Mayberry chapter (Knoxville, Tenn.) attended George Lindsey's concert in Pigeon Forge last week. The Knoxville chapter also participated in their local Dogwoods Arts festival (see the photo below.)
**** MISS CRUMP'S MAYBERRY QUIZZES ****
Answers to Miss Crump's Mayberry Quiz #71
We had some of the most extensive answers ever for quiz entries this time. Contestants really did their homework. In the end, there were six entries with all the answers correct. We put all the entries in a hat and pulled out the winner...Dennis Marshall of Baton Rouge, La. Attaboy, Dennis! He gets his choice of any single item (that is not a box set of DVDs, grab-bag or set wooden building fronts, etc.).
Old softy that she is, Miss Crump couldn't bear to let the other five entries with all correct answers go away empty handed. They all worked too hard. Stan Nicholson, for example, submitted his answers by handwritten letter. Five pages worth! He has e-mail access, but we reckon he just doesn't trust one of those machines for his quiz entries. So Miss Crump thinks Stan should get something just for penmanship alone.
And we're using Dennis Beal's entry as the core of our answers below. Just for saving Miss Crump a lot of typing, he deserves something. And Joyce Johnson submitted by far the most succinct entry with all answers correct. That ought to earn her something. That just leaves Michelle Bryson and Barbara Adams, both of whom sent in extensive entries and are always attentive to their Mayberry studies.
Miss Crump has decided to award each of these five any item at Weaver's that's priced at $20 or less. We would offer bigger consolation prizes, but as Miss Crump points out, "I am not a Rockefeller." (Miss Crump won't say "ain't no.") Shopping hint: Mitch Jayne's new book will be available soon. All six winners should just let Miss Crump what prize you want, and she'll alert Ben Weaver.
Here are some of the possible correct answers. In most cases, there were many more.
1. Other than in the opening credits of TAGS, name four Mayberrians who have been seen throwing a rock (including a stone or a pebble) with their bare hands.
* Andy Taylor threw rocks in "Barney Gets His Man," "The Bazaar" and "Andy's Rich Girlfriend"
* Ernest T. Bass threw rocks in multiple episodes
* Peggy McMillan threw rocks with Andy on the pond in "Andy's Rich Girlfriend"
* Mr. Finney threw a rock through Mrs. Finney's window in "Howard's Main Event"
* Howard Sprague threw rocks into the sea in "Howard's New Life"
2. Not counting rocks (or stones or pebbles), name 10 objects that either Mayberrians have seen being thrown by bare hand or are reported to have been thrown by bare hand in Mayberry.
* Baseball (multiple episodes by many people)
* Football (Billy in "Only a Rose", Andy in "Mind Over Matter," Opie in "Opie's Piano Lesson" and others)
* Apple (Steve Quincy and Opie threw one at the lamppost in "One Punch Opie"; Neal threw an apple at Barney in "Lawman Barney")
* Paper towels (Ernest T. soaked paper towels in Mrs. Wiley's punch and threw them at the ceiling in "My Fair Ernest T.")
* Egg (Barney threw an egg at Goober; I wish he'd throw something at me. I ain't had my lunch yet.)
* Tomato (Barney threw a tomato at Otis; Steve Quincy threw tomato at Mr. Foley)
* Cups and saucers (Jenny Boone threw cups and saucers at Fred Boone)
* Darts (Opie threw darts with Andy in "Lawman Barney")
* Water (Fred Boone threw water on Gil when they played cards; Andy sort of threw water on Otis in "Hot Rod Otis"; Howard threw water in Andy's face in "Otis the Deputy")
* Fish (Ron Bailey threw fish a back into the pond in "Bailey's Bad Boy")
* Shotgun (Andy threw a shotgun onto a couch when talking with Luke Comstock)
* Jug (Rodney threw Briscoe's jug to Briscoe before they played with Andy in "The Darling Fortune")
* Clothes (Eddie Brooke threw his jacket and hat behind bushes in "Barney Gets His Man")
* Litter (Eddie Brooke threw litter onto street in "Barney Gets His Man")
* Pencil (Barney threw a pencil in anger on his desk in "Lawman Barney")
* Sack (Andy threw a heavy sack onto Avery Noonan's back in "The Legend of Barney Fife")
* Fishing Pole (Aunt Bee threw her fishing pole into water when she got scared in "The New Housekeeper")
* Bone (Barney threw a chicken bone in woods while eating with Gomer in "Back to Nature")
* Person (Mr. Izamoto threw Fred Plummer to the ground in the alley in "Barney's Uniform")
* Cigarette (Ron Bailey threw a cigarette butt into the water in "Bailey's Bad Boy"; Andy threw a cigarette outside his house in "Prisoner of Love")
* Celery (Andy threw celery stalk from Ron Bailey's car)
* Hat (Barney threw his hat onto Andy's desk when he said he was running for sheriff; ditto for Emmett with his cap when he ran for Town Council)
* Cigar (Malcolm Tucker throws cigar butt off Andy's front porch when Gomer shows up)
* Rice (Andy, Opie and Barney throw rice on Rose and Wilbur Pine in "The New Housekeeper")
* Gun (Gomer threw his pistol/gun into the courthouse bookcase, breaking the glass in "The Big House")
* Crates (farmers Matt and Neal threw their crates into the back of their truck when Barney came back the second time)
* Rings (implied since Johnny Paul threw rings at the ring toss to win the baseball bat at the county fair)
* Bowling ball (Howard throws a bowling ball down lane in "Howard the Bowler")
* Chickens ("you got chickens to throw, you got chickens to sell")
* Suitcase (Warren throws the suitcase over the bus in "Off to Hollywood")
* Checkerboard ("Chester Jones, you're a no good cheatin' liar")
* Flowerpot at Mr. Darling when he was caterwauling
* Gum Wrapper (by Barney waiting in the Barn in "Barney Gets His Man; and again by a litterbug in "Barney and the Governor")
* Bread (Ernest T. threw bread to Opie in "My Fair Ernest T. Bass," but of course he didn't throw a potato: "I passed it. I didn't heave it.")
* Brick (Ernest T. Bass in "Malcolm at the Crossroads")
* Horseshoes (described by Barney as being pitched by Virgil Hosh "The Jinx")
NOTE: Otis didn't throw a leg of lamb at his mother-in-law; he just hit her in the mouth with it when he swung it at his wife and missed in "Ellie for Council"
3. Identify five different barns that we see Mayberrians seeing. (And no, Barn Fife doesn't count, Goober!)
* Jubal Foster's barn
* Johnson barn (Barney describes it in "Barney's First Car")
* Sam Jones's barn
*Luke Reimer's barn ("The Inspector")
* Mr. Flint's barn ("Ellie Saves a Female")
* Old barn in Thatcher's woods where Barney captures Eddie Brooke ("Barney Gets His Man")
* Rafe Hollister's barn ("The County Nurse")
* Viola MacConker's barn (Gomer sees Viola sneak behind her barn to get a pinch of snuff in "The Big House")
* Mr. Frisbie's barn in "Aunt Bee the Crusader"
* Tate Fletcher's barn in "The Cow Thief"
* Walt Simpson's barn in "Goodbye Dolly"

4. In honor of the opening of baseball season, name six Mayberrians who have been seen holding a baseball. (Miss Crump thought this one might help some of her pupils with a previous question, too.)
* Andy ("Opie's Most Unforgettable Character" and several other episodes)
* Opie ("Opie's Most Unforgettable Character," "Opie's Charity" and many others)
* Arnold Bailey in "Opie's Most Unforgettable Character"
* Goober ("Opie's Most Unforgettable Character")
* Opie's unnamed pal (played by Ronnie Dapo)in "The Haunted House"
* Mike Jones ("Opie and Mike")
* Tommy ("A Man's Best Friend")
* Henry Bennett (caught the baseball and threw it back, causing Mayberry's team to lose) in "The Jinx"
* Floyd's son Norman dropped a fly ball after Henry Bennett touched it
NOTE: Frank Smith in "Andy's Rival" or members of the Mt. Pilot Comets in "The Ball Game" were not accepted because they are not Mayberrians.
5. Name three human Mayberrians whose first name begins with the letter "O."
* Orville Monroe
* Opie Taylor
* Otis Campbell
* Other Darling (not much personality, that boy)
* Ollie, the one who called for a hair appointment with Floyd ("Andy and Opie-Bachelors")
* Olive at the diner
* Oscar Skinner, who owns the feed store and wanted to interview Otis for a job
* Otto a Mayberry merchant mentioned in "Andy's Vacation"
* Orville Portnoy, night man at the bakery mentioned in "Aunt Bee's Crowning Glory"
NOTE: Oscar Fields (Otto Feldman) was not accepted because he was not a Mayberrian. Ditto for Uncle Ollie and Oliver Gossage, who was said to be from Raleigh. Osgood from the Osgood vs. Welch dispute was also not accepted because his first name was Ted.
BONUS: Name six times the number 11 (or 11th) is mentioned in Mayberry.
* Briscoe claims his radiator holds 11 hats full of water
* Aunt Bee's jar number in "The Pickle Story"
* Clara Johnson had won pickle contest for 11 years in a row as she showed her 11 blue ribbons to Andy
* Aunt Bee took 11 flying lessons before soloing in "Aunt Bee's Big Moment"
* Barney gave out 11 speed warnings out on Highway 6 to el truckos in "Barney's Sidecar"
* Uncle Ollie bought 11.2 gallons of gas in Shreveport in "Family
Vacation"
* Barney marks 11 off of calendar in "Citizen's Arrest"
* Malcolm Merriweather told Andy he had worked for Col. Chumley for 11 years in "Andy's English Valet" (although later he claimed only 6 years)
* Clint Biggers owns the 11 dogs in "Dogs, Dogs, Dogs" (mentioned five times)
* Opie is 11 years old in "A Man's Best Friend"
* Goober has worked at Wally's Station for 11 3/4 years in "Goober the Executive"
* Barney tells Mr. Jammel that he sometimes doesn't go to bed till almost 11 in "TV or Not TV"
* Barney talks about his not hitting the pillow until a quarter till 11 in "The Lucky Letter"
* Barney again mentions his head not hitting pillow till quarter till 11 in "Goober Takes a Car Apart" (Goober echoes it for a second mention)
* Gilly Walker tells Goober that he promised his car would be fixed by 11 in "Goober Takes a Car Apart"
* An 11-year-old boy is mentioned in Help Wanted ad placed in paper by Andy in "Opie's Job"
* There are two mentions of 11 as Andy and Barney play dominoes "High Noon in Mayberry"
* Andy mentions the time as being almost 11 in "Ernest T. Bass Joins the Army"
* Goober has worked at Wally's for 11 and ¾ years in "Goober the Executive"
* Warren mentions that it's 11 o'clock in "Wyatt Earp Rides Again"
* Opie mentions having supper at 11 o'clock in "Opie Steps up in Class"
* Floyd mentions 11:30 in "The Ball Game"
* Barney bought size 11 socks from Bert Miller
* There were 11 supermarket robberies in Raleigh mentioned in "A Visit to Barney Fife"
* Bobby Gribble wrote that he hated Emma Larch in the sidewalk 11 years ago in "The Case of the Punch in the Nose"

Whew!!
Miss Crump's Mayberry Quiz #72
After that extensive quiz last time, Miss Crump has just one question and the Bonus this time. But that doesn't necessarily mean this quiz is going to be all that easy.

1. Identify four different animals seen in Mayberry that Mayberrians either appear to believe can speak English or else mistakenly believe are actually human.
BONUS: Identify a specific instance that the name Tommy Bradley occurs in Mayberry.

The person whose quiz has the most correct answers will receive his or her choice of any single item offered online at Weaver's. (Neither a boxed set of TAGS DVDs nor a set of Wooden Mayberry Building Fronts is considered a single item.) If there is more than one person with the most correct answers (as is usually the case), we'll draw a winner from all the top entries.
Submit your answers to OldLadyCrump@iMayberry.com or, Stan, mail them to TAGSRWC, 9 Music Square South, PMB 146, Nashville TN 37203-3211. All entries must be e-mailed or postmarked by June 15, 2007. Have fun and good luck!
**** POSTNOTE ****
Between issues of The eBullet, keep up with the goings-on in Mayberry with the daily "Who's Been Messin' Up the Bulletin Board?" Digest. It's a free subscriber list that consists entirely of comments, newsflashes, and questions and answers from subscribers. You can sign up for that list by going to the "Mailing Lists" link at http://tagsrwc.com.
TAGSRWC also publishes Weaver's Newsletter in more-or-less alternate months to The eBullet. Like The eBullet, the Weaver's Newsletter is free. Its focus is mainly on new Mayberry merchandise and collectibles and quick newsflashes. To sign up, go to: http://mail.weaversdepartmentstore.com/mailman/listinfo/newsletter_weaversdepartmentstore.com
TAGSRWC's other main vehicle for Mayberry information is simply our Web site at http://www.tagsrwc.com (and it's nearly identical sister site http://www.iMayberry.com. Both sites have extensive content and links for just about everything a Mayberry fan might be looking for.
The next issue of The eBullet is scheduled for early July, with a Weaver's Newsletter planned for June.
Have a Merry Month of May!
Now Is the Month of Maying,

Now is the month of maying,
When merry lads are playing,
fa la la la la la la la la, fa la la la la la la

Each with his bonny lass
Upon the greeny grass
fa la la la la la la la la, fa la la la la la la