To Subscribe click here
To Unsubscribe click here
---

Volume 7, Issue 2


---

---

March 27, 2007

---
If you cannot view the HTML newsletter (photos), click here to read it at our Web site.
*********************************************
"The eBullet"
An Online newsletter of
"The Andy Griffith Show" Rerun Watchers Club (TAGSRWC)
Volume 7, Issue 2
March 27, 2007
*********************************************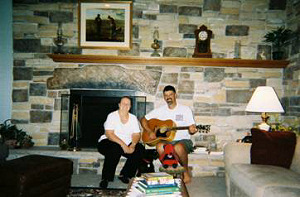 MAKE YOURSELF COMFORTABLE -- Marsha and Dave Scheuermann, your hosts at the newly licensed Taylor Home Inn in Clear Lake, Wis.
"Welcome, Sweet Springtime, we greet thee in song!" with our second issue of The eBullet for 2007! Most of our Mayberry ducks are getting nicely in a row for the various organized activities this year. A few are still meandering around the duck pond, but most are situated. Also, several new products should be hitting shelves in the next few months. A couple of items (DVDs) are mentioned in the Calendar below. Some others should be announced in another month or so.
The newest official "Andy Griffith Show" licensee that has been announced is the Taylor Home Inn, a bed and breakfast in Clear Lake, Wis. You may recall from our previous coverage that this inn is a recreation of the Taylors' home in Mayberry. And the folks who run it are music and art teacher Marsha and mortician husband David Scheuermann. (No, Dave doesn't do TV repairs.) They're the nicest folks. They met in our Internet chat room years ago and have a TAGSRWC chapter called Mayberry Scout Troop #44.
If you're considering a trip to the inn (and you really should because it will blow your mind to walk around in what until now has usually been only a 2-D world of Mayberry for us), they're getting booked up for the year at a pretty fast clip, especially for weekends. Check out their info at www.taylorhomeinn.com.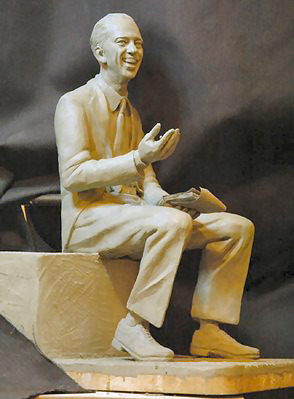 FRIENDLY GESTURE

-Model for the Don Knotts statue in Morgantown, W.V., by local sculptor Jamie Lester.
Another project that's moving forward with full approvals is the Don Knotts Legacy Fund in Don's hometown of Morgantown, W.V. The Legacy Fund, established by the Greater Morgantown Community Trust, is going to create a Memorial Park that will include a welcoming statue of Don sitting on a bench. Don's family has given wholehearted approval for this effort, which should be a wonderful tribute to Don and his memory.
TAGSRWC is supporting this effort by selling officially licensed, limited-edition photos (matted and framed) of Barney Fife that were signed by Don. http://www.weaversdepartmentstore.com/index.php?category=9
The proceeds from the sale of these autographed photos are being split evenly among the Legacy Fund, the American Lung Association and the Surry Arts Council (in support of Mayberry Days), all in memory of Don. We encourage folks to make donations directly to the Legacy Fund, if they wish to offer further support for the creation of the Memorial Park effort.
You can learn more about the Legacy Fund and the Memorial Park at these two sites: http://www.donknottsstatuefund.com/?cid0 and http://www.lestersculpture.com/
It's hard to believe that Don Knotts has been gone for over a year. The Morgantown Legacy Fund should provide a beautiful and lasting tribute in his hometown.
The Knotts family also has donated some of Don's scripts, his only original poem and other special items to his alma mater in Morgantown, West Virginia University, and to other collections. Don also had donated some items to the university before his death.
Here are some other things going on in and around Mayberry:
**** Floyd's Barbershop Bulletin Board-Event Calendar ****
* Now through Mar. 31: Tied up in Knotts!, a one-woman show starring Karen Knotts, daughter of Don Knotts, is playing at The Group Repertory Theatre in North Hollywood. It's a show about "life, love and growing up with her famous father--all in the name of comedy." Show times are Saturdays at 2 p.m. and Sundays at 7 p.m. For more info and tickets, call (818) 700-4878 or visit http://www.theatermania.com/.
* Now to April 28, 2007: Ronnie Schell and Ruta Lee are stars of Senior Class--A Revue of the Golden Years for their third season in Palm Springs, this time at the Annenberg Theatre. For more info, visit: http://www.seniorclassrevue.com/
* Apr. 6: David Browning slides into Salem, Va., for the Avalanche baseball game.
* Apr. 11-15: Margaret Kerry appears at the 60th Annual North Carolina Azalea Festival in Wilmington. Schedule TBA. Visit www.ncazaleafestival.org for updates.
* Apr. 14: David Browning emcees the talent show fund-raiser at Berea First Baptist Church in Greenville, S.C.
* Apr. 19-21: Back to Mayberry festival benefiting Eagles' Wings, a foundation supporting adults with special needs in Tuscaloosa and Northport, Ala. Stars confirmed so far include Betty Lynn (Thelma Lou), Maggie Peterson Mancuso (Charlene Darling) and husband/jazz virtuoso Gus Mancuso, Elizabeth MacRae (Lou Ann Poovie), Keith Thibodeaux (Johnny Paul Jason), and The VW Boys. Tribute artists confirmed include David "Mayberry Deputy" Browning, Allan "Floyd" Newsome, Jamie "Opie" Sullivan, and Kenneth "Otis" Junkin. The event includes a golf tournament (already sold out) on Thurs., the 19th; a barbecue banquet/auction with entertainment on Fri., the 20th; and a daytime street festival and evening Variety Show on Sat., the 21st.
* Tickets to the Friday Banquet, silent auction, and entertainment (including the Lamb Family) are $75 per individual, $125 per couple and $500 for a table of eight. That evening's festivities begin at 6 p.m. at University Church of Christ, 1200 Julia Tutwiler Drive in Tuscaloosa.
* There is a free, Mayberry-themed street festival in neighboring downtown Northport (just across the river from Tuscaloosa) from 10 a.m. to 2 p.m. on Sat., the 21st.
* That evening's Variety Show with the stars will begin at 7 p.m. at Open Door Baptist Church, 1761 McFarland Blvd. North, in Tuscaloosa. Tickets are $15 for adults and $10 for kids 12 and under. (Do your hearty eatin' before you come.)
For tickets to the evening events and more info, call Eagles' Wings at (205) 345-5484. The official hotel of the event is the Holiday Inn Express on Veterans Memorial Parkway. The local number for the hotel is (205) 464-4000. Mention Mayberry or Eagles' Wings for the special event rate. (Hotel rooms may be scarce in Tuscaloosa this weekend because of the University of Alabama's spring football scrimmage.)
* April 26: Doug and Rodney Dillard perform at the Park City Bluegrass Festival in Park City, Kans. For more info, visit: http://www.parkcitybluegrass.com/.
* Apr. 27: Doug and Rodney Dillard will be shucking the corn at the 7th Annual Country Bluegrass Show at the Lincoln County Fairgrounds in North Platte, Nebr. For more info, visit the festival Web site at http://countrybluegrassshow.tripod.com/ .
* Apr. 27: George Lindsey performs with saxophone great Boots Randolph at 8 p.m. at the Country Tonite Theatre in Pigeon Forge, Tenn. For tickets, call 1-800-792-4308 or 865-453-2003. Visit http://www.firstclassconcerts.com/ for more info about this and other special shows with country music legends throughout the year at Country Tonite Theatre.
* May 2: The Waitress, featuring Andy Griffith, opens in limited release in theaters.
* May 16: David Browning patrols the Small Business Expo in Sanford, N.C.
* May 25: It's time to rock and roll when David Browning is in town for the Salem (Va.) Avalanche game.
* May 26: David Browning is off to run the bases at the Lexington (Ky.) Legends baseball game.
* May 29: New Box Set release of "The Andy Griffith Show" from CBS Paramount Network Television. This release will contain all eight seasons (249 episodes), plus the show's pilot episode from "The Danny Thomas Show," and the 1986 reunion movie, Return to Mayberry. Pre-orders will begin at Weaver's Dept. Store at http://www.iMayberry.com on May 1.
* May 31: David Browning helps hand out citations at the DARE graduation in Rocky Mount, Va.
* June 1-3: James Best appears at CMT DukesFest in Nashville, Tenn. (He calls in David Browning for additional crowd control on the 3rd.) Tickets available through Ticketmaster at (615) 255-9600. For more info, visit http://www.cootersplace.com/.
* June 6: David Browning wings it at the Peninsula Pilots baseball game in Hampton, Va.
* June 10: Orange you glad to see that David Browning is able to squeeze in a night at the Bradenton (Fla.) Juice baseball game.
* June 12: David Browning lands a whopper at the Charlotte County (Fla.) Redfish baseball game.
* June 15-17: Doug and Rodney Dillard float in for the Huck Finn Jubilee in Victorville, Calif. For more info, visit http://www.huckfinn.com/.
* June 16: David Browning will be Glenn Fording it all over the place when he catches the 3:10 to Yuma (Ariz.) for the Scorpions baseball game.
* June 23: David Browning suits the Edenton (N.C.) Steamers to a tea for their baseball game.
* June 26: Tentative release date for the Second Season of "Gomer Pyle, U.S.M.C." Pre-orders will begin at our Weaver's Dept. Store on June 1.
* June 28: David Browning receives applause with claws at the Hickory (N.C.) Crawdads baseball game. They'll have a Mayberry Squad Car replica on hand, too.
* June 29: Rut-ro! David Browning is a star at the Greenville (Tenn.) Astros baseball game.
* July 1: David Browning is slowly on the move for Summer Motion Festival in Ashland, Ky.
* July 6: Heeeey, Joe! David Browning is like a cup of hot coffee at the Anderson (S.C.) Joes baseball game.
* July 7: David Browning is on the run for the Aiken (S.C.) Foxhounds baseball game.
* July 12: David Browning doubles your pleasure for the Elizabethton (Tenn.) Twins baseball game.
* July 13: David "Hat-Trick" Browning is back in town for the Salem (Va.) Avalanche baseball game.
* July 17: David Browning glides into town for the Princeton (W.V.) Devil Rays baseball game.
* July 21: This new date is now confirmed for the 7th Annual Mayberry Squad Car Nationals in conjunction with the 3rd Annual Mayberry Comes to Graysville festival in Graysville, Ala. Stars and details TBA.
* July 27: David Browning is fearless as he makes his whole body a weapon for the Danville (Va.) Braves baseball game.
* Aug. 3: David Browning will be getting guitar sounds, banjo sounds, and who knows what all out of his jug of tricks for the Macon (Ga.) Music baseball game.
* Aug. 5: Calling all Goobers! David Browning is in town for the South Georgia Peanuts baseball game.
* Aug. 10: It's no cliffhanger to know who's back in town for the Salem (Va.) Avalanche baseball game.
*Aug. 11: An as-yet-unnamed Mayberry event in Troy, N.C., featuring TAGS stars, and tribute artists, including David "Mayberry Deputy" Browning, Kenneth "Otis" Junkin, Jamie "Opie" Sullivan, and Jeff "Howard" Branch. Details TBA.
* Aug. 15-19: David Browning camps out at the Winnebago County Fair in Winnebago, Ill.
* Aug. 21: David Browning checks the porosity of footwear at the Bristol (Va.) White Sox baseball game.
* Aug. 23-25: David Browning is off to the races again at the Bristol Motor Speedway in Bristol (Tenn.).
* Sept. 1-3: David Browning is looking to make arrests for a-salt and buttery at the Popcorn Festival in Casey, Ill.
* Sept. 7 and 8: There's nothing tent-ative about David Browning's appearance for an event at Tom Johnson RV in Marion, N.C.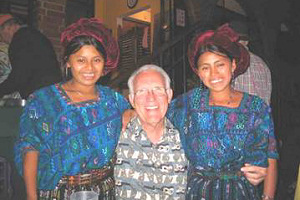 MAYBERRY CHEER

-LeRoy McNees spread joy while on a musical mission trip in Guatemala. Photo courtesy of Mark McNees. See more pictures and read about Mark's ministry at http://www.myspace.com/markmcnees.
* Sept. 27-30: 18th Annual Mayberry Days in Mount Airy, N.C. For tickets and more info, visit http://www.surryarts.org/. Stars and other details TBA this summer.
* Oct. 19 and 20: Mayberry Comes to Cocoa 2 in Cocoa, Fla. This event is separate from but timed to be in conjunction with "Cruise to Mayberry 2" below. The cruise leaves from nearby Port Canaveral the day after this two-day event. The main day of the Cocoa festival is Sat., the 20th. That day opens with "A Gospel According to Mayberry" presentation at a local chapel, followed by festivities all day on Main Street in downtown Cocoa, and then a concert with the VW Boys that night. Additional activities, Mayberry stars attending and other details are TBA, but especially if you're planning on doing the cruise, you'll want to keep this event in mind for your advance planning.
* Oct. 21-25: Cruise to Mayberry 2 starring cast members Keith "Johnny Paul Jason" Thibodeaux and LeRoy "Country Boy" McNees, the VW Boys and assorted Mayberry Tribute Artists, including Allan "Floyd" Newsome. For details about this second annual cruise to the Caribbean, visit the cruise's Web site at http://www.iMayberry.com/tagsrwc/wbmutbb/anewsome/private/cruise.htm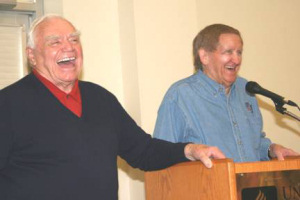 Photo by Phil Bowling
THE ERNIE & GEORGE SHOW-Old pals Ernest Borgnine and George Lindsey share a laugh during the film festival luncheon on the campus of the University of North Alabama.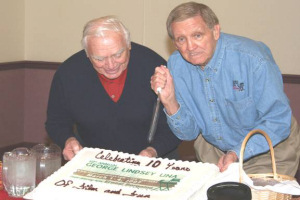 Photo by Phil Bowling
A COUPLE OF REEL CUTUPS-George prepares to take a stab at a cake commemorating the film festival's 10th year.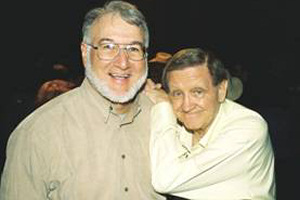 PAIR OF GOOBERS

-The elusive Ken Beck ("the Phantom," aka, "the Thinker") is captured on film and by George Lindsey at the official premiere of "Find Me a Man Like Goober."
**** NEWS OF CAST & CREW ****
Andy Griffith has been busy moving into a new home on his coastal property in North Carolina. He continues to recover well from his hip replacement surgery last summer. The Waitress, which was filmed in late 2005 and features Andy as Old Joe, was well received at this year's Sundance Film Festival and is scheduled for a limited release in theaters this April.
Ron Howard is currently doing pre-production work for directing Angels & Demons, the follow-up to last year's Da Vinci Code. Angels & Demons is penciled in as a 2008 release. Ron and wife Cheryl are also new grandparents. Daughter Bryce gave birth to a baby boy on February 16. It was the first child for her and husband Seth Gabel and the first grandchild for the Ron and Cheryl. And that also makes Clint Howard a great-uncle. (O.K., we're feeling really old now!) Congratulations to all!
George Lindsey had another hugely successful George Lindsey UNA Film Festival in Florence, Ala., in early March. George welcomed pal Ernest Borgnine as special guest for the 10th annual event, which featured independent film entries (including an Academy Award nominee) from across the globe.
George also was in the spotlight for the star- and rhinestone-studded premiere of the "Find Me a Man Like Goober" music video at the Belcourt Theatre in Nashville last Wednesday. The video by sister act Moore & Moore features 17 country music legends, including Ray Stevens, Mel Tillis, Bill Anderson, Bobby Bare, Ralph Emery and Little Jimmy Dickens. Most of the stars and fans from at least seven states attended the gala event at the packed theater.
If you'd like to see the video, which is an outstanding and funny treatment of the irresistible tune, let the top two country music video channels know how you feel. You can contact Country Music Television at http://www.cmt.com/, where you can join a message board and post your request. Or call CMT toll-free at 1-866-877-4CMT. It's a little easier to contact GAC-TV, the TV home of The Grand Ole Opry. You can e-mail your request directly to GAC-TV at both gacnights@gactv.com and top20@gactv.com. Let 'em know you want to see Goober!
Betty Lynn says she is really enjoying her new home in Mount Airy. She has wasted no time in getting involved in the community. She was Honorary Chairperson for this month's local Arts Ball, a fundraiser for in-school culture arts programs in Surry County.
Doug Dillard, Rodney Dillard and Maggie Peterson Mancuso are reuniting for a private promotional event in May. We'll have more info about that in our May issue.
LeRoy McNees has just returned from a mission trip to Guatemala with his pastor son, Mark, and Mark's wife, Shannon. (LeRoy's wife, Jan, got to stay home with the grandkids.) LeRoy had a wonderful time with his musical outreach. Local promoters even used posters showing LeRoy playing Dobro on TAGS to advertise his concerts.
**** MERCHANDISE UPDATE ****
We've added a few new items so far this year, including a new Goober's Grab-Bag and a few more of our popular T-shirt Grab-Bags, online now at Weaver's. Here are some highlights:
* Mayberry Reflections: The Early Years by Ken Anderson $14.95
http://www.weaversdepartmentstore.com/index.php?category=23
We're pleased to offer this heartfelt new paperback from a devoted Mayberry fan. The book's 220 pages (including some Mayberryish photos scattered here and there) cover the first four seasons (127 episodes) of the series. Ken gives detailed descriptions of each episode's action. He then weaves in his own thoughts about those stories and the lessons he draws from them. Ken's deep love of the show and enthusiasm for sharing thoughts about Mayberry are likely to give readers the same sort of warm feeling that they get from watching the show itself.
Here's how the publisher describes the book:
"Mayberry Reflections summarizes plot lines of episodes through the first four seasons of the popular television series and adds reflections by the author on how the simple truths expressed in each show retain their meaning, even in the face of today's more complex society.
"The purpose of this book is really quite simple. The author hopes that as you read each reflection you will take a few minutes to pause and be transformed back to another time and place. As we all know, Mayberry is a fictitious place. But the ideals and values that were instilled in the people that lived there are very real. They were important to the people of Mayberry, and they should continue to be important to each and every one of us no matter whom we may be or where we might live.
"Ken Anderson believes that it is important for today's readers to understand that the values that were found in Mayberry are as relevant today as they were back when Mayberry first aired. He wants to give readers some things to reflect upon as they watch the wonderful episodes that show life as it was in Mayberry."
Ken resides in Eau Claire, Wis., with his wife, Linda. He's organizer of Mayberry Memories chapter of TAGSRWC in Eau Claire. He also posts regularly on the daily Digest of TAGSRWC's online "Who's Been Messin' Up the Bulletin Board?" chapter.
This book is a nice companion for watching the show. Watch an episode and read the corresponding chapter, or vice versa. Keep a copy on your bedside table or anywhere there's a nearby TV that brings Mayberry home.
* Goober's Grand New Grab-Bag of Mayberry Stuff
http://www.weaversdepartmentstore.com/index.php?maincat=16
Goober has been rummaging around in the garage again and has come up with another Grab-Bag of interesting Mayberry items. Most of the items are no longer in production and are therefore now in the category of "collectible."
At a minimum, each Grab-Bag has the following items:
* 1 Mayberry-related book with an original retail price of at least $10
* 1 Mayberry-related VHS tape (it's VHS but still sealed)
* 1 Mayberry-related audio tape (still sealed)
* 1 "Andy Griffith Show" ornament
* 2 Different newspapers with extensive coverage of major Mayberry events
* 1 Mayberry license plate
* 1 Mayberry mouse pad
* 1 Vintage (that is, not 2007) Mayberry wall calendar
* 1 Wooden Mayberry building front (Bluebird Diner)
* 3 Different Mayberry bumper stickers
* 1 Cardboard header card from a Mayberry lollipops display
* 5 Different Mayberry photos (8x10)
* 2 Different Mayberry birthday balloons
* 1 110-card set of Series 2 "Andy Griffith Show" trading cards
* Assorted Mayberry event and news publications and materials (fliers, newsletters, fans, magnet, button, etc.)
If these items were sold separately, their suggested retail prices would total well over $100. And some of the items have never even been priced for sale at all--and they still aren't, even now. They're just in the Grab-Bag and priceless.
Priceless or not, we had to come up with a price...and it's $50 for the whole Grab-Bag. We have only a handful left (5 at this writing) to offer with this configuration of items because most of the items are in extremely short supply. Get 'em while you can.
All proceeds (not just the profits, but 100% of the $50 price) are going toward our annual support of the Surry Arts Council and its Mayberry Days festival in September in Mount Airy, N.C. So with a Grab-Bag purchase, you get a good deal while also supporting a good Mayberry cause!
* All Souls Church Fundraiser
http://www.weaversdepartmentstore.com/index.php?category=89
We're pleased to make this All Souls Church Wooden Building Front available in larger quantities as a potential fundraiser for church groups and other civic organizations. The numbered building fronts, which had a limited-edition production of no more than 5,000 pieces, are no longer in production.
The painted pieces, part of the retired Mayberry Main Street Collection, measure approx. 5 in. x 5 in. x 1 in. thick. The manufacturer's suggested retail price for each building front was $18. We sell them individually at Weaver's for $15. While they last, we're offering the All Souls Church in lots of 20 for $100.
Our thought is that, at this price (below wholesale), church groups and civic organizations could re-sell the buildings for $10 to $15 each and thereby produce a pretty good fundraiser. This price might even make it feasible for Mayberry Bible Study groups to use the buildings as nice items to present to Bible Study participants who complete the course.
Any which way your group uses the buildings, one thing's for sure--Mayberry is always a good place for All Souls!
* Autographed Items as Fundraisers for Don Knotts Memorials
http://www.weaversdepartmentstore.com/index.php?maincat=8
The framed and matted photo at the link above is an item that we're selling as a fundraiser for Memorials to Don Knotts. All profits from the sale of these framed prints will be divided equally among the Don Knotts Legacy Fund in Don's hometown of Morgantown, W.V.; the American Lung Association; and the Surry Arts Council, organizer of Mayberry Days in Mount Airy, N.C. Don's family has given its blessings to our using these autographed items as a fundraiser toward our support of each of these charities in Don's memory.
About this item: It is a handsomely matted and framed photo of a classic Barney Fife pose and was signed by Don Knotts. There's also some descriptive text about Barney Fife and a second photo of Andy Griffith, Don Knotts and Jim Nabors sitting in chairs during a break in filming. A snapshot of Don signing prints and a certificate of authenticity are attached to the back of the frame. The frame measures 11 in. x 14 in. and is ready to hang with pride on a wall near you...or a friend's wall. The price is $135.00.
* 2007 "Andy Griffith Show" Wall Calendar $13.00
http://www.weaversdepartmentstore.com/index.php?category=44
For the fourth straight year, we're pleased to offer an official "Andy Griffith Show" Wall Calendar. This 2007 calendar is designed much like those for 2004, 2005 and 2006. All of these recent calendars have featured black & white photos of Andy, Barney, Opie, Aunt Bee and Gomer. The calendar measures 12 in. x 22 in. when unfolded.
Fans have come to expect a quirk or two in these calendars. Past years have seen their share of reversed images, for example. Well, you won't be disappointed again this year. Not only is there once again a reversed image, there is the bonus of the calendar manufacturer having mistakenly included a photo of Andy Griffith and Don Knotts from No Time for Sergeants. "They'll get it right next year, Howie." But it's still a really swell calendar...and of course the only Mayberry one. The little goofs kind of give it that extra Mayberry charm and collectible-ness. And don't forget...the 2007 calendar grid will be usable again in 2018. (And save that 2006 calendar, too, because it'll be good again in 2017. Never got at 2006 edition? We've still got a few, along with handful from 2005.)
Find lots more items at Weaver's Dept. Store online. We've recently restocked several items that sold out during the Christmas holidays.
**** CHAPTER UPDATE ****
We have one new chapter since the last eBullet:
| | |
| --- | --- |
| "That Special, Deep-Down Kind of Feeling" | Frankfort, Ky. |
That brings our total number of chapters since TAGSRWC was founded in 1979 to 1,311.
If you're interested in starting a chapter of TAGSRWC, all you need to do is pick a name that has not already been chosen, and submit it with a list of your founding members by postal mail. What you do as a chapter is entirely up to you. Your group can do as much or as little as you like. Or write to us also if you would like to contact a chapter near you. Our address is TAGSRWC, 9 Music Square South, PMB 146, Nashville, TN 37203-3211.
**** CHAPTER NEWS ****
Several chapters were spotted at the George Lindsey UNA Film Festival earlier this month. Among those represented were "Hit One for the Old Goober" (Killen, Ala.), Mother Figure (Huntsville, Ala.), "Hearty Eatin' Men and Beautiful, Delicate Women" (Tuscaloosa, Ala.), Aunt Bee Haven (Anniston, Ala.), "Who's Been Messin' Up the Bulletin Board?" (The Internet), "Irritatin', Ain't It?" (Fall Branch, Tenn.) and Andy chapter (Nashville, Tenn.).
Members of "I Was a Pawn in the Hands of a Wily Woman" (Plainview, Nebr.) passed through Nashville a couple of times this month for some hearty eatin' and such with local nuts. Mavis Neff chapter (Durham, N.C.) had said they were "going to Nashville" in early March, but have postponed until later this month, but we're sure they'll still be all "bubbly-wubbly" upon arrival.
"Highway 6-Checkpoint Chickee" chapter (Palm Bay, Fla.) says they're about to start having meetings at a local mall.
A bunch of chapters, from at least five states, were represented at the Arts Ball fundraiser in Mount Airy on St. Patrick's Day.
FOUND HIM!

-Members of Mayberry and Tennessee TAGS chapters enjoy a moment with George Lindsey and country music duo Moore & Moore during the premiere of the "Find Me a Man Like Goober" music video.
In addition to several local chapters and many fans from near and far, members of Mayberry chapter (Knoxville, Tenn.) made the trip to Nashville for the premiere of the "Find Me a Man Like Goober" music video on March 21. One thing's for sure: You would have had no problem finding many a Goober (and Gooberette) at the Belcourt Theatre that night!
"Mayberry Goes Hollywood" chapter (several locations) has members from three states converging on-where else?-Hollywood next month. They'll be attending the Hollywood Collectors Show and visiting with some of the TAGS cast. They're also trying to see if they can pinpoint a previously undiscovered site where some scenes of an episode of TAGS were filmed. We'll let you know if they were successful in that search in a future issue.
Chapters of the club are also deeply involved in organizing almost all of the events involving multiple cast members that are on the Event Calendar for this year, so there is a lot of behind-the-scenes work going on for those events, which start rolling out beginning in April.
**** MISS CRUMP' MAYBERRY QUIZ #71 ****
After a one-issue break, Miss Crump is back with a new Mayberry "knowledge" quiz. We'll tally all the entries, and the person whose quiz has the most correct answers will receive his or her choice of any single item offered online at Weaver's. (Neither a boxed set of TAGS DVDs nor a set of Wooden Mayberry Building Fronts is considered a single item.) If there is more than one person with the most correct answers (as is usually the case), we'll draw a winner from all the top entries.
This quiz involves lots of counting, so lace up your counting boots--and a one and a two, and here we go:
1. Other than in the opening credits of TAGS, name four Mayberrians who have been seen throwing a rock (including a stone or a pebble) with their bare hands.
2. Not counting rocks (or stones or pebbles), name 10 objects that either Mayberrians have seen being thrown by bare hand or are reported to have been thrown by bare hand in Mayberry.
3. Identify five different barns that we see Mayberrians seeing. (And no, Barn Fife doesn't count, Goober!)
4. In honor of the opening of baseball season, name six Mayberrians who have been seen holding a baseball. (Miss Crump thought this one might help some of her pupils with a previous question, too.)
5. Name three human Mayberrians whose first name begins with the letter "O."
BONUS: Name six times the number 11 (or 11th) is mentioned in Mayberry. (Thanks to Ned Guerra for suggesting this question. No fair checking with Ned for hints now!)
Submit your answers to OldLadyCrump@iMayberry.com or mail them to TAGSRWC, 9 Music Square South, PMB 146, Nashville TN 37203-3211. All entries must be e-mailed or postmarked by April 18, 2007. Have fun and good luck!
**** POSTNOTE ****
Between issues of The eBullet, keep up with the goings-on in Mayberry with the daily "Who's Been Messin' Up the Bulletin Board?" Digest. It's a free subscriber list that consists entirely of comments, newsflashes, and questions and answers from subscribers. You can sign up for that list by going to the "Mailing Lists" link at http://tagsrwc.com.
TAGSRWC also publishes Weaver's Newsletter in more-or-less alternate months to The eBullet. Like The eBullet, the Weaver's Newsletter is free. Its focus is mainly on new Mayberry merchandise and collectibles and quick newsflashes. To sign up, go to: http://mail.weaversdepartmentstore.com/mailman/listinfo/newsletter_weaversdepartmentstore.com
TAGSRWC's other main vehicle for Mayberry information is simply our Web site at http://www.tagsrwc.com (and it's nearly identical sister site http://www.iMayberry.com. Both sites have extensive content and links for just about everything a Mayberry fan might be looking for.
The next issue of The eBullet is scheduled for May, with a Weaver's Newsletter planned for April.
Have a great start to your Spring!