To Subscribe click here
To Unsubscribe click here
---

Volume 7, Issue 1


---

---

January 31, 2007

---
If you cannot view the HTML newsletter (photos), click here to read it at our Web site.

*********************************************
"The eBullet"
An Online newsletter of
"The Andy Griffith Show" Rerun Watchers Club (TAGSRWC)
Volume 7, Issue 1
January 31, 2007
*********************************************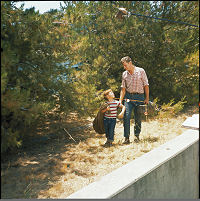 Franklin Canyon Park, California - Many of us have seen this image on postcards, tin signs and other places but not THIS image. Look closely at the bottom right and you'll see a concrete barrier that runs along the edge of parts of the road around Franklin Canyon Reservoir (Myers Lake to Mayberry fans). Look a little more closely at the right middle and you'll see what is likely a script and just above Andy's head is a boom microphone.
Welcome to our January (barely) issue, the first eBullet for 2007. The year that's taking shape so far is pleasantly paced-just right for Mayberry. Mark your calendars because there are already several big events to create some excitement all year long. And there are lots of smaller ones along the way to keep Mayberry fun stirred up throughout the year. Here's a quick look at what's on tap so far:
**** Floyd's Barbershop Bulletin Board-Event Calendar ****

* Now to April 28: Ronnie Schell and Ruta Lee are stars of Senior Class--A Revue of the Golden Years for their third season in Palm Springs, this time at the Annenberg Theatre. For more info, visit: http://www.seniorclassrevue.com/
* Feb. 9: David Browning shows his animal magnetism at the Sweetheart Valentine Banquet at the First Baptist Church in Dover, Fla.
* Feb. 10: Doug and Rodney Dillard perform in Greenwood, S.C. For more info, call (864) 992-9262.
* Feb. 10: David Browning entertains at the Mayberry Social at Grace Fellowship Church in West Palm Beach, Fla.
* Feb. 16-18: Doug and Rodney Dillard perform at the Mid-Winter Bluegrass Festival at the Northglenn Ramada Plaza in Denver, Colo. For more info, visit http://www.midwinterbluegrass.com/.
* Mar. 1-4: 10th Annual George Lindsey UNA Film Festival in Florence, Ala., hosted by George Lindsey and with Special Guest of Honor Ernest Borgnine. Details TBA soon, but the next eBullet probably won't be out before the festival, so for more info, check the Event Calendar at http://www.iMayberry.com/ and visit http://www.lindseyfilmfest.com/.
* Mar. 17: David Browning gets revved up for NASCAR at the Atlanta Motor Speedway.
* Mar. 24: Maggie Peterson Mancuso joins Doug and Rodney Dillard for a mini-Darlings reunion in concert at Johnston Community College in Smithfield, N.C. For more info, call the box office at (919) 209-2099.
* Mar. 24 and 25: David Browning is in tune for NASCAR racing at the Bristol Motor Speedway.
* Apr. 6: David Browning slides into Salem, Va., for the Avalanche baseball game.
* Apr. 11-15: Margaret Kerry appears at the 60th Annual North Carolina Azalea Festival in Wilmington. Schedule TBA. Visit http://www.ncazaleafestival.org/ for updates.
* Apr. 14: David Browning emcees the talent show fund-raiser at Berea First Baptist Church in Greenville, S.C.
* Apr. 19-21: Back to Mayberry festival benefiting Eagles' Wings, a foundation supporting adults with special needs in Tuscaloosa and Northport, Ala. Stars confirmed so far include Betty Lynn (Thelma Lou), Maggie Peterson Mancuso (Charlene Darling) and husband/jazz virtuoso Gus Mancuso and The VW Boys. Tribute artists confirmed include David "Mayberry Deputy" Browning, Allan "Floyd" Newsome, Phil "Ernest T." Lee and Kenneth "Otis" Junkin. The event includes a golf tournament on Thurs., the 19th, and a banquet and variety show and other festivities over the next two days. Further details TBA soon.
* April 26: Doug and Rodney Dillard perform at the Park City Bluegrass Festival in Park City, Kans. For more info, visit: http://www.parkcitybluegrass.com/.
* Apr. 27: Doug and Rodney Dillard will be shucking the corn at 7th Annual Country Bluegrass Show at the Lincoln County Fairgrounds in North Platte, Nebr. For more info, visit the festival Web site at http://countrybluegrassshow.tripod.com/
* Apr. George Lindsey performs with saxophone great Boots Randolph at 8 p.m. at the Country Tonite Theatre in Pigeon Forge, Tenn. Tickets go on sale Mon., Feb. 12, at 9:00 a.m., by calling 1-800-792-4308 or 865-453-2003. Visit http://www.firstclassconcerts.com/ for more info about this and other special shows with country music legends throughout the year at Country Tonite Theatre.
* May 16: David Browning patrols the Small Business Expo in Sanford, N.C.
* May 25: It's time to rock 'n' roll when David Browning is in town for the Salem (Va.) Avalanche game.
* May 26: David Browning is off to run the bases at the Lexington (Ky.) Legends baseball game.
* May 31: David Browning helps hand out citations at the DARE graduation in Rocky Mount, Va.
* June 15-17: Doug and Rodney Dillard float in for the Huck Finn Jubilee in Victorville, Calif. For more info, visit http://www.huckfinn.com/.
* June 16: David Browning will be Glenn Fording it all over the place when he catches the 3:10 to Yuma (Ariz.) for the Scorpions baseball game.
* June 22: David "Hat-Trick" Browning is back in town for the Salem (Va.) Avalanche baseball game.
* July 28: Tentative date (likely to change, so use a pencil to mark it) for 7th Annual Mayberry Squad Car Nationals in Graysville, Ala. Details TBA.
* Sept. 27-30: 18th Annual Mayberry Days in Mount Airy, N.C. For tickets and more info, visit http://www.surryarts.org/.
* Oct. 19 and 20: Mayberry Comes to Cocoa 2 in Cocoa, Fla. This event is separate from but timed to be in conjunction with "Cruise to Mayberry 2" below. The cruise leaves from nearby Port Canaveral the day after this two-day event. The main day of the Cocoa festival is Sat., the 20th. That day opens with "A Gospel According to Mayberry" presentation at a local chapel, followed by festivities all day on Main Street in downtown Cocoa, and then a concert with the VW Boys that night. Additional activities, Mayberry stars attending, and other details are TBA, but especially if you're planning on doing the cruise or live fairly nearby, you'll want to keep this event in mind for your advance planning.
* Oct. 21-25: Cruise to Mayberry 2 starring cast members Keith "Johnny Paul Jason" Thibodeaux and LeRoy "Country Boy" McNees and assorted Mayberry Tribute Artists, including Allan "Floyd" Newsome. For details about this second annual cruise to the Caribbean, visit the cruise's Web site at http://www.iMayberry.com/tagsrwc/wbmutbb/anewsome/private/cruise.htm
**** NEWS OF CAST & CREW ****
Andy Griffith is spending most of his time in North Carolina as he continues to recover well from last summer's hip surgery. Meanwhile, The Very First Noel, the animated Christmas show that Andy narrated was well received on DVD and on DirectTV during the holiday season. (A few copies are still available at our Weaver's Dept. Store online.)
Ron Howard is currently scheduled to direct Angels & Demons, the follow-up to last year's Da Vinci Code. He's also still slated to direct East of Eden, but that job may take a back seat to Angels & Demons. Continuing with the angels, demons and Eden themes, another movie in the mix for Ron to direct is Frost/Nixon, based on the play about the David Frost interviews with Richard Nixon thirty years ago.
Ron's father and brother, Rance and Clint, both have been working or are about to be on a slew of independent films. Much of one of Rance's projects, Ghost Town, was filmed around Maggie Valley, N.C., last November and may have its premiere in that area this spring.
Jim Nabors has performed his tenth and final "A Merry Little Christmas with Friends and Nabors" concert in Honolulu. "I'm going to miss it,"Jim told the Honolulu Advertiser. "You always say 'never say never,' but this is it. Truly." But there's still plenty of pomp and circumstance for Jim to have fun with around Honolulu. The USS Missouri Memorial Association held its first "A Night of American Heroes" dinner fundraiser at the Hilton Hawaiian Village on Jan. 19. The event saluted Jim and U.S. Senator Daniel K. Inouye.
George Lindsey was the subject of a cover story in American Profile, the major Sunday magazine supplement in newspapers for many Mayberry-sized towns across the country. If you missed seeing a paper version, here's an online link: http://www.americanprofile.com/article/20314.html. The online story also has links to other Mayberry-related stories by American Profiles.
George recently returned from Tulsa, where he was part of an all-star tribute to old pal Roy Clark. And filming of George's segments in a music video for country duo Moore & Moore is almost completed. The video for the duo's "Find Me a Man Like Goober" single may be ready in time for a sneak peek at the George Lindsey/UNA Film Festival in early March. The 10th annual festival welcomes back special guest Ernest Borgnine this year.
In case you haven't heard it through the grapevine or "Tell Floyd," Betty Lynn loaded up the truck in mid-January and moved to Mount Airy, N.C. She has always loved visiting Mount Airy for Mayberry Days, and finally just decided that it's where she wants to live year-round. She has left the growing hassles of L.A. for the serenity and rolling hills of the Blue Ridge and couldn't be happier about it. Mount Airy has enthusiastically welcomed her, while also being very respectful of her desire for a low-key lifestyle in which she can maintain a degree of privacy. It's a joyful time for Betty and Mount Airy!
On Jan. 18, personal manager and TAGS associate producer Richard O. "Dick" Linke had the nice surprise of seeing his beautiful Hawaiian home and new granddaughter Elle Marie featured on "Regis & Kelly" as part of the talk show's Beautiful Baby Search. Dick says it was "quite a thrill" to see his and wife Bettina's newly renovated home and their granddaughter featured on a top-rated national TV show. And stay tuned because you never know...maybe Elle Marie will make another appearance in the contest.
Maggie Peterson Mancuso, Barbara Stuart, Jackie Joseph-Lawrence, Elizabeth McRae, Ronnie Schell, James Best, Elinor Donahue, George Spence and LeRoy McNees are among the TAGS cast and crew who have recently checked in with TAGSRWC and report that they're doing well this winter.
**** MERCHANDISE UPDATE ****
We have several new items, including a few more of our popular T-shirt Grab-Bags, online now at Weaver's. Here are some highlights:
* Mayberry Reflections: The Early Years by Ken Anderson $14.95
http://www.weaversdepartmentstore.com/index.php?item=334
We're pleased to offer this heartfelt new paperback from a devoted Mayberry fan. The book's 220 pages (including some Mayberryish photos scattered here and there) cover the first four seasons (127 episodes) of the series. Ken gives detailed descriptions of each episode's action. He then weaves in his own thoughts about those stories and the lessons he draws from them. Ken's deep love of the show and enthusiasm for sharing thoughts about Mayberry are likely to give readers the same sort of warm feeling that they get from watching the show itself.
Here's how the publisher describes the book:
"Mayberry Reflections summarizes plot lines of episodes through the first four seasons of the popular television series and adds reflections by the author on how the simple truths expressed in each show retain their meaning, even in the face of today's more complex society.
"The purpose of this book is really quite simple. The author hopes that as you read each reflection you will take a few minutes to pause and be transformed back to another time and place. As we all know, Mayberry is a fictitious place. But the ideals and values that were instilled in the people that lived there are very real. They were important to the people of Mayberry, and they should continue to be important to each and every one of us no matter whom we may be or where we might live.
"Ken Anderson believes that it is important for today's readers to understand that the values that were found in Mayberry are as relevant today as they were back when Mayberry first aired. He wants to give readers some things to reflect upon as they watch the wonderful episodes that show life as it was in Mayberry."
Ken resides in Eau Claire, Wis., with his wife, Linda. He's organizer of Mayberry Memories chapter of TAGSRWC in Eau Claire. He also posts regularly on the daily Digest of TAGSRWC's online "Who's Been Messin' Up the Bulletin Board?" chapter.
This book is a nice companion for watching the show. Watch an episode and read the corresponding chapter, or vice versa. Keep a copy on your bedside table or anywhere there's a nearby TV that brings Mayberry home.
* Goober's Grand New Grab-Bag of Mayberry Stuff
http://www.weaversdepartmentstore.com/index.php?maincat=16
Goober has been rummaging around in the garage again and has come up with another Grab-Bag of interesting Mayberry items. Most of the items are no longer in production and are therefore now in the category of "collectible."
At a minimum, each Grab-Bag has the following items:
* 1 Mayberry-related book with an original retail price of at least $10
* 1 Mayberry-related VHS tape (it's VHS but still sealed)
* 1 Mayberry-related audio tape (still sealed)
* 1 "Andy Griffith Show" ornament
* 2 Different newspapers with extensive coverage of major Mayberry events
* 1 Mayberry license plate
* 1 Mayberry mouse pad
* 1 Vintage (that is, not 2007) Mayberry wall calendar
* 1 Wooden Mayberry building front (Bluebird Diner)
* 3 Different Mayberry bumper stickers
* 1 Cardboard header card from a Mayberry lollipops display
* 5 Different Mayberry photos (8x10)
* 2 Different Mayberry birthday balloons
* 1 110-card set of Series 2 "Andy Griffith Show" trading cards
* Assorted Mayberry event and news publications and materials (fliers, newsletters, fans, magnet, button, etc.)

If the items were sold separately, their suggested retail prices would total well over $100. And some of the items have never even been priced for sale at all--and they still aren't, even now. They're just in the Grab-Bag and priceless.
Priceless or not, we had to come up with a price...and it's $50 for the whole Grab-Bag. We have only a handful (15 or fewer) to offer with this configuration of items because most of the items are in extremely short supply. Get 'em while you can.
All proceeds (not just the profits, but 100% of the $50 price) are going toward our annual support of the Surry Arts Council and its Mayberry Days festival in September in Mount Airy, N.C. So with a Grab-Bag purchase, you get a good deal while also supporting a good Mayberry cause!
* All Souls Church Fundraiser
http://www.weaversdepartmentstore.com/index.php?item=335
We're pleased to make this All Souls Church Wooden Building Front available in larger quantities as a potential fund-raiser for church groups and other civic organizations. The numbered building fronts, which had a limited-edition production of no more than 5,000 pieces, are no longer in production.
The painted pieces, part of the retired Mayberry Main Street Collection, measure approx. 5 in. x 5 in. x 1 in. thick. The manufacturer's suggested retail price for each building front was $18. We sell them individually at Weaver's for $15. While they last, we're offering the All Souls Church in lots of 20 for $100.
Our thought is that, at this price (below wholesale), church groups and civic organizations could re-sell the buildings for $10 to $15 each and thereby produce a pretty good fundraiser. This price might even make it feasible for Mayberry Bible Study groups to use the buildings as nice items to present to Bible Study participants who complete the course.
Any which way your group uses the buildings, one thing's for sure--Mayberry is always a good place for All Souls!
* Autographed Items as Fundraisers for Don Knotts Memorials
http://www.weaversdepartmentstore.com/index.php?item=41
The framed and matted photo at the link above is one of two items that we're selling as a fund-raiser for Memorials to Don Knotts. (The other is an autographed copy of Don's memoirs in our Books section.) All profits from the sale of these framed prints and books will be divided equally among the Don Knotts Legacy Fund in Don's hometown of Morgantown, W.V.; the American Lung Association; and the Surry Arts Council, organizer of Mayberry Days in Mount Airy, N.C. Don's family has given its blessings to our using these autographed items as a fund-raiser toward our support of each of these charities in Don's memory.
About this item: It is a handsomely matted and framed photo of a classic Barney Fife pose and was signed by Don Knotts. There's also some descriptive text about Barney Fife and a second photo of Andy Griffith, Don Knotts and Jim Nabors sitting in chairs during a break in filming. A snapshot of Don signing prints and a certificate of authenticity are attached to the back of the frame. The frame measures 11 in. x 14 in. and is ready to hang with pride on a wall near you...or a friend's wall. The price is $135.00.
* 2007 "Andy Griffith Show" Wall Calendar $13.00
http://www.weaversdepartmentstore.com/index.php?category=44
For the fourth straight year, we're pleased to offer an official "Andy Griffith Show" Wall Calendar. This 2007 calendar is designed much like those for 2004, 2005 and 2006. All of these recent calendars have featured black & white photos of Andy, Barney, Opie, Aunt Bee and Gomer. The calendar measures 12 in. x 22 in. when unfolded.
Fans have come to expect a quirk or two in these calendars. Past years have seen their share of reversed images, for example. Well, you won't be disappointed again this year. Not only is there once again a reversed image, there is the bonus of the calendar manufacturer having mistakenly included a photo of Andy Griffith and Don Knotts from No Time for Sergeants. "They'll get it right next year, Howie." But it's still a really swell calendar...and of course the only Mayberry one. The little goofs kind of give it that extra Mayberry charm and collectibleness. And don't forget...the 2007 calendar grid will be usable again in 2018. (And save that 2006 calendar, too, because it'll be good again in 2017. Never got at 2006 edition? We've still got a few, along with handful from 2004 and 2005.)
Find lots more items at Weaver's Dept. Store online. We've recently restocked several items that ran out during the holidays.
**** CHAPTER UPDATE ****
| | |
| --- | --- |
| "Maybe He Just Misses the Fun You Used to Have Shootin' Him in the Leg" | Garden Grove, Calif. |
| Just Plain Mayberry Folks | Dover,Ohio |
That brings our total number of chapters since TAGSRWC was founded in 1979 to 1,310.
If you're interested in starting a chapter of TAGSRWC, all you need to do is pick a name that has not already been chosen, and submit it with a list of your founding members by postal mail. What you do as a chapter is entirely up to you. Your group can do as much or as little as you like. Or write to us also if you would like to contact a chapter near you. Our address is TAGSRWC, 9 Music Square South, PMB 146, Nashville, TN 37203-3211.
**** CHAPTER NEWS ****
"A Dollar and a Quarter" chapter (New Philadelphia, Ohio) sent out The Fishin' Hole, their annual newsletter, in November. They shared news about participation this year in a local parade, a picnic, Mayberry Days and their annual Christmas party. The chapter, now in its eighth year, meets every other month and has established an affiliation with the new "Just Plain Mayberry Folks" chapter (Dover, Ohio).
Barney's One Bullet Volunteers (Morristown, Tenn.) had its collection of TAGS memorabilia displayed at the local cultural center earlier in the year. Members also took a trip to Orlando, where they made a point of stopping by to see Andy's bust at the Television Hall of Fame.
"Never Hit Your Grandma with a Great Big Stick" (Tifton, Ga.) had its annual meeting on New Year's Day. (They must like to get their official meeting out of the way early, so they can just relax the rest of the year.) The group gathered in dribs and drabs from Noon to Midnight (no Mayberry after Midnight with this bunch!) and enjoyed a menu of black-eyed peas (just being cautious), hog jowls, collard greens, corn dodgers, jambalaya, assorted desserts and lots of pickin' and grinnin'.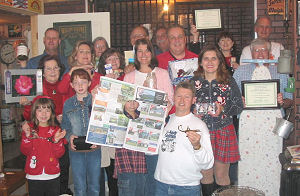 Photo by Dennis Beal
Knoxville, Tenn. (Dec. 2006) - Mayberry Chapter member John Hitch played host to a real Mayberry crew. The chapter members exchanged Mayberry-style gifts and enjoyed one another's company. Sounds like they lived up to their name and a Mayberry time was shared by all.
Mayberry chapter (Knoxville, Tenn.) turned out another whiz-bang edition of its Mayberry Minutes newsletter (a 14-pager) in early January. They had news from Mayberry Days and Christmastime gatherings, along with poetry, trivia, lots of photos and updates about every manner of Mayberry happening, near and far.
Tennessee TAGS (the State of Tennessee) members from several places in the state were "all aboard" for lunch at a country store in Jackson, Tenn. (the heart of Casey Jones country), in early January. The local paper even came out to cover the gathering for its Sunday edition the next day. That's big!
Barney chapter (Greensboro, N.C.) still meets monthly. Their Christmas season meeting is one of their favorites and usually the biggest gathering of the year. Each member brings a Mayberryish gag gift for somebody else. After many years of doing this, they've still had almost no repeats of a gift, but it's only going to get harder to avoid a rerun...not that there's ever anything wrong with a TAGS rerun!
Now that they have a new head football coach picked in their town (maybe one who actually can beat the old orange and blue down the road at Auburn this decade?), "Hearty Eatin' Men and Beautiful, Delicate Women" (Tuscaloosa, Ala.) can once again focus on goings-on in Mayberry. The group is already spearheading at least two events with cast members that are on the Mayberry calendar this year (the Eagles' Wings event in April and the Mayberry Squad Car Nationals, tentatively scheduled for July).
We're in our relatively quiet time of year for events and news, but, temporary deputy Bob Rogers, tells us that if past patterns hold, things will be starting to really percolate by our next issue. Meanwhile, be watching out to see "Who's Been Messin' Up the Bulletin Board?" (our always wired and wiry Internet chapter), and enjoy a winter of watching TAGS on TV Land and your local stations...and on those complete eight seasons of DVDs (none of us has any excuses for not being able to watch TAGS now!).
**** ANSWERS TO MISS CRUMP' MAYBERRY QUIZ #70 ****
While we had several excellent entries for this quiz (including many who missed the answer to just one question), only one person got all the answers correct...Don Skinner of Powder Springs, Ga. Attaboy, Don! He receives an autographed, matted and framed photo of Don Knotts for his outstanding performance in this quiz.
Here are answers Old Lady Crump was looking for to the quiz questions in the last issue:
1. Someone in Mayberry who has quoted telegraph inventor Samuel B. Morse is Miss Vogel, the Home Economics colleague of Miss Crump. She was moved to quote Mr. Morse while discussing "The Senior Play."
2. Earl Gilley is the person that Andy says did a poor job caulking his boat. Andy says it was Earl's cheapness and not Henry Bennett's jinxness that caused his boat to sink in during the fishing contest. Note: A few entries listed Earlie Gilley as the one mentioned as the bad caulker, but careful listeners noticed the question's tricky nuance. (Winner Don and reigning Mayberry Days Trivia Co-Champ Michelle Bryson were among those not fooled, though Michelle was tripped up by Question 1). This is a trivia quiz, after all, so Miss Crump is sticking to her guns and insisting on Earl and not Earlie for this answer. (Sorry, Dennis and others who fell into the trap.)
3. Earlie Gilley has a filling station on the other side of Mt. Pilot where Goober thinks he might be able to be hired.
4. Andy once has to umpire a baseball game because Earlie Gilley got sick.
5. Earlie Gilley operates a gas station that has run a contest called "Line Up for Loot," but it can't compare to Goober's Gusher of Gold.
BONUS: Among the nationally known "public figures" who were alive at the time in the "real" world outside of Mayberry who were mentioned by name by someone while in Mayberry are (six needed): Gregory Peck, Rock Hudson, Cary Grant, Edward G. Robinson, Glenn Ford, Gabby Hayes, Cesar Romero, Elizabeth Taylor, Greer Garson, Tex Ritter, André Kostelanetz, Ferlin Husky, Frank Sinatra, J. Edgar Hoover, Dale Robertson. Jack Smith, Gloria Swanson, Tony Curtis, William Holden, Fabian, John Wayne, Jack Benny, Debbie Reynolds, Dean Martin, Audie Murphy, Doris Day, Kirk Douglas, Lindbergh, Rockefeller (John D. died in '37, but there are still other Rockefellers that Goober ain't), Ed Olsen and Viola Kern. (Einstein was not accepted because he died in 1955.)

We don't have a quiz for this issue. We plan to have another one in our March issue.
**** POSTNOTE ****
Between issues of The eBullet, keep up with the goings-on in Mayberry with the more-or-less daily "Who's Been Messin' Up the Bulletin Board?" Digest. It's a free subscriber list that consists entirely of comments, newsflashes, and questions and answers from subscribers. You can sign up for that list by going to the "Mailing Lists" link at http://tagsrwc.com/.
TAGSRWC also publishes Weaver's Newsletter in more-or-less alternate months to The eBullet. Like The eBullet, the Weaver's Newsletter is free. Its focus is mainly on new Mayberry merchandise and collectibles and quick newsflashes. To sign up, go to: http://mail.weaversdepartmentstore.com/mailman/listinfo/newsletter_weaversdepartmentstore.com
TAGSRWC's other main vehicle for Mayberry information is simply our Web site at http://www.tagsrwc.com/ (and it's nearly identical sister site http://www.iMayberry.com/. It has extensive content and links for just about everything a Mayberry fan might be looking for.
The next issue of The eBullet is scheduled for March, with a Weaver's Newsletter planned for February.