To Subscribe click here
To Unsubscribe click here
---

Volume 6, Issue 5


---

---

November 10, 2006

---
If you cannot view the HTML newsletter (photos), click here to read it at our Web site.
*********************************************
"The eBullet"
An Online newsletter of
"The Andy Griffith Show" Rerun Watchers Club (TAGSRWC)
Volume 6, Issue 5
November 10, 2006
*********************************************

Photo by Jan Newsome
Mount Airy, N.C. (Sept. 2006) - Mayberry's sky, and stage, was filled with stars during Mayberry Days 2006. From left to right, Emmett Forrest, Maggie Peterson Mancuso, LeRoy McNees, Jackie Joseph, Rodney Dillard, Betty Lynn, Doug Dillard, Elizabeth MacRae, Michael "Elvis" Hoover, Charlie (Elizabeth's Husband), and George Spence. Just to the left and not shown is Jean "Hello Doll" Carson's son Tracy Alexander and you'll see him below.
Welcome to our November issue, the fifth and final eBullet for 2006. What a landmark year it has been-in many ways, both good and sad. A whole lot has been happening since our last issue. But first, here are highlights of what's coming up in the next few weeks and months.
**** Floyd's Barbershop Bulletin Board-Event Calendar ****
* Nov. 11: Rich Laird drives the iMayberry.com stock car at the Cricket Arena in Charlotte, N.C. For more info, visit http://www.arenaracingusa.com/
* Nov. 21-26: Ronnie Schell performs at Harrah's Casino in Las Vegas.
* Dec. 1 and 2: Roland White hosts and performs at Bill Monroe Appreciation Nights at the Station Inn in Nashville, Tenn. For more info, visit http://www.rolandwhite.com/
* Dec. 2: George Lindsey performs with the Hagers, Lulu Roman, and Roni Stoneman in the Cornfield Country Show at Leelanau Sands Casino in Peshawbestown, Mich. For more info visit http://www.casino2win.com/leelanau_sands/
* Dec. 15 to April 28, 2007: Ronnie Schell and Ruta Lee are stars of Senior Class-A Revue of the Golden Years for their third season in Palm Springs, this time at the Annenberg Theatre. For more info, visit: http://www.seniorclassrevue.com/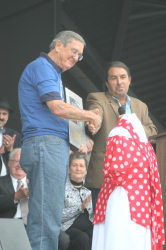 Photo by Jan Newsome
Mount Airy, N.C. (Sept. 2006) - Tracy Alexander attended this years Mayberry Days and presented Emmett Forrest his mom's, Jean Carson, "Fun Girl" blouse to add to his Andy Griffith collection. Drop by the Main-Oak. Emporium and say hello "doll" to this wonderful collection.
* Dec. 15-17: Jim Nabors hosts his 10th annual (and possibly final) A Merry Christmas with Friends and Nabors at the Hawaii Theatre in Honolulu. There will be three performances: Fri. and Sat., Dec. 15 and 16, at 7:30 p.m., and Sun., Dec. 17, 2:00 p.m. Tickets are on sale now. For more info, visit http://www.hawaiitheatre.com/
2007
* Feb. 9: David Browning shows his animal magnetism at the Sweetheart Valentine Banquet at the First Baptist Church in Dover, Fla.
* Feb. 10: David Browning entertains at the Mayberry Social at Grace Fellowship Church in West Palm Beach, Fla.
* Mar. 1-4: 10th Annual George Lindsey/UNA Film Festival in Florence, Ala., hosted by George Lindsey with Special Guest of Honor Ernest Borgnine. Details TBA. For more info, visit http://www.lindseyfilmfest.com/
* Apr. 11-15: Margaret Kerry appears at the 60th Annual North Carolina Azalea Festival in Wilmington. Schedule TBA. Visit http://www.ncazaleafestival.org/ for updates.
* Apr. 19-21: Back to Mayberry festival benefiting Eagles' Wings in Tuscaloosa and Northport, Ala. Special guests and other details TBA.
* Apr. 26-28: Doug and Rodney Dillard perform at 7th Annual Country Bluegrass Show at the Lincoln County Fairgrounds in North Platte, Nebr. For more info, visit the festival Web site at http://countrybluegrassshow.tripod.com/
* July 28: 7th Annual Mayberry Squad Car Nationals in Graysville, Ala. Details TBA.
* Sept. 27-30: 18th Annual Mayberry Days in Mount Airy, N.C. For tickets and more info, visit http://www.surryarts.org/
* Oct. 21-25: "A Cruise to Mayberry 2" starring cast members Keith "Johnny Paul Jason" Thibodeaux and LeRoy "Country Boy" McNees and assorted Mayberry Tribute Artists, including Allan "Floyd" Newsome. For details about this second annual cruise to the Caribbean, visit the cruise's Web site at http://www.iMayberry.com/tagsrwc/wbmutbb/anewsome/private/cruise.htm
**** NEWS OF CAST & CREW ****
Andy Griffith is recovering at home from his widely reported hip replacement surgery in September. He's making great strides in his recuperation and physical therapy. He appreciates the good thoughts of friends and fans. As always, he's eager to get back to work.
Photo by Robbie Curlee
Mount Airy, N.C. (Sept. 2006) - The Mayberry Deputy, David Browning, was joined on stage at Col. Tim's by "Mini" T. Bass, Cash Adams. Ernest T. did a BIG job and was even "hefted" by Jackie Joseph. Romeena said that she'd always wanted to be on the giving end of the hefting.
Official reports are slow in coming, but word is that Ron Howard and his Imagine Entertainment production company are still in the early stages of gearing up for a film adaptation of East of Eden. Don't look for a direct remake of the 1955 version starring James Dean. This film will probably have a fresh perspective on the classic John Steinbeck novel.
Jim Nabors is preparing for his final Christmas concert in Honolulu (see the Calendar listing above). He and his home were fine in the aftermath of the earthquake that hit Hawaii in October. Pre-quake, Jim did a swell job singing the national anthem at the Hawaii vs. Alabama football came in Tuscaloosa in early September.
Richard O. "Dick" Linke, TAGS associate producer and longtime manager of several TAGS stars, lives much closer to the earthquake's epicenter on Hawaii's Big Island, but says he suffered little damage-mostly just a few things falling off shelves. Just prior to the earthquake, Dick and wife Bettina had completed extensive renovations of their home. Their house came through all the shaking just fine.
In other Linke news, their son Richard was married in Bali in April. One of Dick and Bettina's daughters, Katherine, was married on the Big Island just a few days after the quake. Longtime family friend Jim Nabors attended the ceremony and other wedding festivities. Dick then celebrated his 89th birthday with friends who gathered at his home on Oct. 23. And daughter Bettina Marie gave birth to a girl named Elle Marie on Oct. 27. November will truly be a month of Thanksgiving-and rest-for the Linkes.
George Lindsey is featured in the video for the single "Find Me a Man Like Goober" by country duo Moore and Moore. Several legends of country music appear in the video, which is still in production. George also is filming some TV commercials in Mississippi this month. And he was guest of honor and official opening-tosser-of-the-coin for a football game at the University of Northern Alabama, his alma mater, in October.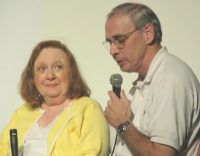 Photo by Robbie Curlee
Mount Airy, N.C. (Sept. 2006) - Betty Lynn shares her memories of Don Knotts at Neal Brower's Class.
Betty Lynn spent a good bit of time in North Carolina around Mayberry Days, and in fact stayed in Mount Airy long enough to be part of the city's Autumn Leaves festival a couple of weeks after Mayberry Days. Mount Airy is beginning to feel a lot like home to Betty, as it does to so many fans.
Doug and Rodney Dillard and director John McEuen participated in the premiere screening of A Night in the Ozarks at the Ford Theater at the Country Music Hall of Fame and Museum in Nashville in late September. The DVD of the film about The Dillards is being released later this month. (See Merchandise Update below.)
Earle Hagen continues to do well with his pacemaker, which was upgraded during surgery in September. The TAGS music director is maintaining perfect rhythm and a Mayberry pace.
About a month after Mayberry Days, Maggie Peterson Mancuso and LeRoy McNees were riding the high seas on a highly successful Mayberry-themed cruise to the Caribbean that also featured several of the popular Mayberry tribute artists. Many TAGSRWC members and other Mayberry fans were onboard for the fun. (More details are below in Chapter News.)
James Best has had a busy recent few months. Much of his activity has been related to "The Dukes of Hazzard," but lots of "Dukes" fans are also TAGS fans. Some of his recent appearances have been at "Dukes Day" during the Big Cruise Fest event in Little Rock and at the Marigold Festival in Pekin, Ill. In October, he received the Magnolia Award for lifetime achievement in filmmaking at the Dixie Film Festival in Atlanta. He also received the Harvey Award for lifetime achievement from the Jimmy Stewart Museum in Indiana, Penn. Attaboy, Jimmie! He also has lots of things cooking with new film work, including the recently completed independent film Hot Tamale.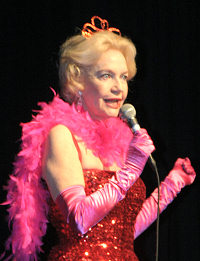 Photo by Jan Newsome
Mount Airy, N.C. (Sept. 2006) - Gomer Pyle's Lou Ann Poovie, Elizabeth MacRae, did her old black magic on the crowd during Col. Tim's Talent Time.
Ruta Lee, who appeared as different characters in two episodes of TAGS, received her star on the Hollywood Walk of Fame on Oct. 10. Among the many stars on hand was friend and TAGS alum Barbara Stuart. Ruta's star is at a prime location in front of Grauman's Chinese Theatre, where she once worked. A lavish luncheon followed the ceremony at the famed Hollywood Roosevelt Hotel down the street. The previous Saturday, Ruta was in the center of activity for the annual Thalians fund-raiser for Cedars Sinai Medical Center in Century City. Among the stars with TAGS connections in attendance was Barbara Eden.
Margaret Kerry (Bess Muggins and Helen Scobey) was such a hit at a recent personal appearance in Wilmington, N.C., that folks there can't wait for her to come back. They won't have to wait long because Margaret has been invited back for the annual North Carolina Azalea Festival in April (see the Calendar above). Next year should be a banner year for Margaret, who is putting the finishing touches of magic on her autobiography, Tinker Bell Talks: Tales of a Pixie-Dusted Life. (Margaret was the model for Disney's animated Tinker Bell.) A Tinker Bell animated film is also expected from Disney next year.
We're very sorry to report the passing of three people with connections to TAGS.
Writer Art Baer died of complications from cancer on Sept. 17, his 81st birthday, in Los Angeles. With his writing partner, the late Ben Joelson, Art wrote seven episodes of TAGS for the fifth and sixth seasons. The team also wrote more than 100 episodes for many other hit TV shows, including "Gomer Pyle, U.S.M.C.," "The Dick Van Dyke Show," "Hogan's Heroes," "Get Smart," "The Odd Couple," "Alice," "Happy Days" and "The Love Boat," for which they also served as producers. They wrote for numerous specials and variety shows, including ones starring Perry Como, Flip Wilson and Jim Nabors. Art and Ben won an Emmy in 1972 for their writing on Carol Burnett's variety show.
Art was born in New York City in 1925 and was graduated from New York University. He met Ben Joelson while both were writing for the "Robert Q. Lewis Show." Art is survived by Charles Colarusso, his life-partner of 45 years, and by a brother, Paul.
It is with great sadness that we share news that Earlie Gilley, a true friend of Mayberry, passed away at his home in the Westfield community near Pilot Mountain, N.C., on Sept. 19, at age 83. Mayberry fans will recognize the name Earlie Gilley (along with the name of his beloved wife of six decades, Virginia Lorraine Beasley Gilley, who is a first cousin of Andy Griffith) from several mentions on TAGS. Beyond TAGS, Earlie was a stalwart leader of his family, community, and church. He and brother Wade ran Gilley's Automotive and Supply Company for more than 60 years.
Earlie and Lorraine and their family befriended many Mayberry fans. The family has for years supported the efforts of the Surry Arts Council and participated in Mayberry Days. Earlie earned the respect of all who knew him. His name will continue to be familiar to generations of Mayberry fans from his mention on TAGS. But more than that, the memory of the real Earlie Gilley will continue to inspire all of those who were fortunate to know this Good Man.
Earlie Gilley, a veteran of World War II, was buried with full military honors at Jessup Grove Baptist Church in Pilot Mountain. The thoughts and prayers of our Mayberry family remain with Lorraine and all of Earlie's family.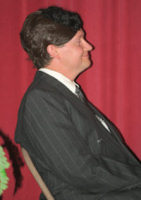 Photo by Jan Newsome
Mount Airy, N.C. (Sept. 2006) - During Col. Tim's, the man seen above was seen sitting listening to music and even walking across the stage. Greetings of "Hello Mr. Schwamp" were returned by a short nod of his head but never a word was spoken.
This news was slow in getting released: Byron Morrow passed away on May 11 at the Motion Picture and Television Country Home and Hospital in Woodland Hills, Calif. He was 94. A tall, distinguished-looking man, his career included about 200 hundred episodes of television shows and some two dozen movies. His other credits included playing semi-pro basketball against the Harlem Globetrotters. Among his TV credits were two episodes each of "Gomer Pyle, U.S.M.C." and "Mayberry R.F.D.," many episodes of "Perry Mason" and four memorable episodes of "The Rockford Files."
Byron almost always played a person of authority, such as a judge, military leader or top law enforcement officer. And that was also the case for his one appearance on TAGS, as the Commissioner who presides over the hearing in "Andy on Trial" (Episode #61). He'll forever be remembered as the man who dismissed all allegations of malfeasance against Andy Taylor, one of the most memorable moments in all of Mayberry lore.
**** MERCHANDISE UPDATE ****
We've reached the summit! The eighth and final season of TAGS has been released. As Floyd might say, "What a beautiful thing." Isn't it a comfort to know that it's possible to own high-quality, virtually uncut versions of all 249 episodes of TAGS! Not only that, but we get a bunch of original commercials featuring TAGS stars as a bonus section with a couple of the seasons.
The Complete Eighth Season of TAGS and the Complete First Season of "Gomer Pyle, U.S.M.C" are being released by the studio on Dec. 12. We know that's cutting if awfully close for Christmas delivery (don't say "awfully," Opie). The people at CBS/Paramount must want to give all of us ulcers by having a release date so close to the holidays. But we're taking pre-orders now, which should help us get organized and geared up for prompt shipment once the DVDs are available to ship. All Eighth Season DVD orders placed before the Dec. 12 release date should reach you in plenty of time for Christmas.
For late shoppers, our last date for shipping orders before Christmas will be Dec. 20. Unless your delivery destination is really close to Nashville, ordering and shipping at that late date will require FedEx service (an extra charge) in order to guarantee delivery before Christmas. Our advice for all concerned (except ulcer medicine salespeople) is to eliminate the worry and order early.
In addition to the new DVDs, we have some other timely new items described below. We've also been able to re-stock some items on our site that have been sold out for a while. So check Weaver's online and see if some of your old favorites are back. And don't forget special seasonal items, such as Andy Griffith's Christmas Guest book and CD single and our Jim Nabors Christmas CD.
Also, remember that you can order by phone as well as online and by mail. Our telephone order line is (615) 604-1298. The number is generally in operation from 9 a.m. to 6 p.m. CT Monday through Saturday. Please call this number only for ordering or for inquiring about orders placed by phone. This number does not ring to TAGSRWC HQ, so you shouldn't call this number with questions about general fan club operations, trivia, or various events, etc., but just to place an order by phone or inquire about orders placed by phone.
Any which way you want to reach us, here are descriptions of some of our newest offerings:
* Complete Eighth Season of "The Andy Griffith Show" $32.00 NEW!
http://www.weaversdepartmentstore.com/index.php?category=90
Here is the final season with the final thirty episodes of the greatest TV series on the planet. We have some combos with this DVD set elsewhere in this section, but this offer is just the Complete Eighth Season all by itself. We'll have this introductory price of $32.00 (vs. the suggested retail price of $40.00) through at least Valentine's Day 2007, before our price settles into the same $34.00 of the sets for the other seven seasons.
Here are the episodes in this final season, including guest appearances by two Oscar-winning actors and the only episodes with Paul Hartman as Emmett the Fix-It Man:
220. Opie's First Love
221. Howard the Bowler
222. A Trip to Mexico
223. Andy's Trip to Raleigh
224. Opie Steps Up in Class
225. Howard's Main Event
226. Aunt Bee the Juror
227. The Tape Recorder
228. Opie's Group
229. Aunt Bee and the Lecturer
230. Andy's Investment
231. Howard and Millie
232. Aunt Bee's Cousin
233. Suppose Andy Gets Sick
234. Howard's New Life
235. Goober the Executive
236. The Mayberry Chef
237. Emmett's Brother-in-Law
238. Opie's Drugstore Job
239. The Church Benefactors
240. Barney Hosts a Summit Meeting
241. Goober Goes to an Auto Show
242. Aunt Bee's Big Moment
243. Helen's Past
244. Emmett's Anniversary
245. The Wedding
246. Sam for Town Council
247. Opie and Mike
248. A Girl for Goober
249. Mayberry R.F.D.

* Emmett's Eighth Season Fix-It Finale Combo SPECIAL #1 $40.00
http://www.weaversdepartmentstore.com/index.php?item=327
That's a mouthful, but it's really just the same core combo of a season on DVD and a set of Mayberry trading cards that we've been offering for the releases of the previous seven seasons. It continues to be one of our most popular combos. We're pleased to offer it again. If you've missed out on this combo with the other seven seasons, maybe Eight is enough to catch your eye.

* Complete Eighth Season of "The Andy Griffith Show" on DVD
* Complete Set (factory sealed) of Series 2 of "The Andy Griffith Show" Trading Cards (110 cards; rare collectible, out of production since 1992)
* Bonus: Plastic "Andy Griffith Show" Logo Ornament
The price for both the DVD set and the card set (and the bonus ornament) is only $40.00, which is the suggested retail price of the DVD set by itself.
* Ernest T.'s Eighth Season Tappity-Tap Combo SPECIAL #2 $45.00
http://www.weaversdepartmentstore.com/index.php?item=326
This combo features:
* Complete Eighth Season of "The Andy Griffith Show" on DVD
* Act Like Somebody book of Mayberry photos and quotations about Parenting
* I'm Proud to Call You My Friend book of Mayberry photos and quotations about Friendship

Ernest T.'s "Mother Figure," Miss Crump, asked him to add up the total cost of this popular combo. The normal retail for these items is about $60.00. Our everyday discounted price is $51.00. But when Ernest T. was counting it out with his feet (tappity-tap, tappity-tap), he got tired and stopped at 45 tappity-taps, so that's our price...$45.00. You can't beat that.
* Box Set of All Eight Seasons of "The Andy Griffith Show" $249.00
http://www.weaversdepartmentstore.com/index.php?item=328
The suggested retail price for this set of every episode of "The Andy Griffith Show" is over $320.00. We're going to keep it simple. There are 249 episodes of the show. Our price for this set is just $249.00. That's right...only one dollar per episode. That means unbelievable savings for you and incredibly easy math for us. We'll also be throwing in a bonus item or two with the box set orders. What that item(s) will be will vary depending on what we still have on hand at the time. (In other words, the earlier the order is received, the better the stuff we'll still have on hand to use as bonus items.)
* Complete First Season of "Gomer Pyle, U.S.M.C." $32.00
http://www.weaversdepartmentstore.com/index.php?item=329
As the final season of TAGS comes out, "Gomer Pyle, U.S.M.C." is also being released on DVD. Hooray...or rather, Golllleee! This DVD not only includes all 30 episodes, but it also has these special features:
* Commentary by Jim Nabors on some episodes
* The "Gomer Pyle" Pilot episode from "The Andy Griffith Show"
* An interview with Jim Nabors on "The David Frost Show"
* Clips from"The Jim Nabors Hour"

This first season brings a bit of Mayberry to the Halls of Montezuma and the shores of Tripoli. Get in step and march with Gomer, Sgt. Carter, Duke, Miss Bunny, and Lou Ann Poovie to all the laughs the United States Marines Corps can handle.
* A Night in the Ozarks with The Dillards DVD $15.00 NEW!
http://www.weaversdepartmentstore.com/index.php?item=330
If there has ever been such a thing as a "must have" for Dillards fans, this item is it. This classic "audiolithograph" of Dillards music and stories was produced and directed by The Nitty Gritty Dirt Band's John McEuen and written by John with Rodney Dillard and Mitch Jayne. Filmed at a house that Mitch found way out in the country in the Missouri Ozarks in 1989 and released on VHS during the early 1990s, this film features 16 songs, including Mayberry favorites "Banjo in the Holler," "There Is a Time," "Ebo Walker," "Doug's Tune," and "Dooley." The music and conversation around the house are caught as close to seemingly spontaneous and raw as can be accomplished on film and video using several cameras. And yet considerable thought obviously has gone into the production to create that relaxed, natural feel. Sound familiar?
There are so many highlights and delights to this film that it's hard to describe them all. Filmed using four Super 8 cameras and two video cameras, this film gives the viewer the sense of just sitting on the back porch and in the living room with the four original Dillards (Doug Dillard, Rodney Dillard, Mitch Jayne, and Dean Webb) and friends and family, including father Homer Dillard, Beverly Cotton Dillard (Rodney's wife), Ginger Boatwright, and Steve Cooley.
When the film was originally released, it was like a joyous, nostalgic reunion of the Original Dilllards, the ones Mayberry fans and others discovered and instantly loved beginning in the 1960s. Doug was no longer playing with The Dillards when this documentary was filmed.
All these years later, this film has a one-two punch of nostalgia-one punch for the 1960s Dillards and another for this 1989 reunion itself. These days Doug and Rodney are touring together again, but Dean is performing mostly with another group around Branson, and Mitch has retired from playing music. This film therefore captures a precious moment in Dillards history.
The hour-long main film has a bonus half hour or so of stories, interviews, behind-the-scenes shots (including John McEuen joining in on banjo), and brief concert footage filmed in Salem, Mo., the same week as the rest of the film. Extra footage and special features not on the original VHS release have been added to the DVD version. All we can say is get ready to enjoy a toe-tapping Night in the Ozarks with old friends, The Dillards!
* Autographed Items as Fund-Raisers for Don Knotts Memorials
http://www.weaversdepartmentstore.com/index.php?maincat=8
The framed and matted photo at the link above is one of two items that we're selling as a fund-raiser for Memorials to Don Knotts. (The other is an autographed copy of Don's memoirs in our Books section.) All profits from the sale of these framed prints and books will be divided equally among the Don Knotts Legacy Fund in Don's hometown of Morgantown, W.V.; the American Lung Association; and the Surry Arts Council, organizer of Mayberry Days in Mount Airy, N.C. Don's family has given its blessings to our using these autographed items as a fund-raiser toward our support of each of these charities in Don's memory.
About this item: It is a handsomely matted and framed photo of a classic Barney Fife pose and was signed by Don Knotts. There's also some descriptive text about Barney Fife and a second photo of Andy Griffith, Don Knotts and Jim Nabors sitting in chairs during a break in filming. A snapshot of Don signing prints and a certificate of authenticity are attached to the back of the frame. The frame measures 11 x 14 and is ready to hang with pride on a wall near you...or a friend's wall. The price is $135.00.
* 2007 "Andy Griffith Show" Wall Calendar $13.00 NEW!
http://www.weaversdepartmentstore.com/index.php?category=44
For the fourth straight year, we're pleased to offer an official "Andy Griffith Show" Wall Calendar. This 2007 calendar is designed much like those for 2004, 2005 and 2006. All of these recent calendars have featured black & white photos of Andy, Barney, Opie, Aunt Bee and Gomer. The calendar measures 12 x 22 in. when unfolded.
Fans have come to expect a quirk or two in these calendars. Past years have seen their share of reversed images, for example. Well, you won't be disappointed again this year. Not only is there once again a reversed image, there is the bonus of the calendar manufacturer having mistakenly included a photo of Andy Griffith and Don Knotts from No Time for Sergeants. "They'll get it right next year, Howie." But it's still a swell calendar. The little goofs kind of give it that extra Mayberry charm and collectibleness. And don't forget...the 2007 calendar grid will be usable again in 2018. (And save that 2006 calendar, too, because it'll be good again in 2017.)
* Mayberry Trio Silk Necktie $18.00 NEW!
http://www.weaversdepartmentstore.com/index.php?category=88
This brand new gentleman's necktie (in classic black and white) features three of Mayberry's finest who are sure to instantly turn any wearer into a truly styling foursome. We also have the Classic Barney necktie design starring only Barney.
**** CHAPTER UPDATE ****
We're proud to welcome four new chapters since the last eBullet. They are:
| | |
| --- | --- |
| "Geronimo" | Owensboro, Ky. |
| The Duck Pond Gang | Mountain City, Tenn. |
| Encouraged by Andy | Suwanee, Ga. |
| "Yep, Two Thousand Pounds of Reinforced Concrete" | Birmingham, Ala. |
That brings our total number of chapters since TAGSRWC was founded in 1979 to 1,308.
If you're interested in starting a chapter of TAGSRWC, all you need to do is pick a name that has not already been chosen and submit a list of your founding members by postal mail. What you do as a chapter is entirely up to you. Your group can do as much or as little as you like. Or write to us also if you would like to contact a chapter near you. Our address is TAGSRWC, 9 Music Square South, PMB 146, Nashville, TN 37203-3286.
**** CHAPTER NEWS ****
The two big events for chapters this fall have been Mayberry Days, where huge crowds of fans and numbers of chapters always gather in Mount Airy in September, and the "Cruise to Mayberry" in the Caribbean in October.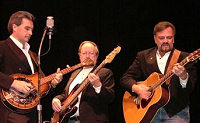 Mount Airy, N.C. (Sept. 2006) - VW Boys play after receiving the Mayberry Friendship Award from TAGSRWC. These boys are a sight!
Among the many chapter-related news items at Mayberry Days were the presentations of the two major TAGSRWC awards. The first was the Mayberry Friendship Award, which was presented to the VW Boys (Tim White, Larry McPeak and Dave Vaught), who are also ringleaders of the "Got Time to Breathe, Got Time for Music" chapter in Blountville, Tenn. The VW Boys have entertained at Mayberry Days and other Mayberry events for years. And for even more years, the group's members have been doing things in and out of music to keep the Mayberry spirit alive.
The other award is the Jim Schwenke Memorial Award, which is named in honor of the late founder of the Mayberry Texans (Houston). The recipient this year was Kenneth Junkin of "Hearty Eatin' Men and Beautiful, Delicate Women" chapter (Tuscaloosa, Ala.). Kenneth has long added spirits to Mayberry with his tribute performances as Otis at various events. He also is busier behind the scenes than just about anybody we know in organizing Mayberry-related events and adding Mayberry flavor to events that are not as obviously about TAGS. In this year alone, he was instrumental in organizing at least four Mayberry events and was a significant supporter of a half dozen more. That's a typical year in Mayberry for Kenneth.
TAGSRWC congratulates the VW Boys and Kenneth for their well-deserved awards.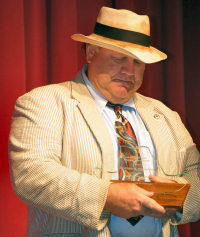 Photo by Jan Newsome

Mount Airy, N.C. (Sept. 2006) - Ken "Otis" Junkin caught in a sober moment as he is presented the Jim Schwenke Memorial Award.

Speaking of Kenneth Junkin, he is one of the subjects in a new book titled Who Are You People? A Journey Into the Hearts of Fanatical Passion in America. Author Shari Caudron followed Kenneth around Mayberry Days a couple of years ago to try to get a glimpse of what makes a devoted Mayberry fan tick. She couldn't have found a better person for taking the Mayberry pulse. She also visited with other fans. Little drips of sarcasm here and there reveal that Shari seems not always to have completely grasped why all of us like Mayberry so much. However, with Kenneth as her guide, she did gain some sincere insights about Mayberry fandom that she otherwise might have missed. She makes several good observations. The book is fun reading for a rainy day.

We can't let a discussion of Mayberry Days go without a few other quick notes. Mark "Giggles" Gigliotti of King, N.C., won his third Mayberry Days Pork Chop Sandwich Eating Contest title by eating five sandwiches in one seating. Ouch! He picked up his trophy in Nashville the next month, when he was about ready to start thinking about eating again. Another winner at Mayberry Days was "She Called Me a Creaster" chapter (Johnson City/Tullahoma, Tenn.) Last year's last-place finishers in the Mayberry Days Golf Tournament finished first this year. Sounds like somebody brought in a ringer this year. Speaking of which, the chapter also won the Horseshoe Pitching Tournament, which the Creatsters also happen to organize and officiate.

One of the highlights of every Mayberry Days is Neal Brower's Lecture, which this year featured Betty Lynn in an incredibly moving tribute to Don Knotts. Neal is a member of Barney chapter (Greensboro, N.C.). The rest of the chapter had its own tribute to Don Knotts in the Mayberry Days Parade. Every member in the parade was dressed as Barney in one of his memorable scenes. (See the photo in this section.) It'll be a hard theme to top, but the Barney chapter is known for putting buckets on their heads for thinking (as they all did in the parade itself a couple of years ago), so don't be surprised with what they come up with.

There's nothing but pure success to report about the Mayberry Days Silent Auction, which is sponsored by the "Who's Been Messin' Up the Bulletin Board?" chapter of TAGSRWC. That's the core Internet chapter of the club, of which many eBullet readers are a member. The fund-raiser, spearheaded by Jeff Koontz and receiving donations from many TAGSRWC members, this year raised $3,449! All the proceeds go toward helping the Surry Arts Council put on Mayberry Days. Thanks to Jeff and all who donated!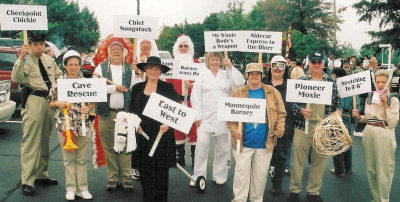 Photo by Jim Clark
Mount Airy, N.C. (Sept. 2006) - HERE'S YOUR SIGN--Some of the nuts of Barney chapter pose before marching in the Mayberry Days parade. For the sake of family dignity, our Goober editor was tempted to crop out the lady wearing the neck harness (far right), but he was afraid he'd hear her complain, "But Jim...I'm you're mother!" So there she be. Nut!
The other big fall event for chapters was the Cruise to Mayberry with Maggie Peterson Mancuso and LeRoy McNees and a boatload of tribute artists, led by Allan "Floyd" Newsome and Kenneth "Otis" Junkin. They even had an all-too-rare appearance by Phil "Ernest T." Lee. (We guess the cruise now makes him a sea Bass. We hear he really rocked the boat, too.)
The big news is that the "Cruise to Mayberry" also turned out to be the Love Boat. Jeff Koontz used the occasion to propose to his beloved Claire Armbruster. Ol' Jeff just floated it out there...smooth, and Claire said yes, and then there was smooth sailing the rest of the way. Our best wishes to these two fine friends of many in Mayberry.
Three other quick notes before leaving Chapter News...we always like to acknowledge the fun printed newsletters of our chapters. Mayberry chapter (Knoxville, Tenn.) published an especially good (and large) issue in September. Of particular interest was the account of the tour by chapter leader Dennis Beal and his family to see TAGS highlights in the Los Angeles area. If the tale of their experience doesn't inspire others to want to see those special places, nothing will. And our unstoppable "Doggone Firefly Hit Me...Knocked Me Right Down" chapter (Huntingburg, Ind.) recently published another lively issue of its newsletter, The Firefly, which included splashes of color-proving that they really are fireflies!
And one final turn...the iMayberry.com car is making things exciting in arena stockcar racing. In his debut race at Charlotte's Cricket Arena, driver Rich "Leadfoot" Laird recorded the fastest lap time of the race before being bumped and then t-boning NASCAR driver Kyle Busch on the fifth lap. Leadfoot speeds into action again with the ol' orange-and-blue car in Charlotte on Nov. 11.
**** Miss Crump's Mayberry Quiz # 70 ****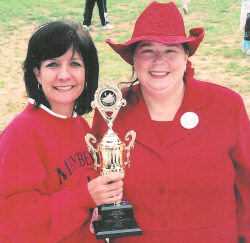 Photo by Jim Clark
Mount Airy, N.C. (Sept. 2006) - RED-CRESTED LOONS--Mayberry Days Trivia Contest Co-Champions Michelle Bryson (left) and Pat Bullins are all smiles with the Champion's trophy. (Moments later, they were seen wrestling for it. No, not really. Both got a trophy of their own.) Word has it that third-place Dennis Beal (the 2005 champ) is already picking out which shade of red he'll be wearing for next year's contest.
Old Lady Crump hopes everyone is well rested after taking a break from quiz-taking in our last issue. While most of us were resting, Pat Bullins and Michelle Bryson took to the open field and battled to a First Place tie in the Mayberry Days Trivia Contest in Mount Airy. Defending champ Dennis Beal came in a close third.
Back in the classroom, Miss Crump has prepared what she hopes is a fair, challenging, and fun quiz. The prize this time is a framed autographed Don Knotts matted photo (similar to the ones now being sold as the charity fund-raiser at Weaver's). The deadline for entries to be postmarked (when sent to TAGSRWC's HQ in Nashville) or sent by e-mail to OldLadyCrump@iMayberry.com is Dec. 31, 2006. We'll give the answers and announce the winner in the January eBullet. Good luck!
Here are this issue's quiz questions:
1. Name someone in Mayberry who has quoted telegraph inventor Samuel B. Morse.
2. Whom does Andy say did a poor job caulking his boat?
3. Who has a filling station on the other side of Mt. Pilot where Goober thinks he might be able to be hired?
4. Andy once has to umpire a baseball game because who got sick?
5. Who operates a gas station that has run a contest called "Line Up for Loot"?
BONUS: Name six nationally known "public figures" who were alive at the time in the "real" world outside of Mayberry who were mentioned by name by someone while in Mayberry. For example, if Barry Goldwater or Elvis Presley had been mentioned by someone in Mayberry, they would count.
**** POSTNOTE ****
Between issues of The eBullet, keep up with the goings-on in Mayberry with the more-or-less daily "Who's Been Messin' Up the Bulletin Board?" Digest. It's a free subscriber list that consists entirely of comments, newsflashes, and questions and answers from subscribers. You can sign up for that list by going to the "Mailing Lists" link at http://tagsrwc.com.
TAGSRWC also publishes Weaver's Newsletter in more-or-less alternate months to The eBullet. Like The eBullet, the Weaver's Newsletter is free. Its focus is mainly on new Mayberry merchandise and collectibles and quick newsflashes. To sign up, go to: http://mail.weaversdepartmentstore.com/mailman/listinfo/newsletter_weaversdepartmentstore.com
TAGSRWC's other main vehicle for Mayberry information is simply our Web site at http://www.tagsrwc.com (and it's nearly identical sister site http://www.iMayberry.com. It has extensive content and links for just about everything a Mayberry fan might be looking for.
The next issue of The eBullet is scheduled for January, with a Weaver's Newsletter planned in the meantime, probably just after Thanksgiving.