To Subscribe click here
To Unsubscribe click here
---

Volume 6, Issue 4


---

---

August 21, 2006

---
If you cannot view the HTML newsletter (photos), click here to read it at our Web site.
*********************************************
"The eBullet"
An Online newsletter of
"The Andy Griffith Show" Rerun Watchers Club (TAGSRWC)
Volume 6, Issue 4
August 21, 2006
*********************************************
Welcome to our...uh...July issue of The eBullet. We apologize for being later than planned with this issue. It was a busy summer of happenings in Mayberry, and we've also been waiting for some key updates on upcoming events and new products. There's a pretty full fall of activities, so let's get right to them:
**** Floyd's Barbershop Bulletin Board-Event Calendar****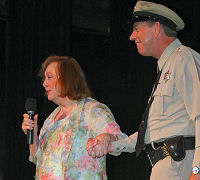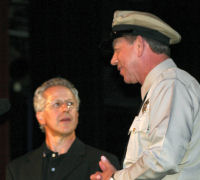 Photos by Jan Newsome
Tuscaloosa, Ala. (June 2006) - Special guests Betty Lynn (Thelma Lou) and Keith Thibodeaux (Johnny Paul Jason) visit with fans and David "Mayberry Deputy" Browning on stage at the Alabama Theater. The first Back to Mayberry Festival was a wonderful success with monies raised going to Eagles' Wings in their effort to build a community for adults with special needs.
* Aug. 24-26: David Browning is off to the races at the Bristol Motor Speedway.
* Aug. 29: Release date for the Complete 7th Season of TAGS on DVD. Weaver's is taking orders now.
* Sept. 2: Jim Nabors sings the National Anthem at the University of Hawaii vs. University of Alabama football game in Tuscaloosa.
* Sept. 2: David Browning rubs everybody the right way at the Mississippi Braves baseball game in Pearl.
* Sept. 9 and 10: James Best is guest star at the Marigold Festival in Pekin, Ill.
* Sept. 15 and 16: Ronnie Schell hosts the 9th Annual Veterans of Comedy Wars at San Francisco State University. Stars this year include Carol Channing and Steve Landesberg. For tickets and info, call (415) 338-1193.
* Sept. 21-24: 17th Annual Mayberry Days in Mount Airy, N.C. This is the biggest gathering of the year for Mayberry fans! Stars announced so far include Doug and Rodney Dillard, Betty Lynn, Maggie Peterson Mancuso, Elizabeth MacRae (her Mayberry Days debut!), LeRoy McNees (performing with the band Vision V), George Spence, and returning to Mayberry Days for the first time in a while, Jackie Joseph, everybody's Sweet Romeena. Also, Mayberry Days is very pleased that Tracy Alexander (son of late Mayberry Fun Girl Jean Carson) will be attending his first Mayberry Days and David Morris (son of the late Howard Morris) hopes his schedule will enable him to return for his second Mayberry Days.
Mayberry Days is a fun-filled four days, beginning with the Mayberry Days Golf Tournament and banquet/concert on Thursday and continuing with concerts, a parade, trivia and other contests, The VW Boys, Michael Hoover's Elvis, bluegrass legend Bobby Osborne, the 108th Division Marching Band, vendors, Professor Brower's Lecture, and bowling before concluding with a Chapel service led by LeRoy and Jan McNees on Sunday morning. Most parts of the weekend are free. A few tickets remain for several of the parts of the weekend that require a ticket. Visit http://www.surryarts.org/ or http://www.mayberrydays.org/ for more info.
* Oct. 13 and 14: David Browning falls into place at the Autumn Glory Festival and October Fest in Oakland, Md.
* Oct. 17-21: Ronnie Schell performs in the Comedy Improv Theater at Harvey's Lake Tahoe Casino in Stateline, Nev.
* Oct. 21-22: James Best will be on hand to receive the Harvey Award for Lifetime Achievement at the Jimmy Stewart Museum in Indiana, Penn. For more info, visit http://www.jimmy.org/
* Oct. 21: David Browning patrols Connelly Springs Town Day in Connelly Springs, N.C.
* Oct. 23 -27: Mayberry Cruise to the Caribbean aboard Carnival's Fascination ship. The 4-day cruise departs Miami for Key West, Cozumel, and a day at sea. Maggie "Charlene Darling" Peterson Mancuso and dobro-playing Country Boy LeRoy McNees (from the episode "Mayberry on Record" and a regular at Mayberry Days) have been confirmed to be cruising. Neal Brower, Author of Mayberry 101 will present Professor Brower's Lecture. Tribute artists Allan "Floyd" Newsome, Phil "Ernest T." Lee, Kenneth "Otis" Junkin, Tim " Goober" Pettigrew, Jeff "Howard" Branch, Jamie "Opie" Sullivan, and Bob "Briscoe" Mundy will also be cruising. Rates start at $249 plus $132 Port Tax per person, based on two per cabin. The official deadline has passed, but if you're interested in booking, check with the organizers. They may still be able to get you in. Visit http://www.iMayberry.com/tagsrwc/wbmutbb/anewsome/private/cruise.htm or call Sharon Euliss at All About Cruises in Burlington, N.C., at 1-800-832-7993. Or e-mail her at PWESJE@aol.com.
* Nov. 11: George Lindsey performs with the Hagers at the Crystal Grand Theatre in Wisconsin Dells, Wis. Show times TBA. This is a rescheduled date. For more info, visit http://www.crystalgrand.com/ .
* Nov. 21-26: Ronnie Schell performs at Harrah's Casino in Las Vegas.
* Nov. 28: David Browning performs Scrooge at Glenville State College in Glenville, W.V.
* Nov. 30 and Dec. 1: David Browning performs Scrooge at the James Garner Conference Center in Troy, N.C.
* Dec. 1 and 2: Roland White hosts and performs at Bill Monroe Appreciation Nights at the Station Inn in Nashville, Tenn. For more info, visit http://www.rolandwhite.com/
* Dec. 2: George Lindsey performs with the Hagers, Lulu Roman, and Roni Stoneman in the Cornfield Country Show at Leelanau Sands Casino in Peshawbestown, Mich. For more info visit http://www.casino2win.com/leelanau_sands/
* Dec. 15 to April 28, 2007: Ronnie Schell and Ruta Lee are stars of Senior Class--A Revue of the Golden Years for their third season in Palm Springs, this time at the Annenberg Theatre. For more info, visit: http://www.seniorclassrevue.com/
* Dec. 15-17: Jim Nabors hosts his 10th annual (and final) A Merry Christmas with Friends and Nabors at the Hawaii Theatre in Honolulu. There will be three performances: Fri. and Sat., Dec. 15 and 16, at 7:30 p.m., and Sun., Dec. 17, 2:00 p.m. Tickets go on sale to the general public on Oct. 3. For more info, visit http://www.hawaiitheatre.com/
2007
* Mar. 1-4: 10th Annual George Lindsey UNA Film Festival in Florence, Ala., hosted by George Lindsey and with Special Guest of Honor Ernest Borgnine. Details TBA. For more information, visit http://www.lindseyfilmfest.com/
* Feb. 9: David Browning shows his animal magnetism at the Sweetheart Valentine Banquet at the First Baptist Church in Dover, Fla.
* Feb. 10: David Browning entertains at the Mayberry Social at Grace Fellowship Church in West Palm Beach, Fla.
* April 26-28: Doug and Rodney Dillard perform at 7th Annual Country Bluegrass Show at the Lincoln County Fairgrounds in North Platte, Nebr. For more info, visit the festival Web site at http://countrybluegrassshow.tripod.com/
**** NEWS OF CAST & CREW ****
Andy Griffith has had a relaxing summer, spending most of his time at home on his beloved coast of North Carolina.
Ron Howard has several feature films in development as either a producer or director. The buzz is that an East of Eden remake might be his next choice as director, but there hasn't been a formal announcement. Meanwhile, Ron has been traveling some with his family. And he and Dennis Miller helped Tom Hanks celebrate his 50th birthday with a tour of several Major League ballparks for games in July.
Jim Nabors has had a limited tour schedule this year. See the Event Calendar for two coming up during the rest of this year. Stay current on Jim's appearances at http://www.jimnabors.com
George Lindsey has mostly been staying close to home this summer with a couple of appearances around Middle Tennessee. His recent movie, When I Find the Ocean, is still making the rounds at festivals, where it has won some awards. George also has been doing some promotional work for "Hee Haw," now back in reruns on CMT. And George is slated for a possible music video in the next few months.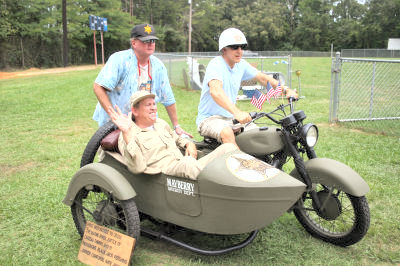 Photo by Jan Newsome

Graysville, Ala. (July 2006) - The Sixth Annual Mayberry Squad Car Nationals had a Mayberry Mounted Patrol visit in the form of the above sidecar replica. TAGS cast member Keith Thibodeaux heads out to mark some tires with Gary "Gomer" Crain backing him up. Word had it that cycle owner Ricky Carnes, seen in the middle, had removed some bolts and Barney...err..Keith went rolling away without sidecar attached.

Keith Thibodeaux has appeared at a couple of Mayberry events so far this year (see Chapter News) and is touring extensively with wife Kathy's ballet company, for which he is executive director. Among their upcoming dates is a tour of the Czech Republic. You can find out more about the ballet company and schedule at http://www.balletmagnifcat.com.

James Best has had a very busy year, before and after marking his 80th birthday in July. Most of his appearances these days are related to "The Dukes of Hazzard," which is hugely popular at the moment. Some 50,000 fans attended each of the two days of DukesFest in Nashville in June. But there was a touch of Mayberry there, too, as David "Mayberry Deputy" Browning and James did their popular dueling sketch onstage one day.

James also recently finished filming the film Moondance Alexander, produced by daughter Janeen and starring Don Johnson and 2006 Olympic Silver Medalist Sasha Cohen. James has a jam-packed Web site at http:///www.jamesbest.com.

Peggy McCay (Andy Taylor's high school sweetheart Sharon DeSpain) was guest of honor for a fund-raiser for the Elephant Sanctuary in Hohenwald, Tenn., in June. She continues to portray Caroline Brady on daytime TV's "Days of Our Lives." Her Web site is http://www.peggymccay.com.

Margaret Kerry (Mayberry's Bess Muggins and Helen Scobey) has been traveling quite a bit this year for Disney-related appearances (she was the model for Tinker Bell). She has just completed a highly successful appearance in Leland, N.C., and has one coming up at the Point North Convention in Vinton, Va. She also is wrapping up her autobiography, Tinker Bell Talks-Tales of a Pixie-Dusted Life. It could be released as early as next year, which would be nice timing because of Disney's release of its Tinker Bell feature film in 2007. Visit Margaret's fun Web site at http://s104588189.onlinehome.us/tinktalks/home.htm

NOTE: If you ever forget what the Web address is for a cast member's site, many are conveniently listed under Cast & Crew Web site link at http://www.iMayberry.com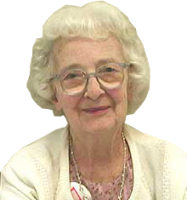 We're very sad to report the passing of Amzie Strickland, who played Miss Rosemary in "Andy the Matchmaker" (Episode #9). She died of Alzheimer's Disease on July 5 in Spokane, Wash. She was 87.
In addition to her role as Miss Rosemary, Amzie appeared as three other characters in four more episodes of TAGS. She was Verlaine Campbell, Otis's sister-in-law, in "Deputy Otis" (Episode #63); eager house-buyer Lila Simms in "Barney Fife, Realtor" (Episode #143); and Aunt Bee's friend Myra Tucker in "The Bazaar" (Episode #162) and "Aunt Bee on TV" (Episode #165).
She was also married to Frank Behrens, who played Nate Bracey in "Class Reunion" (Episode #82).
Amzie Strickland was born on January 10, 1919 in Oklahoma City. She was graduated from the University of Oklahoma's School of Drama. She worked in Chicago as an actress and then moved to New York City, where her first work was as a writer for radio. She soon began acting in radio, where she eventually did between 2,000 and 3,000 episodes for some of the top shows, including 50 episodes of "The Shadow."
Amzie made a smooth transition during the emergence of TV. She worked often for Jack Webb (especially on "Dragnet") and for shows produced by Carl Reiner and Sheldon Leonard. Among her last performances in her more than 350 episodes of TV were two performances on "ER," in 1999 and 2000. Among her other shows were "Gomer Pyle, U.S.M.C." and "Matlock."
She also found time along the way to perform in two dozen films, about half for theatrical release and half for TV. Her movie credits range from Inherit the Wind to Pretty Woman. Amzie was perhaps busiest with her work for countless TV commercials. Among the products she promoted over the years were Miracle Whip, Unacol gasoline, Korbel champagne, MCI, Degree antiperspirant and Pop Secret popcorn.
Through all of her work, Amzie's passion remained the theater. She especially loved local theater. She helped found CenterStage Dinner Theatre in Spokane, and actively supported it through the years. Her son Tim Behrens is today artistic director of that successful theater.
Mayberry fans were fortunate that Amzie was able to attend one Mayberry reunion event, the 35th Anniversary celebration in Winston-Salem, N.C. She delighted the audience of fans and was genuinely pleased to see some old friends and meet many Mayberry admirers that she otherwise may not have realized she had.
Because of Amzie's devotion to local arts programs, TAGSRWC has made donations in her memory both to the CenterStage Theatre in Spokane and the Surry Arts Council in Mount Airy.

Singer Jack Smith, who played the TV announcer in "Aunt Bee on TV" (Episode #165) died of leukemia in Westlake Village, Calif., on July 3. He was 92. Born in Seattle, Wash., in 1913, he was a hugely popular singer onstage and on the radio during the 1940s and '50s. He passed up opportunities to be in movies and did only limited work in TV. His most extensive TV work was two stints as host of separate TV series called "You Asked for It."
Robert Cornthwaite, who played Inspector Somerset in "Dogs, Dogs, Dogs" (Episode #93), died of natural causes in Woodland Hills, on July 20. He was 89.
Bob was born in St. Helens, Ore., on April 28, 1917. He began acting in the theater as a teenager and began working in radio in college until going into the Air Force for four years. Though most of his acting work was on his first love, the stage, he also worked in many films and a couple of hundred segments for TV. A genre where he excelled was sci-fi thrillers and horror films, including The Thing in 1950, War of the Worlds, What Ever Happened to Baby Jane? and right on up to The Naked Monster in 2005. He was also in The Ghost and Mr. Chicken. His TV work included one episode of "Gomer Pyle, U.S.M.C." and two episodes of "Mayberry R.F.D." His most substantial work on TV was the recurring role of Howard Buss on "Picket Fences" in the mid-1990s.
Though Bob was in only one episode of TAGS, he liked being remembered for that role and enjoyed keeping up on the news about Mayberry and the TAGS cast and crew through TAGSRWC's printed newsletters. He is survived by his brother William and several nieces and nephews.
**** MERCHANDISE UPDATE ****
The biggest merchandise news since our last eBullet is that the Seventh Season of TAGS is being released on DVD on Aug. 29. (We're taking pre-orders at Weaver's now.) We have spot-checked our advance copy and believe that the quality of the color prints of these episodes is as rich and eye-popping as its for the Sixth Season release.
CBS and Paramount TV will probably be making an official announcement soon, but the unofficial word on the street is that the Complete Eighth Season of TAGS will be released in mid-December and that the First Season of "Gomer Pyle, U.S.M.C." might be released around the same time. We'll probably start taking pre-orders for any December releases around Nov. 1. We'll have the "official verification" in the next eBullet.
Also since the last eBullet, we have the 2007 TAGS Wall Calendar and a new TAGS necktie (both described below). There's also a new TAGS board game that we're expecting in the next few weeks, but (almost) certainly in time for the holidays. Until then, here are details about new items that are available to order now:
* Seventh Season DVDs
http://www.weaversdepartmentstore.com/index.php?category=88
This season has many milestones. It contains two appearances by Barney Fife (one in Raleigh, one in Mayberry) and the last appearances of Floyd the Barber, Otis, and the Darlings. Also in this season are Ron Howard's favorite episode ("The Ball Game"), Andy's evening of spaghetti dinners with that secret ingredient, Old Sam, William Christopher, Elizabeth MacRae, and Rockne Tarkington. Lots of highlights and beautiful color prints. Sit back and enjoy this penultimate season of the best TV show of all time!
* Complete Seventh Season of "The Andy Griffith Show" on DVD
This is our usual plain-and-simple offer with all 30 episodes that make up the Complete Seventh Season DVD, all by themselves at a great price. The suggested retail price is $40.00, but we're offering the set for 20% off that price, $32.00.

Here are the episodes in this season:
190. Opie's Girlfriend
191. The Barbershop Quartet
192. The Lodge
193. The Darling Fortune.
194. Aunt Bee's Crowning Glory
195. The Ball Game
196. Goober Makes History
197. The Senior Play
198. Big Fish in a Small Town
199. Mind Over Matter
200. Politics Begins at Home
201. A New Doctor in Town
202. Opie Finds a Baby
203. Only a Rose

204. Otis the Deputy
205. Don't Miss a Good Bet
206. Dinner at Eight
207. Andy's Old Girlfriend
208 The Statue
209. Aunt Bee's Restaurant
210. Floyd's Barbershop
211. A Visit to Barney Fife
212. Barney Comes to Mayberry
213. Helen the Authoress
214. Goodbye Dolly
215. Opie's Piano Lesson
216. Howard the Comedian
217. Big Brother
218. Opie's Most Unforgettable Character
219. Goober's Contest
* Goober's Great Seventh Season Combo
Seventh Season Special #1
This is the same straightforward combo of a season on DVD and a set of Mayberry trading cards that we've been offering for the releases of the previous six seasons. It continues to be one of our most popular combos. We're pleased to offer it again. If you haven't taken advantage of the offer with the previous seasons, maybe Seven is your lucky number!
* Complete Seventh Season of "The Andy Griffith Show" on DVD
* Complete Set (factory sealed) of Series 2 of "The Andy Griffith Show" Trading Cards (110 cards; rare collectible, out of production since 1992)
The price for both the DVD set and the card set is only $40.00, which is the suggested retail price of the DVD set by itself. No wonder this continues to be such a popular deal.
* Fun Girls Double-Date Combo
Seventh Season Special #2
What's that? You still never got around to getting your 2006 "Andy Griffith Show Wall Calendar." Hello, doll! The 2007 edition of the calendar has already arrived. Do you think you missed your chance for the 2006 edition? Well, not to worry. You see, Ben Weaver put the Fun Girls from Mt. Pilot in charge of calendar inventory because they always keep Mayberry supplied with lots of dates...that is to say, calendars from this year, next year, last year, and the year before that. We still even carry a collectible Mayberry wall calendar going back to 1992!
* Complete Seventh Season of "The Andy Griffith Show" on DVD
* 2006 "Andy Griffith Show" Wall Calendar
* 2007 "Andy Griffith Show" Wall Calendar
By themselves, theses items have a suggested price of $66.00, but with this combo, you get all three together for just $48.00. Hurry and get in on this deal before Ben Weaver catches on to what cheap dates the Fun Girls are offering.
* Miss Crump's Seventh Season Back to School Special
Seventh Season Special #3
Miss Crump thought maybe no one would notice that this is the same offer she came up with way back in the Second Season. Well, we noticed. But we still think it's a mighty fine combo, so we've just changed the season and are making the same offer again.
* Complete Seventh Season of "The Andy Griffith Show" on DVD
* Act Like Somebody book of Mayberry photos and quotations about Parenting
* I'm Proud to Call You My Friend book of Mayberry photos and quotations about Friendship

The normal retail for these items is about $60.00. Our everyday discounted price is $51.00. But Miss Crump insists that we get our price even lower for her pupils who are going back to school. And she also knows that some folks are shopping ahead of time for the holidays and that DVDs and these little books make great gifts. Miss Crump has stared us down, so we've priced this combo at just $45.00. Please don't tell Mr. Weaver!
* 2007 "Andy Griffith Show" Wall Calendar $13.00 NEW!
http://www.weaversdepartmentstore.com/index.php?category=44
For the fourth straight year, we're pleased to offer an official "Andy Griffith Show" Wall Calendar. This 2007 calendar is designed much like those for 2004, 2005 and 2006. All of these recent calendars have featured black & white photos of Andy, Barney, Opie, Aunt Bee, and Gomer. The calendar measures 12 x 22 in. when unfolded.
Fans have come to expect a quirk or two in these calendars. Past years have seen their share of reversed images, for example. Well, you won't be disappointed again this year. Not only is there once again a reversed image, there is the bonus of the calendar manufacturer having mistakenly included a photo of Andy Griffith and Don Knotts from No Time for Sergeants. "They'll get it right next year, Howie." But it's still a swell calendar. The little goofs kind of give it that extra Mayberry charm and collectibleness. And don't forget...the 2007 calendar grid will be usable again in 2018. (And save that 2006 calendar, too, because it'll be good again in 2017.)
Mayberry Trio Silk Necktie $18.00 NEW!
http://www.weaversdepartmentstore.com/index.php?category=88
This brand new gentleman's necktie (in classic black and white) features three of Mayberry's finest who are sure to instantly turn any wearer into a truly styling foursome.
**** CHAPTER UPDATE ****
We're proud to welcome six new chapters since the last eBullet. They are:
| | |
| --- | --- |
| Highway 6-Checkpoint Chickee | Palm Bay, Fla. |
| The Dusty Gun Slinging Criminal Nabbers | Aiken, S.C. |
| Mayberry of Florida | Flomaton, Ala. |
| Special Sporty | Nashville, Tenn. |
| Wally's Gas Station | Lincoln, Ill. |
| A Mayberry State of Mind | TAGS message board at TVLand.com |
That brings our total number of chapters since TAGSRWC was founded in 1979 to 1,304. If you're interested in starting a chapter of TAGSRWC, all you need to do is pick a name that has not already been chosen and submit a list of your founding members by postal mail. What you do as a chapter is entirely up to you. Your group can do as much or as little as you like. Or write to us also if you would like to contact a chapter near you. Our address is TAGSRWC, 9 Music Square South, PMB 146, Nashville, TN 37203-3286.
**** CHAPTER NEWS ****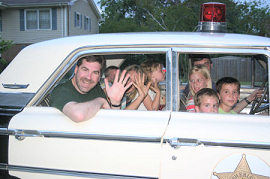 Photo by Jan Newsome
Huntsville, Ala. (May 2006) - The Mother Figure Chapter had a gathering of Mayberry fans at their MAYberry get together. While a good supply of brand new season set DVD's where playing on the TV, most folks chose to watch 16mm films of episodes projected on the "big screen" just like the old days. Squad car rides were the highlight of the activities and smiles were the order of the day.
Most of the news from chapters for this issue centers on several events this summer. The first was the Back to Mayberry event benefiting Eagles' Wings, a foundation supporting adults with disabilities in Tuscaloosa, Ala. The two-day event in late June included Mayberry Comes to Northport, a street festival in downtown Northport, Ala. Betty Lynn and Keith Thibodeaux were the special guest stars from the cast for the weekend.
The Mayberry portion of the weekend was spearheaded by "Hearty Eatin' Men and Beautiful, Delicate Women" chapter (Tuscaloosa). Also very involved was "Got Time to Breathe, Got Time for Music" (Blountville, Tenn.), represented by the VW Boys, "I Ain't No Rockefeller" (Bristol, Va.) represented by David and Patty Browning, and Mother Figure (Huntsville, Ala.) represented by Allan and Jan Newsome.
Other chapters participating included "You Better Put a Buckeye in Your Pocket and Do the Incant for a Sore Foot" (Bessemer, Ala.), Tennessee TAGS (several places in Tennessee) and Mayberry Minutemen (Graysville, Ala.)
Most of the chapters at the Eagles' Wings event and several chapters also participated in the Sixth Annual Mayberry Squad Car Nationals in conjunction with the Second Annual Mayberry Comes to Graysville festival in Graysville, Ala. The Squad Car Nationals are rigged, uh, that is to say, organized by the "Hearty Eatin'" bunch and hosted by Graysville's Mayberry Minutemen. Guest of honor was Keith Thibodeaux, who not only performed onstage, but was a colorful competitor in the Nationals obstacle course race.
Among the chapters participating were all of the chapters at the Eagles' Wings event, except the "Got Time to Breathe" and Tennessee TAGS contingents. Chapters competing included overall Nationals champion Robert and Jill Shelby of Goober's Auto Dismantling (West Frankfort, Ill., Don and Joyce Kernan of "Who's Been Messin' Up the Bulletin Board? (Internet), two entries by the "Hearty Eaters" (including one driven by five-time Nationals champion Kevin "Speed, Speed" Snead, who was disqualified for flagrant cheating this year), and Rockin' Ricky Carnes of Mayberry Squad Car chapter (Canton, Ga.), who was assisted by "Buckeye Incanter" Alan Thornton. That last pair had a dual entry by racing not only a Mayberry Squad car, but a motorcycle with sidecar.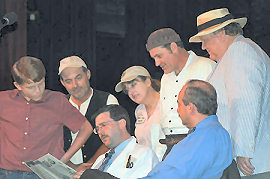 Photos by Jan Newsome
Tuscaloosa, Ala. (June 2006) - Mayberry tribute artists gather on stage just outside Floyd's Barbershop to read the paper. The story said Ernest T. had been rocking the town Friday night and Barn was on his trail. Nobody had seen him in town yet though. Barn's still lookin'. Something tells us he might find a good lead to Ernest T.'s whereabouts in this photo
All of the racing fun was preceded by a Mayberry-style parade and followed by afternoon contests and a Q&A with Keith Thibodeaux and then the evening's barbecue dinner and Tip Top Talent Show starring Mayberry tribute artists, Keith Thibodeaux, and a local band. It was fast-paced day of Mayberry fun.
And talk about Mayberry fun...Mayberry Troop #44 (Clear Lake, Wis.) is having a ball with their Taylor Home Inn, which has been painstakingly modeled after the Mayberry home of Andy, Opie and Aunt Bee. It's a relaxing little Bee & Bee that brings 2-D Mayberry into a whole new 3-D experience. Owners Marsha and David Scheuermann have lovingly created the feel of what it's like to be in the Taylor home in Mayberry-right down to the smallest details (and with appropriate updates that Aunt Bee surely would have insisted on for modern comfort and convenience.). When toy Schnauzer Miss Ellie greets you upon arrival, then you know you're in for a true Mayberry stay at the inn. A widely run Associated Press story recently introduced the nation to this homey inn, but you can find a more direct link through the inn's Web site at http://www.taylorhomeinn.com.
As we were going to "press," several chapters and Mayberry tribute artists were returning from Mayberry Night at the Oakboro Music Hall in Oakboro, N.C. That event is hosted each August by Howard Sprague tribute artist Jeff Branch. The Oakboro Music Hall is also the site of what is becoming an annual concert with Doug and Rodney Dillard in July.
**** Answers to Miss Crump's Mayberry Quiz #69 ****
After last issue's nearly record-setting number of entries, we had a relatively light turnout for this quiz. But nearly every entry was 100 percent correct, so that made it highly competitive. We drew a winner from a hat and that name was Connie Krick of Milton, Penn. Congratulations to Connie! Her prize is a copy of Neal Brower's Mayberry 101 book and a signed glossy photo of Harvey Bullock.
All of the answers to this quiz could be found in episodes written by Harvey Bullock:
1. The last name of the person who introduces Opie to magic fish talk is Browne, as in David Browne (with an e), "Opie's Hobo Friend."
2. Malcolm Merriweather is said to have been a member of the "Cold Cream Guards" when Goober talks about him when we find "Malcolm at the Crossroads."
3. With "The Return of Malcolm Merriweather," we learn that Aunt Bee says that she stores her soda crackers on the "top shelf of the pantry!"
4. When we find "Malcolm at the Crossroads," we also learn that Ernest T. Bass apparently thinks that Andy Taylor resembles the Widow Bradshaw.
5. Amid dealing with "Andy and the New Mayor," Barney admits that he has parked in his car on Willow Lane with Juanita from the diner.
BONUS: Winner Connie Krick picked "The Pickle Story" as her favorite episode written by Harvey Bullock. That episode and "Opie the Birdman" were given as favorites in about equal numbers. Other favorites mentioned by entrants were "Rafe Hollister Sings," "Mr. McBeevee" and "The Haunted House."
**** Miss Crump's Mayberry Quiz # 70 ****
Miss Crump is going to give pupils a rest on quizzes this time. With school starting back across the country right now and with the Mayberry Days Trivia Contest (the Super Bowl of Mayberry Trivia) coming up at the end of September, she figures that it's better to give folks a chance to buckle down on their studies. O.K., that and maybe Miss Crump's just feeling lazy in the summer heat, too. Look for a new trivia quiz in the October issue. Meanwhile, you can lie awake at night wondering whether that next quiz will be an easy one from Miss Crump or a difficult one from Old Lady Crump. Wait and see, wait and see!
**** POSTNOTE ****
Between issues of The eBullet, keep up with the goings-on in Mayberry with the more-or-less daily "Who's Been Messin' Up the Bulletin Board?" Digest. It's a free subscriber list that consists entirely of comments, newsflashes, and questions and answers from subscribers. You can sign up for that list by going to the "Mailing Lists" link at http://tagsrwc.com.
TAGSRWC also publishes Weaver's Newsletter in more-or-less alternate months to The eBullet. Like The eBullet, the Weaver's Newsletter is free. Its focus is mainly on new Mayberry merchandise and collectibles and quick newsflashes. To sign up, go to: http://www.tagsrwc.com/ebullet/joinebullet.htm.
TAGSRWC's other main vehicle for Mayberry information is simply our Web site at www.tagsrwc.com (and it's nearly identical sister site www.iMayberry.com. It has extensive content and links for just about everything a Mayberry fan might be looking for.
The next issue of The eBullet is scheduled for October, with a Weaver's Newsletter planned in the meantime.