*********************************************
"The eBullet"
An Online newsletter of
"The Andy Griffith Show" Rerun Watchers Club (TAGSRWC)
Volume 5, Issue 3
May 9, 2005
*********************************************
Welcome to our 20th issue of "The eBullet"! This was supposed to be the April issue, but there were some important updates and bits of news being announced in early May that we wanted to include, so we postponed this issue a couple of weeks to get in as much of the key news as possible.
The Biggest News is still the release on May 24 of the Complete Second Season of TAGS on DVD
. It's a 31-episode, 5-disc set that includes some of the original commercials with the TAGS stars. Weaver's is taking orders now and will ship advance orders on the release date of May 24. Our price is the same as for the Complete First Season of TAGS on DVD (still available): $32.00, or about 20% off the suggested retail price.
http://www.WeaversDepartmentstore.com/videos/videos.htm#secondseason
Weaver's also has three exclusive Combo Offers with the Second Season DVD set and TAGS trading cards, books, and a clock that make for even greater savings if you've been thinking about getting some of the other items and are looking for an extra-good deal.
Paramount also has announced that it plans to release the Third Season in the fall and the Fourth Season by the end of the year, which surely means in plenty of time for holiday shopping.
We should have more precise dates for the Third Season release around Memorial Day. We'll post details on the iMayberry.com site and in the next "eBullet" scheduled for late June.
Meanwhile, here's more of what's happening in Mayberry:

**** EVENT CALENDAR ****

* Now: Weaver's Dept. Store at http://www.iMayberry.com is taking pre-orders for the Complete Second Season of TAGS on DVD. The official release date (and Weaver's shipping date for pre-orders) is May 24.
* May 14: Mitch Jayne is Grand Marshal of the Spring Fever Days Parade in Ellington, Mo. The parade begins at 10:00 a.m. Festivities will also be taking place on the Thursday and Friday (May 12 and 13) before Mitch's Saturday parade-presiding.
* May 23: Dennis Beal of Mayberry chapter (Knoxville, Tenn.), who is the reigning King of Mayberry trivia on John Boy & Billy's Big Show, will be a guest in the radio station's studio this morning to collect some of his prizes and talk Mayberry with the gang at the station in Charlotte, N.C., which is also syndicated to about 90 markets nationwide—ranking them right up there with Leonard Blush.
* May 27: David "Mayberry Deputy" Browning slides into the Salem (Va.) Avalanche baseball game.
* May 31: Jim Nabors performs at Glens Falls Civic Center in Glens Falls, N.Y. For more info, call (518) 798-0366 or visit http://www.glensfallscc.com .
* June 3: Release date for Ron Howard's much-anticipated "Cinderella Man," starring Russell Crowe and Renée Zellweger.
* June 4 and 5: James Best joins fellow "Dukes of Hazzard" stars for the annual Dukes Fest at the Bristol Motor Speedway in Bristol, Tenn. Visit http://www.cootersplace.com for info.
* June 11: Doug Dillard and Rodney Dillard perform at the Bean Blossom Bluegrass Festival in Bean Blossom, Ind. For more info, visit http://www.beanblossom.com .
* June 11: David Browning roots with the Warthogs baseball team in Winston-Salem, N.C.

* June 17-19: *** CANCELLED *** Mayberry Cast Reunion at Gaylord Opryland Resort in Nashville. Medical-related travel restrictions for several of the cast members have regrettably caused Gaylord Opryland to cancel this popular event. Folks who have made reservations should be receiving a detailed letter from Gaylord Opryland within the next day or two, if not already. The letter will explain options for alternative event packages and refunds. Gaylord Opryland apologizes for the disappointment and disruption of plans. We'll all hope for better luck with a future Mayberry-related event at the resort, which has hosted three fantastic Mayberry events over the years.

* June 18: Doug Dillard and Rodney and Beverly Dillard perform at the Ozark Heritage Festival in West Plains, Mo. For more info, visit http://www.oldtimemusic.org.
* June 24: When in Rome (Ga.), David "Mayberry Deputy" Browning sees how the local Braves team does.
* June 30-July 4: David Browning patrols the Grundy County Fair in Mazon, Ill.
* July 4: George Lindsey, Doug Dillard, and Rodney Dillard are among the performers scheduled for the Leipers Fork Bluegrass Festival in Leipers Fork, Tenn. (just south of Nashville). More details to come. Showtime is approx. 6 p.m. leading up to fireworks.
* July 6: David Browning tries out his fast-draw at the Summer Motion Festival in Ashland, Ky.
* July 9: David Browning shows valor when he takes to the field for the Mississippi Braves game in Pearl.
* July 14: David Browning fills the bleach-ers to help the Bristol (Va.) White Sox look their brightest.
* July 15: David Browning is on track and suits the Edenton (N.C.) Steamers to a tea when he rolls into town for their ballgame.
* July 17: David Browning, Allan Newsome, and Kenneth Junkin are among the Mayberry tribute artists expected to shine for Mayberry Night with the Huntsville (Ala.) Stars ballgame.
* July 21: More star-shining for David Browning, this time with the Greenville (Tenn.) Astros.
* July 23: David Browning might be on the trail of Ernest T. Bass as he sniffs out the Rockhounds baseball game in Midland, Tex.
* July 23: It's a Darlings reunion when Doug Dillard, Rodney Dillard, and Maggie Peterson Mancuso perform at the Oakboro Music Hall in Oakboro, N.C. Showtimes are 2:30 and 8 p.m. For more details, visit http://www.oakboromusichall.com .
* July 30: Mayberry Squad Car Nationals in Graysville, Ala. (just northwest of Birmingham). Details TBA.
* Aug. 4: David Browning has claws in his contract that require him to either fish or cut bait at Mayberry Night with the Hickory (N.C.) Crawdads.
* Aug. 5: David Browning makes a pact with the Princeton (W.V.) Devil Rays.
* Aug. 6: David Browning finds the courage to take the field for Mayberry Night with the Danville (Va.) Braves.
* Aug. 12 to 14: Don Knotts Festival in Morgantown, W.V. Don Knotts is scheduled to attend. Other special guests may also participate. An exact schedule should be announced by the end of May, but plans include a fan club reception (yes, that means us!), parade, and screenings of Don's movies and favorite TAGS episodes, plus all kinds of festivities that will tie in with Morgantown's Arts Week. Look for updates on the Event Calendar at http://www.iMayberry.com or on the city's site at http://www.tourmorgantown.com
* Aug. 12: David Browning slides in for second Mayberry Night of the season with the Salem (Va.) Avalanche baseball team.
* Aug. 13: Doug Dillard and Rodney Dillard perform at "Onion Fest and Mayberry Day" at Ritter Farms in Rutledge, Tenn. (not far from Knoxville). Showtime is 6:00 p.m. on Saturday, August 13. There also will be Mayberry tribute artists and squad cars on hand, along with other Mayberryish goin's on. For more info, visit http://www.ritterfarms.com or call (865) 767-2575
* Aug. 13: Double your fun with David Browning at the Elizabethton (Tenn.) Twins game.
* Aug. 19: "Mayberry Night" at Oakboro Music Hall in Oakboro, N.C. Favorite Mayberry tribute artists, including David Browning, Allan Newsome, Kenneth Junkin, Phil Fox, Jamie Sullivan, and Jeff Branch, are scheduled. For more info, visit http://www.oakboromusichall.com
* Sept. 22-24, 2005: 16th Annual Mayberry Days in Mount Airy, N.C. Full details about this year's star lineup haven't been announced yet, but you can expect a lineup similar to previous years—especially the one command performance that is the definitive Mayberry Days tradition: The Doug Dillard Band returning for the 16th consecutive year! Festival tickets are available at http://www.surryarts.org or by calling 1-800-286-6193. Though many of the festival's events are free, now is definitely the time to be making reservations for tickets for the parts that aren't free. Ditto for hotel reservations. Don't wait and miss out.
* Sept. 24: George Lindsey performs at the 11th Annual Hickman Fall Festival in Hickman, Ky. Singers Lulu Roman and Ken Mellons also perform at the free festival. For more info, call (270) 236-7827.
* Nov. 5: Tentative release date for "Chicken Little" (with Don Knotts as the voice of the Turkey Mayor).
* Nov. 10 to April 2006: Ronnie Schell and Ruta Lee return for a second of season starring in "Senior Class: A Revue of the Golden Years" at the Palme d'Or Theatre in Palm Desert, Calif. For more info, visit http://www.seniorclassrevue.com or call 1-888-240-3003.
* Nov. 11: Doug Dillard and Rodney Dillard perform at the Greater Downstate Indoor Bluegrass Festival at the Crowne Plaza Hotel in Springfield, Ill. For more info, visit: http://www.bluegrassmidwest.com/featured/other6.php



**** NEWS OF CAST & CREW ****

ANDY GRIFFITH's "Bound for the Promised Land" compilation CD and the companion book by the same title have been well received by fans. Andy and wife Cindi are in the process of moving into a new home in Los Angeles, where being closer to the heart of the film industry is leading to acting opportunities.
DON KNOTTS was recently under the weather a bit, but he's getting geared up for the Don Knotts Festival in Morgantown, W.V., in August.
BETTY LYNN, MAGGIE PETERSON MANCUSO, ELINOR DONAHUE, JEAN CARSON, JACKIE JOSEPH, JULIE ADAMS, and SUE ANE LANGDON all appeared at the Hollywood Collectors show in Burbank in April for a nice unofficial reunion of Mayberry alums.
Look for JIM NABORS to sing "Back Home Again in Indiana" at the Indy 500 on Memorial Day Weekend.
RON HOWARD is about to start heavy promotion for "Cinderella Man," to be released June 3. He has finished his second season as narrator of the Emmy Award-winning comedy "Arrested Development" (for which he is also executive producer). Fans join him in waiting to see whether the series is picked up by Fox for a third season. Ron is also in pre-production for "The Da Vinci Code," which is his next movie as director and is scheduled for release in 2006.
In other Howard family news, Ron's wife, Cheryl, has written a novel called "In the Face of Jinn" that deals with intrigue in the Middle East and elsewhere. Cheryl wrote it under the fairly transparent pen name of Cheryl Howard Crew.
GEORGE LINDSEY has just completed work on a new movie titled "When I Find the Ocean." George plays a preacher in the film, which also stars Lee Majors, Diane Ladd, and Graham Greene. Also, the George Lindsey/UNA Film Festival was a success again as it celebrated its eighth year in April.
And George received one of the highest honors bestowed by the Alabama State Council on the Arts when he was presented the prestigious Distinguished Artist Award on May 4. As they used to say in Kornfield Kounty, "Saaa-lute!"
George also has been taping episodes of "Liars & Legends" on Turner South. He's in his second season as host for the series. But his biggest news is that he's traveling to California this month for his first visit with first grandchild, a boy named Carson. As Goober repeatedly said to Andy in "Return Mayberry" when Opie and his wife were expecting their first baby, "Granddad, granddad, granddad!"
Darling boy MITCH JAYNE has been staying busy with writing (including a weekly column in his local "Current Wave" newspaper) and occasional lecturing about the Ozarks and whatnot.
JAMES BEST joined other "Dukes of Hazzard" cast members on stage at the CMT Music Awards in Nashville in April. He has finished acting work in the movie "Hot Tamale," which is now in post-production.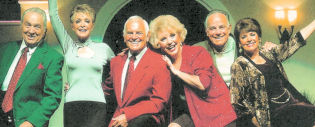 Palm Desert, CA - Ronnie Schell and Ruta Lee (both at center in red) pose for the cast photo from their production of "Senior Class: A Revue of tte Golden Years." Also pictured are Steve Rossi and Anna Maria Alberghetti (left) and Julius La Rosa and Marcia Rodd (right). The cast will resume production at the Palme d'Or Theatre in Palm Desert in Novembern 2005.
RONNIE SCHELL and RUTA LEE enjoyed great success starring in the production of the musical comedy "Senior Class" in Palm Desert, Calif. They're being brought back for a second season in November (see Event Calendar). Ronnie also will host his annual Veterans of Comedy Wars fund-raiser for his alma mater, San Francisco State University, in October. Details to be announced.
BARBARA STUART has been playing Alice, a recurring character in the critically-acclaimed series "Huff" starring Hank Azaria. The series has been renewed for a second season on Showtime.
BILLY RAY LATHUM, the banjo-playing Country Boy in two TAGS episodes, is recovering well from a serious auto accident in January. He's still got a lot of physical therapy and other rehab to do, but at least he's back in his old Kentucky home.
We're sorry to report the passing of PAUL HENNING, the talented and delightful man whose Mayberry connection is that he wrote "Crime-free Mayberry," one of the classic episodes. (Think of Paul smiling with approval when you watch that episode on the new Second Season DVD.) Here is information provided by his family and others after his death:
Paul Henning died at St. Joseph's Hospital in Burbank, Calif., on March 25, after a lengthy illness. He was 93 years old.
Paul is best known as the creator of the long-running series "The Beverly Hillbillies" and "Petticoat Junction." Paul also wrote the words and music to "The Ballad of Jed Clampett." He was executive producer of "Green Acres."
Paul was born near Independence, Mo., on Sept. 16, 1911. Taking advice from future President Harry Truman, Paul studied law and graduated from the Kansas City School of Law. He soon found his true calling and became a writer. He wrote for "Fibber McGee and Molly," "The George Burns and Gracie Allen Show," and other popular radio shows.
Paul also wrote for films, including "Bedtime Story," with Marlon Brando and David Niven.
Paul Henning is survived by daughters Carol Henning and Linda Henning Adams; a son, Tony Henning; and two grandsons.
A memorial service was held for Paul at the Writers' Guild Theater in Beverly Hills on May 1.


**** MERCHANDISE UPDATE ****

In addition to the release of the Complete Second Season of TAGS on May 24, we have one of the largest bunches of new items that we've had in a long time. Here are the very latest items that Ol' Ben Weaver has added to his shelves:


* CAST COLLAGE COTTON LOUNGE PANTS
http://www.weaversdepartmentstore.com/tshirts.htm#lounge
Everybody's been asking about these super-comfy lounge pants or sleep pants. (Goober calls 'em snooze britches!) We're pleased to offer them in four sizes:
Small (waist 28-30 in.; length 30 1/2 in.)
Medium (waist 32-34 in.; length 31 in.)
Large (waist 36-38 in.; length 31 1/2 in.)
X-large (waist 40-42 in.; length 32 in.)
The lightweight britches are 100% cotton and have a button fly and an elastic waistband. If you're looking for a T-shirt that'll coordinate well as a top for the pants, we suggest either of the "Wishin' I Was Fishin'" T-shirts or the "It's Better in Mayberry" T-shirt.
Our supply of these lounge pants comes in sporadically, so, not to be pushy, but if you like the looks of them and see your size, you might want to grab a pair sooner rather than later because, if we run out of a particular size, we may not get more in for a few months. Price: $15.00

* "IT'S BETTER IN MAYBERRY" T-SHIRT
http://www.weaversdepartmentstore.com/tshirts.htm#better
The slogan underneath this olive T-shirt's design is simply "Jus' Goin' Fishin'." That sums up a lot about life in Mayberry, whether Andy and Opie happen to be comin' or goin' from their favorite fishin' spot. Available in Adult sizes: Small, Medium, Large, and X-large. Price: $15.00

* "MAYBERRY QUARTERLY" T-SHIRT
http://www.weaversdepartmentstore.com/tshirts.htm#better
Well, it's not exactly GQ, but with our dapper Deputy on the cover, this fashionable MQ shirt is made just right for the dip on the dance floor. (We're not altogether sure that we like the way we put that, but you know what we mean.) This hip T-shirt is just way cool—perfect for any guy or gal wanting to make a Mayberry fashion statement. The shirt is very close to navy blue, but Floyd insists that we call it azure. Whatever color it is, we azure you that you'll like it. Available in Adult sizes: Small, Medium, Large, and X-large. Price: $15.00

* MAYBERRY BOXER SHORTS
http://www.weaversdepartmentstore.com/tshirts.htm#lounge
We're proud to introduce three designs of cotton boxer shorts featuring Mayberry favorites. Each is available in Small (waist 28-30 in.); Medium (waist 32-34 in.); Large (waist 36-38 in.); and X-large (waist 40-42 in.). Each is $12.00.
Here's a brief description of the three designs:


* "STAY CALM, PEOPLE" BOXERS
http://www.weaversdepartmentstore.com/tshirts.htm#lounge
This one features only Barney with that trademark surprised expression on his face. We'll leave it up to you to explain the reason for his surprised look.


* CAST COLLAGE BOXERS
http://www.weaversdepartmentstore.com/tshirts.htm#lounge
This boxer design matches the original design of lounge pants. Another case of perfect casting!

* MAYBERRY PORTRAITS BOXERS
http://www.weaversdepartmentstore.com/tshirts.htm#lounge
This design features close-ups of Andy, Barney, Aunt Bee, and Opie. Floyd once again insists that the color is sort of an azure, but Barney says it reminds him more of the color of the water at the duck pond, so we'll go with Barney and call this one teal.


* DON KNOTTS 4-MOVIE RELUCTANT HERO DVD PACK—featuring "The Ghost and Mr. Chicken," "The Reluctant Astronaut," "The Shakiest Gun in the West," and "The Love God?"
http://www.weaversdepartmentstore.com/videos/videos.htm#hero
This super Hero collection of four classic Don Knotts movies from the 1960s on DVD is hard to beat. You get all four movies for the nice price of just $29.00. That's a price tag that even cost-conscious Barney would jump at!

* "IN SEARCH OF MAYBERRY: A GUIDE TO NORTH CAROLINA'S FAVORITE SMALL TOWNS"
http://www.weaversdepartmentstore.com/book_etc.htm#insearchof
This oversized, 116-page paperback, released in April 2005, is excellent reading for any fan of Mayberry, Mount Airy, and small towns in general, especially those located in North Carolina. Here's what the publisher has to say about it:
"Written and photographed by Pffaftown, N.C., native and 'Winston-Salem Journal' veteran Scott Dickson, 'In Search of Mayberry' is a fascinating look into some of North Carolina's most celebrated and loved small towns. If you are an 'Andy Griffith Show' fan, you are sure to enjoy this material. Dickson focuses on small town values and beliefs and guides the reader through 12 towns and villages—centering his pictures and descriptions on the town and its history. Featured in Mount Airy is tourism, such as Snappy Lunch, Floyd's Barbershop, the Visitors Center, and other Mayberry landmarks."
If you've ever looked for Mayberry, or want to, or if you just want to read about Mayberry-style towns and one man's quest to find them, this book is definitely for you. And even if you don't like to read, it has tons of photos, too! Price: $20.00.

* "SIX CHARACTERS IN SEARCH OF AN AUTHOR" on VHS
http://www.weaversdepartmentstore.com/videos/videos.htm
Starring Andy Griffith and Julie Adams (Mayberry's Nurse Mary Simpson), this critically acclaimed 1976 made-for-TV production can be hard to find, but ol' Ben found a few brand new copies on VHS. The production was directed by Stacy Keach and produced by Norman Lloyd (father of Josie Lloyd, Mayberry's Lydia Crosswaith). Academy Award winner John Houseman also stars in this production. It runs 90 minutes. Price: $25.00.


* "A FACE IN THE CROWD" on DVD (available for shipping May 10)
http://www.weaversdepartmentstore.com/videos/videos.htm
This critically acclaimed 1957 movie (also starring Walter Matthau and Patricia Neal and directed by Elia Kazan) was Andy Griffith's first film. Many people feel it's Andy's best acting work outside of TAGS, though his Lonesome Rhodes character is a far cry from Andy Taylor. Price: $20.00.


* LIARS & LEGENDS: THE WEIRDEST, STRANGEST, AND MOST INTERESTING STORIES FROM THE SOUTH By Emily Ellison and Chuck Perry; Foreword by GEORGE LINDSEY
http://www.weaversdepartmentstore.com/book_etc.htm
Here's what the publisher has to say about this book:
"From killer crawfish in Louisiana swamps to the underground wonders in Tennessee to the unsolved disappearance of 400 women and children in Roswell, Georgia, during the Civil War, 'Liars & Legends' tells the weirdest, strangest, and most interesting stories in the South. Everyone loves a good story. And 'Liars & Legends' contains 40 of the South's most interesting and…well…just plain curious stories. This book grows out of the popular Turner South television show, 'Liars & Legends,' hosted by George Lindsey."
We'll add that one of the stories featured is about Mount Airy, N.C., and its connection to Mayberry. That, along with George Lindsey's foreword and lots of other fascinating stories and tons of pictures, makes for a really enjoyable book. It's a 192-page hardcover book that measures about 8 inches square. A super gift book to give or receive.
The cover price is nice at $19.00, but Weaver's offers the book for even more of a bargain for only $17.00.


* NOW IN PAPERBACK…"MAYBERRY MEMORIES: THE ANDY GRIFFITH SHOW PHOTO ALBUM"
http://www.weaversdepartmentstore.com/book_etc.htm#Memories
This tribute to Mayberry, first published in hardcover in 2000 to celebrate the show's 40th Anniversary, is now available in paperback just in time to celebrate the show's 45th Anniversary in 2005. All 256 pages of content are the same, but have been scaled down in size a little bit, and the book has a paperback cover now. The price has been scaled down, too. The original coffee-table, hardcover version had a cover price of $35.00 (Weaver's still has a few left for $32.00).
This new version has a cover price of $20.00, but Weaver's has them for just $18.00. Enjoy tons of rare photos and insights from the cast and crew of TAGS, "Gomer Pyle, U.S.M.C.," and "Mayberry R.F.D."

* "THE ALL-AMERICAN COWBOY GRILL COOKBOOK"
http://www.weaversdepartmentstore.com/book_etc.htm#book_cookbook.htm
A sequel to "The All-American Cowboy Cookbook," "The All-American Cowboy Grill" is blazing a new trail through the Old West as it partners more than 250 savory recipes from American cowboys and cowgirls of movie, TV, rodeo, and music fame with 200 photos and a couple of dozen sidebars of related interest. Compiled by a couple of Goobers and Cheryl Rogers-Barnett, daughter of Roy Rogers and Dale Evans.
Of particular interest to Mayberry fans will be recipes from and photos of Don Knotts, George Lindsey, Betty Lynn, James Best, Denver Pyle, Gail Davis, Buddy Ebsen, Howard McNear, Sue Ane Langdon, Leo Gordon, Edgar Buchanan, and director Earl Bellamy.
Riding shotgun with the recipes of the celebrities are mouthwatering recipes rustled up by cooks from some of the top real-life ranches of the western United States. The suggested retail price is $16.99, but you can lasso a copy at Weaver's for just $15.00.

All of our Mayberry items can be viewed and ordered at our Web site at http://www.WeaversDepartmentStore.com/. Our phone order line is generally answered between 5 and 9 p.m. CT, Mon. to Sat. You can also leave a message 24 hours a day and Sheila will return your call and take your order. The number for the Weaver's Phone Order Line is (615) 604-1298.


**** CHAPTER UPDATE ****

We're proud to welcome one new chapter since the last "eBullet." It is:

Galaxie 500 Orlando, Fla.

That brings our total number of chapters since TAGSRWC was founded in 1979 to 1,273.
If you are interested in starting a chapter of TAGSRWC, all you have to do is pick a name that has not already been chosen and submit a list of your founding members by postal mail. What you do as a chapter is entirely up to you. Your group can do as much or as little as you like. Or write to us also if you would like to contact a chapter near you. Our address is TAGSRWC, 9 Music Square South, PMB 146, Nashville, TN 37203-3286.


**** CHAPTER NEWS ****

* "There He Goes!" chapter in Cocoa, Fla., hosted the first big Mayberry event of the year with its first annual "Mayberry Comes to Cocoa" festival. Among the performers were favorite tribute artists David "Deputy" Browning, Allan "Floyd" Newsome, Kenneth "Otis" Junkin, Jeff "Howard" Branch, Tim "Goober" Pettigrew, Steve "Ernest T." Culberson, Bob "Briscoe" Mundy, Jamie "Opie" Sullivan, Kathryn "Flora" Darden, Mike "Wally" Darden, and Jewell "Mayberry Momma" Kutzer. The VW Boys also brought their magical bluegrass to the stage to round out a full weekend of Mayberry fun.

* Several chapters, including "Mother Figure" (Huntsville, Ala.), "Hearty Eatin' Men and Beautiful, Delicate Women" (Tuscaloosa, Ala.), "Irritatin', Ain't It?" (Fall Branch, Tenn.), and Andy chapter (Nashville, Tenn.) attended the George Lindsey/UNA Film Festival in April. Some of those chapters and others also attended the ceremony where George received the Distinguished Artist Award from the Alabama State Council on the Arts on May 4.

* Mayberry chapter (Knoxville, Tenn.) was out in force the Dogwood Arts Festival Parade again this April with their squad car replicas, Wally's truck, and several Mayberry look-alikes. They're planning to participate in the Fourth of July parade in Farragut, Tenn., as well.
Chapter members also host a Mayberry Music Festival the first Saturday of each month during the summer. And the chapter has miniature golf and lake outings planned for the summer, in addition to their usual strong turnout for Mayberry events in general. But with their three squad car replicas, will they finally muster the courage to compete in the Mayberry Squad Car Nationals in nearby Graysville, Ala.? Folks in Alabama might start wondering whether the most popular color in Knoxville is yeller instead of Big Orange. (Yep, that gauntlet being thrown down ort to do the job! Are ya or ain't ya?)
You can find out more about Mayberry chapter at their nice Web site at http://www.mayberrychapter.com . They also still publish their "Mayberry Minutes" newsletter three times per year.

* Barney chapter (Greensboro, N.C.) gathers for fun at regular monthly meetings. And chapter leader Neal Brower is just about to wrap up his latest continuing education course on TAGS appreciation, held this time at Alamance Community College in Burlington, N.C.

* "Doggone Firefly Hit Me, Knocked Me Right Down" chapter (Huntingburg, Ind.) continues to publish its illuminating newsletter, "The Firefly." It's not too flashy, though—just good old-fashioned Mayberry newsflashes. And the chapter has also been pondering why it is that the new Buffalo Nickel that has recently been issued has the buffalo pointing the opposite way of the old Buffalo Nickels. The key question is, Which direction is now the "rare" one?!

* "I Think I'll Find a Cave and Hermitize Myself" (Grand Ledge, Mich.) has announced that it has once again survived the winter and has now come out of its cave.

The mayor of Mayberry Town Council chapter (Belding and Sheridan, Mich.) recently tied the knot. It was shoes and rice time for Lyle and Hannah! Congratulations!


**** MISS CRUMP'S MAYBERRY QUIZZES ****

Answers to Miss Crump's Mayberry Quiz #62
We had a competitive response to this Quiz, with several perfect or near-perfect entries. We once again resorted to a drawing to pick a winner, who is RICHARD HEWETT of "Shoot, My Mama and Daddy Just Shook Hands on Their Deal" chapter of Augusta, Ga. Way to go, Richard! He receives his choice of any single item online at Weaver's, except for items in the Collectibles and Special Items sections.
Here are the answers Old Lady Crump was looking for:
1. The thing that Giants and Bears have in common in Mayberry is that both are names of Mayberry sports teams, as we find out when Andy reads the paper during the family visit by Uncle Ollie and crew, and when Andy is umpire of Opie's baseball came against the Mt. Pilot Comets.
2. Eight males who are seen in Mayberry wearing neckties tied in a bow, as opposed to the ends hanging straight down in alignment include: Barney Fife; Mayor Pike; Opie Taylor; Goober Pyle; Cousin Virgil; Tom Silby; Mr. Izamota in Barney's suit; John Masters; Howard Sprague; the first Floyd the Barber; Inspector William Upchurch; conman Oscar Fields; George (Goober's hired hand when he buys the station); Emmett Clark; Col. Harvey; Wally, Andy Taylor, Burt and Jeff Nelson in the "Barbershop Quartet"; Sheriff Blake Wilson; waiter at Morelli's; milkman Walt Simpson; Franklin Pomeroy; Malcolm Merriweather; and Clarence Earp, just for starters.
3. When Opie says "Abyssinia" to Andy, Andy says "See ya Somoa" in response. (Miss Crump hopes that counts as today's Geography lesson!)
4. No, Goober's felt beanie cap does not always have ventilation holes cut in the top when he is seen wearing it. When we first see him wearing the beanie as the town says "Goodbye, Sheriff Taylor," the cap does not yet have the holes cut in top. This question surprisingly turned out to be the tricky one that eliminated the largest number of contestants from the prize drawing.
5. Not including cats and dogs, the different animal species with at least three legs that are seen or mentioned in Mayberry include: the three-legged elephant that Andy mentions as Opie makes footprints in the driveway with presumably part of said elephant's fourth leg (the reference that prompted this question), giraffes in a storm, spiders under the bandstand, mouse in the freezer, big-toothed beaver, outfoxed fox, centipede, tigers (don't forget your tweezers!), Wildcats, Mayberry Bears, black bears of Great Dismal Swamp, sheep, Santa's reindeer, other kinds of deer, Asian bear that welcomes Mayor Stoner to office, Dolly the horse (among others), flies (including the one that died on the "kerosene cucumbers"), frog, firefly, lizard, tarantula (not to be confused with a tortilla), loaded goat, hogs, prize pigs, sickly bobcat, cow with shoes, ornery old bull, buffaloes (wrongly and correctly pointing), mule, leopard, alligator, possum, muskrat, raccoon, mink, lamb (from leg of), sheep, rats at town dump, rabbit, lion, baboon, crab (including monster), butterfly, moths, (no, bats don't have front legs, pupil Dennis), bull elk, and porcupine. Again, just for starters.
BONUS: Two times that a carp is mentioned in Mayberry are when Andy and Floyd talk about Andy getting his picture made with the carp that he has strung up, and legendary Old Sam, who is identified as a silver carp.

Miss Crump's Mayberry Quiz #63

Because Miss Crump made everyone give such lengthy answers on the last quiz and what with summer break coming up and all, she has decided to throw a few softballs this time. In fact, she hints that all of the answers are not only in the episodes themselves, but also in the two books being offered in a certain Second Season DVD Combo bearing her name. So even if you don't remember where to watch for the answers, you'll know where to look them up. (Miss Crump will try any angle to get folks to read!) Here are the questions:
1. Identify who said, "You know something, Sheriff? That haircut of yours may be city-style, but your heart was shaped in a bowl."
2. Who said: "The people in this town ain't got no better friend than Andy Taylor"? (O.K., so much for Miss Crump trying to teach proper grammar today!)
3. Who said: "I live the kind of life other people would just love to live if they only had the courage"?
4. Who said: "My pot of gold's right here in Mayberry"?
5. Who said: "Opie's just become a mother"?
BONUS: Fill in the blanks to this remark: "First sign of youngsters goin' wrong, you've got to ___ __ __ ___ ___!" (five words).

The deadline for entries to be e-mailed or post-marked is June 10, 2005. To send your answers by e-mail, write to MissCrump@iMayberry.com . By regular mail, send your answers to TAGSRWC, 9 Music Square South, PMB 146, Nashville TN 37203-3286. The answers will be published in the June "eBullet." In the event of a tie for the highest score, we'll draw a name from Henry Bennett's hat to select the winner. The prize is the same as for the previous quiz (the choice of any single item online at Weaver's except for items in the Collectibles and Special Items sections). Good luck!


**** POSTNOTE ****

Between issues of "The eBullet," keep up with the goings-on in Mayberry with the more-or-less daily "Who's Been Messin' Up the Bulletin Board?" Digest. It's a free subscriber list that consists entirely of comments, newsflashes, and questions and answers from subscribers. You can sign up for that list by going to the "Mailing Lists" link at http://tagsrwc.com .
TAGSRWC also publishes the "Weaver's Newsletter" in more-or-less alternate months to "The eBullet." Like "The eBullet," the "Weaver's Newsletter" is free. Its focus is mainly on new Mayberry merchandise and collectibles and quick news flashes. To sign up, go to http://www.tagsrwc.com/ebullet/joinebullet.htm.
TAGSRWC's other main vehicle for Mayberry information is simply our Web site at http://www.tagsrwc.com . It has extensive content and links for just about everything a Mayberry fan might be looking for.
The next issue of "The eBullet" is scheduled for late June.

**** 10-4 and out for now. ****