*********************************************
"The eBullet"
An Online newsletter of
"The Andy Griffith Show" Rerun Watchers Club (TAGSRWC)
Volume 5, Issue 2
February 28, 2005
*********************************************
Welcome to our 19th issue of "The eBullet"!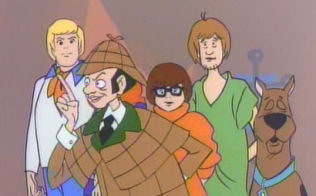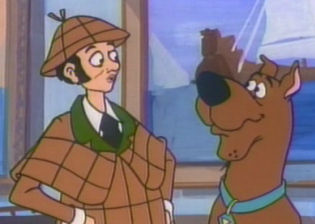 Don Knotts in Cartoon - Don Knotts has been appearing in cartoon form for years. Above is an example of one of the two episode of the Scooby Movies which featured Mr. Knotts. Below is a more recent episode of Johnny Bravo which featured Mr. Knotts likeness and voice. The CartoonNetwork airs both of these series so be watching for the Mayberry connection.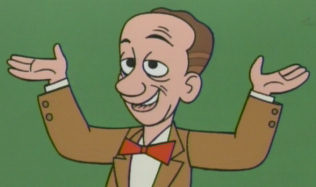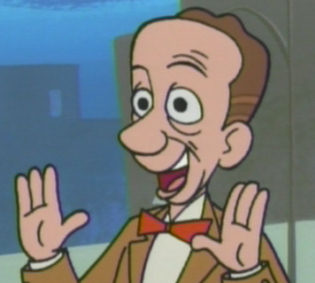 The biggest recent news in Mayberry remains the November release of the Complete First Season on DVD. Mr. Weaver still has some on hand. The quality is outstanding, and the set's a super deal at Weaver's for only $32.00, which comes out to $1 per episode.
Paramount has previously said that they expect to release the second through fourth seasons during 2005. There will be an official announcement from Paramount about any new TAGS releases on March 1. We'll have the official info posted on the front page of the http://www.iMayberry.com Web site and for subscribers to our daily Digest as soon as the info is released. (Rumors of a release date are already being tossed about on the Web (including on various Mayberry bulletin boards) by fans eager for news of the next release.
For any DVD release date that is officially announced, our Weaver's Dept. Store will start accepting pre-orders about three weeks before the release date. (All pre-orders received before the release date will ship out on the release date.) And don't worry, we'll be ordering plenty of DVDs, so there won't be any chance of our running out before you have a chance to get yours. We'll be angling for the best price that we can offer (probably comparable to the price of the First Season, which we were able to offer at 20% off the suggested retail price), and we expect to have a couple of special Combo offers with some of our other Mayberry items that will provide even greater savings.
We also plan for the proceeds from our sale of a new DVD release at Weaver's to be earmarked as part of TAGSRWC's financial support for the Surry Arts Council's effort in putting on the annual Mayberry Days festival in September.


**** EVENT CALENDAR ****

* Now through May 29: Ronnie Schell and Ruta Lee perform in "Senior Class: A Revue of the Golden Years" at the Palme d'Or Theatre in Palm Desert, Calif. For more info, visit http://www.seniorclassrevue.com or call 1-888-240-3003.
* Mar. 16 to May 25: For the first time in years, Neal Brower teaches his outstanding continuing-education class on TAGS Appreciation at Alamance Community College in Burlington, N.C., from 7 to 10 p.m. on the 10 Wednesdays during this time. The cost is $65 and the course does count toward continuing education credit. For registration and general info, call Ann Jones at (336) 506-4322 or visit: http://www.alamance.cc.nc.us/newsite/continuing_ed__courses_programs/

* Apr. 8 and 9: Mayberry Comes to Cocoa Festival in historic downtown Cocoa, Fla. Mayberry "tribute artists" David "Mayberry Deputy" Browning, Allan "Floyd" Newsome, Kenneth "Otis" Junkin, Tim "Goober" Pettigrew, Jeff "Howard Sprague" Branch, Steve "Ernest T." Culberson, Bob "Briscoe" Mundy, and Jamie "Opie" Sullivan are scheduled to appear.
Organized by TAGSRWC's "There He Goes!" chapter, the festival will feature music, a parade, Mayberry memorabilia exhibits, an antique car and tractor show, and a Mayberry trivia contest. Though the event had hoped to include some TAGS actors this year, they've opted not to do so and are concentrating this year on getting the event established with an eye toward including TAGS actors next year. For more info, call organizer Al Gandolfi at (321) 636-6188.
* Apr. 9: The Roland White Band performs at the Cross Country Trail Ride Bluegrass Festival in Eminence, Mo.
* Apr. 22-24: The 8th Annual George Lindsey/UNA Film Festival on the campus of the University of North Alabama in Florence. Among the highlights: George will be giving a public talk about his career in and out of Mayberry, including a film of clips from throughout his acting career. Visit http://www.lindseyfilmfest.com.
* April 23 and 24: Don Knotts, Betty Lynn and Howard Morris are among the stars with TAGS connections scheduled to attend the Hollywood Collectors Show at the Hilton Burbank Airport & Convention Center. For complete information, visit http://www.hollywoodcollectorshow.com. (Note: Info on their Web site had not been switched from their just-finished February show to the April show when this was being written, so check back if it's still not updated with the April info.)
* Apr. 23: The Dillards perform at the Walhalla Civic Auditorium in Walhalla, S.C.). Tickets are $15 for General Admission; $25 for reserved seats. Reserved admission includes a private meet and greet and a seat in first 3 rows. (Only 50 reserved are available.) Tickets are available online at http://www.etix.com.
* Apr. 30 and May 1: The Roland White Band performs at MerleFest in North Wilkesboro, N.C.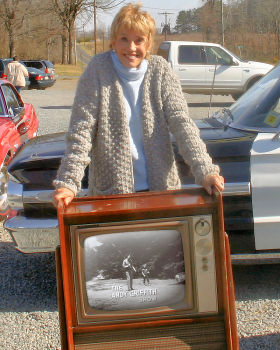 Photo by Gary Wedemeyer
Oakboro, NC (Feb 2005) - Maggie Peterson, our very own Chalene Darling, poses with a 1962 television and a Mayberry patrol car at the grand opening of the Mayberry Daze Diner.
* May 27: David "Mayberry Deputy" Browning slides into the Salem (Va.) Avalanche baseball game.
* May 31: Jim Nabors performs at Glens Falls Civic Center in Glens Falls, N.Y. For more info, call (518) 798-0366 or visit http://www.glensfallscc.com.

* June 3: Tentative release date for Ron Howard's "Cinderella Man."
* June 11: David Browning roots with the Warthogs baseball team in Winston-Salem, N.C.
* June 17-19: Gaylord Opryland Resort hosts a Mayberry Cast Reunion. Don Knotts, Betty Lynn, Maggie Peterson Mancuso, Howard Morris, Jean Carson, Elinor Donahue and James Best are the stars confirmed at this point. It is probable that other stars will be added. The exact schedule is still to be announced, but here's what we do know so far. The weekend package includes:
* 2-night room accommodations at either Gaylord Opryland Resort or the Radisson Hotel at Opryland
* Ticket to the Grand Ole Opry
* Ticket to Mayberry Mystery Dinner Theater
* Ticket to Mayberry Panel Discussion featuring TAGS actors and a special guest host
* Autograph session with TAGS actors (Photographs and/or autographs will be available for sale. The stars may choose not to sign personal memorabilia, and the stars may sign for a limited period only.)
* Breakfast buffet one morning
* Mayberry Chapel and Bible Study on Sunday morning (hosted by "The Way Back to Mayberry" author Joey Fann)
* Special theme contests
The price per person for the Mayberry Vacation Package is $284 for a room at Gaylord Opryland Resort or $238 for a room at the Radisson. These prices are based on two people per room and do not include applicable sales tax.
The Mayberry Vacation Package at Nashville's Gaylord Opryland Resort is expected to be available for purchase by early January. The number to call after that date is 1-888-OPRY-872.

* June 24: When in Rome (Ga.), David "Mayberry Deputy" Browning sees how the local Braves team does.
* June 30-July 4: David Browning patrols the Grundy County Fair in Mazon, Ill.

* July 23: It's a Darlings reunion when The Dillards and Maggie Peterson Mancuso perform at the Oakboro Music Hall in Oakboro, N.C. Show times are 2:30 and 8 p.m. For more details, visit http://www.oakboromusichall.com.
* July 30: Mayberry Squad Car Nationals in Graysville, Ala. (just northwest of Birmingham). Details TBA.

* Aug. 13: The Dillards perform at "Onion Fest and Mayberry Day" in Rutledge, Tenn. (not far from Knoxville). Showtime is 6:00 p.m. on Saturday, August 13. There also will be Mayberry tribute artists and squad cars on hand, along with other Mayberryish goin's on. For more info, visit http://www.ritterfarms.com or call (865) 767-2575
* Aug. 12 to 14: Don Knotts Film Festival in Morgantown, W.V. No specifics are available quite yet (including whether Don will be attending). Look for updates at the Event Calendar at http://www.iMayberry.com or at the city's site at http://www.tourmorgantown.com.
* Aug. 19: "Mayberry Night" at Oakboro Music Hall in Oakboro, N.C. Favorite Mayberry tribute artists including David Browning, Allan Newsome, Kenneth Junkin, Phil Fox, Jamie Sullivan, and Jeff Branch are scheduled. For more info, visit http://www.oakboromusichall.com

* Sept. 22-24, 2005: 16th Annual Mayberry Days in Mount Airy, N.C. Tickets are available at http://www.surryarts.org or by calling 1-800-286-6193. It's not at all too early to be making ticket and hotel reservations.

* Nov. 5: Tentative release date for "Chicken Little" (with Don Knotts as the voice of the Turkey Mayor).

A couple of other possible Mayberry-oriented events are still in the process of getting organized and picking dates. Plus other appearances by cast members are being scheduled. We suggest that you regularly check the Events Calendar at http://www.tagsrwc.com for more information and updates about these events and others that might be added between now and the next issue of "The eBullet" in April, as well as the next "Weaver's Newsletter" in March.


**** NEWS OF CAST & CREW ****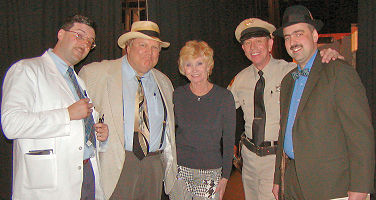 Photo by Patty Browning
Mt Airy, NC (Feb 2005) - Mayberry tribute artists Allan "Floyd" Newsome, Kenneth "Otis" Junkin, David "Mayberry Deputy" Browning and Jeff "Howard Sprague" Branch pose with bluegrass great and Hee Haw star Ronnie Stoneman backstage at the Bluegrass Jamboree. You never know who might show up at The Andy Griffth Playhouse. Maggie "Charlene" Peterson was in the audience as was Alma "Aunt Bee" Venable. Drop by the 3rd Saturday of any month and jump in where you can and hang on.
ANDY GRIFFITH has released a book and CD, both titled "Bound for the Promised Land." See the "Merchandise Update" section below for details.
Andy also read the poem "The Bridge Builder" during North Carolina Governor Mike Easley's inauguration on Jan. 15.
And Andy, along with IBM and Charter Communications, has made a gift to the school children of Manteo, N.C., where Andy has had home for more five decades. The plan is for every home in Manteo that has a child in school to have a computer and Internet access by March 1. If all goes as planned, Manteo would be the first town in the country to have all of its school kids connected to the Internet. Wouldn't Miss Crump be pleased!
DON KNOTTS' hometown of Morgantown, W.V., is planning to host a film festival featuring Don's work, probably in August. There's no official word yet about whether Don himself will be participating in the festival.
RON HOWARD is in final post-production for "Cinderella Man," his next movie as director, which is now set for release on June 3, 2005. He's next scheduled to direct "The Da Vinci Code" and then a remake of "East of Eden."
JAMES BEST's film "Hell-bent for Good Times" has been chosen as an Official Selection of the Tiburon International Film Festival. Congratulations, James!
JOY ELLISON (Mayberry's Mary Wiggins and other Mayberry gal-pals of Opie) has been busy with her work as one of Hollywood's top dialect coaches. She recently completed work on Ang Lee's "Brokeback Mountain" (scheduled for release in October) and is currently working on "The Legend of Zorro" with Antonio Banderas and Catherine Zeta-Jones, scheduled for a November release.
MAGGIE PETERSON MANCUSO was the guest for honor at the grand opening of the Mayberry Daze Diner on Main Street in Oakboro, N.C., Feb. 19. One of the owners of the diner is Jeff Branch, who is a "tribute artist" for Howard Sprague. Other popular Mayberry tribute artists, including David Browning, Allan Newsome, Kenneth Junkin, Phil Fox, Gary Wedemeyer and Alma Venable were also at the grand opening. Then everybody, including Maggie, got back on the truck and went up the road to surprise the folks at the Bluegrass Jamboree in Mount Airy that night. All in all, it was a fun way to get the ball of Mayberry events rolling in 2005!


**** MERCHANDISE UPDATE ****

All of our Mayberry items can be viewed and ordered at our Web site at http://WeaversDepartmentStore.com/. Our phone order line is generally answered between 5 and 9 p.m., Mon. to Sat. You can also leave a message 24 hours a day and someone will return your call and take your order. The number for the Weaver's Phone Order Line is (615) 604-1298.

Here are descriptions of some of the newest items:


* ANDY GRIFFITH'S "BOUND FOR THE PROMISED LAND" CD $16.00
http://WeaversDepartmentStore.com/music/music.htm#bound
This brand new compilation of 33 gospel favorites on 19 tracks features the down-home, inspired singing of Andy Griffith, backed by some of the music world's best musicians. It's a combination that's hard to beat. Here are the tracks that are included.

1. Shall We Gather at the River/Will the Circle Be Unbroken
2. Precious Memories
3. Sweet Prospect/I Am Bound for the Promised Land
4. Amazing Grace/Grace Greater Than All Our Sin
5. I Love to Tell the Story
6. When We All Get to Heaven/We'll Understand It Better by and By
7. There's Power in the Blood/Down at the Cross (Glory to His Name)
8. We're Marching to Zion/When the Saints Go Marching In
9. There Is a Fountain/Are You Washed/Nothing But the Blood
10. Church in the Wildwood
11. Just as I Am/Jesus, I Come/I Need Thee Every Hour
12. When I Can Read My Title Clear
13. I'll Fly Away/A New Name Written Down in Glory
14. Does Jesus Care/His Eye Is on the Sparrow
15. God Will Take Care of You/Just a Little Talk With Jesus
16. What Wondrous Love Is This/Jesus, Lover of My Soul
17. It Is No Secret
18. Beautiful Savior
19. Jesus Walked that Lonesome Valley

* ANDY GRIFFITH'S "BOUND FOR THE PROMISED LAND" BOOK $12.00

http://WeaversDepartmentStore.com/music/music.htm#bound_book
This beautifully designed, 64-page companion book to Andy's music CD by the same name (see above) is filled with words and images of inspiration. Here's how the publisher describes the book:
"An American icon takes a look at iconic American hymns. Includes a bonus three-song CD. Filled with warmth and wisdom of American icon, Andy Griffith, "Bound for the Promised Land" takes the reader on a journey through beloved hymns. Sometimes we are the 'Wayfaring Stranger' in our journey, clinging to the 'Whispering Hope' we find in our Lord. Other times we're boldly 'Marching to Zion,' basking in the 'Sweet Hour of Prayer,' or reflecting tenderly on our 'Precious Memories.' Griffith includes his insight into these and many more timeless hymns and guides and encourages readers on their journey."
The book's list price is $15.00, but we've got it for 20% off at just $12.00. And save even more with the "Bound for the Promised Land" Combo (below).

* ANDY GRIFFITH'S "BOUND FOR THE PROMISED LAND" CD/BOOK COMBO
For even better savings, get both the book and the CD listed above for just $25.00.



* 2005 ANDY GRIFFITH SHOW WALL CALENDAR ($13.00)
http://WeaversDepartmentStore.com/coolstuff.htm#Calendar2005
Plenty of days and months are left in the year to get lots of usefulness and enjoyment from this calendar, which is also already a collectible.
For the first time ever, there is an "Andy Griffith Show" calendar two years in a row. This 2005 calendar (only the fifth Mayberry calendar since the first one in 1989) follows the basic design of the 2004 calendar. It has black & white photos from favorite moments featuring Andy, Barney, Opie, Aunt Bee and Gomer. (See the back cover image for a look at all 12 photos.) The main difference from the 2004 calendar (besides the year and all different photos) is that most of the photos are correctly placed and not reversed, as all the photos were in the infamous and highly collectible 2004 calendar (we still have a handful of those available, too).
The 2005 calendar measures 11 x 12 inches when folded. Unfolded and displayed, it will bring Mayberry joy all year long at home or at work.



* COMPLETE FIRST SEASON OF "THE ANDY GRIFFITH SHOW" on DVD $32.
http://www.weaversdepartmentstore.com/videos/videos.htm#firstseason
This 4-disc set contains all 32 of the episodes from the first season (1960-61) of "The Andy Griffith Show." The episodes are described as being of superb quality and are uncut, including the prized epilogues. There are no particularly interesting special features other than the outstanding quality and lack of edits, but those traits alone are special enough to cause great excitement for most devoted fans of Mayberry. The episodes do have closed captioning available.
The suggested retail price is about $40.00, but we're offering them for 20% off, or just $32. We think the list price was a really good deal, but the price of just a dollar per episode is an even more sensational value. We also have a Mayberry Celebration Combo with the First Season DVD that has been extremely popular.


* FOUR COOL NEW T-SHIRTS
http://WeaversDepartmentStore.com/tshirts.htm

We have four brand new T-shirts designs in stock just in time for Christmas. All are in sizes M, L, XL and 2XL. The shirts are:


*MAYBERRY CHOPPERS T-SHIRT $16.00
This black T-shirt features Barney in his helmet, goggles, and leather jacket—ready to patrol Checkpoint Chickie and the streets of Mayberry on his motorcycle. The nickname "Mad Dog" would fit the Phantom Deputy to a T.!

* BARNEY'S SIDECAR COMPANY T-SHIRT $15.00
This khaki T-shirt features a slightly softer (but no less loony) side of Barney and his motorcycle. But make no mistake, he's still fearless. One word of advice, though: Don't try to wear his helmet. He doesn't like for you to wear his helmet. (His mother was the same way.)

* WALLY'S SERVICE STATION T-SHIRT $15.00
Gomer gives a Mayberry grin as he mans the gas pump at Wally's, where water and air are free, but this T-shirt is not. (Do you know how long we'd be in business if we gave T-shirts away? Not very long.)


* NEW NIP IT T-SHIRT $15.00
We've had several "nip it" related T-shirt designs over the years. This is the latest one, so we're calling it "New Nip It." Barney's face and the words "Nip It" say it all. So rather than rattling on and on about this terrific shirt, we'll just...nip it!

(We also have four brand new computer Mouse Pads that have the same design as the above four T-shirts. They're $10.00 each.)


*ORIGINAL HAWTHORNE MAYBERRY VILLAGE BUILDINGS & FIGURINES
http://WeaversDepartmentStore.com/special/index.htm

Mr. Weaver has decided to sell some of his prized ceramic Mayberry buildings and accessories (including painted pewter figurines) from the Hawthorne Collection of the mid- to late 1990s. All proceeds (not just the profits) will be part of the contributions that Weaver's Dept. Store and TAGSRWC provide to the Surry Arts Council and Mayberry Days 2005 in Mount Airy, N.C. (Some have never been removed from their boxes other than for inspection.)
Check the Special Items section of Weaver's online for the complete run-down on which Hawthorne items are available and their pricing.



* WISHIN' I WAS FISHIN' T-SHIRT $16.00
http://WeaversDepartmentStore.com/tshirts.htm

We think this nostalgic T-shirt really captures the easy-going, relaxed feeling of Mayberry with three of our favorite characters smiling and doing what they like best—hanging out at the fishin' hole. Available in adult sizes Small, Medium, Large, X-large, and 2X-large. It's available in a shirt color of white or olive.


* MORE THAN OTIS—NO BULL!: A SALUTE TO HOLLYWOOD'S HAL J. SMITH $10.00
By John D. Michaud III
http://WeaversDepartmentStore.com/book_etc.htm

If you're a fan of Mayberry's lovable town drunk Otis Campbell and actor Hal Smith who played him, then this book is a must for you. More Than Otis is a fact-filled and loving tribute to Hal's entire life and career. It is truly the definitive resource for information about the fascinating world of this wonderful and talented friend of Mayberry. The 72-page, oversized book has over 130 photos, many shared by Hal's family and never before published.
As a special bonus for Weaver's customers, we will also include a copy of the 4-page March 1994 Special Edition of TAGSRWC's "Bullet" newsletter, which was devoted entirely to Hal after his death in January of that year.
But the book itself is treasure enough. It is chock-full of information and insights that essentially trace the history of 20th century radio, television, and animation. Among the Mayberry stars interviewed for the book were Hal Smith himself, Andy Griffith, Don Knotts, Howard Morris, Bernard Fox, Janet Waldo, Richard O. Linke, Frank Cady, Rance Howard, Sam Edwards, and Margaret Kerry-Wilcox.
Our copies of the book are autographed by author John. D. Michaud III. For just $10, you simply can't beat the value of this special look at the life and times of Hal Smith.


* BARNEY "MASTER OF THE BIG HOUSE" TIN SIGN $13.
http://WeaversDepartmentStore.com/collection/artgallery.htm#master

This newest of the Mayberry tin signs measures 12.5 x 16 inches and takes no prisoners as it captures every inch of Barney's jailhouse bravado. There are now 6 of these Mayberry tin signs. You can get the set of all 6 at Weaver's for just $66.00.


**** CHAPTER UPDATE ****

We're proud to welcome two new chapters since the last "eBullet." They are:

"Bang!! Barney!!!!" Shelby, N.C.
"I Hate It When You Get Obtuse" McCalla, Ala.

That brings our total number of chapters founded since 1979 to 1,272.

If you are interested in starting a chapter of TAGSRWC, all you have to do is pick a name that has not already been chosen and submit a list of your founding members by postal mail. What you do as a chapter is entirely up to you. Your group can do as much or as little as you like. Or write to us also if you would like to contact a chapter near you. Our address is TAGSRWC, 9 Music Square South, PMB 146, Nashville, TN 37203-3286.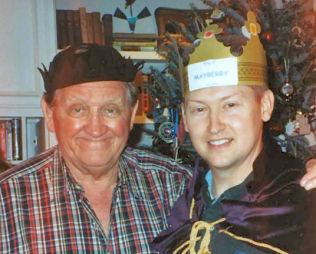 Photo by
Mayberry Chapter
Nashville, TN (Dec 2004) - George Lindsey poses with Dennis Beal of MAYBERRY chapter (Knoxville, Tenn.). Dennis was crowned the 2004 King of Mayberry Trivia on radio's "Big Show" with John Boy and Billy. (Dennis was also second in the Mayberry Days Trivia Contest, aka the Super Bowl of Mayberry Trivia, last September.) The Charlotte, N.C.-based "Big Show" reaches about 90 markets nationwide, so maybe you heard Dennis win. All hail!


**** CHAPTER NEWS ****

BARNEY chapter (Greensboro, N.C.) continues to hold themed monthly meetings, including this month's Valentine's gathering. Chapter member Neal Brower is also getting ready to teach his popular continuing education course about TAGS for the first time in several years (see the Event Calendar for info).
MAYBERRY chapter (Knoxville, Tenn.) published another super issue of its chapter newsletter, "Mayberry Minutes," which is currently the largest TAGS-related newsletter available on paper.
Some of members of MAVIS NEFF chapter (Durham, N.C., and elsewhere) met with ANDY chapter in Nashville recently and took in some Darlings-style bluegrass as well.
Several other chapters, including "THERE HE GOES!" (Cocoa, Fla.), "WELL…MY FACE DON'T LET ON" (Mount Juliet, Tenn.) and "HEARTY EATIN' MEN AND BEAUTIFUL, DELICATE WOMEN" (Tuscaloosa, Ala.), are busy organizing upcoming events for the spring and summer.


**** MISS CRUMP'S MAYBERRY QUIZZES ****

Answers to Miss Crump's Mayberry Quiz #61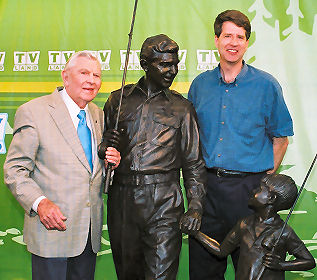 Mt. Airy, NC (Sept 2004) - Andy Griffith poses with TAGSRWC presiding Goober, Jim Clark at Mayberry Days 2004. Andy mentioned Jim by name during his address to those gathered which was greeted with a cry of "At-a-boy Jim" from somewhere near the back of the crowd.
We had lots of almost-perfect entries to this quiz, but only one person got all of the answers correct. It will be no surprise to Mayberry trivia buffs that the winner is Mayberry chapter's DENNIS BEAL, who has won previous quizzes, was runner-up in the 2004 Mayberry Days Trivia Contest and is the reigning King of Mayberry Trivia on radio's syndicated "Big Show" with John Boy and Billy. Congratulations to Dennis, a true maven of Mayberry trivia! He receives his choice of any item at Weaver's except items in the Collectibles and Special Items sections.

Here are the answers we were looking for:

1. Henhouse moonshiner Mr. Frisbie owned a "sozzled" rooster (Bo).

2. Seven people in Mayberry who are seen eating spaghetti dinners are: Andy, Helen, Opie, Uncle Edward, Mrs. Sprague, Howard Sprague and Goober while having "Dinner at Eight." Aunt Bee and Professor Hubert St. John also are seen eating spaghetti at Morelli's.

3. A person in the history of Mayberry who is known to have made paper dolls is Howard Sprague, who does so while he's bored in class while listening as "Goober Makes History." This question proved to be the stumper. Most quiz-takers answered Malcolm Merriweather, who did perform magic construction tricks with newspapers, but he did not make paper dolls.

4. Owners and locations of six moonshine stills in Mayberry could include: Gordon Boys (Billy, Ike, Sherman and Junior) at Franklin Hollow; sisters Jennifer and Clarabelle Morrison in their flower hothouse; Mr. Frisbie under his henhouse; Jubal Foster in his barn; Luke Reimer on his farm; Ben Sewell on his potato farm at Council Flats; Rafe Hollister on/near his farm on Willow Creek Road; Big Jack Anderson in the haunted Remshaw house; Rube Sloan near Furnace Crick; Sam Muggins, precise whereabouts of his still not specified; and Jess Morgan, precise whereabouts of his still not specified.

5. Six different babies known by our eyes or ears to have been seen by people in Mayberry could include: Evie-Joy, daughter Aunt Bee's niece Martha and husband Darryl; Charlene and Dud Wash's daughter, Andelina; Samuel W. and Lillie Becker's son, Andy; Mrs. Ambrose's son, Jeremy; Mr. and Mrs. Garland's baby, whom Opie found on the Courthouse steps; baby picture of Andy in the Taylor house; and twins Robert and William Buntley

BONUS: The star that doesn't fit into the group (the star on Barney's shoulder patch, the star on the squad car door, the star shape of Andy's sheriff's badge, the star on Barney's motorcycle sidecar and any star on the flag in the courthouse) is the star shape of Andy's sheriff's badge because it's the only star that has six points instead of five points. (The small star in the center of Andy's badge also has five points, which is the reason Miss Crump was careful to specify the shape of the badge itself in her question.)


Miss Crump's Mayberry Quiz #62

Miss Crump has a mixed bag of questions this time, but she seems to have animals and apparel on her mind. Here you go:

1. What do Giants and Bears have in common in Mayberry?
2. Name eight males who are seen in Mayberry wearing neckties tied in a bow, as opposed to the ends hanging straight down in alignment.
3. When Opie says "Abyssinia" to Andy, what does Andy say in response?
4. Does Goober's felt beanie cap always have ventilation holes cut in the top when he is seen wearing it?
5. Not including cats and dogs, identify 15 different animal species with at least three legs that are seen or mentioned in Mayberry.
BONUS: Identify two times that a carp is mentioned in Mayberry.
The deadline for entries to be e-mailed or post-marked is April 10, 2005. To send your answers by e-mail, write to MissCrump@iMayberry.com. By regular mail, send your answers to TAGSRWC, 9 Music Square South, PMB 146, Nashville TN 37203-3286. The answers will be published in the April "eBullet." In the event of a tie for the highest score, we'll draw a name from Henry Bennett's hat to select the winner. The prize is the same as for the previous quiz (the choice of any single item online at Weaver's except for items in the Collectibles and Special Items sections). Good luck!


**** POSTNOTE ****

Between issues of "The eBullet," keep up with the goings-on in Mayberry with the more-or-less daily "Who's Been Messin' Up The Bulletin Board?" Digest. It's a free subscriber list that consists entirely of comments, news flashes, and questions and answers from subscribers. You can sign up for that list by going to the "Mailing Lists" link at http://tagsrwc.com.
TAGSRWC also publishes the "Weaver's Newsletter" in more-or-less alternate months to "The eBullet." Like "The eBullet," the "Weaver's Newsletter" is free. Its focus is mainly on new Mayberry merchandise and collectibles and quick news flashes. To sign up, go to http://www.tagsrwc.com/ebullet/joinebullet.htm.
TAGSRWC's other main vehicle for Mayberry information is simply our Web site at http://www.tagsrwc.com. It has extensive content and links for just about everything a Mayberry fan might be looking for.
The next issue of "The eBullet" is scheduled for April.

**** For now, we'll nip it in the bud. ****