*********************************************
"The eBullet"
An Online newsletter of
"The Andy Griffith Show" Rerun Watchers Club (TAGSRWC)
Volume 4, Issue 4
October 29, 2004
*********************************************
Welcome to our 17th issue of "The eBullet," the fourth for 2004. There's a lot going on in Mayberry these days, so we'll get right to it.
The biggest news that Mayberry fans are talking about, at least as far as things coming up, is the release of the COMPLETE FIRST SEASON OF TAGS ON DVD on Nov. 16! http://www.WeaversDepartmentStore.com/videos/videos.htm#firstseason

Those first 32 episodes (on four DVDs) were originally scheduled for release by Paramount Home Entertainment on Oct. 12, but the date has been bumped to Nov. 16. We'll start taking orders at Weaver's online (and by phone and mail) around Nov. 1. We'll be ready to ship all Season 1 DVD orders on the official release date of Nov. 16. We expect these DVDs to be of exceptional quality and uncut. We don't anticipate any significant special features on these DVDs (though having closed captioning will be nice), but just having the episodes with superb technical quality and also uncut will be triumph enough. The suggested retail price is about $40.00, but our price is going to be 20% off that price, or just $32.00.
NOTE: Though a portion of all proceeds from all items that Weaver's sells goes to support various Mayberry events throughout the year, ALL profits from the sale of this DVD set through the rest of 2004 will be designated for supporting the Surry Arts Council's Mayberry Days in 2005. Because our expected profit margin for this item is pretty lean because of the discounted price we're offering, we won't have very much margin to donate per DVD set. But if we sell most of the sets that we've initially ordered, then these DVDs could be a significant part of TAGSRWC and Weaver's annual donation to Mayberry Days. So thanks in advance for supporting Mayberry Days when you buy these DVDs from Weaver's!
If sales go well, Paramount plans to release the other seven seasons an entire season at a time. Keep your fingers crossed!
**** EVENT CALENDAR ****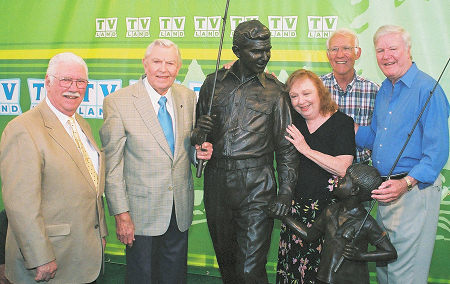 Photo by Jim Clark
Mt. Airy, NC (Sept 2004) - Andy Griffith poses with the statue and is joined by TAGS cast members (l-r) George Spence, Betty Lynn, LeRoy Mac, and James Best. Barney was a little concerned with Thelma Lou hugging on Andy like that even if it is only a statue.
* Oct. 19: George Lindsey performs at the North Carolina State Fair in Raleigh. Times TBA.
* Nov. 5, 2004, to May 29, 2005: Ronnie Schell and Ruta Lee perform in "Senior Class: A Revue of the Golden Years" at the Palme d'Or Theatre in Palm Desert, Calif. For more info, call 1-888-240-3003 or visit http://www.seniorclassrevue.com.
* Nov. 16: Release date for the Complete First Season of TAGS on DVD.
* Nov 26: The Roland White Band performs at 9 p.m. at the Station Inn in Nashville, Tenn. Admission is $8.00.
* Dec. 1: David Browning performs "Scrooge" at Central Presbyterian Church in Bristol, Va.
* Dec. 3-5: Jim Nabors sings in three performances of his annual "Christmas with Friends and Nabors" show with the Honolulu Symphony at the Hawaii Theatre. For more info, visit http://www.hawaiitheatre.com or call (808) 528-0506.
* Dec. 10: David Browning performs as Ebeneezer for the "Scrooge Dinner" at the Oakboro Music Hall. For info, visit http://www.oakboromusichall.com .
* Dec. 10 and 11: The Roland White Band performs at 9 p.m. at the Station Inn in Nashville, Tenn., as part of Bill Monroe Appreciation Nights.
* Dec. 18: The Roland White Band performs at 9 p.m. at the Station Inn in Nashville, Tenn. Admission is $8.00.
* Apr. 8 and 9, 2005: Doug and Rodney Dillard, the VW Boys, and a host of Mayberry "tribute artists" (including David "Mayberry Deputy" Browning, Allan "Floyd" Newsome, Kenneth "Oits" Junkin, Tim "Goober" Pettigrew, Jeff "Howard Sprague" Branch, and Jamie "Opie" Sullivan) will celebrate "A Tribute to Mayberry" during the first annual Good Ole Days Festival in historic downtown Cocoa, Fla. Others stars TBA. The festival will include autograph sessions, music, a parade, Mayberry Memorabilia exhibits, an antique car and tractor show, and a Mayberry trivia contest. For more info, call organizer Al Gandolfi at (321) 636-6188.
* Apr. 9, 2005: The Roland White Band performs at the Cross Country Trail Ride Bluegrass Festival in Eminence, Mo.
* Apr. 22-24, 2005: The 8th Annual George Lindsey/UNA Film Festival on the campus of the University of North Alabama in Florence. Visit http://www.lindseyfilmfest.com
* June 3, 2005: Tentative release date for Ron Howard's "Cinderella Man."
* June 17-19, 2005: Tentative date for a probable Mayberry event. Details TBA. For now, you might just want to pencil in this date on your 2005 Mayberry calendar.
* Sept. 22-24, 2005: 16th Annual Mayberry Days in Mount Airy, N.C. Tickets available at http://www.surryarts.org or by calling 1-800-286-6193.
We suggest that you regularly check the Events Calendar at http://www.tagsrwc.com for more information and updates about these events and others that might be added between now and the next issue of "The eBullet."
**** NEWS OF CAST & CREW ****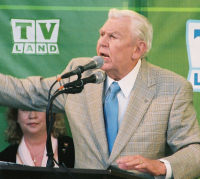 Photo by Jim Clark
Mt. Airy, NC (Sept 2004) - Andy Griffith spoke to and thrilled the crowd that was gathered to see the unveiling of the TV Land Landmark statue.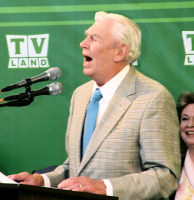 Photo by Jim Clark
Mt. Airy, NC (Sept 2004) - Andy closes his speech with a heart warming rendition of the Mayberry Union High fight song.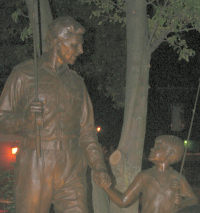 Photo courtesy of Jan Newsome
Mt. Airy, NC (Sept 2004) - The statue is placed just to the east of the entrance to the Andy Griffith Playhouse. It's a sight to see and it's even visible at night with the lighting that was installed.
The biggest Mayberry event since our August issue was of course September's Mayberry Days in Mount Airy, N.C. This year a whopping 10 cast members from TAGS were in attendance: Maggie Peterson Mancuso and all four of her Darling TV brothers (Doug Dillard, Rodney Dillard, Mitch Jayne and Dean Webb), Betty Lynn, James Best, LeRoy "Mack" McNees, George Spence, and…Andy Griffith!
They were all there to help Mount Airy, the Surry Arts Council and TV land celebrate the unveiling of the TV Land Landmark statue paying tribute to "The Andy Griffith Show." The statue was a replica of the statue dedicated in Raleigh last October. An amphitheater hillside overflowing with as many as 8,000 people watched as Andy Griffith was introduced by TV Land President Larry Jones before Andy then unveiled the new statue and proceeded to give a magnificent heartfelt speech. He closed his speech with a rousing rendition of the Mayberry Union High fight song that brought an enormous cheer from the enthusiastic crowd.
The statue was then placed in its permanent, prominent spot on the front lawn of the Andy Griffith Playhouse, where it will be respected and enjoyed by many visitors for years to come. Andy left town shortly after the dedication, but his masterful speech was the talk of the town for the rest of the fun-filled weekend.
Andy's fellow stars and others entertained throughout the rest of the weekend, which was as close to a perfect Mayberry weekend as a fan could ever dream of.
In other news, Ron Howard is in post-production for "Cinderella Man," his next movie as director, which is now set for release on June 3, 2005. He's next scheduled to direct "The Da Vinci Code," and after that, a remake of "East of Eden."
Clint Howard has recently completed work on two more films scheduled for release in 2005, "Molding Clay" (directed by "Greatest American Hero" William Katt) and "Planet Ibsen" in which Clint plays Henrick Ibsen.
Ron and Clint's father, Rance, had a central role in the Oct. 10 episode of "Cold Case Files" on CBS-TV.
George Lindsey recently returned from back-to-back trips to Atlanta for work on his "Liars & Legends" show on regional cable's Turner South. And George had a successful trip to the South Carolina State Fair earlier this month, where he performed and served as emcee.
Richard O. Linke reports that the Richard O. Linke Visiting Professional Office in the Radio-Television Communication Building at the College of Communication is now a reality. The room contains Dick's vintage desk and other office furnishings and memorabilia (donated by Dick years ago) from when he managed Andy Griffith, Jim Nabors, Ken Berry, Maggie Peterson, and others, and when was associate producer of TAGS. The office will serve as a work area for visiting teachers and other guests of the College of Communication. In true Mayberry fashion, Dick says the surprise unveiling of the completed office during a campus visit earlier this year was "big." Dick also is still getting back to full strength at home in Hawaii after a recent battle with pneumonia.
James Best and his Best Friend Films won the People's Choice Award for their short film "House of Forever" at the Melbourne Independent Film Festival in September.
We're sorry to report the passing of three people who worked on TAGS. Actor J. Edward McKinley, who played Governor George C. Handley in "The Cannon" (Episode #172), died in Beverly Hills on July 30. He was 86 years old. He was born in Seattle, Wash., on October 11, 1917. His acting career saw him almost always playing authority figures—mostly politicians, doctors, professors and the like. In Mayberry, he will always be remembered for playing the Governor to whom the town's Potato Queen presented a potato. He then proceeded to give a speech while holding the potato.
Writer Joseph Bonaduce passed away in Northridge, Calif., on Aug. 3 from complications stemming from several strokes. He was born in Jessup, Penn., on Feb. 5, 1927. He was a writer for five episodes of TAGS: "Opie Steps Up in Class" (Episode #225), "Andy's Trip to Raleigh" (Episode #226), "Howard and Millie" (Episode #233), "Goober and the Auto Show" (Episode #242) and "The Wedding" (Episode #246). He also wrote two episodes of "Mayberry R.F.D." and for popular TV shows such as "Bonanza," "The Dick Van Dyke Show," "Laredo," "Nanny and the Professor," "The Waltons," "Little House on the Prairie," "Apple's Way," and "Love American Style." He was the father of actor Danny Bonaduce (who appeared in three episodes of "Mayberry R.F.D.").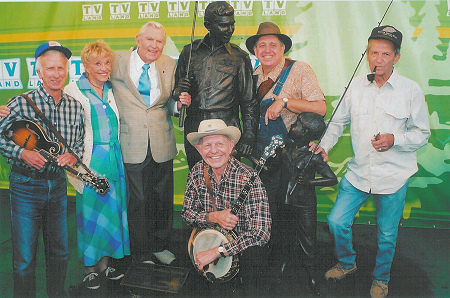 Photo by Jim Clark
Mt. Airy, NC (Sept 2004) - Andy Griffith was joined by the Darling boys and Charlene for photos at the statue. The boys sure were keyed up and Charlene wouldn't let that boy go. From left to right, the Darling faimly is made up of Dean Webb, Maggie Peterson, Doug Dillard, Rodney Dillard and Mitch Jayne
Actor Ignatius Wolfington, died of natural causes at his home in Studio City, Calif., on September 30. Born in Philadelphia on Oct. 14, 1920, "Iggie," as he preferred to be called, was one of the consummate professionals of his generation of stage and screen actors. His connection to Mayberry is that he played George Watkins, the new husband of Howard Sprague's mother, in "The Wedding" (Episode #246). He also appeared in one episode of "Mayberry R.F.D." He was nominated for a Tony Award for his performance in the original Broadway production of "The Music Man." His many TV credits include "Gunsmoke," "Get Smart," "The Mary Tyler Moore Show," and "The Rockford Files." He also appeared with Andy Griffith in 1975's "Adams of Eagle Lake" and can be seen 1974's "Herbie Rides Again," starring Ken Berry. He portrayed Edmund Dexter on "All My Children" in 1985 and 1986.
Iggie Wolfington was awarded a Purple Heart and Silver Star in World War II. He spearheaded the establishment of the West Coast office for the Actors Fund of America. He also led that West Coast office from 1969 to 1984. He is survived his wife, actress Lynn Wood.
We send our condolences to the McKinley, Bonaduce and Wolfington families.
Most of the other news for the Cast & Crew is in the Event Calendar above.
**** MERCHANDISE UPDATE ****
All of our Mayberry items can be viewed and ordered at our Web site at http://www.tagsrwc.com/weavers. Our phone order line is generally answered between 5 and 9 p.m., Mon. to Sat. We'll probably have extended phone-line hours in the two weeks or so before Christmas. You can also leave a message 24 hours a day and someone will return your call and take your order. The number for the Weaver's Phone Order Line is (615) 604-1298.
Here are descriptions of some of the newest items (besides the upcoming release of the Complete First Season of TAGS on DVD, discussed above), as well as of some other items added fairly recently:
* WISHIN' I WAS FISHIN' T-SHIRT $15.00
http://www.weaversdepartmentstore.com/tshirts.htm
We think this nostalgic T-shirt really captures the easy-going, relaxed feeling of Mayberry with three of our favorite characters smiling and doing what they like best—hanging out at the fishin' hole. Available in adult sizes Small, Medium, Large, X-large, and 2X-large. It's available in a shirt color of white or olive.
* MORE THAN OTIS—NO BULL!: A SALUTE TO HOLLYWOOD'S HAL J. SMITH $10.00
By John D. Michaud III
http://www.WeaversDepartmentStore.com/book_etc.htm
If you're a fan of Mayberry's lovable town drunk Otis Campbell and actor Hal Smith who played him, then this book is a must for you. More Than Otis is a fact-filled and loving tribute to Hal's entire life and career. It is truly the definitive resource for information about the fascinating world of this wonderful and talented friend of Mayberry. The 72-page, oversized book has over 130 photos, many shared by Hal's family and never before published.
As a special bonus for Weaver's customers, we will also include a copy of the 4-page March 1994 Special Edition of TAGSRWC's "Bullet" newsletter, which was devoted entirely to Hal after his death in January of that year.
But the book itself is treasure enough. It is chock-full of information and insights that essentially trace the history of 20th century radio, television, and animation. Among the Mayberry stars interviewed for the book were Hal Smith himself, Andy Griffith, Don Knotts, Howard Morris, Bernard Fox, Janet Waldo, Richard O. Linke, Frank Cady, Rance Howard, Sam Edwards, and Margaret Kerry-Wilcox.
Our copies of the book are autographed by author John. D. Michaud III. For just $10, you simply can't beat the value of this special look at the life and times of Hal Smith.
* BARNEY "MASTER OF THE BIG HOUSE" TIN SIGN $13.00
http://www.WeaversDepartmentStore.com/collection/artgallery.htm#master
This newest of the Mayberry tin signs measures 12.5 x 16 inches and takes no prisoners as it captures every inch of Barney's jailhouse bravado. There are now 6 of these Mayberry tin signs. You can get the set of all 6 at Weaver's for just $66.00.
* MAYBERRRY/MOUNT AIRY LOCATION OVAL $2.00
http://www.WeaversDepartmentStore.com/cards.htm#Oval
Folks seem to have location ovals on their vehicles from all kinds of places these days. They started as insignia representing European countries. Now the ovals fashion has reached even Mayberry. And what better place to identify with!
These Mayberry/Mount Airy ovals have a suggested retail price of $3.50, but we've got them for the ultra-reasonable price of just $2. Add this friendly touch of class to your vehicle and you're sure to get lots of smiles from folks who pass you. (We know you won't be the one passing anybody in your car because you love the slow pace of Mayberry and you know all about Barney's Checkpoint Chickie!)
* THE BANJO ALBUM by Doug Dillard $15.00
http://www.WeaversDepartmentStore.com/music/dillards.htm

This album is one of the most-admired bluegrass-flavored instrumental albums of all time. The 2004 version of the album (originally released in 1969), has 5 additional cuts that were not on the original release, for a total of 16 truly fantastic tunes. If you enjoy banjo music and the Doug Dillard style, it simply doesn't get any better than this. And with a supporting cast including Byrds member Gene Clark and Eagles member Bernie Leadon, plus John Hartford, Byron Berline, and Vassar Clements, the album soars to toe-tapping heights. (And "Andy Griffith Show" fans will want to know that Mayberry's Country Boys members Roger Bush and Billy Ray Lathum also play on three tracks.
Here are the songs on the album:
1. Runaway Country
2. Turkey Knob
3. Home Sweet Home
4. Foggy Mountain Breakdown
5. Jamboree
6. Cumberland Gap
7. Clinch Mountain Backstep
8. Bully of the Town
9. Dear Old Dixie
10. Bells of St. Mary
11. Banjolina
12. Back Up and Push
13. Dixie Breakdown
14. Hard Times
15. Old Joe Clark
16. Train
As someone once said, if you're counting off the world's greatest banjo players on one hand, Earl Scruggs is surely the thumb, but Doug Dillard is likely the next digit over. And so it is that we raise our index finger high when counting Doug Dillard!
* JIM NABORS CHRISTMAS $12.00
http://www.WeaversDepartmentStore.com/jimnabors/index.htm
The 12 songs on this special collection of Christmas music were originally recorded in 1967 and 1972. They have been digitally re-mastered for this CD. The inspirational singing voice of Jim Nabors has never sounded better. Sure to bring joy to your holiday season.
1. O Come All Ye Faithful
2. Christmas Song
3. Little Drummer Boy
4. Silent Night, Holy Night
5. Silver Bells
6. Go Tell It on the Mountain
7. Have Yourself a Merry Little Christmas
8. O Little Town of Bethlehem
9. Jingle Bells
10. O Holy Night
11. White Christmas
12. Joy to the World
* 16 MOST REQUESTED SONGS BY JIM NABORS $13.00
http://www.WeaversDepartmentStore.com/jimnabors/index.htm
This CD is essentially a Greatest Hits collection of popular releases and songs of faith by Jim Nabors, including his signature version of "The Impossible Dream."
1. Impossible Dream
2. Time for Us
3. Try to Remember
4. Love Is Blue
5. Love Me With All Your Heart
6. Somewhere, My Love
7. What Now, My Love?
8. My Cup Runneth Over
9. Lord's Prayer
10. Just a Closer Walk with Thee
11. You'll Never Walk Alone
12. More
13. You Don't Have to Say You Love Me
14. Jean
15. Sunrise, Sunset
16. And This Is My Beloved
* THE GOSPEL ACCORDING TO ANDY $12.00
http://www.WeaversDepartmentStore.com/music/music.htm
Everything is sacred in this compilation of some of Andy's favorite gospel songs that he have been released on some of his other gospel albums over the years, especially his Grammy-nominated (including one winner) albums of the 1990s. Sure to inspire.
1. Amazing Grace/Grace Greater than All Our Sin
2. The Ragged Old Cross/Near the Cross
3. Shall We Gather at the River/Will the Circle Be Unbroken
4. Whispering Hope
5. Softly and Tenderly/I Surrender All/Pass Me Not
6. There Is a Fountain/Are You Washed?/Nothing but the Blood
7. How Great Thou Art
8. When They Ring the Golden Bells/In the Sweet by and By
9. I Love to Tell the Story
10. Sweet Hour Of Prayer/What a Friend We Have in Jesus
11. We're Marching to Zion/When the Saints Go Marching In
12. It Is No Secret
* ANDY'S GREATEST LAUGHS $11.00
http://www.WeaversDepartmentStore.com/music/music.htm
Here are 11 of Andy Griffith's biggest comedy hits at a very nice price.
1. Make Yourself Comfortable
2. What It Was, Was Football (Parts 1 & 2)
3. Romeo and Juliet (Parts 1 & 2)
4. Andy and Cleopatra
5. North Carolina, My Home State
6. Swan Lake
7. Hamlet
8. The Discovery Of America
9. Opera: Carmen
10. Love Poems: "To the Lovely Juanita Beasley"
11. Love Poems: "Togetherness"
* ANDY GRIFFITH SINGS OLD-TIME FAVORITES $11.00
http://www.WeaversDepartmentStore.com/music/music.htm
This CD is all of Andy singing, mostly with bent toward the blues that he loves so much to sing. The Fishin' Hole is the "Andy Griffith Theme" with words. And Mayberry fans will recognize 5 other cuts as being songs that were performed on the show.
1. The Fishin' Hole
2. Pick a Bale of Cotton
3. How Long, How Long Blues
4. Don't Look Back
5. Police Department Blues
6. The Crawdad Song
7. The Midnight Special
8. Flop-Eared Mule
9. Sourwood Mountain
10. Cindy
11. Mama Guitar
12. Careless Love

* THE MISSOURI BOAT RIDE CD ($15.00)
http://www.WeaversDepartmenStore.com/music/dillards.htm
Dillards founding member and mandolin player Dean Webb is picking bluegrass a lot these days aboard the American Star cruise boat on Table Rock Lake, near Branson. The group is called The Missouri Boat Ride and their self-titled CD has some great picking and singing. We're pleased to offer it. Here are the 14 cuts included by Dean and the boys:
1. Old Train
2. Some Old Day
3. Old and in the Way
4. Sled Ridin'
5. Vincent Black Lightning 1952
6. Man of Constant Sorrow
7. How Mountain Girls Can Love
8. Rebel Soldier
9. Old Blue
10. Old Home Place
11. Foggy Mountain Special
12. Steam Powered Airplane
13. Back to the Old Home
14. Circle Be Unbroken
It's a terrific CD to listen to while cruising around on a boat or on the road. Or even while just sitting at home on the couch!
Some other of our most popular and recent items include:
* FRAMED GOMER PYLE PRINT SIGNED BY JIM NABORS ($59.00)
http://www.WeaversdepartmentStore.com/collection/artgallery.htm#gomerprint
We're pleased to offer this brand new matted and framed photo of Gomer Pyle at the gas pump signed by Jim Nabors. In addition to the large photo of Gomer, there's text about his role on the show and a second photo of Andy Griffith, Don Knotts, and Jim Nabors sitting in chairs during a break in filming. A snapshot of Jim signing the prints at his beachfront home in Hawaii and a certificate of authenticity are attached to the back of the print. The black frame measures 11 x 14. Limited Edition of 5,000.
Special Offer: Order the similar signed Barney Fife Print that we offer and the signed Gomer Pyle Print as a pair for only $110.00 and save $8.00 quicker than you can say, "Shazam!"
* 2005 ANDY GRIFFITH SHOW WALL CALENDAR ($13.00)
http://www.WeaversDepartmentStore.com/coolstuff.htm#Calendar2005
For the first time ever, there is an "Andy Griffith Show" calendar two years in a row. This 2005 calendar (the fifth Mayberry calendar since the first in 1989) follows the basic design of the 2004 calendar. It has black & white photos from favorite moments featuring Andy, Barney, Opie, Aunt Bee and Gomer. (See the back cover image for a look at all 12 photos.) The main difference from the 2004 calendar (besides the year) is that all of the photos are correctly placed and not reversed, as all the photos were in the infamous and highly collectible 2004 calendar (we still have a few available). The calendar measures 11 x 12 inches when folded. Unfolded and displayed, it will bring Mayberry joy all year long at home or at work. Can't wait to start your Christmas shopping? What better way than a date (or 365) with Mayberry!
* "MAYBERRY REVISITED: A TRIBUTE TO THE DARLIN'S" CD ($12.00)
http://www.WeaversDepartmentStore.com/music/dillards.htm#Revisited
Some of Nashville's top musicians who are fans of both The Dillards and Mayberry have come together to perform on this musical salute to the legendary Dillards and their Mayberry alter-egos, the Darlings.
On this CD, you'll find songs that the Darling boys played on "The Andy Griffith Show" and some that they talked about playing and even started to play, but had to stop because they made Charlene, Briscoe, or baby Andelina cry. This album is released with the enthusiastic blessings of The Dillards.
"These guys are doing a wonderful job carrying on the 'Mayberry musical tradition.' It's very uplifting to see that Mayberry values still live on in so many people's hearts. God bless you. " -- Rodney Dillard
There are 10 tracks on the CD, some as instrumentals and some beautifully sung in the Darlings style. The songs included are:
1. Dooley
2. Shuckin' the Corn
3. Shady Grove
4. Cripple Creek
5. Old Joe Clark
6. Till the End of the World Goes Round
7. Boil Them Cabbage Down
8. There Is a Time
9. Lonesome Road Blues
10. Ruben's Train

We're proud to be the first outlet to offer this super CD. It's sure to provide toe-tapping enjoyment for any fan of The Dillards, the Darlings, Mayberry and outstanding bluegrass music.
* MAYBERRY BAIT AND TACKLE BLANKET/THROW
http://www.weaversdepartmentstore.com/weaversnew1.htm#bait
This newest of the Mayberry throws is perfect for anybody who enjoys Mayberry's connection to fishing and the happy faces of Andy, Barney, Opie and Gomer. This giant tapestry throw, which is fringed around the entire border, measures a whopping 58 in. x 65 in. It's perfect outdoors for picnics or indoors for couch potatoes! The throw gives the general impression of being primarily tan and brown from a distance, but close up you can see that it's actually an intricate weave of a rainbow of colors. How did Aunt Bee and Clara pull that off!
The throw is made of acrylic and cotton and is easy to care for. It can be gently machine washed or dry-cleaned. Go on...take the bait. It's a great value for just $39.00
* "ANDY GRIFFITH SHOW" CERAMIC/TIN CONTAINER
http://www.weaversdepartmentstore.com/weaversnew1.htm#cookie_2004
This new collectible container is part tin and part ceramic. It's capped off with a classic Mayberry touch…a Sheriff Dept. cap! It's about a foot high and about 8 inches in diameter. Perfect for storing anything from cookies to those extra bullets. The price is currently just $36.00. NOTE: The price will be going up by $6.00 after this introductory offer. We expect the price increase to take effect before around Aug. 1.
* MAYBERRY BIRTHDAY BALLOONS
http://www.weaversdepartmentstore.com/weaversnew1.htm#balloon
We have two designs of Mylar balloons that say Happy Birthday with a real touch of Mayberry.
The green "Happy Birthday, You Old Goat!" design features a scene with Andy and Barney and Jimmy the Goat from the classic "Loaded Goat" episode. It's dynamite. (Blooey!)
The blue "You're HowOld?" design features Barney and Gomer with shocked expressions on their faces from the campfire scene in the popular "Back to Nature" episode.
Both designs have an un-inflated diameter of about 16 inches with the same graphics on both sides of the balloon. You'll need to arrange for your own inflation with helium. (Most flower shops or floral depts. of grocery stores, etc., that sell helium balloons will fill balloons of your own that you bring to them for about a dollar per balloon.) Our un-inflated Mayberry balloons are $4.00 each, or you can get a Party Pair with one of each design for $7.00.
**** CHAPTER UPDATE ****
We have two new chapters since the last "eBullet." They are:
"There He Goes!" Cocoa, Fla.
"Huggy, Huggy!" West Monroe, La.

Photo courtesy of Jan Newsome
Mt. Airy, NC (Sept 2004) - Neal Brower's lecture with all four Original Dillards and Maggie Mancuso
That brings our total number of chapters founded since 1979 to 1,265. And the "There He Goes!" bunch is wasting no time getting involved with major activities. They are the organizers of next April's Mayberry event in Cocoa. (See the Event Calendar above.)
If you are interested in starting a chapter of TAGSRWC, all you have to do is pick a name that has not already been chosen and submit a list of your founding members by postal mail. What you do as a chapter is entirely up to you. Your group can do as much or as little as you like. Or write to us also if you would like to contact a chapter near you. Our address is TAGSRWC, 9 Music Square South, PMB 146, Nashville, TN 37203-3286.
**** CHAPTER NEWS ****
The main event for many TAGSRWC chapters since the Aug. "eBullet" was Mayberry Days in Mount Airy at the end of September. We don't know exactly how many chapters were on hand, but we do know that Ernest T. got swollen feet from all of the counting he tried to do. Let's just say that there were "whole bunchesful," probably a record number.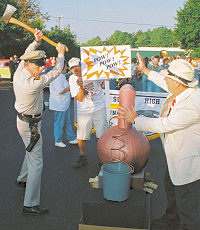 Photo by Jim Clark
Mt. Airy, NC (Sept 2004) - The Barney chapter is caught by Barn with the Morrison Sisters "Flower-making Machine." Pow, pow pow!!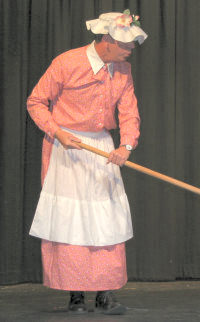 Photo courtesy of Jan Newsome
Mt. Airy, NC (Sept 2004) - Ms. Macgruder's cousin showed up first in the parade and then later that night at Col. Tim's. "She" said Mrs. Macgruder couldn't make it as she had fungus of the knee.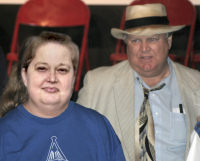 Photo courtesy of Jan Newsome
Mt. Airy, NC (Sept 2004) - Nancy Thorton receives the Mayberry Friendship Award. Some said it was the first time they'd seen Nancy speechless. "Way to go Luther" was heard from the back of the room as Nancy headed back to her seat.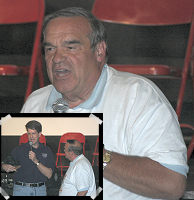 Photo courtesy of Jan Newsome
Mt. Airy, NC (Sept 2004) - Jim Ballance receives the Jim Schwenke Memorial Award which honors one of the most genuine and "Mayberry like" persons any TAGS fan could ever meet. That's saying a lot as there are some really wonderful Mayberry folks. The large photo is of Jim's report of Barney Chapter activities. The insert is of Jim Clark presenting the award. Way to go Jim...err..and Jim.
In addition to the obvious highlights of seeing Andy Griffith unveil the new TV Land Landmark and seeing the nine other TAGS stars on hand, other high points included Neal Brower's lecture with all four Original Dillards and Maggie Mancuso on Sat. Also, seeing The Dillards and Maggie perform for the crowd and for Andy and Cindi Griffith after the statue ceremony was a milestone moment. (The Dillards had not had a chance to perform or visit with Andy in person since the filming of "Return to Mayberry" in 1986.)
TAGSRWC chapters were out in force for the Mayberry Days parade as well. Leading the way was Barney Chapter (Greensboro, N.C.) with a large contingent of moonshiners carrying jars of flowers in some sort of clear liquid and walking behind their Morrison Sisters-inspired "Flower-making Machine" on wheels. (As he has most years, still architect Mike Johnson also designed this year's official Mayberry Days T-shirt.)
Ready to clean up any spills from any still-smashing was Remembering Mayberry chapter (Chillicothe, Ohio) featuring Pat Coleman as Mrs. Magruder's Cousin, who proudly rolled her mop and bucket down the Main Street. (She made quite a splash, but the various Otis look-alikes in the parade and Otis wannabes along the route nevertheless hated to see her ready for such quick clean-up work involving a still.)
Not to be outdone, Ricky Carnes of Mayberry Squad Car chapter (Canton, Ga.) and his Mayberrily perfect vintage motorcycle and sidecar made everyone remember Checkpoint Chickie. Ricky was having a little trouble pronouncing words beginning with the letter "S" as he and his rolling stock traveled down Main Street, but with his helmet, goggles and leather gauntlets, nobody really noticed.
And you know a Mayberry parade can't be jinxed when there's a Henry Bennett (Rick Grimsley of "What Did Calvin Coolidge Say?" of Batesville, Ind.) marching in it—complete with his little piece of paper that read "6 and 7/8."
Many other chapters participated with their squad cars and look-alikes. And watch out, Opie, because the parade also saw the first appearance of a Mary Wiggins look-alike with pig-tailed Amanda Doak making a super presentation of Miss Mayberry Junior. She even blacked out a front tooth for the full effect. (She, too, was therefore not having much luck pronouncing words beginning with the letter "S"!)
Our online "Who's Been Messin' Up the Bulletin Board" chapter (http://www.wbmutbb.com) organized a tremendous Mayberry Days Silent Auction fund-raiser again this year. Many chapter members and others donated some very nice Mayberry-related memorabilia and crafts, as well as other fine items. So far (there are still a couple of vacation packages up for extended bidding), this year's auction has raised $4,730 for the Surry Arts Council and its funding for Mayberry Days. Main auction organizer Jeff Koontz and all of the volunteers and people who donated and bid on auction items have created a source of fantastic support for Mayberry Days. Thank you all!
Two other words of praise: At TAGSRWC's Annual Meeting during Mayberry Days, we presented the club's two annual awards. First was the Mayberry Friendship Award, which was presented "in recognition and appreciation for outstanding dedication to the fans of 'The Andy Griffith Show'" to Nancy Thornton of "You Better Put a Buckeye in Your Pocket and Do the Incant for a Sore Foot" chapter (Bessemer, Ala.). Nancy has for years has volunteered her considerable creative talents and hard work for tasks large and small at just about every Mayberry event—not to mention her numerous Mayberry kindnesses for fans and the Cast & Crew year-round.
The other major award presented annually by TAGSRWC is the Jim Schwenke Memorial Award, which honors the memory of the founder of the Mayberry Texans chapter in Houston. Jim Schwenke was one of the all-time-great fans of Mayberry. He was a dedicated archivist for the show and as genuine and sincere a person as Mayberry could ever hope to have as a citizen. Jim passed away shortly before Mayberry Days in 2002. We inaugurated the Jim Schwenke Memorial Award in 2003 by naming Allan Newsome (our Web master and pre-eminent Floyd "tribute artist") as the first recipient.
This year the Jim Schwenke Memorial Award was presented to Jim Ballance of Barney chapter. Jim has been a truly dedicated force behind the success of Barney chapter and a vital communicator, link, and, most of all, a friend to other chapters and fans. Like Jim Schwenke, Jim Ballance communicates primarily the old-fashioned way. He's known for his superb letter-writing, usually handwritten, but sometimes typed with a manual typewriter with letters that stick. (Not unlike how we've seen Andy Taylor compose letters on his Courthouse typewriter.) But it was for his Mayberry spirit, and not his penmanship or typing, that Jim Ballance received this year's Schwenke award.
Congratulations to Nancy and Jim for receiving TAGSRWC's two highest honors!
Two other quick notes from chapters growing the old-fashioned way. "Just Jump in Where You Can and Hang On" chapter (Boulder, Colo.) announced the arrival of new member Andrew Stuart Gard on July 31. And "Never Hit Your Grandma with a Great Big Stick" (Tifton, Ga.) announced the Sept. 3 arrival of Albert Ezekial "Zeke" (a.k.a Goober) Culbreath. (Close readers of this newsletter will recall a "shoes and rice time" announcement for the Culbreath family last October.)
**** MISS CRUMP'S MAYBERRY QUIZZES ****
Miss Crump's Mayberry Quiz #60
Answers to this quiz (presented in the July issue of oue printed newsletter, "The Pocket," and in the August "eBullet") will be in the November "Pocket" and in the December issue of "The eBullet."

**** POSTNOTE ****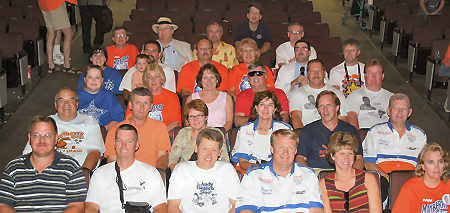 Photo courtesy of Jan Newsome
Mt. Airy, NC (Sept 2004) - The chapter leaders pose for a photo following the TAGSRWC Annual Meeting.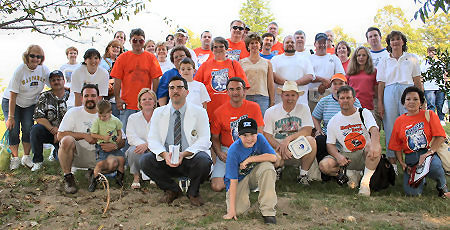 Photo courtesy of Jan Newsome
Mt. Airy, NC (Sept 2004) - Members of the "Who's Been Messin' Up the Bulletin Board?" (WBMUTBB) Chapter got together at Mayberry Days for a group photo. Join them online. Like water and air....it's free.
Between issues of "The eBullet," keep up with the goings-on in Mayberry with the more-or-less daily "Who's Been Messin' Up The Bulletin Board?" Digest. It's a free subscriber list that consists entirely of comments, news flashes, and questions and answers from subscribers. You can sign up for that list by going to the "Mailing Lists" link at http://www.tagsrwc.com .
TAGSRWC also publishes the "Weaver's Newsletter" in more-or-less alternate months to "The eBullet." Like "The eBullet," the "Weaver's Newsletter" is free. Its focus is mainly on new Mayberry merchandise and collectibles and quick news flashes. To sign up, go to http://www.tagsrwc.com/ebullet/joinebullet.htm.
And if you like to receive Mayberry information on good, old-fashioned paper, we have a publication called "The Pocket." It's an eight-page newsletter that contains highlights from "The eBullet" and the "Weaver's Newsletter." Because "The Pocket" involves printing and postage, there is a fee to receive it.
"The Pocket" is continuing with additional issues through 2004. TAGSRWC's other main vehicle for Mayberry information is simply our Web site at http://www.tagsrwc.com. It has extensive content and links for just about everything a Mayberry fan might be looking for.
The next issue of "The eBullet" is scheduled for December.
**** 10-4 and out ****