To Subscribe click here
To Unsubscribe click here
---

Volume 4, Issue 2


---

---

May 29, 2004


---
*********************************************
The eBullet
An Online newsletter of
"The Andy Griffith Show" Rerun Watchers Club (TAGSRWC)
Volume 4, Issue 2 May 29, 2004
*********************************************

Welcome to our 15th issue of "The eBullet," the second for 2004. There's a lot of recent news and several new products. But first, here are some of the things coming up in Mayberry, including several important event updates.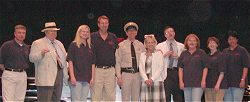 Photo courtesy of Jan Newsome
Cullman, AL (March 5, 2004) - Members of the Esquire Club visit with look-a-likes on stage following the "Welcome Home to Mayberry" festivities which were attended by more than 500 folks.
**** EVENT CALENDAR ****
* May 28: David "Mayberry Deputy" Browning is on the diamond trail for the Midland (Tex.) Rock Hounds baseball game.
* May 30: Jim Nabors is scheduled to sing "Back Home Again in Indiana" at the Indy 500.
* June 3-5: Rodney Dillard and Doug Dillard perform at the Branson Bluegrass Festival at the Shepherd of the Hills Outdoor Theatre in Branson, Mo. Visit http://www.theshepherdofthehills.com/events.htm for more info.
* June 7: Mayberry guest star Don Rickles performs at the American Music Theatre in Lancaster, Penn., at 8 p.m. Tickets are $49.50 and available by calling the theater at (717) 397-7700.
* June 12: Fourth Annual Mayberry Squad Car Nationals and Brent Mule Days at Heritage Park (on Prison Road!) in Brent, Ala. George Lindsey, James Best and Maggie Peterson Mancuso have been confirmed to appear at this fun event. Replicas of Mayberry squad cars tear up the asphalt in drag racing and overcome Mayberry-style adversity in the obstacle course race. And with David "Mayberry Deputy" Browning on hand with his rival James "Sheriff Rosco P. Coltrane" Best and a lot of fast cars, who knows what might happen! (And it's a good thing there'll be an experienced Mayberry mechanic on hand, too!)
There's also a parade starting at 11 a.m. (with lots of squad cars, mules and tractors), music and other festivities. The squad car racing part of the day starts at about 12:30 p.m. After the races, the stars will take the stage and also sign autographs. Maggie will perform with a local band of all-keyed-up musicians at 5:30 p.m. Admission for all day (gates open at 8:00 a.m., but there's really not much reason to arrive before the parade) is just $2.00 (kids 6 and under get in free with a paying adult).
If you arrive a day early and just can't wait to get to Heritage Park, there'll be music the night before (admission is $2.00 that night as well). If you're coming from a pretty good distance away and need a place to stay, the nearest pretty-good-sized city to find a room is either Tuscaloosa or Birmingham. The official hotel of the event is the Country Inn and Suites in Tuscaloosa (205) 345-9999.
* June 17: Rodney Dillard and Doug Dillard perform at the Bill Monroe Memorial Bean Blossom Bluegrass Festival in Bean Blossom, Ind. Visit http://www.beanblossom.com for complete festival info.
* June 17-19: Julie Adams, "Mary" from the "County Nurse" episode of TAGS, will be greeting guests and signing autographs along with several other celebrities at this year's Memphis Film Festival at the Holiday Inn Select Airport. For more information, please check out the festival's Web site at http://www.memphisfilmfestival.com .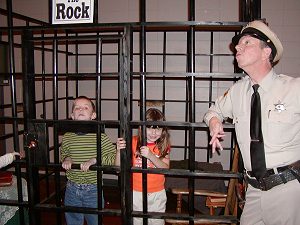 Photo courtesy of Jan Newsome
Cullman, AL (March 5, 2004) - Even children aren't exempt from following the law with the Mayberry Deputy on duty. It's definitely no fun when that iron door clangs shut.
* June 18-20: Mayberry Cast Reunion at Nashville's Gaylord Opryland Resort, starring Don Knotts, George Lindsey, The Dillards (Rodney Dillard, Doug Dillard and Dean Webb), Betty Lynn, Howard Morris, Maggie Peterson Mancuso and Elinor Donahue. (Jean Carson and Bernard Fox both have had to cancel for health reasons.) David Browning will emcee, and Allan Newsome will be splitting hairs.
Note: Room packages for this event are virtually sold out.
The event's two-night package includes:
*Two-night room accommodations at Gaylord Opryland Resort or Radisson Hotel at Opryland
*Ticket to Aunt Bee's Blue Ribbon Dinner and Reunion Show at 7 p.m. on Friday night
*Ticket to the Grand Ole Opry Saturday night show at 6:30 p.m., featuring a special "Tribute to Mayberry"
*Autograph opportunities with the cast on Saturday afternoon (exact time to be announced)
*Breakfast buffet on one morning at Rachel's or the Cascades Restaurant
*Special theme activities throughout the weekend, including pickle-eating and look-a-like contests
*Round-trip luggage handling
*All applicable taxes and gratuities
Package Prices (per person, plus tax, based on double occupancy):
Gaylord Opryland Resort - $279
Radisson Hotel at Opryland - $244
Here's the biggest update for local fans who want to attend: Tickets for "Aunt Bee's Blue Ribbon Dinner and Reunion Show" will be available after June 1 for $65, plus tax and gratuity. The Gaylord Opryland telephone reservations people likely won't have much information (if any) about these "dinner/show only tickets" until June 1, so call before June 1 only if you want a hotel room package.
For reservations and tickets, call Gaylord Opryland Resort at: 1-888-677-9872.
And one more tidbit: Residents of Tennessee, Alabama and Kentucky can take a shot at winning a free Mayberry Cast Reunion Package Weekend for Two in a contest (deadline to enter: June 11) being conducted by a local dairy. Here's the Web site for the contest: http://www.puritydairies.com/contest/mayberry/
* June 20: Rodney Dillard and Doug Dillard perform for a whole raft of people at the Huck Finn Jubilee bluegrass festival in Victorville, Calif. For more info, visit http://www.huckfinn.com .
*July 1 and 2: George Lindsey is guest of honor for the Liberty Day celebration in Lawrenceburg, Tenn. North Carolina and, in particular, Mayberry, are being featured this year. The City of Lawrenceburg has started a tradition of saluting a different state each year around the Fourth of July.
The exact schedule has not been confirmed, but at this point it looks as though the parade will be Thurs., July 1, at 8 p.m., and that George will be Grand Marshal. He'll also likely do a "meet and greet" with fans sometime either Thurs. or Fri. and perform his comedy act Fri. at 8 p.m. at the Crockett Theater. Other festivities during the weekend include Aunt Bee's Baking and Pickle Contest, a look-alike contest and Miss Crump's Spelling Bee. For more information, call (931) 762-0068.
* July 2-4: David Browning patrols the Grundy County Fair in Mazon, Ill.
* July 9: The Hollywood Bowl Orchestra is performing "TV Night" at the Hollywood Bowl in Los Angeles, at 8:30 p.m. The orchestra will perform a concert of TV theme songs, including ten (yes, 10!) by "Andy Griffith Show" music director/composer Earle Hagen. Visit http://www.hollywoodbowl.com for updates.
* July 9 and 10: Mayberry in the Midwest III in New Castle, Ind. The super lineup of stars includes George Lindsey, Betty Lynn, Rodney Dillard, Doug Dillard, Maggie Peterson Mancuso, Elinor Donahue, Arlene Golonka, Keith Thibodeaux, Ronnie Schell and Barbara Stuart. And seven tribute artists are also scheduled, including "David "Mayberry Deputy" Browning and Allan "Floyd" Newsome. Tickets to Friday's "Evening of Mayberry" dinner with the stars and auction at 6 p.m. at Henry County Arts Park are $20. Tickets for Saturday's Cast Reunion show at 7 p.m. at Bundy Auditorium of New Castle Middle School are $30. Watch the Event Calendar at http://www.tagsrwc.com and our online newsletters for updates. The event's Web site is: http://www.mayberryinthemidwest.com . Tickets are on sale now. They're selling fast, but still available. Tickets may be purchased over the phone by calling (888) 676-4302 or (765) 593-0764.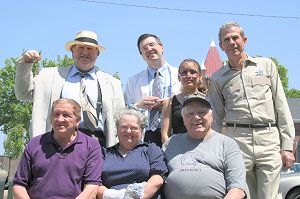 Photo courtesy of Jan Newsome
Florence, AL (April 17, 2004) - Otis, Floyd, J.Lo., Andy and Aunt Bee look-a-likes join festival namesake George Lindsey and special guest Ernest Borgnine at the George Lindsey/UNA Film Festival.
* July 10: Jim Nabors performs at the American Music Theatre in Lancaster, Penn., at 8 p.m. Tickets are $40.00 and on sale at the
theater box office (717) 397-7700.
* July 16: David Browning scouts the crowd for fun at the Danville (Va.) Braves Baseball game.
* July 17: It's a Darlings Reunion when Rodney Dillard, Doug Dillard and Maggie Peterson Mancuso perform at 8 p.m. at the Oakboro Music Hall in Oakboro, N.C. Visit http://www.oakboromusichall.com for updates.
* July 17: David Browning hosts the Blue Ridge Jamboree at the Andy Griffith Playhouse in Mount Airy, N.C.
* July 22: David Browning puts his best foot forward for the Bristol (Va.) White Sox game.
* July 23: David Browning has the crowd doubling over with laughter for the Elizabethton (Tenn.) Twins game.
* July 24: David Browning shines with the Greenville (Tenn.) Astros.
* July 30: David Browning slides in for the Salem (Va.) Avalanche game.
* Aug. 1: Mayberry Night at the Ballpark for the Carolina Mudcats. Proving that Bass and catfish go together, Phil "Ernest T." Lee and a Mayberry squad car replica will be on hand for the game at Five County Stadium in Zebulon, N.C. Game time is 4 p.m. For updates, visit http://www.gomudcats.com
* Aug. 1: The sky's the limit when David "Mayberry Deputy" Browning, Allan "Floyd" Newsome and Kenneth "Otis" Junkin join the Huntsville (Ala.) Stars for Mayberry Night at the Ballpark.
* Aug. 12: David Browning performs with Carl Hurley's Calvacade of Comedy in Asheville, N.C.
* Aug. 15: David Browning meets the Mets for a night at the ballpark in Kingsport, Tenn.
* Aug. 20: Mayberry Night in Oakboro, N.C., featuring David "Mayberry Deputy" Browning, Phil "Ernest T." Fox, Kenneth "Otis" Junkin, Jeff "Howard" Branch, Jamie "Opie" Sullivan and a local "Darlin' Band." Showtime is 8 p.m. and tickets for reserved seating are $15.00 each. For info, visit http://www.oakboromusichall.com .
* Aug. 21: David Browning hosts the Blue Ridge Jamboree at the Andy Griffith Playhouse in Mount Airy, N.C.
* Aug. 21 and 22: Twilight Zone Convention in North Hollywood, Calif. At least six actors from "The Andy Griffith Show" are scheduled to attend the "Stars of the Zone" convention at the Beverly Garland Holiday Inn in North Hollywood. Those actors are Jean Carson, Ruta Lee, William Schallert, Morgan Brittany, Barbara Stuart, and Bill Erwin. For more information about the convention, visit http://www.twilightzoneconvention.com
* Aug. 26-28: David Browning sets up his Checkpoint Chickie at Bristol Motor Speedway in Bristol, Tenn.
* Sept. 3: David Browning is chief deputy for the Greenville (S.C.) Braves baseball game.
* Sept. 4: David Browning gets a line and a pole, babe, and goes down to the Hickory (N.C.) Crawdads baseball game.
* Sept. 6: David Browning works hard for the Marmet (W.V.) Labor Day celebration.
* Sept. 17: David Browning is on hand for the "Evening of Mayberry" at the Glenville (W.V) State College Bluegrass Festival.
* Sept. 18: David Browning hosts the Blue Ridge Jamboree at the Andy Griffith Playhouse in Mount Airy, N.C.
* Sept. 23-25: 15th Annual Mayberry Days in Mount Airy, North Carolina. Tickets are on sale now. Visit http://www.surryarts.org or call (336) 786-7998 for info or tickets. Stars scheduled to attend so far are: Darling boys Doug Dillard, Rodney Dillard, "Darling person" Maggie Peterson Mancuso, Mayberry sweetheart Betty Lynn, Maestro Earle Hagen and Mayberry Country Boys band members LeRoy McNees and Billy Ray Lathum. We'll have complete details in the July "Pocket" and August "eBullet." But don't wait until then to make your plans. We're probably beginning to sound like a broken record, but a word to the wise: If you tend to wait until the last minute to make hotel room and ticket reservations for various events, don't wait to do so for Mayberry Days 2004. Go ahead and make plans today.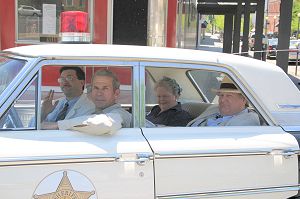 Photo courtesy of Jan Newsome
Florence, AL (April 17, 2004) - Andy and Floyd take Aunt Bee and Otis for a spin the Mayberry patrol car during the George Lindsey Film Festival.
* Oct. 10: George Lindsey performs at the South Carolina State Fair in Columbia. Times TBA.
* Oct. 19: George Lindsey performs at the North Carolina State Fair in Raleigh. Times TBA.
* Nov 26: The Roland White Band performs at 9 p.m. at the Station Inn in Nashville, Tenn. Admission is $8.00.
* Dec. 10: David Browning performs as Ebeneezer for the "Scrooge Dinner" at the Oakboro Music Hall. For info, visit http://www.oakboromusichall.com .
* Dec. 10 and 11: The Roland White Band performs at 9 p.m. at the Station Inn in Nashville, Tenn., as part of Bill Monroe Appreciation Nights.
* Mar. 18, 2005: Tentative release date for Ron Howard's "Cinderella Man."
We suggest that you regularly check the Events Calendar at http://www.tagsrwc.com for more information and updates about these events and others that might be added between now and the next issue of "The eBullet."

**** NEWS OF CAST & CREW ****


Photo by Kevin Winter/Getty Images; courtesy of TV Land.
MAYBERRY STARS SHINE - Twelve members of the TAGS cast and crew take the stage to accept the Legend Award on behalf of TAGS at the Second Annual TV Land Awards. Pictured here are (l-r): Harvey Bullock(writer), Jim Nabors(Gomer), Andy Griffith, Don Knotts(Barney), Aaron Ruben(writer), Earle Hagen(theme music), Howard Morris(Ernest T.), Maggie Peterson(Charlene), Betty Lynn(Thelma Lou), Elinor Donahue(Ellie), George Lindsey(Goober), and Rance Howard(actor and Opie's "real" dad).
The landmark event for the year so far and the gathering that for sheer Mayberry star power will be hard to top was the second annual TV Land Awards show, which was taped on March 7 and aired for the first time on March 17.
There have been larger public gatherings of the TAGS cast and crew in recent years (for example the 35th Anniversary reunion in Winston-Salem in 1995 and Judge Joel Laird's Mayberry Family Reunion near Birmingham in 2000. But not since the filming of "Return to Mayberry" in 1986 had so many stars gathered with Andy Griffith.
In all, 12 members of the TAGS cast and crew got up on stage to accept the Legend Award, which was presented by TAGSRWC Honorary Member Billy Bob Thornton. Joining Andy were producer Aaron Ruben, ace writer Harvey Bullock, music man Earle Hagen, Don Knotts, Jim Nabors, George Lindsey, Betty Lynn, Howard Morris, Maggie Peterson Mancuso, Elinor Donahue and Rance Howard.
Also in the audience were TAGS guest stars Ronnie Schell, who sat with some of the TAGS folks, Barbara Eden, Gavin McLeod and Bob Denver. Unless our spotter missed someone, that made 16 people in the room who worked on TAGS at some point. It was a truly special night.
Elsewhere...
Don Knotts provides the voice of Turkey Mayor in the animated "Chicken Little" movie that is currently in production at Disney. It is scheduled for release sometime in 2005.
Ron Howard is currently directing "Cinderella Man." The movie, currently filming in Canada, had been slated to begin filming in March, but was bumped because star Russell Crowe injured his shoulder in training for his starring role as boxer Jim Braddock. The movie also stars Renee Zellweger.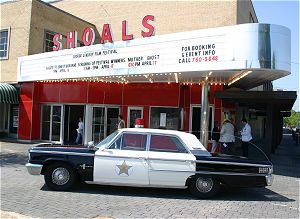 Photo courtesy of Jan Newsome
Florence, AL (April 17, 2004) - The Shoals Theater was the showplace for the winning entries at the George Lindsey Film Festival.
Meanwhile, Ron continues to serve as executive producer and narrator for the acclaimed TV series "Arrested Development," which aired on Fox on Sunday nights this year. The series won the "Future Classic" award at March's TV Land Awards. And Ron is a producer for the feature film "Curious George," which is currently filming. Ron's Imagine Entertainment film company also owns the movie rights to "The DaVinci Code," which Ron is expected to direct and which wull likely be released in late 2005 or early 2006.
Clint Howard is in a couple of movies in various stages of finding their way to theaters or to video. One that's making the rounds and getting laughs at film festivals is "Raising Genius." Any movie that features Clint as "Mr. Goss" and also includes Tippi Hedren, Shirley Jones and Stephen Root has got to be worth a look. Also already released (but we're not sure where) is "The Sure Hand of God," with a great ensemble of character actors. And a spoof that has finished filming but is still in production is "My Big Fat Independent Movie," in which Clint plays a mechanic. Clint's "A Christmas Too Many" is going straight to video, but with co-stars including Mickey Rooney, Gary Coleman, Marla Maples and Mayberry's Ruta Lee, the film must be interesting.
Rance Howard has been working in a lot of films, mostly Westerns, during the last year or so. The most notable so far was this spring's "The Alamo" in which he played Governor Smith (son Ron was also one of the film's producers). Others scheduled for release this year include "Death and Texas" and "Killing Cupid" (two that actually aren't Westerns). Two more Westerns in the works are "Aimee Semple McPherson" and "Comanche Stallion," which also stars Western legends James Arness, Katharine Ross, Harey Carey Jr. and Sam Elliott. Rance plays a preacher in that one.
George Lindsey is staying busy as the new host for the popular weekly series "Liars & Legends" on cable's Turner South. He's taping his third round of six episodes in Atlanta this week. (Turner South is available on cable in many markets in the southern United States and via satellite. New episodes usually air on Thursdays, but check your local listings.)
George had another successful George Lindsey/UNA Film Festival at his alma mater of the University of North Alabama in April. George's pal and Hollywood legend Ernest Borgnine was the festival's special guest this year.
Jean Carson is recovering well from abdominal surgery in May. She has expressed her sincere thanks to fans for our prayers and cards of encouragement. She'll miss June's reunion in Nashville, but hopes to be back up to full Fun Girl speed before long.
Bernard Fox also has been dealing with some minor surgeries (Is there such a thing?!) He's on top of things and is doing very well, but unfortunately doing so means he had to bow out of the Nashville reunion.
Most of the other news for the cast and crew is in the Event Calendar.

**** STATUE UPDATE ****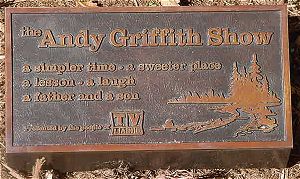 Photo courtesy of Welford Sims
Raleigh, NC - Here's a good look at the plaque that was stolen from the TV Landmark statue of TAGS. If you see it, the boys down at the lab would love to hear from you.
It has been widely reported that the plaque in front of the TV Landmark statue for "The Andy Griffith Show" in Raleigh's Pullen Park was stolen in late April. It was dug up from its position in the ground in front of the actual statue. A month later, there's still no sign of the plaque, but the detectives in Barney's old squad in Raleigh are on the case. If the plaque is not found, a new one will be made.
One other note, fans visiting the statue might also note that half of Opie's fishing rod has been cut off. That was done for safety reasons. The end of the originally full-length pole was about eye level for many people and was a potential danger to someone walking behind the statue to pose for photos.

**** MERCHANDISE UPDATE ****
We have several really neat new items we're offering. All can be viewed and ordered at our Web site at http://www.tagsrwc.com/weavers. And coming soon (probably mid- to late June) are a Whistling Tackle Box, a Framed Print of Gomer Pyle that is autographed by Jim Nabors and a bluegrass tribute album to (not by) The Dillards. The album, performed by some of Nashville's top pickers, will consist of only songs that the Darlings played or started to play in Mayberry. Check Weaver's online from time to time in the next month to see when each of these new items has arrived.
And yes, the rumors you've heard are correct. TAGS will be released on DVD, an entire season at a time! We've been hoping and waiting for this to happen for years. Season One is currently scheduled for release on October 12. You can be sure that our Weaver's Dept. Store will be carrying these DVDs just as soon as they're available. We don't expect them to be inexpensive, but they'll be real treasures to have on DVD.
Meanwhile, here are descriptions of some of the more recent items that have been added to our Mayberry merchandise lineup.
* MAYBERRY BAIT AND TACKLE BLANKET/THROW NEW!
http://www.weaversdepartmentstore.com/weaversnew1.htm#bait
This newest of the Mayberry throws is perfect for anybody who enjoys Mayberry's connection to fishing and the happy faces of Andy, Barney, Opie, and Gomer. This giant tapestry throw, which is fringed around the entire border, measures a whopping 58 in. x 65 in. It's perfect outdoors for picnics or indoors for couch potatoes! The throw gives the general impression of being primarily tan and brown from a distance, but close up you can see that it's actually an intricate weave of a rainbow of colors. How did Aunt Bee and Clara pull that off!
The throw is made of acrylic and cotton and is easy to care for. It can be gently machine washed or dry-cleaned. Go on...take the bait. It's a great value for just $39.00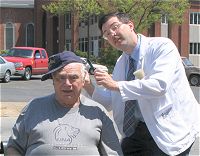 Photo courtesy of Jan Newsome
Florence, AL (April 17, 2004) - Ernest Borgnine gets a trim from "Floyd" at the film festival. At least he didn't fall into the hand of a strange barber.
* "ANDY GRIFFITH SHOW" CERAMIC/TIN CONTAINER NEW!
http://www.weaversdepartmentstore.com/weaversnew1.htm#cookie_2004
This brand new collectible container is part tin and part ceramic. It's capped off with a classic Mayberry touch...a Sheriff Dept. cap! It's about a foot high and about 8 inches in diameter. Perfect for storing anything from cookies to those extra bullets. The price is currently just $36.00. NOTE: The price is expected to go up by as much as $6.00 after this introductory offer. We expect the price increase to take effect before the end of the summer, probably around Aug. 1.
* MAYBERRY BIRTHDAY BALLOONS NEW!
http://www.weaversdepartmentstore.com/weaversnew1.htm#balloon
We have two designs of Mylar balloons that say Happy Birthday with a real touch of Mayberry. The green "Happy Birthday, You Old Goat!" design features a scene with Andy and Barney and Jimmy the Goat from the classic "Loaded Goat" episode. It's dynamite. (Blooey!)
The blue "You're How Old?" design features Barney and Gomer with shocked expressions on their faces from the campfire scene in the popular "Back to Nature" episode.
Both designs have an uninflated diameter of about 16 inches with the same graphics on both sides of the balloon. You'll need to arrange for your own inflation with helium. (Most flower shops or floral depts. of grocery stores, etc., that sell helium balloons will fill balloons of your own that you bring to them for about a dollar per balloon.) Our uninflated Mayberry balloons are $4.00 each, or you can get a Party Pair with one of each design for $7.00.
* TV TIME COMEDY 100-EPISODE DVD SET NEW!
http://www.weaversdepartmentstore.com/videos/videos.htm#tv_time100
O.K., we've really gone cuckoo with this one. This DVD set contains 16 episodes of "The Andy Griffith Show," 5 of "The Dick Van Dyke Show," 20 of "The Lucy Show," 20 of "The Beverly Hillbillies," 10 of "Ozzie and Harriet," 10 of "Burns and Allen," 4 of "Petticoat Junction," and 15 of "Hal Roach's Rascals." That's a total of a whopping 100 episodes! (They're all listed at Weaver's online.) The 10-DVD set contains over 35 hours of some of the best episodes of some of the all-time classic TV shows. And the price is an ultra-bargain at just $35.00.
* TWO NEW MAYBERRY REFRIGERATOR MAGNETS JOIN PREVIOUS 8
http://www.weaversdepartmentstore.com/games/games.htm#magnets
We're pleased to offer two new refrigerator magnets, bringing the total number of designs currently available to 10. The five rectangular ones measure about 2 x 3 inches and the five square ones are just under 3 inches per side. The magnets are $4.00 each or just $34 for a Complete of 10. See all 10 online at Weaver's.
* NEW MAYBERRY GREETING CARD BRINGS TOTAL TO 26
http://www.weaversdepartmentstore.com/cards_greeting.htm
There's a new Mayberry friendship card and a Father's Day card, which brings the total to 26 different designs of Mayberry greeting cards for birthdays and a variety of occasions. They come in sets of 4 for $9 or a complete set of all 26 designs for just $49.00.
There are also have been a lot of price changes for items since our last "eBullet." Almost all are price reductions or special combo offers. So you might want to check them out before Father's Day (don't forget about the "Act Like Somebody" book with Mayberry Parenting tips!), plus for graduation and wedding gift ideas (you can't wrong with a cookbook for those).
And here are a couple of reminders about other items:
* 2004 ANDY GRIFFITH SHOW CALENDAR
http://www.weaversdepartmentstore.com/coolstuff.htm#Calendar
We still have some, but not many, of the 2004 TAGS calendar (the first one since 2000 and only the fourth Mayberry calendar ever). It features black & white photos from scenes with Andy, Barney, Opie, Aunt Bee and Gomer. (See the back cover image online for a look at all 12 photos.) The calendar measures 11 x 12 in. This calendar is likely destined to become known as the "Backward Calendar." Every photo in the calendar is reversed from the way it should be! It's definitely Mayberry as you've never seen it before. Sure to be a collectible that's talked about for many years after 2004! Price: $13.00
* DON KNOTTS MOVIES ON DVD
http://www.weaversdepartmentstore.com//videos/videos.htm
Several of Don Knotts' most popular movies have been released on DVD, and Weaver's is carrying some of them. We currently offer "The Ghost and Mr. Chicken," "The Reluctant Astronaut," "The Shakiest Gun in the West" (each at $16.00) and "The Incredible Mr. Limpet" ($25.00), plus others.

**** CHAPTER UPDATE ****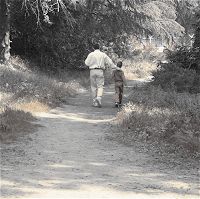 Photo courtesy of Jan Newsome
Los Angeles, CA (April 2004) - The Mother Figure Chapter traveled to Franklin Canyon Park, the real "Myers Lake", so father and son could walk down that path where Andy and Opie walked. Seen here is them walking away after a day of fishing. To see the video of them recreating the opening credits you'll need Windows Media Player. Click here for the video.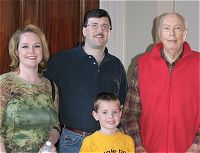 Photo courtesy of Jan Newsome
Los Angeles, CA (April 2004) - Mother Figure also dropped in on TAGS writer Harvey Bullock for a wonderful visit (above). They were also lucky enough to be able to go out on the town with (below) actress Jane Withers, actor Alan Young (Wilbur on Mr. Ed) and Mayberry's own Betty Lynn. It was a very Mayberry trip for Mother Figure.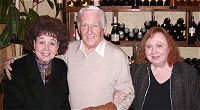 Photo courtesy of Jan Newsome
We have one new chapter since the last "eBullet." It is:
Barney's Maximum Security Jail Brewton, Ala.
That brings our total number of chapters founded since 1979 to 1,262. If you are interested in starting a chapter of TAGSRWC, all you have to do is pick a name that has not already been chosen and submit a list of your founding members by postal mail. Or write to us also if you would like to contact a chapter near you. Our address is TAGSRWC, 9 Music Square South, PMB 146, Nashville, TN 37203-3286.

**** CHAPTER NEWS ****
It has been a fairly quiet time for news being reported by chapters. Many chapters are involved in organizing some of this summer's events, or just making plans to attend them. But here are a few reports.
Several chapters, including the host Esquire Club chapter, and other folks near Cullman, Ala., turned out for the Welcome Home to Mayberry event at their local civic center in early March. More than 500 people enjoyed the night of music, food and fun in Cullman. Also on hand were favorite character tribute artists David Browning, Allan Newsome and Kenneth Junkin, among others. Chapter member Woody Jacobs also had his fine Mayberry squad replica on display.
Jeff Koontz of "Some of Us Got It...Some of Us Ain't" chapter (Clayton, N.C.) reports that "We met for an evening of bowling. We had a good crowd with seven attendees. No one came close to a perfect game, but Scott did have a personal best of 176. We probably violated some number in the law books, but it was not a busy night and the owner let us watch "Howard the Bowler" on the monitors adjacent to the scores. He actually set it to run on all the monitors not being used to keep score, so the league bowlers watched with us. He said they enjoyed it once they figured out what it was. It was an awesome sight looking down the alley and seeing TAGS playing on 20-some monitors!
For its May meeting taking place this week, the Barney chapter (Greensboro, N.C.) is having a party to celebrate all kinds of occasions, including National Potato Week and Sir Walter Raleigh Landing Day. To give you an idea of what kind of goings-on will be going on, there will be a piñata shaped like a still (no, we haven't been in the Mulberry squeezin's, but we can't speak for everybody!). At some point, attendees will be taking their best shots at the piñata and going pow-pow-pow!
Two members of Pepperelli Pizza chapter (Raeford, N.C.) tied the knot during a lovely backyard ceremony in May. Members of "Never Hit Your Grandma with a Great Big Stick" chapter (Tifton, Ga.) were among those who performed music during the wedding. (Yes, they did render "There Is a Time" on banjo and guitar.) Members of Andy chapter (Nashville, Tenn.) also attended, but didn't sing -- not a lick.
A member of "I Was a Pawn in the Hand of a Wily Woman" (Plainview, Nebr.) dropped by to visit Andy chapter on the way to a mountain cabin retreat in East Tennessee with two other escapees, who were also members of the Internet's "Who's Been Messing' Up the Bulletin Board?" (a.k.a. WBMUTBB?) chapter. "Pawn" members likewise made an excursion in the other direction to attend the TV Land Awards in Los Angeles in March. A handful of other TAGSRWC members also attended, including representatives of Mayberry Squad Car chapter (Canton, Ga.), Andy chapter and "WBMUTBB?"
A member of Mavis Neff chapter (Durham, N.C.) also ended up "going to Nashville" this spring and was all "bubbly-wubbly" while visiting Andy chapter.
Mayberry chapter (Knoxville, Tenn.) put out another fine edition of its printed "Mayberry Minutes" newsletter in April. Will they finally bring one of their "several" Mayberry squad car replicas to compete the Mayberry Squad Car Nationals on June 12? Wait and see, wait and see!
Members of Tennessee TAGS chapter (welcoming all fans in Tennessee) were among the many fans who turned out to see George Lindsey at a public appearance in Gallatin, Tenn., in May. After visiting with George for a good while, members re-convened at a local diner down the road.
We'll surely have lots more chapter activities to report in our August issue, which follows this summer's three big events in Brent, Nashville and New Castle, among others. So we'll start saving our energy now.

**** MISS CRUMP'S MAYBERRY QUIZZES ****
Answer to Miss Crump's Mayberry Quiz #58
This short quiz prompted a surge in the number of responses. And everyone who entered got the answer right-that it was Malcolm Merriweather who claimed to have worked as a valet. We put all of the entries into a hat and drew out the winning name...Barbara Adams of Goober chapter in Gainesville, Fla. Congratulations to Barbara who has her choice of any single item offered through online at Weaver's Dept. Store (except for the Mayberry Squad Car Cookie Jar or items in the Collectibles section).
Miss Crump's Mayberry Quiz #59
We've got our usual number of questions this time, so Miss Crump has a full slate of questions to test your Mayberry knowledge.
1. Name someone whose accomplished swimming ability is spoken about with admiration by a Mayberry resident.
2. Who in Mayberry said, "I do not choose to run" and who was being quoted?
3. Who in Mayberry is once said to be "just two inches inside the law"?
4. Identify three times that Barney Fife talks about the performance of a camera.
5. Who or what in Mayberry is said to be "full of twig girdlers"?
BONUS: Who in Mayberry once claimed to have followed his or her rainbow to the wrong end?
The deadline for entries to be post-marked is June 30, 2004. Answers will be published in the July issue of "The Pocket" and the August "eBullet." Same prize as the previous quiz. Good luck!

**** POSTNOTE ****
Between issues of "The eBullet," keep up with the goings-on in Mayberry with the more-or-less daily "Who's Been Messin' Up The Bulletin Board?" Digest. It's a free subscriber list that consists entirely of comments, news flashes, and questions and answers from subscribers. You can sign up for that list by going to the "Mailing Lists" link at http://tagsrwc.com .
TAGSRWC also publishes the "Weaver's Newsletter" in more-or-less alternate months to "The eBullet." Like "The eBullet," the "Weaver's Newsletter" is free. Its focus is mainly on new Mayberry merchandise and collectibles and quick news flashes. To sign up, go to http://www.tagsrwc.com/ebullet/joinebullet.htm
And if you like to receive Mayberry information on good, old-fashioned paper, we have a publication called "The Pocket." It's an eight-page newsletter that contains highlights from "The eBullet" and the "Weaver's Newsletter." Because "The Pocket" involves printing and postage, there is a fee to receive it.
"The Pocket" is continuing with additional issues through 2004. There are several subscription options for brand new subscribers online at http://www.tagsrwc.com . Or you can receive for a free sample issue by writing TAGSRWC, 9 Music Square South, PMB 146, Nashville TN 37203-3286 and sign up with the form provided.
TAGSRWC's other main vehicle for Mayberry information is simply our Web site at http://www.tagsrwc.com . It has extensive content and links for just about everything a Mayberry fan might be looking for.
The next issue of "The eBullet" is scheduled for mid-August.

**** 10-4 and out ****