To Subscribe click here
To Unsubscribe click here
---

Volume 4, Issue 1


---

---

Feburary 29, 2004


---
*********************************************
The eBullet
An Online newsletter of
"The Andy Griffith Show" Rerun Watchers Club (TAGSRWC)
Volume 4, Issue 1 February 29, 2004
*********************************************
Welcome to our 14th issue of "The eBullet," the first for 2004.
Here are some highlights of what has been happening and what's coming up.

**** EVENT CALENDAR ****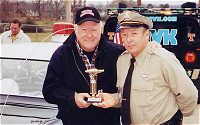 Photo courtesy of Dennis Beal
Karn, TN (Dec 13, 2003) - Mayberry Chapter members John Hitch and Bill Cody pose with the trophy the chapter won as best in parade.
Lots of info has been added to this listing since the December "eBullet." Get ready to mark your calendar with some exciting Mayberry happenings!
* MAR. 4: Premiere of the first new episode of "Liars & Legends" on Turner South that stars new host GEORGE LINDSEY. The first episode with George as host is supposed to air at 10:30 p.m. ET, but check your local listings. (It's scheduled for rebroadcast on March 8.) More new episodes will be airing on most Thursdays during the following few weeks. And catch George on the "John Boy & Billy Big Show" on the radio nationwide on Mar. 4, probably around 7:45 ET.
* MAR. 5: WELCOME BACK HOME TO MAYBERRY event for local fans at Cullman Civic Center in Cullman, Ala., from 6 to 10 p.m. The $6 admission fee (kids 5 and under get in free) includes food. There will be trivia, an Opie look-alike contest, door prizes and music. Plus entertainment by David "Mayberry Deputy" Browning, Allan "Floyd" Newsome, Kenneth "Otis" Junkin and others. For info, call John at 256-734-9157. The Civic Center is located at 510 5th Street SW. Here's a link for directions: http://www.cullmanrecreation.org/directions.htm
* MAR. 13: Grand Opening of Cabarrus Bank & Trust in Concord, N.C., 9 a.m.-2 p.m. Featuring bluegrass music, David "Mayberry Deputy" Browning handling the security, Jeff "Howard Sprague" Branch handling the official paperwork and Phil "Ernest T." Fox handling the counting (stomp-stomp, stomp-stomp).
* MAR. 17: THE 2nd ANNUAL TV LAND AWARDS, hosted by actor Brad Garrett, airs at 9 p.m. ET/PT on TV Land and Nick at Nite and online at http://www.tvland.com. The awards will be taped 10 days in advance of the air date. There are several categories of awards that fans can vote on at http://www.tvland.com. Also, the TV Land Web site will have exclusive coverage of the Red Carpet entry of stars immediately prior to the show. Several truly innovative bells and whistles are expected in that coverage, so fans may like to check it out online before the cablecast of the awards show itself. To use TV Land's "online companion," you'll need to register in advance. Closer to the air date, TV Land will be providing tips for making sure that your computer has all the right stuff loaded up in order to maximize your online experience of watching the awards show, especially the Red Carpet pre-show, which will be shown only online.
And the really big news for Mayberry fans is that TV Land has made the following advance announcement about this year's Legend Award: "This award is presented to a television series which has stood the test of time and ranks among the most memorable and celebrated shows in TV history. TV Land will honor 'The Andy Griffith Show' as this year's recipient." Big!
TV Land also announced that ANDY GRIFFITH will be among the stars attending the show. Big, big! And though no announcement has been made, we all know that Andy is a generous person who likes to share the spotlight with friends. So when we recommend tuning in for this awards show, we mean it. And when we suggest getting yourself set up to watch the Red Carpet Pre-Show on your computer, we "really" mean that. March 17 promises to be a tremendously fun night for fans of Mayberry and other classic shows on TV Land.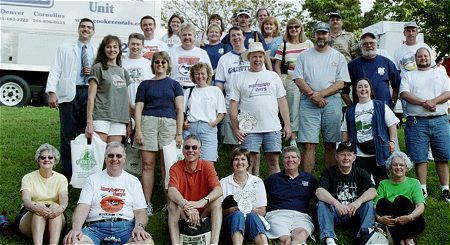 Photo courtesy of Jan Newsome
Mt. Airy, NC (September 2003) - Members of the "Who's Been Messin' Up the Bulletin Board?" (WBMUTBB) Chapter which is an online chapter of TAGSRWC got together at Mayberry Days for a group photo. Seen here are several of the 1,400 plus members. Join them online. Like water and air....it's free.
* MAR. 20: DAVID "Mayberry Deputy" BROWNING hosts the Blue Ridge Jamboree show at the Andy Griffith Playhouse in Mount Airy, N.C.
* MAR. 27: THE ROLAND WHITE BAND performs at 9 p.m. at the Station Inn in Nashville, Tenn. Admission is $8.00.
* MAR. 27 to 28: DAVID "Mayberry Deputy" BROWNING does a fine turn at the Bristol Motor Speedway's NASCAR event.
* APR. 3 and 4: Don Knotts, Betty Lynn, Bernard Fox, Howard Morris, and Jackie Joseph are TAGS stars scheduled to sign autographs at the Hollywood Collectors Show at the Beverly Garland Holiday Inn in North Hollywood, Calif. For more info, visit http://www.hollywoodcollectorshow.com.
* APR. 11: DAVID "Mayberry Deputy" BROWNING creates fun for buoys and gulls at the Pelicans baseball game in Myrtle Beach, S.C.
* Apr. 15 to 17: 7th annual George Lindsey/UNA Film Festival on the campus of the University of North Alabama in Florence, Ala. Visit the festival's Web site at http://www.lindseyfilmfest.com for the latest info. In addition to George Lindsey's being on hand and involved in all aspects of the festival, George's pal and Hollywood legend ERNEST BORGNINE is this year's featured Guest of Honor. The rest of this year's details will be announced soon, but festival highlights include the Awards Banquet on Thurs. evening, a Salute to Ernest Borgnine on Fri. evening and a street festival on Sat. Plus lots of film screenings and workshops.
* APR. 17: DAVID "Mayberry Deputy" BROWNING hosts the Blue Ridge Jamboree show at the Andy Griffith Playhouse in Mount Airy, N.C.
* APR. 23: THE ROLAND WHITE BAND performs at 9 p.m. at the Station Inn in Nashville, Tenn. Admission is $8.00.
* APR. 30: DAVID "Mayberry Deputy" BROWNING rises to the occasion for the Biscuits baseball game in Montgomery, Ala.
* MAY 8: DAVID "Mayberry Deputy" BROWNING sets up a Checkpoint Chickie for the Buggy Festival in Carthage, N.C.
* MAY 14: DAVID "Mayberry Deputy" BROWNING rock 'n' rolls for the Salem (Va.) Avalanche baseball game.
* MAY 15: DAVID "Mayberry Deputy" BROWNING hosts the Blue Ridge Jamboree show at the Andy Griffith Playhouse in Mount Airy, N.C.
* MAY 28: DAVID "Mayberry Deputy" BROWNING is on the diamond trail for the Midland (Tex.) Rock Hounds baseball game.
* MAY 30: JIM NABORS is scheduled to sing "Back Home Again in Indiana" at the Indy 500.
* JUNE 3-5: RODNEY DILLARD and DOUG DILLARD perform at the Branson Bluegrass Festival at the Shepherd of the Hills Outdoor Theatre in Branson, Mo. Visit http://www.theshepherdofthehills.com/events.htm for more info.
* JUNE 7: Mayberry guest star DON RICKLES performs at the American Music Theatre in Lancaster, Penn., at 8 p.m. Tickets are $49.50 and available by calling the theater at (717) 397-7700.
* JUNE 12: The Fifth Annual Mayberry Squad Car Nationals and Brent Mule Day in Brent, Ala. JAMES BEST has just been confirmed to appear at this fun event. Another Mayberry star may be added. Replicas of Mayberry squad cars tear up the asphalt in drag racing and overcome Mayberry-style adversity in the obstacle course race. And with David "Mayberry Deputy" Browning on hand with his rival James "Sheriff Rosco P. Coltrane" Best and a lot of fast cars, who knows what might happen! There's also a parade (with lots of squad cars, mules and tractors), music, and other festivities. Full details TBA.
* JUNE 17: RODNEY DILLARD and DOUG DILLARD perform at the Bill Monroe Memorial Bean Blossom Bluegrass Festival in Bean Blossom, Ind. Visit http://www.beanblossom.com for complete festival info.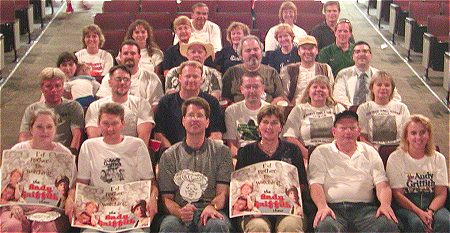 Photo courtesy of Jan Newsome
Mt. Airy, NC (September 2003) - Following the annual TAGSRWC meeting held each year at Mayberry Days, the chapter leaders of those chapters present at Mayberry Days sat down for a group shot.
* June 18 to 20: "MAYBERRY CAST REUNION" AT NASHVILLE'S GAYLORD OPRYLAND RESORT starring DON KNOTTS, GEORGE LINDSEY, BETTU LYNN, HOWARD MORRIS, MAGGIE PETERSON MANCUSO, BERNARD FOX and JEAN CARSON. Other stars are expected to be added to this event, which is almost sold out. DAVID BROWNING will emcee, and ALLAN NEWSOME will be splitting hairs.
Note: These dates are a week earlier than the dates Gaylord Opryland Resort originally announced. Gaylord Opryland has changed the dates in order to make sure they have rooms to accommodate the expected crowds. Because of the availability of ballroom space, the configuration of the weekend's events has changed a little, too.
The event's two-night package includes:
*Two-night room accommodations at Gaylord Opryland Resort or Radisson Hotel at Opryland
*Ticket to Aunt Bee's Blue Ribbon Dinner and Reunion Show at 7 p.m. on Friday night
*Ticket to the Grand Ole Opry Saturday night show at 6:30 p.m., featuring a special "Tribute to Mayberry"
*Autograph opportunities with the cast on Saturday afternoon
*Breakfast buffet on one morning at Rachel's or the Cascades Restaurant
*Special theme activities throughout the weekend, including pickle-eating and look-a-like contests
*Round-trip luggage handling
*All applicable taxes and gratuities
PACKAGE PRICES (per person, plus tax, based on double occupancy):
Gaylord Opryland Resort - $279
Radisson Hotel at Opryland - $244
At this time, tickets to the events are limited and only available with an accommodations package. If all available tickets are not sold in packages, they will be made available for sale prior to the event. Those dinner/show tickets may be made available as early as later this month or as late as two weeks prior to the event. If and when those tickets are offered, we'll spread the word through our various online newsletters and printed notices and on the Event Calendar at http://www.tagsrwc.com .
ONE MORE NOTE: The full lineup of stars and other details will be announced as they become available, which is expected to be fairly soon. Stay tuned!
ADVANCE LAWYER-SPEAK about the Gaylord Opryland autograph session: "Photographs will be available for sale by most stars. Cast members have the right to refuse to autograph personal memorabilia and may sign for a limited time period only." In other words, as Andy told Gomer about his upcoming date with Mary Grace Gossage, "Don't over-expect."

* JULY 1 and 2: GEORGE LINDSEY is guest of honor for LIBERTY DAY in Lawrenceburg, Tenn. North Carolina and, in particular, Mayberry, are being featured this year. The City of Lawrenceburg has started a tradition of saluting a different state each year around the Fourth of July. The exact schedule has not been confirmed, but at this point it looks as though the parade will be Thurs., July 1, at 8 p.m., and that George will be Grand Marshal. He'll also do a "meet and greet" with fans sometime either Thurs. or Fri., and perform his comedy act in concert at the Crockett Theater on Fri. evening. Other festivities during the weekend include Aunt Bee's Baking and Pickle Contest, a look-alike contest and Miss Crump's Spelling Bee. We'll have more details in coming months. Meanwhile, for more info, call (931) 762-0068.
* JULY 9 and 10: Mayberry in the Midwest III in New Castle, Ind. The super lineup of stars announced so far includes GEORGE LINDSEY, BETTY LYNN, RODNEY DILLARD, DOUG DILLARD, MAGGIE PETERSON MANCUSO, ARLENE GOLONKA, KEITH THIBODEAUX, RONNIE SCHELL and BARBARA STUART. And seven tribute artists are also scheduled, including "DAVID "Mayberry Deputy" BROWNING and ALLAN "Floyd" NEWSOME. Watch the Event Calendar at http://www.tagsrwc.com and future issues or our newsletters for updates. The event's Web site is: http://www.mayberryinthemidwest.com . It's not too early to book a room at one of the sponsoring hotels. Tickets are not yet on sale, but they should be by early April. And they always sell out very quickly...in a matter of days.
* July 10: JIM NABORS performs at the American Music Theatre in Lancaster, Penn., at 8 p.m. Tickets are $40.00 and on sale at the theater box office (717) 397-7700.
* AUG. 20: MAYBERRY NIGHT IN OAKBORO, N.C, featuring DAVID "Mayberry Deputy" BROWNING, PHIL "Ernest T." FOX, KENNETH "Otis" JUNKIN, JEFF "Howard" BRANCH, JAMIE "Opie" SULLIVAN and a local "DARLIN' BAND." Showtime is 8 p.m. and tickets for reserved seating are $15.00 each. For more info, visit http://www.oakboromusichall.com
* SEPT. 23 to 25: 15th Annual Mayberry Days in Mount Airy, North Carolina. Tickets are on sale now. Visit http://www.surryarts.org for complete ticket info. One new twist for 2004: A single $5.00 ticket will admit you to both Neal Brower's Lecture and the TAGSRWC Annual Meeting that follows it (the dinner part of the meeting has been discontinued). There will be a brief intermission for people to leave or come in between the lecture and the meeting, which will remain separate activities, but the Cinema won't be "cleared" for a ticketed re-admission as in previous years.
We're probably beginning to sound like a broken record, but a word to the wise: If you tend to wait until the last minute to make hotel room and ticket reservations for various events, don't wait to do so for Mayberry Days 2004.
* OCT. 10: GEORGE LINDSEY performs at the South Carolina State Fair in Columbia. Times TBA.
* OCT. 19: GEORGE LINDSEY performs at the North Carolina State Fair in Raleigh. Times TBA.
* NOV 26: THE ROLAND WHITE BAND performs at 9 p.m. at the Station Inn in Nashville, Tenn. Admission is $8.00.
* DEC. 10 and 11: THE ROLAND WHITE BAND performs at 9 p.m. at the Station Inn in Nashville, Tenn., as part of Bill Monroe Appreciation Nights.
* DEC. 17: Tentative release date for Ron Howard's "Cinderella Man."
We suggest that you regularly check the Events Calendar at http://www.tagsrwc.com for more information and updates about these events and others that might be added between now and the May issue of "The eBullet."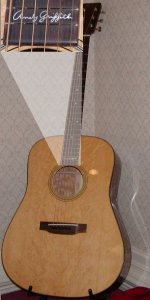 **** NEWS OF CAST & CREW ****
ANDY and CINDI GRIFFITH are generously endowing the Surry Arts Council with royalty proceeds from the sales of Andy's signature Martin guitar. The first check for $8,452 from Martin has already been received by the Arts Council, which will use the funds for ongoing arts programs in Andy's hometown of Mount Airy and Surry County. Only 311 of these signature guitars are being produced. Therefore, they aren't inexpensive.
Andy's "Christmas Guest" CD has been nominated for a Dove Award for Best Country Album by the Gospel Music Association. The televised awards show will be presented in Nashville on April 28. Andy's in good company among his fellow Country Album nominees, who include TAGSRWC Honorary Members The Oak Ridge Boys, Ricky Skaggs, Sharon White, Billy Ray Cyrus and Randy Travis.
And a book update: There is currently no publication date planned for Andy's memoirs.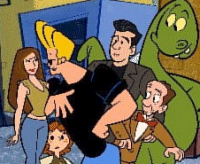 DON KNOTTS provided a voice in the 30-minute animated special "Johnny Bravo Goes to Hollywood" that premiered on the Cartoon Network, on Feb. 20.
RON HOWARD is in pre-production for "Cinderella Man," his next film as director. The film had been slated to begin filming in March, but it will probably be bumped until April because star Russell Crowe recently injured his shoulder in training for his starring role as boxer Jim Braddock.
Meanwhile, Ron continues to serve as executive producer and narrator for the acclaimed TV series "Arrested Development," which airs on Fox on Sunday nights.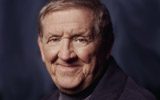 GEORGE LINDSEY is the new host for the popular weekly series "Liars & Legends" on cable's Turner South. He filmed new episodes in early February. The first episode is scheduled to air on March 4. (Turner South is available in many markets in the southern United States and via satellite. Check your local listings.)
George has just returned from a date in Aberdeen, Miss., and is now turning his attention to his 7th annual George Lindsey/UNA Film Festival in April (see the calendar above for details). Meanwhile, look for an interview/story featuring George in an upcoming issue of "TV Guide."
RODNEY DILLARD and DOUG DILLARD (http://www.the-dillards.com) are planning to perform together at several events this summer from California to Kentucky and beyond. Rodney and wife Beverly are also taking their popular Mayberry Values concert presentation to churches that are within easy striking distance by motor-home from their home base in Branson, Mo. And Rodney and Beverly are wrapping up a new album in the recording studio.
ELINOR DONAHUE has a small part in "The Princess Diaries 2," which is currently filming under the direction of Garry Marshall.
TAGS ASSOCIATE PRODUCER (and personal manager for many in Mayberry) RICHARD O. LINKE is going to be inducted into the prestigious College of Communications Hall of Fame at his alma mater, the University of Ohio on April 24. It's quite an honor for a man who has had many top professional honors over the years. In fact, the award is big enough to draw him out of his tropical paradise residence in Hawaii to accept in person. He'll also stay on the Mainland long enough to present the Richard O. Linke Scholarship at the university's School of Journalism a couple of days later. The scholarship pays for a deserving journalism student's tuition for his or her entire senior year at the school. Meanwhile, Dick and wife Bettina are enjoying their well-deserved good life on the Big Island.
Actress HELEN KLEEB, who played Jess Morgan's wife in "Andy and the New Mayor" (Episode #69), passed away on December 28 at Nazareth House nursing home in Los Angeles. She was 96. She was born in South Bend, Wash., on Jan. 6, 1907. She was familiar face in character roles for movies and TV beginning in the early 1950s. She is best remembered for her portrayal of Mamie, one of the Baldwin Sisters on "The Waltons." Her last acting appearance was in a 1997 "Waltons" reunion movie.
And in a very behind-the-scenes note of sad news, Sol Leon, an executive vice president at William Morris, died Dec. 5 in Los Angeles at age 90. While he was best known as the high-powered agent for stars ranging from Dick Van Dyke to Woody Allen, his Mayberry connection was that he was involved in helping to "package" TAGS and "The Danny Thomas Show."
**** MERCHANDISE UPDATE ****
Here are descriptions of a few of the newest items. You can find the full lineup at:
http://www.weaversdepartmentstore.com/
* A NEW BARNEY FIFE-ORIENTED CERAMIC COOKIE JAR is coming to Weaver's online around April 1. We expect it to sell for about $40.00. Check our Web site periodically. We'll also have updates in our printed "Pocket" newsletter in March and the "Weaver's Newsletter" in April, as well as the May "eBullet." We think it's going to be a pretty exciting item.
* GRAY SWEATSHIRTS WITH EMBROIDERED TAGS LOGO
http://www.weaversdepartmentstore.com/weaversnew3.htm
We now stock a heavy-duty gray sweatshirt with the TAGS logo embroidered on it. Because the logo is embroidered and not merely screen printed onto the sweatshirt, it's a little pricier than our other sweatshirts, but still an outstanding value. It's $44.00 and comes in medium, large, X-large and 2X-large.
* 2004 ANDY GRIFFITH SHOW CALENDAR
http://www.weaversdepartmentstore.com/coolstuff.htm#Calendar
Well, we still have some, but not many, of the 2004 TAGS calendar (the first one since 2000 and only the fourth Mayberry calendar ever). It features black & white photos from scenes with Andy, Barney, Opie, Aunt Bee, and Gomer. (See the back cover image online for a look at all 12 photos.) The calendar measures 11 x 12 in.
This calendar is likely destined to become known as the "Backward Calendar." Every photo in the calendar is reversed from the way it should be! It's definitely Mayberry as you've never seen it before. Sure to be a collectible that's talked about for many years after 2004! Price: $13.00
* "I WISH LIFE WAS LIKE MAYBERRY" CD
by Rodney Dillard
http://www.weaversdepartmentstore.com/music/dillards.htm#lifewaslike
This newest release from Rodney Dillard is Taylor-made for Mayberry fans. Just look at the titles and see for yourself:
1. The Darlin' Boys
2. There Is a Time
3. There Goes the Neighborhood
4. Doug's Tune
5. Wicker Rocking Chair
6. Ebo Walker
7. Dooley
8. I Wish Life Was Like The Andy Griffith Show
9. Mayberry Moment
That's 8 outstanding tracks of Mayberry and Mayberry-esque music, plus a final track with Rodney's personal reflections about what it means to have a Mayberry life. Price: $15.00.
* "SMILES & TEARS" CD
by LeRoy "Mack" McNees
http://www.weaversdepartmentstore.com/weaversnew2.htm
This new bluegrass-flavored CD by TAGS and Country Boys alum LeRoy is fun, inspirational, funny and moving, depending on the particular song. There are songs written by everyone from Sheb Woolley and Les Brown to Carter Stanley and Roy Acuff...and LeRoy Mack himself. With sidemen including fellow legends Chris Hillman and Herb Pederson. Here's a list of the songs:
1. A Matter of Policy
2. East Bound Train (Going for a pardon)
3. I Just Don't Look Good Naked Anymore
4. No School Bus in Heaven
5. Alabama Jubilee
6. Praying Mantis Love Affair
7. This One Belongs to Me
8. Sentimental Journey
9. Dream of a Miner's Child
10. Putting on the Dog
11. I'm Dying a Sinners Death
12. The Little Girl and the Dreadful Snake
13. Jan's Song (words by LeRoy Mack)
It's a super CD of toe-tapping music that's sure to prompt many smiles and maybe a few tears (the good kind). Price: $15.00. Also, a special combo price with another of LeRoy's fine CDs is available online at Weaver's.
* DON KNOTTS MOVIES ON DVD
http://www.weaversdepartmentstore.com/videos/videos.htm#Limpet
Several of Don Knotts' most popular movies have been released on DVD, and Weaver's is carrying some of them. We currently offer "The Ghost and Mr. Chicken," "The Reluctant Astronaut," (each at $16.00), and "The Incredible Mr. Limpet" ($25.00), plus others.
* "Back to Back Comedy" with Andy Griffith and Don Knotts CD
http://www.weaversdepartmentstore.com/music/music.htm#backtoback
This brand new CD features 5 of Andy Griffith's classic comedy routines/songs and 5 of the very best standup routines of Don Knotts. (Some of Andy's routines are available on other CDs, but as far as we know, this is the first time any of Don's recordings have been released on CD.) The 10 routines average about 5 minutes each. Price: $13.00
This hilarious performances in this collection are as follows:
Andy Griffith
"What It Was, Was Football"
"Conversations with a Mule"
"North Carolina, My Home State"
"Andy and Cleopatra"
"St. James Infirmary" (a song, not a comedy number)
Don Knotts
"The Sportscaster"
"The Weatherman"
"The Analyst"
"Pre-Natal Anxieties"
"Medical Convention"
**** CHAPTER UPDATE ****
We have two new chapters have started already in 2004. They are:
"There Is a Time" Carthage, Mo.
"Well.Night!" Solsberry, Ind.
"Criminal Nabber" LaPorte, Ind.
If you are interested in starting a chapter of TAGSRWC, all you have to do is pick a name that has not already been chosen and submit a list of your founding members by postal mail. Or write to us also if you would like to contact a chapter near you. Our address is TAGSRWC, 9 Music Square South, PMB 146, Nashville, TN 37203-3286.
**** CHAPTER NEWS ****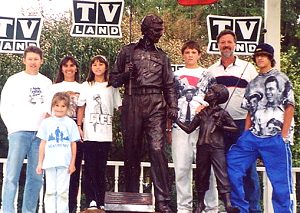 Photo courtesy of Dennis Beal
Raleigh, NC (October 2003) - Mayberry Chapter members join Andy and Opie for a photo at the statue Dedication.
In January, MAYBERRY chapter (Knoxville, Tenn.) published its largest chapter newsletter ever, which was full of news about the chapters many activities, including their participating in several holiday parades. The chapter also has a neat chapter Web site with lots of photos and info a http://www.mayberrychapter.com.
BARNEY chapter (Greensboro, N.C.) held its monthly meeting on Friday the 13th and had a theme where everyone was supposed to bring something that related to a superstition in Mayberry. As one might expect, there were buckeyes being carried in pockets, omens of owls, and all sorts of Barney-and Darlings-inspired things being done. Just to be "cautious."
Most chapters are hibernating and just watching TAGS reruns this winter. (The biggest exception is that several chapters, including the host Esquire Club, and other folks near Cullman, Ala., will be gathering on March 5. See the listing above in the Event Calendar.) And many chapters are involved in preparations for hosting or helping out with many of the upcoming Mayberry events this year, including the Mayberry Squad Car Nationals, Mayberry in the Midwest and Mayberry Days. And of course, many more chapters and fans are making plans to attend those events. So rest up. Beginning in March and rolling through the summer, it's shaping up to be one of the busiest years ever for Mayberry.
We're sad to report the passing of longtime TAGSRWC member Kenneth M. "John" Johnson, one of the leaders of OPIE chapter (Orlando, Fla.), one of our very earliest chapters (fifth, if our fading memory serves us right). Many fans know his wife Janine from her frequent contributions to online daily Digest for "Who's Been Messin' Up the Bulletin Board?" chapter. (She is known as Aunt Bee of Orlando.) We extend our sympathies to Janine and the entire family.
**** MISS CRUMP'S MAYBERRY QUIZZES ****
We'll post the answers and winner for Miss Crump's Mayberry Quiz #58 in the May "eBullet" after they're first printed in the March issue of "The Pocket." (The deadline for entries to get to us was Feb. 15.) We will say that we had numerous correct answers, so we'll do a drawing to select a winner. Look for a new quiz from Miss Crump in the May "eBullet."
**** POSTNOTE ****
Between issues of "The eBullet," keep up with the goings-on in Mayberry with the more-or-less daily "Who's Been Messin' Up The Bulletin Board?" Digest. It's a free subscriber list that consists entirely of comments, news flashes, and questions and answers from subscribers. You can sign up for that list by going to the "Mailing Lists" link at http://www.tagsrwc.com.
TAGSRWC also publishes the "Weaver's Newsletter" in more-or-less alternate months to "The eBullet." Like "The eBullet," the "Weaver's Newsletter" is free. Its focus is mainly on new Mayberry merchandise and collectibles and quick news flashes. To sign up, go to http://iMayberry.com/tagsrwc/weavers/privacy.htm
And if you like to receive Mayberry information on good, old-fashioned paper, we have a publication called "The Pocket." It's an eight-page newsletter that contains highlights from "The eBullet" and the "Weaver's Newsletter." Because "The Pocket" involves printing and postage, there is a fee to receive it.
"The Pocket" is continuing with additional issues through 2004. There are several subscription options for brand new subscribers online at http://www.iMayberry.com/tagsrwc/weavers/thebullet.htm Or you can receive for a free sample issue by writing TAGSRWC, 9 Music Square South, PMB 146, Nashville TN 37203-3286 and sign up with the form provided.
TAGSRWC's other main vehicle for Mayberry information is simply our Web site at: http://www.tagsrwc.com/ It has extensive content and links for just about everything a Mayberry fan might be looking for.
The next issue of "The eBullet" is scheduled for early May.

**** 10-4 and out ****