To Subscribe click here
To Unsubscribe click here
---

Volume 3, Issue 5


---

---

December 28, 2003


---
*********************************************
The eBullet
An Online newsletter of
"The Andy Griffith Show" Rerun Watchers Club (TAGSRWC)
Volume 3, Issue 5 December 2003
*********************************************
Welcome to our 13th issue of "The eBullet." We apologize for being a bit tardy getting this December 2003 issue out, but we've been waiting to include some last-minute updates for some of the events scheduled for 2004. And around the holidays, we got a little busier than we're used to in Mayberry, so we thought we'd wait for things to settle back down to a Mayberry pace before sending out this issue. Thanks for your patience.
Here are highlights of what has been happening and what's coming up
**** EVENT CALENDAR ****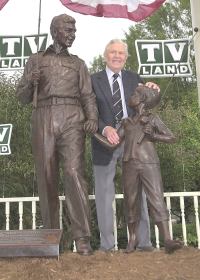 Photo courtesy of Bart Boatwright
Raleigh, NC (October 28, 2003) - Andy Griffith poses with the Sheriff and Opie Taylor.
* JAN. 17 and 18: HOLLYWOOD COLLECTORS SHOW at the Beverly Garland Holiday Inn in North Hollywood, Calif. JULIE ADAMS and KEITH THIBODEAUX are stars who appeared on TAGS who are scheduled to attend. For complete info, visit http://www.hollywoodcollectorshow.com.
* JAN. 24: THE ROLAND WHITE BAND performs at 9 p.m. at the Station Inn in Nashville, Tenn. Admission is $8.00
* JAN. 31: Deadline for submitting films to the George Lindsey/UNA Film Festival. Visit http://www.lindseyfilmfest.com for details.
* FEB. 20: THE ROLAND WHITE BAND performs at 9 p.m. at the Station Inn in Nashville, Tenn. Admission is $8.00
* FEB. 20 and 21: VETERANS OF COMEDY WARS VII, 8 p.m. at San Francisco State University. Hosted by RONNIE SCHELL, the fund-raising concert stars Ronnie's friends, Harvey Korman, Tim Conway, Connie Stevens and Paul Williams, among others. Ticket prices range from $30 to $60. For tickets or more info, call (415) 405-0556.
* MAR. 17: THE 2nd ANNUAL TV LAND AWARDS, hosted by actor Brad Garrett, airs at 9 p.m. ET/PT. The awards will be taped a couple of weeks in advance of the air date. There are several categories of awards that fans can vote on at http://www.tvland.com.
* APR. 15 to 17: 7TH ANNUAL GEORGE LINDSEY/UNA FILM FESTIVAL on the campus of the University of North Alabama in Florence, Ala. Visit the festival's Web site at http://www.lindseyfilmfest.com. In addition to George Lindsey's being on hand and involved in all aspects of the festival, George's pal and Hollywood legend ERNEST BORGNINE is this year's featured Guest of Honor. The rest of this year's details will be announced soon.
* JUNE19 to 20: "MAYBERRY CAST REUNION" AT NASHVILLE'S GAYLORD OPRYLAND RESORT (NOTE: These dates are a week earlier than the dates Gaylord Opryland originally announced. Gaylord Opryland has changed the dates in order to make sure they have rooms to accommodate the expected crowds. Because of the availability of ballroom space, the configuration of the weekend's events has changed a little, too.) The event's two-night package includes:
*Two-night room accommodations at Gaylord Opryland Resort or Radisson Hotel at Opryland
*Ticket to Aunt Bee's Blue Ribbon Dinner and Reunion Show at 7 p.m. on Friday night
*Ticket to the Grand Ole Opry Saturday night show at 6:30 p.m., featuring a special "Tribute to Mayberry"
*Autograph opportunities with the cast on Saturday afternoon
*Breakfast buffet on one morning at Rachel's or the Cascades Restaurant
*Special theme activities throughout the weekend, including pickle-eating and look-a-like contests
*Round-trip luggage handling
*All applicable taxes and gratuities
PACKAGE PRICES (per person, plus tax, based on double occupancy):
Gaylord Opryland Resort - $279
Radisson Hotel at Opryland - $244
At this time, tickets to the events are limited and only available with an accommodations package. If all available tickets are not sold in packages, they will be made available for sale two weeks prior to the event.
ONE MORE NOTE: The lineup of stars and other details will be announced as they become available, which is expected to be fairly soon. Stay tuned!
ADVANCE LAWYER-SPEAK about the Gaylord Opryland autograph session:
"Photographs will be available for sale by most stars. Cast members have the right to refuse to autograph personal memorabilia and may sign for a limited time period only." In other words, as Andy told Gomer about his upcoming date with Mary Grace Gossage, "Don't over-expect."
*JUNE 25: THE FOURTH ANNUAL MAYBERRY SQUAD CAR NATIONALS (very tentative date and site) and BRENT MULES DAYS in Brent, Ala. Just pencil this one in for now. The date and location may change.
* JULY 1 and 2: GEORGE LINDSEY is guest of honor for LIBERTY DAY in Lawrenceburg, Tenn. North Carolina and, in particular, Mayberry, are being featured this year. The City of Lawrenceburg has started a tradition of saluting a different state each year around the Fourth of July. The exact schedule has not been confirmed, but at some point during his time at the event, George will be Grand Marshal of the parade, do a "meet and greet" with fans and perform his comedy act.
* JULY 9 and 10: MAYBERRY IN THE MIDWEST III in New Castle, Ind. The lineup of stars should be announced very soon. Watch the Event Calendar at http://www.tagsrwc.com and future issues or our newsletters for updates. The event's Web site is: http://www.mayberryinthemidwest.com/. It's not too early to book a room at one of the sponsoring hotels. Tickets are not yet on sale, but they've been put on sale in early March for the two previous Mayberry in the Midwest events. And they always sell out very quickly...in a matter of days.
* AUG. 20: MAYBERRY NIGHT IN OAKBORO, N.C, featuring DAVID "Mayberry Deputy" BROWNING, PHIL "Ernest T." FOX, KENNETH "Otis" JUNKIN, JEFF "Howard" BRANCH, JAMIE "Opie" SULLIVAN and a local "DARLIN' BAND." Showtime is 8 p.m. and tickets for reserved seating are $15.00 each. For more info, visit http://www.oakboromusichall.com
* SEPT. 23 to 25: 15th ANNUAL MAYBERRY DAYS in Mount Airy, North Carolina. Tickets are on sale now. Visit http://www.surryarts.org for complete ticket info. One new twist for 2004: A single $5.00 ticket will admit you to both Neal Brower's Lecture and the TAGSRWC Annual Meeting that follows it (the dinner part of the meeting has been discontinued). There will be a brief intermission for people to leave or come in between the lecture and the meeting, which will remain separate activities, but the Cinema won't be "cleared" for a ticketed re-admission as in previous years. We're probably beginning to sound like a broken record, but a word to the wise: If you tend to wait to the last minute to make hotel room and ticket reservations for various events, don't wait to do so for Mayberry Days 2004.
We suggest that you regularly check the Events Calendar at http://www.tagsrwc.com for more information and updates about these events and others that might be added between now and the February issue of "The eBullet."
**** NEWS OF CAST & CREW ****

ANDY GRIFFITH's CD of Christmas stories and songs called "The Christmas Guest" was a huge success and likely will garner several award nominations. The companion book with a two-song CD single also has sold extremely well in its first holiday season.
Back on Oct. 28, TV Land dedicated its Landmark statue in honor of TAGS at Pullen Park in Raleigh, N.C. Among the dignitaries on hand to help Andy and Cindi Griffith celebrate were representatives of TV Land, including General Manager Larry Jones, and Raleigh Mayor Charles Meeker. They were joined by lots of happy friends and fans from at least 10 states. The inscription on the plaque at the base of the statue reads: "The Andy Griffith Show-A simpler time, a sweeter place, a lesson, a laugh, a father and a son."
The CBS special "The Andy Griffith Show: A Cast Reunion" was third highest rated show of the week with 21.6 million viewers tuning in. The hour-long special, which aired on November 11th, also featured George Lindsey, Betty Lynn, Howard Morris, Maggie Mancuso and The Dillards.
Andy's autobiography, tentatively titled "I Appreciate It" and originally scheduled for release last fall, has been postponed until a later date to be announced. There is not an expectation at the moment that the book will be published in 2004.
The Andy Griffith "Signature D-18 Guitar" by Martin Guitars is scheduled to be available later this year. Martin Guitar dealers have taken their advance orders from customers. (The suggested retail price is $3,700.) Here's a link to the Martin Guitar Web site for more info: http://www.martinguitar.com/news/articles/griffith.html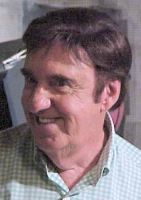 Photo courtesy of
Andre Mika
.
Jim Nabors on the set of CBS's "A Cast Reunion".
Andy and JIM NABORS both participated in the CBS 75th Anniversary special that aired on Nov. 2. Jim was also interviewed during the University of Alabama vs. University of Hawaii football game in December. Jim hasn't announced his 2004 tour schedule, but you can be sure it includes a stop to sing "Back Home Again in Indiana" at the Indy 500, as he has every year for more than a quarter of a century!
"TV Guide" ran an interview with Andy and Don Knotts the week of the CBS special. Andy was also featured as the cover story for the October issue of North Carolina's "Our State" magazine. And he did a major interview for "Larry King Live" on Thanksgiving Day (with Don Knotts). And he read "The Christmas Guest" on a broadcast of Robert Schuller's "Hour of Power" at the Crystal Cathedral that aired the Sunday after Thanksgiving. For the first time, he also invited a film crew to his home in Manteo for an interview with Rita Braver for "Sunday Morning" on CBS, which aired the Sunday before Christmas. An interview with him on the Fox News Channel's "Fox Magazine" also aired that same day.
DON KNOTTS wrapped up his sold-out 10-week run of "On Golden Pond" at the New Theatre Restaurant in Overland Park, Kans., in November and is now enjoying a rest-though he did manage to squeeze in a couple of concert dates with Tim Conway in November. BETTY LYNN was among those who were able to attend a performance of "On Golden Pond. She visited with Don before and after the show. Don is also providing the voice for Turkey Mayor in the animated film "Chicken Little" that is currently in production and is scheduled for release next year.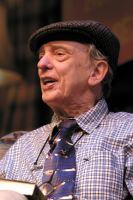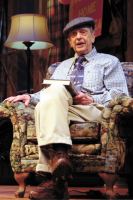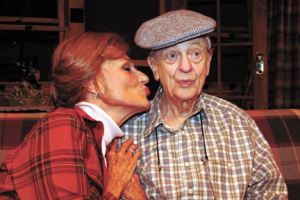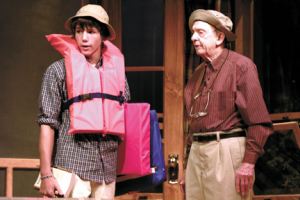 Photos courtesy of Tod Machin
Overland Park, Kans - Don Knotts in the New Theatre production of "On Golden Pond." The reviews were great and the show sold out the entire run.
"The Missing," RON HOWARD's latest movie as director opened in November and is still in many theaters nationwide, but likely will be leaving soon. The rugged Western has received solid reviews. RANCE HOWARD appears as a telegraph operator and CLINT HOWARD plays a sheriff.
Ron's Imagine Entertainment also co-produced the holiday season's "The Cat in the Hat," and is also producing TV shows such as "24" and the new, edgy comedy "Arrested Development," which Ron also narrates. Imagine is also producing the feature fillm "Curious George" and is involved with "The Alamo," both of which are being held for release later this year. Ron's next film as director is "Cinderella Man" about boxer Jim Braddock. It stars Russell Crowe and Renee Zellweger and is scheduled to begin filming in March.
Friends from seven states and two countries helped GEORGE LINDSEY celebrate his birthday at a party in Nashville in December. He also went to New York City to celebrate his birthday with family members and, while there, saw a couple of plays, including the revival of "Wonderful Town." He had performed in the original Broadway tour for the play. His most recent performance dates were in North Carolina, Mississippi and Tennessee. He's also heavily involved in planning for this April's 7th Annual George Lindsey Film Festival at the University of North Alabama in Florence.
And here's some big news on the romance front: JACKIE JOSEPH, our darling Romeena, married David Lawrence on December 2. It was a simple family wedding (no mountain involved that we know of, Ernest T.). Jackie says, "Tell the news to all who might care: Sweet Romeena is finally a bride!" Best wishes to the bride and groom!
RODNEY DILLARD performed with Tony Orlando in a free concert for veterans on Veterans Day show in Branson. And the version of "There Is a Time" (written by Rodney and Mitch Jayne) sung by Rodney and Ricky Skaggs will be featured in the film tentatively titled "No Regrets," which should be released in 2004. Rodney and wife Beverly have also been in the studio working on a new album and they've been touring, sometimes with daughter Rachel, and doing concerts and programs at churches.
Rodney and brother DOUG DILLARD are being booked for concert dates together. (We'll post dates in future issues and on our online calendar.)
RONNIE SCHELL is performing several dates around the Daytona Beach area in late February, before and after doing his Veterans of Comedy Wars VII concerts in San Francisco on Feb. 20 and 21. He also has a guest part in the upcoming Fox network sci-fi comedy series "Phil of the Future." He plays an older Phil in a flash-forward. It could be a recurring role.
TAGS ASSOCIATE PRODUCER RICHARD O. "DICK" LINKE and wife BETTINA will make a trip to Athens, Ohio, in April for Dick to be inducted into the Hall of Fame for the College of Communications at his alma mater, Ohio University. This will be their only trip from Hawaii to the mainland in 2004, so that means they'll miss Mayberry Days, but all of Mayberry is happy that Dick is receiving this special honor.
We're sad to report the recent deaths of two people who worked in Mayberry. Director EARL BELLAMY died of a heart attack in Albuquerque, N.M., on Nov. 30 at the age of 86. He directed hundreds of episodes of television and about two dozen movies, beginning as assistant director for films such as "The Talk of the Town" with Cary Grant and the original "A Star is Born". He won a Directors Guild Award for his work as assistant director in "From Here to Eternity." Included in his remarkable career were seven of the best episodes of TAGS ("Briscoe Declares for Aunt Bee," "Gomer the Houseguest," "The Haunted House," "My Fair Ernest T. Bass," "Prisoner of Love," "Hot Rod Otis" and "The Songfesters").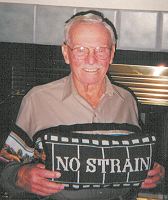 The late, beloved director Earl Bellamy in 2000 holding a pillow embroidered with his famous motto, "No strain," at his home in Albuquerque.
Born in Minneapolis on March 11, 1917, Earl moved to Hollywood with his family in 1917 and was set on the road to becoming one of the busiest directors in Hollywood. He loved the fast-pace of television and the possibility of directing two shows in one week with entirely different casts. He became well known for his easy going manner and his catch phrase of "No strain," which he would say when somebody flubbed a line or something else went wrong on the set.
Though he directed the full range of genres, he was perhaps best known for his work on Westerns. In 2002, he was presented a Golden Boot Award by the Motion Picture and Television Fund recognizing his significant contributions to Westerns.
In his retirement years, Earl traveled extensively and visited much the world with his wife Gail and continued to live life to the utmost while remaining true to his motto of "no strain." He is survived by wife Gail and three children.
TAGSRWC is making a contribution to the Motion Picture and Television Fund retirement home in Earl's memory. You can read more about Earl's career in an interview/profile of him in the March 2000 issue of our old printed newsletter "The Bullet."
Mayberry also lost an actor who appeared in one episode, LES TREMAYNE, who played conman and jewel thief C.J. Hasler in "Andy and Barney in the Big City." He died of a heart attack on December 19 at age 90. Born in London, England, on April 16, 1913, Les Tremayne enjoyed a prolific career, first in radio and then in movies and television. Perhaps his best-known role was that of Maj. Gen. Mann in the film adaptation of the classic "War of the Worlds." He had particularly active career in the sci-fi genre. He also supplied voices off-camera for many films and cartoons, many of which, including "Johnny Quest," "Mr. Magoo," "The Smurfs" and "Scooby Doo" are still regularly seen in reruns. He was voted into the Radio Hall of Fame in 1995 for his contributions to that medium.
**** MERCHANDISE UPDATE ****
Now that the holiday rush is over, there's plenty of time for relaxed shopping the way we like it in Mayberry. Here are descriptions of a few of the newest items. You can find the full lineup at http://www.weaversdepartmentstore.com/
* 2004 ANDY GRIFFITH SHOW CALENDAR
Didn't get the calendar you hoped for for Christmas? Well, we still have some. The 2004 TAGS calendar (the first one since 2000 and only the fourth Mayberry calendar ever) features black & white photos from scenes featuring Andy, Barney, Opie, Aunt Bee, and Gomer. (See the back cover image online for a look at all 12 photos.) The calendar measures 11 x 12 in. This calendar is likely destined to become known as the "Backward Calendar." Every photo in the calendar is reversed from the way it should be! It's definitely Mayberry as you've never seen it before. Sure to be a collectible that's talked about for many years after 2004! Price: $13.00
* "I WISH LIFE WAS LIKE MAYBERRY" CD
by Rodney Dillard
This brand new release from Rodney Dillard is Taylor-made for Mayberry fans. Just look at the titles and see for yourself:
1. The Darlin' Boys
2. There Is a Time
3. There Goes the Neighborhood
4. Doug's Tune
5. Wicker Rocking Chair
6. Ebo Walker
7. Dooley
8. I Wish Life Was Like The Andy Griffith Show
9. Mayberry Moment
That's 8 outstanding tracks of Mayberry and Mayberry-esque music, plus a final track with Rodney's personal reflections about what it means to have a Mayberry life. Price: $15.00.
As this issue was being prepared to send out, we were running low on this CD and it might be marked as "temporarily out of stock" when you visit online. But more are on the way, so please check back if we're out when you first shop for it.
* "SMILES & TEARS" CD
by LeRoy "Mack" McNees
This new bluegrass-flavored CD by TAGS and Country Boys alum LeRoy is fun, inspirational, funny and moving, depending on the particular song. There are songs written by everyone from Sheb Woolley and Les Brown to Carter Stanley and Roy Acuff...and LeRoy Mack himeself. With sidemen including fellow legends Chris Hillman and Herb Pederson. Here's a list of the songs:
1. A Matter of Policy
2. East Bound Train (Going for a pardon)
3. I Just Don't Look Good Naked Anymore
4. No School Bus in Heaven
5. Alabama Jubilee
6. Praying Mantis Love Affair
7. This One Belongs to Me
8. Sentimental Journey
9. Dream of a Miner's Child
10. Putting on the Dog
11. I'm Dying a Sinners Death
12. The Little Girl and the Dreadful Snake
13. Jan's Song (words by LeRoy Mack)
It's a super CD of toe-tapping music that's sure to prompt many smiles and maybe a few tears (the good kind). Price: $15.00. Also, a special combo price with another of LeRoy's fine CDs is available online at Weaver's.
* DON KNOTTS MOVIES ON CD
Several of Don Knotts' most popular movies have been released on DVD this fall and Weaver's is carrying most of them. We offer "THE GHOST AND MR. CHICKEN," "THE RELUCTANT ASTRONAUT," "THE SHAKIEST GUN IN THE WEST" (each at $16.00), and "THE INCREDIBLE MR. LIMPET" ($25.00), plus others.
* "BACK TO BACK COMEDY" WITH ANDY GRIFFITH AND DON KNOTTS CD
This brand new CD features 5 of Andy Griffith's classic comedy routines/songs and 5 of the very best standup routines of Don Knotts. (Some of Andy's routines are available on other CDs, but as far as we know, this is the first time any of Don's recordings have been released on CD.) The 10 routines average about 5 minutes each. Price: $13.00 This hilarious performances in this collection are as follows:
ANDY GRIFFITH
"What It Was, Was Football"
"Conversations with a Mule"
"North Carolina, My Home State"
"Andy and Cleopatra"
"St. James Infirmary" (a song, not a comedy number)
DON KNOTTS
"The Sportscaster"
"The Weatherman"
"The Analyst"
"Pre-Natal Anxieties"
"Medical Convention"
And here's a Mayberry-related item that is back in stock after being out of stock for many months:
* MORE THAN JUST A FUN GIRL FROM MOUNT PILOT: THE STORY OF JEAN CARSON
This interesting and rare paperback is back in stock. It's the story of "Fun Girl Daphne" Jean Carson's career as compiled by writer Lee Grant with Jean's cooperation. Includes seldom-seen photos from Jean's personal collection. We've found a few more copies (these copies are not autographed). Price: $10.00
**** CHAPTER UPDATE ****
A handful of new chapters have started since the October issue of "The eBullet." They bring our grand total of chapters to become official as of the end of 2003 to 1,258. Here are the newest chapters:
"Slow It Down and Let Me in or I'll Go Out and Get Some Gin"--Wilmington, N.C.
"Half a Boy"--Mansfield, Mo.
"Meet Me at the Fishin' Hole"--Clayton, N.C.
"This Morning's Sermon: The Dice Are Loaded Against the Evil-Doer"--Heath Springs, S.C.
"A Sock in the Head"--Decatur, Ga.
If you are interested in starting a chapter of TAGSRWC, all you have to do is pick a name that has not already been chosen and submit a list of your founding members by postal mail. Or write to us also if you would like to contact a chapter near you. Our address is TAGSRWC, 9 Music Square South, PMB 146, Nashville, TN 37203-3286.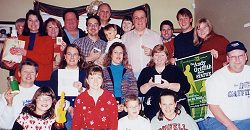 The Mayberry Chapter gathered for Christmas at the Bakers for some holiday fun. They also appeared in several parades including the one pictured below at the Karns, TN Christmas parade. This chapter has 3 Mayberry patrol cars.

**** CHAPTER NEWS ****
Several chapters received publicity and were interviewed in news coverage surrouning the CBS TAGS reunion special in November. Among the chapters featured in local TV stories was "PUT THIS RIGHT THROUGH; THIS IS A TROUBLE-CHECK" in Salt Lake City.
"THIS IS THE BODY OF A JUDO FIGHTER. I'M A DEADLY WEAPON" (New Castle, Ind.) was also recently featured in a local newspaper story about using TAGS in school settings. Chapter leader Curt Bell is a high school teacher and coach and spearheads the Mayberry in the Midwest event.
And MAYBERRYVILLE chapter (Berryville, Ark.) received extensive coverage in its local newspaper when several chapter members dressed as Mayberry characters for a major local civic event.
Lots of chapters got together during the recent holidays. Among the longest-running holiday gatherings for chapters is one held by BARNEY chapter (Greensboro, N.C.). It's usually their biggest gathering of the year. Among their traditions is one where member Shelton Fields recites "The Christmas Guest" entirely from memory. MAYBERRY chapter (Knoxville, Tenn.) was preparing its quarterly newsletter as this issue was going to press. They also have a neat chapter Web site with lots of photos and info a http://www.mayberrychapter.com.
Winter is usually the quietest time for most of our chapters, but many are making plans for the busiest times of year, which are summer and fall. This summer's events, including the cast reunion at Gaylord Opryland in Nashville, the Mayberry Squad Car Nationals and Mayberry in the Midwest in New Castle, plus Mayberry Days in Mount Airy, are superb anchors for a great year of Mayberry events, including a couple of events that haven't been officially announced yet.
**** MISS CRUMP'S MAYBERRY QUIZZES ****
ANSWERS TO MISS CRUMP'S MAYBERRY QUIZ #57
We had good participation in this quiz. And most entries got all but one answer right. But only one person got them all right because Question #3 was tricky. It'll be no surprise to fans who follow Mayberry trivia that the winner is PAUL MULIK of "Hear that, Boys? No Yellin' at the Table" chapter of Joplin, Mo. Congratulations to Paul! He receives his choice of any single item available in the current issue of "The Pocket" or online at Weaver's Dept. Store (except the Mayberry Squad Car Cookie Jar or items in the Collectibles section.) But knowing Paul, we think he'll probably find a loophole for the best possible prize.
Here are the answers we were looking for:
Any 10 of the following or other bodies of water, but these are most of the ones submitted by entrants: Kelsey's Crick, Kelsey's Ocean, "Atlan" Ocean, Pacific Ocean, Hopkins Creek, Furnace Crick, Tuckahoosie Creek, Snakeskin Creek, Tucker's Lake, Lake Charles, Myers Lake, Lake Winokee, Harry's Pond, Fisher's Pond, Great Dismal Swamp, the Caribbean Sea, Warrior River, the Duck Pond, the Crawdad Hole, the New River, the Slimy River Bottom, the Jordan, Blue Danube, Big Pond around Staten Island, the shores of Tripoli, swimming pool of Piedmont Hotel, David Mendelbright Memorial Horse Trough, moats, swampy section of Floyd's two acres on the north, Parker Creek, Marne River, Opie's bath, Howie's flooded basement and Whitewater Creek.
Song "No. 12 in the brown book" is "Stars and Stripes Forever."
Though a truck comes through town around 4:30, the actual gold SHIPMENT never comes through Mayberry. ("A decoy. Shazam!")
The person who is said to have "no personality" is Other Darling.
The complete headline is "Deputy Fife Hero in Cave Rescue."
BONUS: Opie is the one encouraged to "hit one for the ol' Goober."
MISS CRUMP'S MAYBERRY QUIZ #58
O.K., we were short on space for the printed version of this quiz in the November "Pocket," and Miss Crump wants to make up for being tricky in that last quiz. So she's giving just one question this time:
1. Name a person in Mayberry who claims to have worked as a valet?

The deadline for entries to be postmarked is Feb. 15, 2004. The answers and the winner will be listed in the March "Pocket" and the May "eBullet." Same prize as the previous quiz. Good luck!
**** POSTNOTE ****
Between issues of "The eBullet," keep up with the goings-on in Mayberry with the more-or-less daily "Who's Been Messin' Up The Bulletin Board?" Digest. It's a free subscriber list that consists entirely of comments, news flashes, and questions and answers from subscribers. You can sign up for that list by going to the "Mailing Lists" link at http://www.tagsrwc.com.
TAGSRWC also publishes the "Weaver's Newsletter" in more-or-less alternate months to "The eBullet." Like "The eBullet," the "Weaver's Newsletter" is free. Its focus is mainly on new Mayberry merchandise and collectibles and quick news flashes. To sign up, go to http://iMayberry.com/tagsrwc/weavers/privacy.htm
And if you like to receive Mayberry information on good, old-fashioned paper, we have a publication called "The Pocket." It's an eight-page newsletter that contains highlights from "The eBullet" and the "Weaver's Newsletter." Because "The Pocket" involves printing and postage, there is a fee to receive it.
"The Pocket" is continuing with additional issues through 2004. There are several subscription options for brand new subscribers online at http://www.iMayberry.com/tagsrwc/weavers/thebullet.htm Or you can receive for a free sample issue by writing TAGSRWC, 9 Music Square South, PMB 146, Nashville TN 37203-3286 and sign up with the form provided.
TAGSRWC's other main vehicle for Mayberry information is simply our Web site at: http://www.tagsrwc.com/ It has extensive content and links for just about everything a Mayberry fan might be looking for.
The next issue of "The eBullet" is scheduled for late February.
**** 10-4 and out ****
To UNSUBSCRIBE from eBullet:
http://www.tagsrwc.com/ebullet/unsubscribe_ebullet.htm
To Tell Folks About eBullet:
http://www.tagsrwc.com/ebullet/joinebullet.htm
eBullet Archives:
http://www.tagsrwc.com/ebullet/archive/
The eBullet is copyright 2003 by TAGSRWC