To Subscribe click here
To Unsubscribe click here
---

Volume 3, Issue 3


---

---

September 3, 2003


---
*********************************************
The eBullet
An Online newsletter of
"The Andy Griffith Show" Rerun Watchers Club (TAGSRWC)
Volume 3, Issue 3 September 3, 2003
*********************************************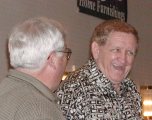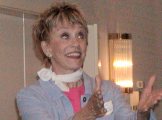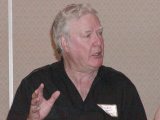 Photos courtesy of Jan Newsome
Roanoke, VA (June 2003) - Left to right: Betty Lynn, event organizer Mike Gilmore (back of his head), George Lindsey, Maggie Peterson, James Best and George Spence.
Welcome to our 11th issue of "The eBullet" and our third for 2003. Here are highlights of what has been happening and info about several upcoming events (including a cast reunion at Gaylord Opryland Resort next summer) and some brand new Mayberry-related products, plus the return of some old favorites. And a couple of more really neat new Mayberry products (plus a Christmas book and CD by Andy Griffith!) will be coming out in the next month to six weeks, so be sure to check out "What's New" at Weaver's online from time to time and in the October "eBullet."


**** SUMMARY OF SUMMER ****

We scored a sensational summer hat-trick of big Mayberry events in June and July. Thousands of fans turned out to enjoy at least one (and, in many cases, all three!) of the summer's major Mayberry celebrations-not to mention the highly successful George Lindsey Film Festival at the University of North Alabama in April.
First up for the summer was June's MAYBERRY MEMORIES IN WORD & SONG in Roanoke, Va. The TAGS stars on hand were BETTY LYNN, MAGGIE PETERSON, JAMES BEST, GEORGE SPENCE and GEORGE LINDSEY. (The Dillards we unable to attend because of a scheduling problem.)
The stars put on a well-received show as they were joined on stage by emcee David Browning and fellow tribute artists Allan Newsome and Kenneth Junkin, plus the local Craig County Boys. Besides the Saturday stage show, there was a dinner on Friday and a relaxing luncheon cruise on a nearby lake on Sunday.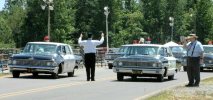 Photos courtesy of Nancy & Alan Thornton
Brent, AL - Howard and Otis start the races at the 2003 Nationals.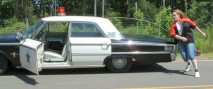 Photos courtesy of Nancy & Alan Thornton
Brent, AL - Jan "Checkpoint Chickie" Newsome races the clock in the obstacle course race.
The next weekend saw the MAYBERRY SQUAD CAR NATIONALS in conjunction with Ken Junkin and the Mule Days & Rodeo in Brent, Ala. Seven squad car replicas made it to this year's races. Winner of the drag racing was RYAN "THE ROCKET" JONES of the host "Hearty Eatin' Men and Beautiful, Delicate Women" chapter of Tuscaloosa. JAN "CHECKPOINT CHICKIE" NEWSOME of "Mother Figure" chapter (Huntsville, Ala.) placed second, just as she did in her first Nationals in 2002.
Using innovative tactics, KEVIN "SPEED, SPEED, SPEED" SNEAD of the host chapter won the obstacle course race. ROBERT "THE DISMANTLER" SHELBY OF "GOOBER'S AUTO DISMANTLING" chapter in West Frankfort, Ill., was second. "ROCKIN' RICKY" CARNES of Mayberry Squad Car chapter in Canton, Ga. won the Showmanship award and dedicated his victory to granddaughter ZOE. BOB "PEDAL MASHER" MATTHEWS of Gadsden, Ala., was second in Showmanship.
After two weeks off, fans revved up again for the well-organized MAYBERRY IN THE MIDWEST II in New Castle, Ind. Eleven TAGS stars (Bernard Fox was unable to attend), 10 Mayberry squad car replicas and seven Mayberry tribute artists made the fun filled-weekend of sold-out events a delight for fans. (Check out the photos in our Archives version of this newsletter at our http://www.tagsrwc.com Web site a few days after this issue is sent.)
There were autograph sessions on Friday and Saturday, a picnic with an auction and concert on Friday, and a deluxe stage show on Saturday night. A CBS film crew working on a TAGS documentary was on hand to capture much of the weekend's celebration. Fans are already hoping that there will be a Mayberry in the Midwest III.

| | |
| --- | --- |
| Photo courtesy of Jim Clark | Photo courtesy of Jan Newsome |
| New Castle, IN - (l to r seated) Phil Lee, Elinor Donahue, Jean Carson, Margaret Kerry, Betty Lynn, Maggie Peterson, Jamie Sullivan. (standing) Allan Newsome, Jeff Branch, David Browning, Rodney Dillard, James Best, George Lindsey, Dean Webb, Doug Dillard, Mitch Jayne, Tim Pettigrew, Kenneth Junkin. | Betty "Thelma Lou" Lynn and "Barn" (David Browning) waltz with their shadows in the Midwest. |

**** NEXT STOP MAYBERRY DAYS ****
More Midwest Photos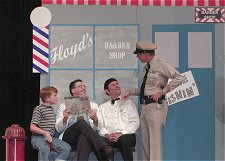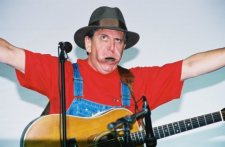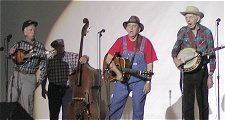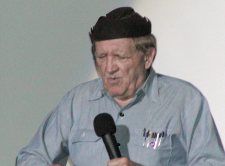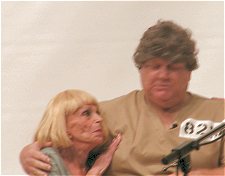 Photos courtesy of Jan Newsome
With the summer's events behind us, our attention now turns to the 14TH ANNUAL MAYBERRY DAYS in Mount Airy, N.C., Sept. 25 to 27. See Floyd's bulletin board (below) for this year's tremendous lineup of TAGS stars. And visit htttp://www.surryarts.org/ for the complete rundown and latest updates.
For those just now getting around to making plans to this year's Mayberry Days, there are still tickets available to most of the weekend's events, including the Doug Dillard Band's 3:00 matinee concert on Friday, Friday night's Memories of Elvis concert (opposite the sold-out evening Doug Dillard Band concert), and an exciting new nostalgic, '50s and '60s-style rock 'n' roll show by the band RainJacket (opposite the sold-out Col. Tim's Talent Time on Sat. night). So if you've missed out on tickets to the evening Doug Dillard and Col. Tim shows, there are some great alternatives. And remember that for the last couple of year's Thursday evening has become a lot more than just dinner and golf tourney awards. The banquet has become a spectacle that this year includes a concert by TAGS cast member Billy Ray Lathum's amazing bluegrass band, Soulgrass.
With Mayberry Days, the town itself has the ultimate starring role and provides the perfect setting for Mayberry fans from across the nation to gather and celebrate our favorite TV show and the community of good friends that it fosters. Y'all come!
(And for those who like to plan ahead, tickets for Mayberry Days 2004 are now on sale, too.

**** TV LAND'S TAGS STATUE DEDICATION IN RALEIGH ****
TV Land is dedicating a landmark statue of Andy and Opie in Raleigh's Pullen Park this fall. The official announcement of the dedication date and which dignitaries will be attending is expected any day now. The date is expected to be sometime between Mayberry Days and Halloween. Watch the Event Calendar at http://www.tagsrwc.com for updates.

**** MERCHANDISE UPDATE ****

We're heading into the last part of 2003 with several really neat new Mayberry-related items that have come out since the last "eBullet." You can find Ben Weaver's full lineup of items (including Mayberry Bible Study materials, sweatshirts, more T-shirts, welcome mats, deputy patches, license plate holders, artwork, rare collectibles, and much more) at http://www.tagsrwc.com/weavers.
We also have a PHONE ORDER LINE available for everybody's shopping convenience. The number is (615) 604-1298. It operates Mon. to Sat., 9 a.m. to 7 p.m. CT. If you miss us during those hours, you can also leave a message 24 hours a day and we'll call you back to get your order at a time convenient to you.
You can find most of our items at our location on the third floor of the MAIN-OAK EMPORIUM AT 245 CITY HALL STREET (also with a Main Street entrance at the third-floor level) in Mt. Airy, N.C. And a selection of our most popular items is available at STAR STATION, 9 Music Square South in Nashville, Tenn., Mon. to Fri. from 9:30 a.m. to 5:00 p.m.
Among the newest items at Weaver's online (and in the Main-Oak Emporium in Mount Airy) include 23 brand new MAYBERRY GREETING CARDS (http://www.iMayberry.com/tagsrwc/weavers/cards_greeting.htm) and eight REFRIGERATOR MAGNETS (http://www.iMayberry.com/tagsrwc/weavers/games/games.htm)with slogans.
We have added several super items, including a specially AUTOGRAPHED COPIES of Don Knotts' memoirs, "Barney Fife and Other Characters I've Known," a new CD featuring 5 comedy routines by Don Knotts and 5 routines by Andy Griffith, TWO NEW MAYBERRY T-SHIRTS (Andy & Barney: "The Manhunt; and Pictures in Letters) (http://www.iMayberry.com/tagsrwc/weavers/tshirts.htm) and three MAYBERRY STREET SIGNS (http://www.iMayberry.com/tagsrwc/weavers/weaversnew4.htm#streetsigns). We also have the silver Mayberry Sheriff badges back in stock and for the first time, we now have MAYBERRY DEPUTY BADGES.
Also back in stock are the popular brown felt GOOBER BEANIES and "EVERYBODY ON THE TRUCK" (The Story of the Dillards). And our copies of "IN THE KITCHEN WITH ELINOR DONAHUE" are now AUTOGRAPHED by Elinor.
Plus online we now have special GRAB-BAGS OF VINTAGE (BUT UNWORN) MAYBERRY T-SHIRTS (http://www.iMayberry.com/tagsrwc/weavers/special/tshirt_grabbag.htm), HARD-TO-FIND, NEW AND USED MAYBERRY VIDEOS and specially priced GRAB-BAGS OF MAYBERRY-RELATED BOOKS (including some hard-to-find books that are out of print and some that are autographed by TAGS stars) (http://www.iMayberry.com/tagsrwc/weavers/special/).
Here are descriptions of some of our new items:
* AUTOGRAPHED COPIES OF "BARNEY FIFE AND OTHER CHARACTERS I HAVE KNOWN" BY DON KNOTTS ($22.00)
http://www.iMayberry.com/tagsrwc/weavers/weaversnew1.htm#autographeddon
We're very pleased to be able to offer copies of this autobiography that are specially autographed by Don Knotts himself. We have a limited number of these autographed books. Don has individually signed plain nameplates with a gold border that are pasted on the inside of the front cover. He signed (in permanent blue marker) the nameplates expressly for these books.
(NOTE: These plain nameplates are different than the custom, limited-edition bookplates with artwork by Mike Johnson that Don signed for us in 1999.)
* MAYBERRY STREET SIGNS ($13.00 each or a Set of All 3 for $36.00) NEW!
http://www.iMayberry.com/tagsrwc/weavers/weaversnew4.htm#streetsigns
The three pressed tin Mayberry street signs are: ANDY TAYLOR ST., OPIE TAYLOR AVE. and BARNEY FIFE BLVD. Each sign has raised white lettering on a green background and measures 24 in. long x 5 in. high.
* "BACK TO BACK COMEDY" WITH ANDY GRIFFITH AND DON KNOTTS CD ($13.00) NEW!!
http://www.iMayberry.com/tagsrwc/weavers/music/music.htm#backtoback
This brand new CD features 5 of Andy Griffith's classic comedy routines/songs and 5 of the very best standup routines of Don Knotts. (Most of Andy's routines are readily available on other CDs, but, as far as we know, this is the first time that a collection of Don's comedy recordings has been released on CD.) The 10 routines average about 5 minutes each. The hilarious performances in this collection are as follows:
ANDY GRIFFITH
"What It Was, Was Football"
"Conversations with a Mule"
"North Carolina, My Home State"
"Andy and Cleopatra"
"St. James Infirmary" (a song, so not so much hilarious)

DON KNOTTS
"The Sportscaster"
"The Weatherman"
"The Analyst"
"Pre-Natal Anxieties"
"Medical Convention"

* "SNAPPY LUNCH" BY THE VW BOYS CD ($15.00)
http://www.iMayberry.com/tagsrwc/weavers/music/music.htm#Snappy
This fun new CD by the popular VW Boys features the deliciously catchy title-cut tribute to Mount Airy's famed café, which this year is celebrating its landmark 80TH ANNIVERSARY. Among the other dozen songs are guest vocalist Gary Wedemeyer's Briscoe Darlingesque rendition of "Low and Lonely" and the sentimental "Carolina Town." There are interesting bits of conversation throughout the CD, including a nice visit with Snappy Lunch owner Charles Dowell.
* "HERMIE THE COMMON CATERPILLAR" DVD featuring DON KNOTTS as the voice of Wormie ($17.00) NEW!!
http://www.iMayberry.com/tagsrwc/weavers/videos/videos.htm#Hermie
So what's so bad about being a common caterpillar? Just ask Hermie-or his friend, Wormie-and they'll tell you. Featuring the voices of Tim Conway as Hermie and Don Knotts as Wormie, these animated caterpillars encounter a host of delightful characters and quickly wriggle their way into the hearts of young and old alike.
**** THE MAYBERRY NEIGHBORHOOD ****
(http://www.iMayberry.com/tagsrwc/weavers/neighborhood/)
The biggest Weaver's merchandise news of the summer is that we have a new section of Weaver's online called "The Mayberry Neighborhood." It's a section with all sorts of fun items that, while not directly Mayberry related, have a similar wholesome, nostalgic and pop-culture feeling as Mayberry. Among the TV shows with items featured in this section are "M*A*S*H," "The Honeymooners," "I Love Lucy," "Bewitched," "The Brady Bunch," "I Dream of Jeannie" and "The Dukes of Hazzard." We also have Roy Rogers, Lone Ranger, The Cat in the Hat (and others from Dr. Seuss), Superman and Batman items.
With this new section, we're trying to make available to Weaver's shoppers the "best of the best" of items that deal with other hip and wholesome TV shows and pop culture icons. We know that Weaver's shoppers expect a full array of Mayberry items, and those remain our overwhelming focus and passion. But we know that many Mayberry fans also like other TV shows and pop culture items, so we thought it would be a useful service to our customers to devote one little corner of our Web site to some of these other items. They're pretty much all in one area, so don't worry-we won't let them water down the Mayberryness of the rest of Weaver's or iMayberry.com. But have fun browsing in this new section, which will be adding new items regularly.
By the way, the newest item added to the Mayberry Neighborhood is a box of collectible "Gunsmoke" Trading Cards. They're in a display box of 36 sealed 10-card foil packs of color and black & white trading cards issued in 1993 by Pacific Trading Cards. See full details about these and other Mayberry Neighborhood Items at Weaver's online.

**** NEWS OF CAST & CREW ****
ANDY GRIFFITH's autobiography, tentatively titled "I Appreciate It" and originally scheduled for release this fall, has been postponed until a later date to be announced.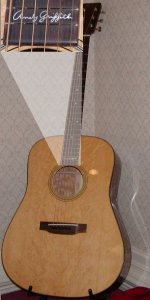 However, he still has a full slate of activity this fall. His album of Christmas stories and songs called "The Christmas Guest" is on track for release by Sparrow Records on Sept. 30. A companion book is set for release on Oct. 9. We'll of course carry both at Weaver's as soon as they're ready.
The Andy Griffith "Signature D-18 Guitar" by Martin Guitars is scheduled to be available next year, but Martin Guitar dealers are taking orders now. (The suggested retail price is $3,700.) Some of the four prototypes of the guitar have been making the rounds, including one on display at the Mayberry Memories in Word & Song show in Roanoke a few weeks ago. Here's a link to the Martin Guitar Web site for more info: http://www.martinguitar.com/news/articles/griffith.html. There is also a link from there to a list of Martin dealers, who are accepting advance orders through Sept. 15.
Andy Griffith himself has been making the rounds, too. He was in Nashville in late June for the National Sheriffs Association convention.
And Andy is executive producer of a CBS-TV retrospective on TAGS that is scheduled to air in late fall (tentatively Nov. 2). A film crew was in New Castle doing interviews during Mayberry in the Midwest II. They've also did some filming with key people in California. Here's where to go for a sneak peek, but don't go to this site if you'd rather be totally surprised when you tune in to watch the special on CBS: http://hostingprod.com/@andremika.com/hiddenandyone.html.
DON KNOTTS has done a few concert dates with Tim Conway this summer. But he's mostly getting geared up for his "Farewell to Theater" performances in Old Golden Pond at the New Theatre Restaurant in Kansas City. (See Floyd's bulletin board for details.)
RON HOWARD has wrapped up principal filming for his current project as director, a Western called "The Missing." It's set for release in New York and Los Angeles on Dec. 10, followed by nationwide release in January.
And Ron is co-executive producer of a fall sitcom called "Arrested Development," which has been described as a dark comedy for the Fox network. (Ron is also an uncredited executive producer of the hit series "24.")
Father RANCE HOWARD also appears in the film. Plus Rance is in "The Alamo" a film Ron was originally planning to direct before deciding to stay on the project just as an executive producer.
CLINT HOWARD appeared in an April episode of NBC's "Crossing Jordan" and is in four films, including the latest Beethoven movie, that are scheduled to be in either theaters or video stores this year.
JIM NABORS did his traditional rendition of "Back Home Again in Indiana" at the Indy 500 on Memorial Day Weekend, but otherwise is keeping a pretty light appearance schedule this summer.
When Jim visited his hometown of Sylacauga, Ala., in early June, he thought he was there to pay tribute to a hometown friend. But the friend turned the tables on Jim and announced a $25,000 grant to the town's school system in Jim's honor. ("A decoy...Shazam!")
GEORGE LINDSEY has been keeping a full calendar of appearances, but did make sure to have a week in May to visit his son and daughter in California. The 6th George Lindsey/UNA Film Festival in Florence, Ala., was a huge success in April. Steve Guttenberg's directorial debut, "P.S. Your Cat is Dead," won the festival's top prize.
George is recovering well from an ailment with one of his eyes in July. He's back on his 2003 tour schedule this week at the DuQuoin State Fair in Ilinois.
On April 19, Music Director Earle Hagen received his Star on the Palm Springs Walk of Fame. Saa-lute! Visit http://www.earlehagen.net/ for more info.
There's also an organized effort to have Earle nominated and inducted into the Academy of Television Arts and Sciences Hall of Fame. Letters and e-mails of support are encouraged from anybody who wants to participate in the effort. Here's where to write to voice your support:
Bryce Zabel, Chairman
Academy Of Television Arts And Sciences
5220 Lankershim Blvd.
North Hollywood, CA 91601
Email: bryce@emmys.org


RODNEY DILLARD is now helping produce televangelist Jim Bakker's new TV show, which originates from Branson. Rodney also serves as an announcer and comedian on the show, and he continues to supervise operations of Caravell Studios, a recording business in Branson.
BETTY LYNN is still getting her full strength back from a difficult bout with pneumonia that struck her earlier this year. She fully delighted the appreciative audiences at this summer's Mayberry events in Virginia and Indiana.
Former Mayberry "Country Boy" LEROY McNEES is working on his latest recording project, tentatively called "Belly Laughs & Tear Jerkers," which LeRoy hopes will be ready in time for his stop in Mount Airy for Mayberry Days.

Writer HARVEY BULLOCK continues to recover well from his hip replacement surgery and has sent his sincere thanks to fans who sent him wishes for a speedy recovery. He and wife Betty are looking forward to their Mayberry Days encore in a few weeks.
Speaking of writing, MARGARET KERRY-WILLCOX (Mayberry's Bess Muggins and Helen Scobey), gave fans a progress report on her autobiography called "Tink Talks." She expects it to be available within the next year.
(Tink refers to Tinker Bell, for which Margaret was the live model used for creating the animation.)
HOWARD MORRIS, BERNARD FOX and JACKIE JOSEPH have recuperated well from recent medical treatments and/or surgeries.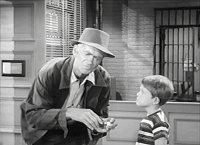 It has been widely reported that BUDDY EBSEN passed away in July at the age of 95. While the defining role of his marvelously full life and long career was of course Jed Clampett, Mayberry was fortunate to have him pay a visit for one its most memorable guest appearances, that of "Opie's Hobo Friend," David Browne. "Weeelll, doggies" was indeed one truly classic expression, but Mayberry will always have "Tuscarora!"
That's our news from the cast and crew for this issue. We'll have more updates in the October "eBullet."
**** EVENT CALENDAR ****
* SEPT. 3 TO NOV.9: DON KNOTTS makes his "Farewell to Theater" in a production of On Golden Pond at the New Theatre Restaurant in Overland Park, Kans. Check http://www.newtheatre.com or call (913) 649-SHOW (7469) for updates. Tickets are on sale now. Be sure to mention that you're a member of "The Andy Griffith Show" Rerun Watchers Club when ordering. Don't "over-expect" what mentioning that might do to enhance your theater experience. Any possible enhancement may not be offered or available to you until show time.
* SEPT. 13: BILLY RAY LATHUM and Soulgrass perform at the Opera House in Mitchell, Ind.
* SEPT. 17: BILLY RAY LATHUM and Soulgrass perform at the Poppy Mountain Bluegrass Festival in Morehead, Ky.
*SEPT. 20: BILLY RAY LATHUM and Soulgrass perform at the Horse Cave Heritage Festival in Horse Cave, Ky.
* SEPT. 21: Guess who? BILLY RAY LATHUM and Soulgrass perform at the Historic Constitution Square Festival in Danville, Ky.
* SEPT. 25 TO 27: 14TH ANNUAL MAYBERRY DAYS in Mount Airy, N.C. Stars confirmed so far include THE DOUG DILLARD BAND (including RODNEY DILLARD'S first appearance at Mayberry Days!), MAGGIE PETERSON MANCUSO, former Country Boys/Kentucky Colonels member LEROY MCNEES, former Country Boys/Kenutcky Colonels/Dillards member BILLY RAY LATHUM and the very Frank, GEORGE SPENCE.
And get ready to whistle with joy like you never have before because we're not done yet! Legendary TAGS music director and composer EARLE HAGEN is making his first visit to Mount Airy for Mayberry Days! It will also be Earle's first appearance at a fan-oriented Mayberry event. Among the featured activities for Earle will be his participation in Neal Brower's always-popular and moving (bring your Kleenex!) lecture on Saturday afternoon. It's big!

Want still more legends? Well, uber-writer HARVEY BULLOCK and his barbecue-enthusiast wife Betty are making plans to return to Mayberry Days this year. Wow! (The North Carolina State Barbecue Championship is part of Mayberry Days this year!)

And you never know what else might happen or who might show up (no, don't expect "the man himself" this year), but one thing is for sure: Mount Airy is assembling about as much genius, star power and fun as a town the size of Mayberry can absorb in just one weekend!

In addition to the stellar lineup from the TAGS cast and creative team, Mayberry Days 2003 has a full slate of activities, including all of the old favorites and several exciting new ones.

For tickets to the parts of the weekend that require tickets and that aren't already sold out, call 1-800-286-6193 or visit http://www.surryarts.org-not only for tickets, but also the complete schedule and the latest info as it is posted.
* OCT. 4: GEORGE LINDSEY performs at the American Music Theater in Lancaster, Penn.
* OCT. 22 AND 23: JIM NABORS is in concert at Mountaineer Racetrack in Chester, W.V. For more info, visit http://www.mtrgaming.com/homepage.html.
* OCT. 25: GEORGE LINDSEY performs at the Barbecue Festival in Lexington, N.C. Visit the festival's Web site in early October for the schedule at http://www.barbecuefestival.com/
* NOV. 17 TO 19 AND 21 AND 22: DON KNOTTS and Tim Conway are in concert in Orilla, Ontario (matinees the first three days and evening shows on the last two days).
* NOV. 22: GEORGE LINDSEY performs at the President Casino Broadwater Resort in Biloxi, Miss. For info, call 1-800-THE PRES or visit the venue's Web site at http://www.presidentbroadwater.com.
* DEC. 5 TO 7: JIM NABORS hosts "A Merry Christmas with Friends and Nabors" at the Hawaii Theatre in Honolulu, Hawaii. Box Office Phone: (808) 528-0506. (Box Office Hours: Tuesday-Saturday from 9:00 AM -5:00 PM). Visit the website at http://www.hawaiitheatre.com/index.html.
* 2004 *

* APR. 15 TO 17: 7TH ANNUAL GEORGE LINDSEY/UNA FILM FESTIVAL on the campus of the University of North Alabama in Florence, Ala. Visit the festival's Web site at http://www.lindseyfilmfest.com.
* JUNE 25 TO 27: "MAYBERRY CAST REUNION" AT NASHVILLE'S GAYLORD OPRYLAND RESORT
3 Days/2 Nights
Two (2) night package includes:
*Two-night room accommodations at Gaylord Opryland Resort or Radisson Hotel at Opryland
*Ticket to the Grand Ole Opry on Friday night, featuring a special "Tribute to Mayberry"
*Ticket to Aunt Bee's Blue Ribbon Dinner and Reunion Show


on Saturday night
*Autograph opportunities with the cast on Saturday morning
*Breakfast buffet on one morning at Rachel's or the Cascades Restaurant
*Special theme activities throughout the weekend, including pickle-eating and look-a-like contests
*Round-trip luggage handling
*All applicable taxes and gratuities


PACKAGE PRICES (per person, plus tax, based on double occupancy):
Gaylord Opryland Resort - $279
Radisson Hotel at Opryland - $244

NOTE: Because the Opryland Hotel will be putting in a new reservation system soon, they won't be accepting reservations for this event until AFTER SEPTEMBER 15. After that time, you can call 1-888-677-9872, and they should be able to handle your reservation. For now, just be sure to mark your calendar!

* At this time, tickets to the events are limited and only available with an accommodations package. If all available tickets are not sold in packages, they will be made available for sale two weeks prior to the event.

ONE MORE NOTE: The lineup of stars and other details will be announced as they become available. Stay tuned!

ADVANCE LAWYER-SPEAK about the Opryland autograph session: "Photographs will be available for sale by most stars. Cast members have the right to refuse to autograph personal memorabilia and may sign for a limited time period only." In other words, as Andy told Gomer about his upcoming date with Mary Grace Gossage, "Don't over-expect."
* Sept. 23 to 25: 15th ANNUAL MAYBERRY DAYS in Mount Airy, North Carolina. Tickets are on sale now. Visit http://www.surryarts.org for ticket info.
We suggest that you regularly check the Events Calendar at http://www.tagsrwc.com for more information and updates about these events and others that might be added between now and the October issue of "The eBullet."

**** CHAPTER UPDATE ****

Several new chapters have started since the May issue of "The eBullet." If you are interested in starting a chapter of TAGSRWC, all you have to do is pick a name that has not already been chosen and submit a list of your founding members by postal mail. Or write to us also if you would like to contact a chapter near you. Here are the six newest of our grand total of 1,251 chapters to become official:
"Well...My Face Don't Let On" Mount Juliet, Tenn.
"Unadorned" St. Paul, Minn.
"Shoot, My Mama and Daddy Just Shook Hands
on Their Deal" Evans, Ga.
The Mayberry Marvels Houston, Tex.
The Electric Lather Makers Hermitage, Tenn.
"I'm Cryin' and I Can't Stop" Tucson, Ariz.

There's also a chapter thinking over what name it wants in Lincolnton, Ga.


**** CHAPTER NEWS ****
This summer's three major Mayberry events (summarized above) were all organized by local chapters and well attended by anywhere from a dozen to many dozens of other chapters.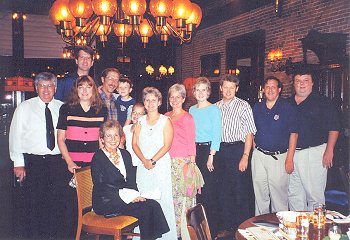 Photo courtesy of Dennis Beal
Nashville, TN - Tennessee area fans gather for a quick bite with Jackie Joseph. Word has it that Dennis Beal from the Mayberry Chapter in Knoxville, TN was walking in to rooms REAL nice.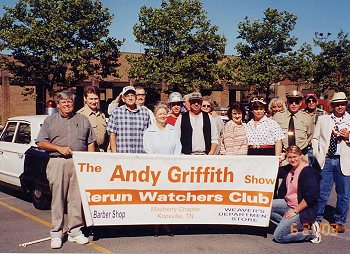 Photo courtesy of Dennis Beal
Mayberry Chapter - Parading all around Tennessee in their three Mayberry squad cars, Mayberry is well represented.
It was a fine "how do you do" indeed for members of Nashville's ANDY chapter and TENNESSEE TAGS chapters, Knoxville's MAYBERRY chapter and Hendersonville's "SHE'S NICE!" chapter when they quickly put together a "wiley" dinner party with JACKIE JOSEPH (Mayberry's "Sweet Romeena") and a friend at a local restaurant ("well, what do you know, spaghetti!") when Jackie had business in town a few days ago. The delightful evening was a great chance for friends to visit with Jackie and for several to meet her for the first time. (We'll have a photo or two in our online Archives version of this newsletter at http://www.tagsrwc.com.)
Speaking of MAYBERRY chapter, they're ever busier, it seems. They now have three replicas of Mayberry squad cars in their chapter. They've already participated in several parades in nearby towns this summer and have at least three more on tap during the rest of the year. The chapter was represented at the Mayberry in the Midwest III in July. They also had a lake trip in July and a miniature golf outing this month, And they also have a convenient chance to see Ronnie Schell at the Knoxville Film Festival on Aug. 21 to 23 as well as a local Mayberry Music Festival on Aug. 30.
BARNEY CHAPTER (Greensboro, N.C.) has several fun meetings this summer. The latest was this month when they had a "Tex" theme honoring the "Runaway Kid." It was hosted by two of the out-of-town members. There has been a Barney chapter member at every major Mayberry event this summer. Talk about a runaway kid!
MAYBERRY UNDERCOVER AGENTS (Danville, Va.) had a fun time at their local Mayberry Night at the Ballpark featuring David Browning. And chapter leader TIM HUTCHERSON was featured in an august article in an August issue of the USA Weekend magazine insert that talked to youngish fans of classic TV shows. Tim was the sole spokesperson for TAGS and did us proud!
Pat and Neil Coleman of REMEMBERING MAYBERRY chapter (Chillicothe, Ohio) and their Mayberry squad car recently made the section front of the Columbus Dispatch. And Mayberry tribute artists Tim "Goober" Pettigrew, Jamie "Opie" Sullivan and David "Barney" Browning, were among the performing fans receiving coverage in Muncie and New Castle newspapers during Mayberry in the Midwest II.
Marsha and Dave Scheuermann of MAYBERRY SCOUT TROUP #44 (Clear Lake, Wis.) have sent news about the full-size replica of the Taylor house that they're building:
"We moved in two weekends ago (although we're just one step shy of camping out)! We'd be sleeping on ironing boards if we HAD ironing boards. We still need to trim out the windows and door frames, hang one more door, put on some doorknobs, that kind of stuff, but we're carpeted, we have water, we can cook and refrigerate stuff, and after today we can wash and dry our laundry.
"We got the living room carpeting in last Thursday evening. On the front of the house, the steps are on, and BOY, did that make a difference! It looks a whole lot more like it should now. It's not painted yet; the porch and steps and columns, etc., are still brown, but that'll eventually get done. We will be getting the sod in the next few weeks so that we'll have something other than mud, dirt, and a few good strong boulders in the yard. Trees will come later.
"We anticipate that we will be spending the next year or so getting the exactly-right furnishings found and bought, and getting the accoutrements that we need to make it look like you're stepping into the actual Taylor home. For now it's pretty much at the 'just a bed and a Bible' stage. It's coming along nicely, it's just taking a lot longer than we expected."
You can see photos of the house's progress at: http://community.webshots.com/user/marshaart.
We'll also have some additional interior shots in our "eBullet Archives" for this issue, which will be online at http://www.tagsrwc.com within a few days of the issue being distributed. The photos of the living room fireplace and the kitchen are especially exciting to see.
We'll have more chapter news in the October issue.


**** ANSWERS TO MISS CRUMP'S MAYBERRY QUIZ #56 ****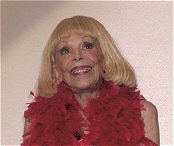 Photo courtesy of Jan Newsome
New Castle, IN - Our very own "Fun Girl," Jean Carson, knocked 'em dead at Mayberry in the Midwest.
Miss Crump was right in her prediction. We had a record number of entries and correct answers for this quiz in the March issue. It's amazing what having just one question in a quiz will do for both response and performance-even if the question was from a "color" episode!
Anyway, Miss Crump was proud of the turnout. She put all of the correct answers into a sombrero and pulled out the winning name:
GENE FORTENBERRY of "Burnt to a Turn! My Life Snuffed Out! Completely Dead!" chapter in Madison, Miss.
Congratulations to Gene! He receives his choice of any single item available in this issue of The Pocket (except the Mayberry Squad Car Cookie Jar) or online at Weaver's Dept. Store (except in the Collectibles section.)
The answer we were looking for as to who in Mayberry says that Cesar Romero is her dream boat was Clara Edwards.


**** MISS CRUMP'S MAYBERRY QUIZ #57 ****

Miss Crump is restoring the usual length to this quiz, but will try to keep the questions in a range that will be manageable for new trivia enthusiasts and still be at least somewhat challenging for veteran buffs.
The deadline for entries to be postmarked is Oct. 15. The answers and the winner will be listed in the November Pocket. We're offering the same prize as the previous quiz. Good luck!
1. Identify 10 bodies of water (real or not) mentioned by someone in Mayberry.
2. What song is said to be "No. 12 in the brown book" used by performers in Mayberry?
3. What time of day (to the nearest hour) does the gold shipment come through Mayberry?
4. Who in Mayberry is said to have "not much personality"?
5. Complete this actual Mayberry Gazette headline: "Deputy Fife Hero in ____ _____."
BONUS: Who is encouraged to "hit one for the ol' Goober"?


**** POSTNOTE ****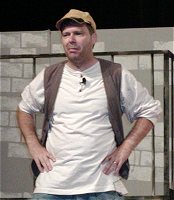 Photo courtesy of Jan Newsome
New Castle, IN - Phil "Ernest T." Lee makes a rare appearance outside of NC as Ernest T. He really rocked the house.
Between issues of "The eBullet" keep up with the goings-on in Mayberry with the more-or-less daily "Who's Been Messin' Up The Bulletin Board?" Digest. It's a free subscriber list that consists entirely of comments, news flashes, and questions and answers from subscribers. You can sign up for that list by going to the "Mailing Lists" link at http://tagsrwc.com.

TAGSRWC also publishes the "Weaver's Newsletter" in more-or-less alternate months to "The eBullet." Like "The eBullet," the "Weaver's Newsletter" is free. Its focus is mainly on new Mayberry merchandise and collectibles and quick news flashes.
Sign up for the Weaver's Newsletter by going to:
http://iMayberry.com/tagsrwc/weavers/privacy.htm

And if you like to receive Mayberry information on good, old-fashioned paper, we have a publication called "The Pocket." It's an eight-page newsletter that contains highlights from "The eBullet" and the "Weaver's Newsletter." Because "The Pocket" involves printing and postage, there is a fee to receive it.

"The Pocket" is continuing with additional issues for 2003 and 2004. There are several subscription options for brand new subscribers. All previous subscriptions to "The Pocket" expired with the November 2002 issue. Renewals for all subscribers can be done online right now at http://www.iMayberry.com/tagsrwc/weavers/thebullet.htm and through the renewal form in the current (November 2002) issue of "The Pocket." Or you can receive for a free sample issue by writing TAGSRWC, 9 Music Square South, PMB 146, Nashville TN
37203-3286 and sign up with the form provided. The first issue of "The Pocket" for 2003 was in March. The next one is scheduled for publication in late July.

TAGSRWC's other main vehicle for Mayberry information is simply our Web site at http://www.tagsrwc.com. It has extensive content and links for just about everything a Mayberry fan might be looking for.

The next issue of "The eBullet" is scheduled for October.


To UNSUBSCRIBE from eBullet:
http://www.tagsrwc.com/ebullet/unsubscribe_ebullet.htm

To Tell Folks About eBullet:
http://www.tagsrwc.com/ebullet/joinebullet.htm

eBullet Archives:
http://www.tagsrwc.com/ebullet/archive/

The eBullet is copyright 2003 by TAGSRWC