To Subscribe click here
To Unsubscribe click here
---

Volume 3, Issue 1


---

---

Feb 28, 2003


---
*********************************************
The eBullet
An Online newsletter of
"The Andy Griffith Show" Rerun Watchers Club
Volume 3, Issue 1 February 28, 2003
*********************************************


Welcome to our ninth issue of "The eBullet" and our first for 2003. We're sorry that we're a little late with this issue, but we were waiting on some crucial updates for upcoming events and then our hardworking Webmaster got knocked out with the flu for about a week.

Anyway, there's so much going on with Mayberry right now that this is our biggest "eBullet" yet. Here are highlights of what's happening, including exciting new details about several upcoming events and some brand new Mayberry-related products: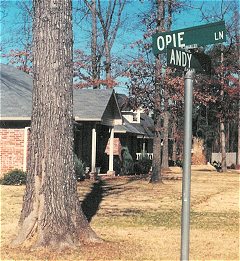 Photo courtesy of Pam Pruett
White Hall, Ark - Mayberry Fans 'Dream Home Location... What fan of TAGS wouldn't love this home. Like they say in real estate, "Location, location, location." The corner of Opie Lane and Andy Cove would have to qualify as prime "location." The photos are from a housing development in White Hall, Ark., called Mayberry Place.
**** UPCOMING EVENTS ****

Check our Event Calendar online for a complete listing by going to the "Event Calendar" link at http://www.tagsrwc.com/. Here are current and upcoming events:


* Mar. 6: DON KNOTTS and Tim Conway perform in Mt. Pleasant, Mich.

* Mar. 6-8: WILLIAM SCHALLERT ("Quiet Sam") is among the guests for the Williamsburg (Va.) Film Festival. For more info, go to http://www.williamsburgfilmfestival.com.

* Mar. 7: GEORGE LINDSEY entertains at the induction ceremony and dinner for the Alabama Sports Hall of Fame in Birmingham.

* Mar. 8: DON KNOTTS and Tim Conway perform at 4 p.m. and 8 p.m. at the Ritz Theatre in Tiffin, Ohio. For more information, call (419) 448-8544.

* Mar. 9: RONNIE SCHELL performs with the Legends of TV Comedy at 7:00 p.m. at the Barbara Mann Center in Ft. Myers, Fla.

* Mar. 10: RONNIE SCHELL and the Legends of TV Comedy perform at 1:00 p.m. at Ruth Eckerd Hall in Clearwater, Fla.

* Mar. 11: RONNIE SCHELL and fellow TV Legends perform at 7:30 p.m. at the Coral Springs Center in Coral Springs, Fla.

* Mar. 12: First Annual TV LAND AWARDS premieres on TV Land (rescheduled from Mar. 9; check your local listings for times).

* Mar. 12 and 13; RONNIE SCHELL and Co. perform at the Villages in Lady Lake, Fla. Two shows each night: 6:00 p.m. and 8:30 p.m.

* Mar. 15: GEORGE LINDSEY performs in the "Legends of Country" show at Isleta Casino in Albuquerque, N.M. There will be two shows (both for ages 12 and over): 8:30 p.m. and 11 p.m. For tickets and info, call 1-800-905-3315 or visit www.isletacasinoresort.com.

* Mar. 15: RONNIE SCHELL and the TV Comedy Legends appear at Boca West in Boca Raton, Fla.

* Mar. 16: RONNIE SCHELL, et al, reign at the King Center in Melbourne, Fla. At 3:00 p.m.

* Mar. 20: "Mayberry Deputy" DAVID BROWNING is on patrol for the Food City Family Race Night at MeadowView Convention Center in Kingsport, Tenn.

* Apr. 5 and 6: HOLLYWOOD COLLECTORS SHOW at the Beverly Garland Holiday Inn in North Hollywood, Calif. Stars TBA. Visit http://www.hollywoodcollectorshow.com/ for updates.

* Apr. 11 and 12: RONNIE SCHELL hosts Veterans of Comedy Wars VI at San Francisco State University. Stars confirmed so far include Steve Landesberg, Peter Marshall, Laraine Newman and The Limeliters.

* Apr. 19: DAVID BROWNING provides laughable security for the Blue Ridge Jamboree in Mount Airy, N.C.

* Apr. 24-26: THE 6TH ANNUAL GEORGE LINDSEY TV AND FILM FESTIVAL at the Univ. of N. Alabama. New this year is a Saturday street festival with arts & crafts and fun & games and a Q&A session with George Lindsey. This precise schedule for year's festival has not yet been announced, but the basic schedule includes workshops, film screenings and the gala awards ceremony on Thurs. evening, workshops and film screenings on Fri., and more screenings and workshops, plus the street festival on Sat. For updates, go to http://www.lindseyfilmfest.com/

* Apr. 24-26: JAMES BEST appears at the Blue Ridge-Southwest Virginia Vision Film Festival in Roanoke, Va. Also appearing is Patricia Neal, who starred with Andy Griffith in "A Face in the Crowd." For more info, visit http://www.blueridgeswvafilmfest.org/ and click on the film festival link.

* Apr. 25: DAVID BROWNING runs the bases for the Greenville Braves in Greenville, S.C.

* Apr. 27: Racing over to the Bristol, Tenn., DAVID BROWNING, polices the Spring NHRA Drag Racing.

* May 1: Mayberry Night at the Ballpark for the Huntsville (Ala.) Stars, featuring DAVID "MAYBERRY DEPUTY" BROWNING, ALLAN "THE BARBER" NEWSOME, KENNETH "THE SPIRITED CITIZEN" JUNKIN and others.

* May 16: DAVID BROWNING tumbles in for Mayberry Night at the Ballpark for Salem (Va.) Avalanche.

* May 17: DAVID BROWNING shakes down at the Blue Ridge Jamboree in Mount Airy, N.C.

* May 20: Franklin County DARE Day features DAVID BROWNING in Rocky Mount, Va.

* May 22: DAVID BROWNING is bug-eyed for Mayberry Night at the Ballpark for the Hickory (N.C.) Crawdads.

* May 24 and 25: DAVID BROWNING laps the field for NASCAR at the Lowe's Motor Speedway in Charlotte, N.C.

* June 8: DAVID BROWNING soars over for Mayberry Night at the Ballpark for the Rockford (Ill.) River Hawks.

* June 13-15: MAYBERRY MEMORIES IN WORD & SONG in Roanoke, Va. Stars so far scheduled to appear include GEORGE LINDSEY, BETTY LYNN, ARLENE GOLONKA, MAGGIE PETERSON MANCUSO, THE DILLARDS, JAMES BEST, GEORGE SPENCE (Frank the Boyfriend in "Guest in the House"), and tribute artists David "Mayberry Deputy" Browning, Allan "Floyd" Newsome, Kenneth "Otis" Junkin and The Craig County Boys (as the Country Boys). Other stars are possibly to be announced.

The schedule is still tentative, but here's how things are shaping up as of now:

Friday the 13th will feature an informal "Aunt Bee's Picnic" at the Clarion Hotel-Roanoke Airport from 4:00 to 9:30 p.m. It will feature, picnic-style food, autograph sessions, bluegrass music by the Craig County boys, memorabilia auctions and vendor sales, Q&A session with the stars, and generally just a nice chance for fans to mingle and socialize.

Saturday's schedule features an Autograph Session from 1:00 to 4:00 p.m. at the Clarion Hotel and then the weekend's main event: "Mayberry Memories in Word & Song" stage presentation at 7:30 p.m. at Shaftman Performance Hall of the spectacular Jefferson Center.

On Sunday, there are tentative plans for a Luncheon Cruise on the Lake aboard the Virginia Dare paddle cruise boat from 1:15 to 3:15 p.m. on Smith Mountain Lake. The plan is for the luncheon cruise to be a relaxing chance to visit and mingle with the stars before departing.

Each segment for the weekend will require a separate ticket. Ticket and hotel reservation information will be announced by March 20. (Watch the Event Calendar at http://www.tagsrwc.com/ and the May "eBullet" for updates.)

The event is hosted by "Barney's First Car" chapter in Roanoke. The media sponsor is WDBJ-TV. Hotel sponsors are the Clarion Hotel-Roanoke Airport and the Courtyard Marriott-Roanoke Airport. Among the non-profit beneficiaries of the event is the Roanoke Valley chapter of the Guillain-Barre Society.

* June 20 and 21: Third Annual MAYBERRY SQUAD CAR NATIONALS (organized by Tuscaloosa's "Hearty Eatin' Men and Beautiful, Delicate Women" chapter) and MULE DAYS in Brent, Ala. Stars and cars (and mules) to be announced.

* June 21: GEORGE LINDSEY appears in concert with saxophonist Boots Randolph at the Renfro Valley Entertainment Center in Renfro Valley, Ky. For info and tickets, call 1-800-765-7464 or visit http://www.renfrovalley.com/.

* June 22: DAVID BROWNING has a blast for Mayberry Night at the Ballpark with the Potomac Cannons in Woodbridge, Va.

*June 25-28: JIM NABORS in Concert at the Drury Lane Theatre in Evergreen Park, Ill. For more info., visit http://www.drurylane.com/

* June 27: DAVID BROWNING boards the flight for Mayberry Night at the Ballpark with the Pilots baseball franchise in Hampton, Va.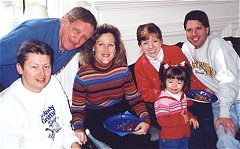 Photo courtesy of Dennis Beal
Nashville, TN (19 Jan 2003) - Yo! A surprise visitor stopped by TAGSRWC Headquarters while several groups of TAGS fans where gathered there for breakfast the morning following Andy's appearance on the Grand Ole Opry. George Lindsey is seen here with the Beals and the Bakers from the Mayberry Chapter in Knoxville, TN.
* July 11 and 12: MAYBERRY IN THE MIDWEST 2 in New Castle, Ind. Mark your calendar for this wonderful event, which has just announced its 2003 lineup. The stars confirmed include GEORGE LINDSEY, BETTY LYNN, MAGGIE PETERSON MANCUSO, THE DILLARDS, ELINOR DONAHUE, BERNARD FOX, JAMES BEST, JEAN CARSON and MARGARET KERRY (Bess Muggins and Helen Scobey). In addition, the largest-ever assortment of favorite character "tribute artists" is scheduled, including David "Mayberry Deputy" Browning, Allan "Floyd" Newsome, Kenneth "Otis" Junkin, Phil "Ernest T. " Lee, Jeff "Howard" Branch and Tim "Goober" Pettigrew. The event is spearheaded by TAGSRWC's "This Is the Body of a Judo Fighter; I'm a Deadly Weapon" chapter of New Castle.

The exact schedule of activities is not yet 100% complete, but will include autograph sessions early Friday afternoon, followed in the evening by the Squad Car Caravan to the Mayberry Barbecue Dinner featuring Music, Q&A with the Stars, and a Charity Auction. On Saturday, there will be a morning autograph session and an evening concert with some additional afternoon activities yet to be determined.

At this stage, the important thing to know is that tickets go on sale March 19 and are expected to sell out even more quickly than last year-probably within a week and almost surely before the end of March. For updates and ticket information, check http://www.mayberryinthemidwest.com/. The site was expected to be updated with the latest information almost simultaneously with the sending of this issue of "The eBullet," so the complete details should be posted there by the time you read this. If not, keep checking during the next couple of days because being the early bird really is a critical factor for getting tickets for this event.

The official hotel of the event is the Best Western Raintree Inn at 2836 South State Road 3 in New Castle. For room reservations, call 1-800-521-0015. The event Web site also includes maps and directions, and more info about sponsors and additional lodging options (because the Raintree Inn is already virtually booked up).

The first Mayberry in the Midwest event last summer was widely hailed as one of the best-run and most crowd-pleasing Mayberry events ever. With most of last year's star lineup returning and with several exciting additions, this year promises to be even better.

* July 17: DON KNOTTS performs with Tim Conway in Mille Lacs, Minn.

* July 19: DON KNOTTS is in concert with Tim Conway in Fish Creek, Wis.

* Sept. ? to Oct. ?: DON KNOTTS makes his "Farewell to Theater" in a production of "On Golden Pond" at the New Theatre Restaurant in Overland Park, Kans. Exact dates to be announced soon. Check http://www.newtheatre.com/ or call (913) 649-SHOW (7469) for updates. (Tickets are expected to go on sale to the general public in July. Be sure to mention that you're a member of "The Andy Griffith Show" Rerun Watchers Club when ordering. Don't "over-expect" what mentioning that might do to enhance your theater experience, but it won't hurt to mention it. Any possible enhancement may not be noticeable or even offered or available to you until showtime. So just wait and see.)

* Sept. 25-27: 14th Annual MAYBERRY DAYS in Mount Airy, N.C. For tickets (and it's not at all too early to be getting them...in fact it's almost too late for several key parts!), call 1-800-286-6193. Visit http://www.surryarts.org/ for more information as it becomes available. The entire schedule is not yet complete, but will be pretty much the same as last year's. The lineup of Mayberry stars also has not yet been confirmed, but will include THE DOUG DILLARD BAND, which will be making its 14th appearance!

* Oct. 4: GEORGE LINDSEY performs at the American Music Theater in Lancaster, Penn.

* Oct. 22 and 23: JIM NABORS is in concert at Mountaineer Racetrack in Chester, W.V. For more info, visit http://www.mtrgaming.com/homepage.html

* Nov. 8 to 15: GEORGE LINDSEY performs on a celebrity-filled Eastern Caribbean Cruise on Holland America Cruise Line that departs from Port Canaveral, Fla.

* Nov. 17 to 22: DON KNOTTS and Tim Conway are in concert in Orilla, Ontario (matinees the first three days and evening shows on the last two days)

* Nov. 22: GEORGE LINDSEY performs at the President Casino Broadwater Resort. For tickets and info, call 1-800-THE PRES or visit http://www.presidentbroadwater.com

* Dec. 5-7: JIM NABORS hosts "A Merry Christmas with Friends and Nabors" at the Hawaii Theatre in Honolulu, Hawaii. Box Office Phone: (808) 528-0506. (Box Office Hours: Tuesday - Saturday from 9:00 AM - 5:00 PM). Or visit the theater's website at http://www.hawaiitheatre.com/index.html.

Again, check the Events Calendar at http://www.tagsrwc.com/ for more information and updates.


**** CHAPTER UPDATE ****

One new TAGSRWC chapter has started since the last "eBullet" at the end of December:
"Now, If They Was Giraffes" Four Oaks, N.C.

We also have a new chapter working on its name in Stoddard, Wis.

If you are interested in starting a chapter of TAGSRWC, all you have to do is pick a name that has not already been chosen and submit a list of your founding members by postal mail to TAGSRWC's HQ at 9 Music Square South, PMB 146, Nashville TN 37203-3286. (For a list of names that are already taken, check online at http://www.tagsrwc.com/.) We'll then verify your chapter name choice and send you an official Chapter Charter.

Or if you would like to join or contact an existing TAGSRWC chapter in your area, write to TAGSRWC's HQ and we'll help get you in touch.


**** NEWS OF CAST AND CREW ****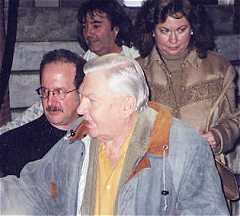 Photo courtesy of Dennis Beal
Nashville, TN (18 Jan 2003) - After his performance a the Ryman Auditorium, Andy Griffith and his wife Cindi (upper right) were cheered by fans.
ANDY GRIFFITH has already had a busy year. On Jan. 18, he performed on the Grand Ole Opry in the historic Ryman Auditorium. The big announcement that night was that Martin Guitars is going to produce a limited edition Andy Griffith Signature guitar that's just like the one he used on TAGS (and in "A Face in the Crowd").

While in Nashville, Andy was in the recording studio working on a Christmas album with some of Nashville's top musicians, including at least two TAGSRWC members: legendary guitarist Mark Casstevens and Marty Stuart, who is producing the album. The album will be released on Sparrow Records, probably around October, but definitely in time for next Christmas.

And also while he was in town, Andy received numerous awards from Nashville dignitaries, including performance salutes from both BMI and Nashville Songwriters Association International (NSAI), and a gold record from Nashville Mayor Bill Purcell. Nashville Sheriff Daron Hall also made Andy an honorary deputy.

The other big news from Andy Griffith is...the publication of his memoirs! Though Andy completed most of the writing for the book a decade ago, he has decided to go ahead and put the final touches on the manuscript and have it published in September of 2003. (It goes without saying, of course, that TAGSRWC will offer copies of this book through Weaver's.) All fans of Andy Griffith are sure to find the book to be interesting reading.

One other bit of news: Andy and Cindi Griffith visited Hawaii for a wedding anniversary celebration of friends of theirs that was hosted by JIM NABORS in early January. RICHARD O. "Dick" LINKE, Andy's manager for 37 years until 1991, and his wife Bettina were also supposed to attend the celebration (they live in Hawaii), but were unable to attend because of an illness that struck Dick on New Year's Day (he's fine now). But Andy and Dick did get a chance to talk by phone. The Griffiths also were able to visit with old friends DON KNOTTS and AARON RUBEN in Los Angeles on their way to Hawaii.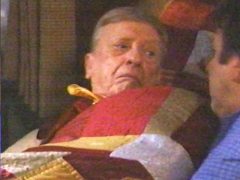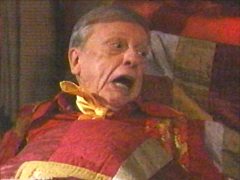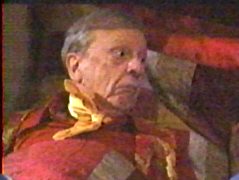 Photo courtesy of ABC TV
Hollywood, CA (28 Jan 2003) - Don Knotts as Mr. Furley in a dream by John Ritter's character, Paul Hennessy, on his series 8 Simple Rules. Don was able to work in a couple of "nip-it's" for Mayberry fans as well.
DON KNOTTS has a big year in store. He already has appeared at the Hollywood Collectors Show on Jan. 18 and 19. And he was the hilarious exclamation point for a fun episode of ABC-TV's "8 Simple Rules for Dating My Teenage Daughter." The Jan. 28 episode featured an extended dream sequence in which John Ritter's character found himself living life in "Three's Company." Don's segment managed quick homages to Mayberry, "Three's Company" and, indirectly, Bob Newhart. Also, look for Don among the stars on the "TV Land Awards" on March 12.

The big news from Don, though, is his "Farewell to Theater" in a production of "On Golden Pond" at the New Theatre Restaurant in Overland Park, Kans., beginning in September (see Upcoming Events). Don has performed in four previous productions (including "On Golden Pond" in 1999) at the New Theatre since it opened in 1992. The theater has never repeated a production...until now. And the theater is breaking precedent for good reason. Don's portrayal of Norman Thayer, Jr. in "On Golden Pond" was universally hailed as one of his best performances ever-perhaps second only to Barney Fife. Every show of the 10-week run was a virtual sell-out in 1999. Expect the same this time.

RON HOWARD is getting ready to direct his next movie project, starring Tommy Lee Jones and Cate Blanchett with some filming set to begin in New Mexico in March. The film is based on the book "The Last Ride." The working title for the movie is "The Missing."

Meanwhile, Ron's Imagine Films is producing several movies for which Ron is serving as producer or executive producer. And a biography of Ron titled "Ron Howard-From Mayberry to the Moon" has just been published. Though not an "authorized" biography, it is a loving tribute to him and his remarkable life and career so far. See the Merchandise section below for more info. (Our Weaver's Dept. Store is offering the book at 20% off.)

JIM NABORS hosted an anniversary party for a couple of close friends in January. As mentioned above, Andy and Cindi Griffith were able to attend. Otherwise, Jim Nabors so far has a few concert dates set for the year.

GEORGE LINDSEY has already had several performance dates this year, plus more coming in March, plus his 6th Annual George Lindsey TV and Film Festival is set for April. George is also featured in a "Where Are They Now?" piece in the February issue of "Biography Magazine" (the one with Kevin Spacey on the cover). You can also see the story online at http://www.biography.com, but it may be harder to find the story once March arrives.

And as one of his last acts before leaving office in January, Gov. Don Sundquist presented George with "Tennessee's Outstanding Achievement Award," which was conferred "in recognition of services performed so as to preserve and enhance the tradition of Tennessee excellence." As they used to say on "Hee Haw" when George was a regular, "Saaa-lute!"

BETTY LYNN appeared at January's Hollywood Collectors Show in North Hollywood. Other stars with Mayberry connections at the January Hollywood Collectors Show were DAL McKENNON (sculptor Brian Jackson in "The Statue"), SUE ANE LANGDON, MARGARET KERRY and ARGENTINA BRUNETTI (La Farona in "The Gypsies").

MAGGIE PETERSON MANCUSO is taking a little time off from her movie location scouting work in order to work on some remodeling at home. (A word to the wise: Don't let Aunt Bee come in there and start having the furniture moved outside in order to get a better view of Briscoe's "buggin'" biceps.)

JACKIE JOSEPH (Mayberry's "Sweet Romeena") checked in to say she's doing fine and is staying closer to home more now after a couple of years of extensive world travels. But she's still managing to squeeze in at least a trip to England, Wales and Ireland and one to Nashville this year. And she's still doing her regular column for the local "Tolucan" newspaper and serving as National Women's Chair for the TV and radio union AFTRA.




Photo courtesy of IMDb
Los Angeles, CA (19 Jan 2003) - TAGS director and actor Richard Crenna lost his battle with cancer on January 19th.
We're sorry to report the passing on January 19th of RICHARD CRENNA. He died of pancreatic cancer in Los Angeles at age 75. (He was born in Los Angeles, on Nov. 30, 1927.) Out of his 150-plus movie and TV appearances, Richard Crenna was best known to many as Luke McCoy in "The Real McCoys" or perhaps even as Walter Denton in "Our Miss Brooks" or more recently as Col. Trautman in the "Rambo" movies and Jared Duff on TV's "Judging Amy." But his contribution to Mayberry was behind the camera.

He directed eight of the best-loved episodes of TAGS during its landmark fourth season: "Ernest T. Bass Joins the Army," "The Sermon for Today," "Opie the Birdman," "A Date for Gomer," "Citizen's Arrest," "Opie and His Merry Men," "Barney and the Cave Rescue" and "Andy and Opie's Pal." (Four of those episodes ranked in the Top 20 in TAGSRWC's most recent formal poll of its members in 1999.) His direction in "Opie the Birdman" in particular is considered by many fans to be unsurpassed by any other episode of the entire series.

Working well into 2002, Richard Crenna, had a long and rewarding career in show business. The stage sure looks awful empty now, but don't the memories seem nice and full.

We're also sad to report that actor CLIFF NORTON passed away at his home in Los Angeles after a short illness on January 25th at the age of 84. His 65-year career ranged from disc jockey and acting on radio to performing in TV from its beginning until very recent times. His one appearance in Mayberry was a notable one. He played the role of filling station owner Wally in 1966's "Goober's Replacement" (Episode #186). He is affectionately known among fans as "the third Wally." (Wally #1 was Norman Leavitt and Wally #2 was Trevor Bardette. There is debate among fans about whether a fourth Wally played by Blackie Hunt was actually connected with the filling station or just a townsperson named Wally, but that's a topic for another occasion.)

Born in Chicago on March 21, 1928, Clifford Charles Norton began as a disc jockey in 1937. He later served as a bombardier in the Army Air Corps during World War II. When he returned to Chicago, he continued his work in radio, including popular programs such as "The FBI in Peace and War" and "Captain Midnight."

It wasn't long after that when he got in on the ground floor of one television's first musical variety series, "Garroway at Large," from 1949 to 1951. When Garroway moved to New York, so did Cliff Norton. He appeared regularly on such top shows as "U.S. Steel Hour," "Alcoa Hour," "Studio One," "Kraft TV Theater," "The Ed Sullivan Show," "Texaco Star Theatre," "The Perry Como Show" and "Caesar's Hour."

Like so many other TV performers, he moved to Los Angeles in the early 1960s and quickly found work not only in TV but in feature films, including "It's a Mad, Mad, Mad, Mad World" "Frankie and Johnny," "The Ghost and Mr. Chicken" with Don Knotts and "Funny Lady." In the last few years of his life, Cliff Norton appeared in scores of commercials for radio and TV. He is survived by a son, two daughters and four grandchildren.



George Nader
Another actor with Mayberry connections to pass away since the last "eBullet" is GEORGE NADER, who died in Woodland Hills, Calif., on Feb. 4, of cardiac pulmonary failure, pneumonia and other complications. He was 80. His Mayberry connection is that he played Dr. Robert Benson, who gave Barney his famous physical in "The New Doctor" (Episode #24), which first aired on April 3, 1961.

Born in Pasadena, Calif., on Oct. 19, 1921, George Nader performed in several productions at the Pasadena Playhouse. His big movie break was 1953's "Robot Monster," which, while considered one of the worst movies ever made, nevertheless built a still-loyal pop-cult following and also helped George get a movie deal with Universal. His other films included 1954's "Carnival Story" and "Sins of Jezebel and "Away All Boats" in 1954. He also won a Golden Globe for "Most Promising Newcomer."

Most of his work during the years leading up to Mayberry was in television in the late 1950s, most notably the title role in "The Further Adventures of Ellery Queen" during the 1958-59 season." He acted mostly in Europe from the mid-1960s until mid-'70s when an eye injury in auto accident forced him to retire from acting. He then began writing science fiction, including the 1978's "Chrome." At his request, his final book, "The Perils of Paul," was not to be published until after his death.

We believe we missed reporting that writer HOWARD MERRILL died last April 20 in Los Angeles. He was 85. He wrote two TAGS episodes with Stan Dresben: "Goober's Replacement" (#186) and "A Singer in Town" (#189), both in the show's sixth season.

A native of New York City, he began acting in silent movies at age 3. As a young child and into his teens, he appeared in hundreds of radio shows-so many, in fact, that he was listed in "Ripley's Believe It or Not." He also showed his talent for writing at an early age. While still in his teens, he wrote a newspaper column called "This Minute," which was syndicated to over 100 papers.

After he graduated from Columbia University, Howard Merrill wrote for radio and then many of the top TV comedies of the 1960s and early 1970s, including "The Dick Van Dyke Show," "Get Smart," "Gilligan's Island" and "The Odd Couple" (he also had produced the musical "Oh Captain!" starring Tony Randall in 1958). Many of his TV scripts were written with Stan Dresben.

Howard Merrill is survived by his wife, Toni Gilbert, and a daughter.

In addition, we neglected to report in an earlier "eBullet" that WHITNEY BLAKE died in her home near Martha's Vineyard at the age of 76 on Sept. 28. She played the part of lawyer Lee Drake in "Andy's Trip to Raleigh" (Episode 226), which first aired on Oct. 2, 1967.

Born in Eagle Rock, Calif., on Feb. 20, 1925, she became best-known as Dorothy Baxter on "Hazel," but she guest-starred on many of the top shows of that era including memorable episodes of "Perry Mason," "Maverick," "Playhouse 90," "Bonanza" and "Route 66."

Her performing career began in earnest at the famed Pasadena Playhouse, where she played many roles, including Ophelia in "Hamlet." Her films included "The Betsy" with Laurence Olivier. After her acting career, she became a popular TV talk-show host in Los Angeles. She was also a writer, director and producer. She was co-creator of the sitcom "One Day at a Time." In addition, she served as a member of the board of directors of Women in Film.

Whitney Blake was also active in various community choruses and through the years sang in church choirs near her homes in Malibu and Martha's Vineyard. She likewise was vocal and active in her support of civil rights and other social causes. She is survived by her husband, Allan Manings; three children (including actress Meredith Baxter); nine grandchildren; and two great-grandchildren.

That's our news from the cast and crew for this issue. We'll have more updates in the May "eBullet."


**** MERCHANDISE NEWS FROM WEAVER'S DEPARTMENT STORE ****

We have added four brand new Mayberry-related items (plus two items that are just new for us) to our shelves since the last "eBullet. We also expect to have two new online offerings of collections of episodes on DVD by the middle of March. You can find Mr. Weaver's full lineup of items at http://www.tagsrwc.com/weavers.

We also have a phone order line available for shopping convenience. The number is 1-615-604-1298. It operates Mon. Sat., 9 a.m.-7 p.m. CT. If you miss us during those hours, you can also leave a message 24 hours a day and we'll call you back to get your order at a time convenient to you.

* The first brand new item, which we are very pleased to be not only one of the very first places to have in stock, but also to be able to offer at a great discount price, is the new biography of Ron Howard. It's called "
" and was written by Beverly Gray.
It's the first full-length biography of Ron Howard and it takes an in-depth look at the Oklahoma boy who gained national fame as Opie, then grew up to be one of Hollywood's most admired directors. This biography tracks his family's roots, his early childhood and then his life and career from six-year-old Opie on TAGS through 2002, when he accepted his Academy Award as Best Director for "A Beautiful Mind."

The 282-page hardback book is not an authorized biography, but it is a loving study and tribute to Ron's life and career so far and is the best single source of information about Ron Howard ever published. The cover price is $25.00, but, being in a good mood, Mr. Weaver is pleased to offer it at 20% off (that's just $20.00, Ernest T.) through Weaver's Dept. Store. All Mayberry fans are sure to enjoy this fascinating, well-researched reading about Ron Howard and his entire family.


* The second brand new item is the super-cool "BLOODHOUND OF THE LAW" TIN SIGN ($12.00). It measures 11.5 x 16 inches and features a great color picture of Barney in the foreground surrounded by five classic black-and-white Barney images in the background. The headline copy says "Bloodhound of the Law" and the bottom caption says "Sniffing out crime one step at a time." Check out the image on the Weaver's Web site, but trust us--it's awesome. The sign is $12.00 or you can get a complete set of all 5 of our Mayberry tin signs for just $52.00.

* Our third new item is the DVD version of the ANDY GRIFFITH PARKWAY DEDICATION VIDEO. Like the VHS video of the Dedication that we have stocked since November, the DVD is an hour-long, professionally produced video of the dedication ceremony for the Andy Griffith Parkway in Mount Airy on October 16, 2002. It features approximately a half an hour of comments by Andy Griffith. The DVD is divided into chapters for making it quick and easy to find particular sections. The DVD is $23.00. (The VHS is also still available for $20.00). Andy Griffith called the Parkway Dedication "the biggest day of my life." See and hear it all for yourself.

* The other brand new item is

By Doug Dillard ($20.00). Banjo pickers around the world have hoped for years that Doug Dillard's esteemed book of banjo tablature would one day be re-published. Now, here it is with additional material!
With more than 20 popular songs (including 4 performed on "The Andy Griffith Show" and several written by Doug and fellow Dillards members Rodney Dillard, Mitch Jayne, and Dean Webb), all arranged by Doug exactly as he plays them, this book provides a marvelous blueprint for experienced pickers and beginnners, as well as a special souvenir for fans of Doug Dillard.

Also included is an overview biography of Doug's career and a discography of his albums. A true treasure of music instruction and Americana.

We are also carrying a new variation of TAGS episodes on DVD. We call it the MAYBERRY DELUXE 16-EPISODE DVD SET
. These are the same 16 episodes that we've been carrying on DVD for a while (and they are the only 16 TAGS episodes currently available on DVD). But this set (containing 2 double-sided DVDs) of the episodes is especially nice for at least three reasons:

First, it features the original theme song during the credits, which most of the DVDs (and VHS tapes) currently being manufactured with these 16 episodes do not have. (One curiosity: Even though the original theme song is on all the episodes, a few of the episodes for some reason have a newly recorded version of it.)

Second, these DVDs have versions of the episodes that are closer to being "complete and uncut" than any of the other DVDs. And third, the price is great. We're able to offer them for a better price than other versions that are on DVD-our price is just $18.00.

Again, these are the same 16 episodes that you might find on other DVDs (and VHS tapes) in retail stores. To distinguish this DVD set from others, we're calling it the "Mayberry Deluxe" DVD set, so if this is the one you want, look for that description when shopping at Weaver's.


* Our fifth new item is the "TV TIME COMEDY" DVD, a huge 5-disc set that features a whopping 41 classic episodes of six beloved vintage sitcoms - all for only $25.00. While this collection is not solely Mayberry, it's one that we think Mayberry fans will like because all of the shows on the DVDs are similar to TAGS in that they are well-done and wholesome and feature many of the actors, writers and production teams that were involved with TAGS at one point or another. Here's the rundown:

DISC 1: "The Beverly Hillbillies" -- 10 episodes (they all have different theme music than the original)
DISC 2: "The Andy Griffith Show" -- 8 episodes (all with the original theme song): "Mountain Wedding," "Opie and the Spoiled Kid," "Andy Discovers America," "Aunt Bee's Medicine Man," "Barney's First Car," "Andy's English Valet," "Dogs, Dogs, Dogs," "The Rivals"
DISC 3: "The Dick Van Dyke Show" - 7 episodes (all with the original theme song)
DISC 4: "The Lucy Show" - 4 episodes (all with the original theme song) and "Petticoat Junction" - 4 episodes (all with different theme music than the original)
DISC 5: -- "The Adventures of Ozzie and Harriet" - 8 episodes (all with the original theme song; also including some original advertising)

We won't take up the space here, but for a complete listing of all of the episodes of the non-TAGS shows, check out the detailed listing for this item in the video section of Weaver's at http://www.tagsrwc.com/weavers. We think it's well worth a look because they do include some of the most memorable episodes of each of the series.

We also feel that the price for the 41 episodes on the 5-disc "TV Time Comedy" set is a super deal at just $25.00. We're not sure whether we will be able to get more of this DVD, but we're delighted to offer it for as long as our supply lasts.

Among our other recent releases and best-sellers are:


* "THE INCREDIBLE MR. LIMPET" on DVD ($25.00) This classic film starring Don Knotts and the voice of Elizabeth MacRae in an entertaining and groundbreaking use of animation and live action. Includes an introduction by Don Knotts and other special features.

* MAYBERRY MANIA TRIVIA BOARD GAME ($30.00) This new Mayberry trivia game was the hot Mayberry item for Christmas. (You've probably seen it advertised regularly on TV Land.) It features an extremely attractive design and over 1,000 fun and challenging trivia questions. It's an entirely different format than the original "Andy Griffith Show" Trivia Game (also still available at Weaver's). Casual fans and serious trivia buffs of all ages will enjoy this highly entertaining new board game.

* MAYBERRY LUNCH BOX/THERMOS SALT & PEPPER SHAKER SET INSIDE MINI TIN BOX ($18.00) Just to make sure we're clear: This is a collectible salt & pepper shaker set. The shakers just happen to look like a lunch box and Thermos. But to add to the confusion, the ceramic lunch box- and Thermos-shaped shakers come packaged inside their own collectible mini tin lunch box that measures 3 x 4 x 6 inches. The shakers themselves are about 3 inches tall.

* "I'M PROUD TO CALL YOU MY FRIEND" ($10.00) This is a book (new in 2002) of Mayberry dialogue and quotations that deal with Friendship. The book is 64 pages, 6 x 6 inches in size, colorfully designed and filled with photos of favorite Mayberry moments. The perfect gift for (or from!) a friend.


* "ACT LIKE SOMEBODY" ($10.00) This is the companion book to "I'm Proud to Call You My Friend." It's the same size and format, but the theme is Parenting and contains favorite moments of Andy instructing Opie (and vice versa). And Barney and others throw their two cents' worth in as well.

* "WILL THE CIRCLE BE UNBROKEN, VOL. 3" ($20.00) Spearheaded by the Nitty Gritty Dirt Band, this outstanding, Grammy-nominated new Double CD release of 28 superb tunes by top folk, bluegrass and country music artists has one cut that will be of particular interest to Mayberry fans. Disc 2 includes "There is a Time," a favorite song performed three times on "The Andy Griffith Show." Written by Darling boys Mitch Jayne and Rodney Dillard, the track features vocals by Rodney and Ricky Skaggs. A bonus is that the version on this CD includes a brand new fourth verse that Mitch and Rodney wrote especially for this release!


**** MISS CRUMP'S MAYBERRY QUIZZES ****

The deadline for Miss Crump's Mayberry Quiz #55 was February 15. The winner will be announced in the March 2003 issue of our printed newsletter, "The Pocket," and in the May issue of "The eBullet." A new quiz will also be in both of those issues.


**** CHAPTER NEWS ****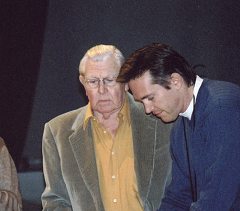 Photo courtesy of Freddie Armstrong
Nashville, TN (18 Jan 2003) - Behind the scene shot of Andy at rehersal for the Grand Ole Opry show.
The biggest chapter news so far this year involved folks gathering in Nashville for Andy Griffith's appearance at the Grand Old Opry on Jan. 18. Despite a rare 7-inch snowstorm that left Nashville in a deep freeze that weekend, some 50 TAGSRWC members from at least 8 states braved the weather to see Andy's historic performance. Many were able to gather at a downtown restaurant for a spaghetti dinner before the show.

Among the chapters represented were MAYBERRY (Knoxville, Tenn.), "HEARTY-EATIN' MEN AND BEAUTIFUL, DELICATE WOMEN" (Tuscaloosa, Ala.), "MOTHER FIGURE" (Huntsville, Ala.), BARNEY (Greensboro, N.C.)/"SOME OF US GOT, SOME OF US AIN'T" (Clayton, N.C.), MAYBERRY SQUAD CAR (Canton, Ga.), GOOBER'S AUTO DISMANTLING (West Frankfort, Ill.), "YOU BETTER PUT A BUCKEYE IN YOUR POCKET AND DO THE INCANT FOR A SORE FOOT" (Bessemer, Ala.), "MAYBERRY GIANTS: HIT ONE FOR THE OL' GOOBER" (Killen, Ala.), "KICKIN' MULE" (Tullahoma, Tenn.), TENNESSEE TAGS and ANDY chapters (both of Nashville), "I WAS A PAWN IN THE HAND OF A WILY WOMAN" (Plainview, Nebr.) and the "WHO'S BEEN MESSIN' UP THE BULLETIN BOARD?" (the Internet). Several other chapters and members were unable to attend because of the severe weather.

One side note from the Opry weekend: Dan Auter, one of TAGSRWC's four founding members back in 1979, was able to attend Andy's performance at the Opry. Though Dan has remained in touch with the club and receives "The Pocket" newsletter in the mail, the Opry was the first time that the busy dentist had been able to attend a "Mayberry" gathering in about 20 years. It was nice for him to be able to meet some of the 20,000 people who have joined the club since the time when TAGSRWC was just the small group huddled around a college TV set for daily viewings of TAGS.

In other chapter news, MAYBERRY chapter reports that they participated in several local parades during the holidays and that their Mayberry float/squad car combo won second prize in three of the parades. The group participates in the Dogwood Arts Festival parade on April 12. The chapter hopes to be the second chapter to have two Mayberry squad car replicas (and the first to have three!) in time for that parade. Meanwhile, the latest edition of the chapter's "Mayberry Minutes" newsletter was published in January.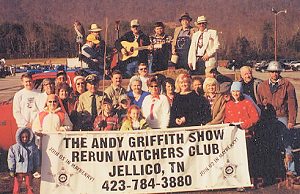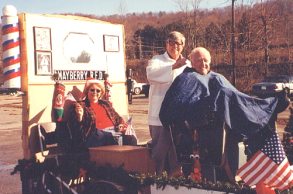 Photos courtesy of Dennis Beal
La Follette, TN (7 Dec 2002) - Mayberry Chapter members bring Mayberry to life for the La Follette Christmas parade.


PENNY-PINCHING BARNEY (Lincoln, Ill.) says that it is busy recruiting new members and is already gearing up for a big membership push at the local Railsplitters Festival in September. Meanwhile, they're busy working on their basement meeting room, half of which will have a model railroad with a Mayberry-Mt. Pilot theme and the other half of which will have a TV and VCR surrounded by all kinds of Mayberry memorabilia.

And the "CAN'T SING A LICK" chapter (Scotts, Mich.) checked into to say that they held a rare meeting in January. The watched favorite episodes (including "Aunt Bee's Medicine Man") and enjoyed some recipes from Aunt Bee's cookbooks (perhaps along with some of Col. Harvey's Indian Elixir, but the Boys at the Lab aren't sure about that). They then played trivia, had a costume contest and, after watching "Man in a Hurry," had an apple-peeling contest. Now that's pure fun with Mayberry style!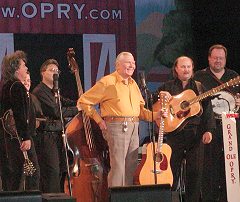 Photo courtesy of Allan Newsome
Nashville, TN (18 Jan 2003) - Andy makes the scene on stage at the Opry.
"DOGGONE FIRELY HIT ME...KNOCKED ME RIGHT DOWN" chapter (Huntingburg, Ind.) recently published its periodic news-flier, which is always a de-light.

And "NO ACCOUNT MULE" (Pine Bluff, Ark.) kicked in a bit of news from their area. They recently happened upon a subdivision in nearby White Hall called Mayberry Place. There are about 40 homes in the little community, all very Mayberrily manicured. All of the street names are for Mayberry characters. Wouldn't it be neat to say you live at the corner of Andy Cove and Barney Lane!

At least four chapters were making plans to send representatives to L.A. for the taping of the "TV Land Awards in early March. We'll have a full report in our next "eBullet" in May.

That's our Chapter News for this time.


**** POSTNOTE:****
Between issues of "The eBullet," keep up with the goings-on in Mayberry with the more-or-less daily "Who's Been Messin' Up The Bulletin Board?" Digest. It's a free subscriber list made up entirely of comments, news flashes, and questions and answers from subscribers. You can sign up for that list by going to the "Mailing Lists" link at http://tagsrwc.com.

TAGSRWC also publishes the "Weaver's Newsletter" in alternate months to "The eBullet" is an online successor to our longtime printed newsletter, "The Bullet." Like "The eBullet," the "Weaver's Newsletter" is free. Its focus is mainly on new Mayberry merchandise and collectibles and quick news flashes.

Sign up for the Weaver's Newsletter by going to:
http://iMayberry.com/tagsrwc/weavers/privacy.htm

And if you like to receive Mayberry information on good, old-fashioned paper, we have a publication called "The Pocket." It's an eight-page newsletter that contains highlights from "The eBullet" and the "Weaver's Newsletter." Since "The Pocket" involves printing and postage, there is a fee to receive it.

"The Pocket" will continue with additional issues for 2003 and 2004. There are several subscription options for brand new subscribers. All current subscriptions to "The Pocket" expired with the November 2002 issue. Renewals for all subscribers can be done online right now at http://www.iMayberry.com/tagsrwc/weavers/thebullet.htm and through the renewal form in the current (November 2002) issue of "The Pocket." Or you can receive for a free sample issue by writing TAGSRWC, 9 Music Square South, PMB 146, Nashville TN 37203-3286 and sign up with the form provided. The next issue of "The Pocket" is scheduled for publication in March 2003.

The Pocket Subscription:
http://iMayberry.com/tagsrwc/weavers/

TAGSRWC's other main vehicle for Mayberry information is simply our Web site at www.tagsrwc.com. It has extensive content and links for just about everything a Mayberry fan might be looking for.

The next issue of "The eBullet" is scheduled for early May. We'll have updates about all of the summer's many Mayberry happenings and other news.

To UNSUBSCRIBE from eBullet:
http://www.tagsrwc.com/ebullet/unsubscribe_ebullet.htm

To Tell Folks About eBullet:
http://www.tagsrwc.com/ebullet/joinebullet.htm

eBullet Archives:
http://www.tagsrwc.com/ebullet/archive/

The eBullet is copyright 2003 by TAGSRWC