To Subscribe click here
To Unsubscribe click here
---

Volume 1, Issue 4


---

---

Decemberr 31, 2001


---
*********************************************
The eBullet
Online newsletter of
"The Andy Griffith Show" Rerun Watchers Club
Volume 1, Issue 4 December 31, 2001
*********************************************

**** Editor's Corner ****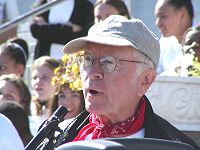 Howard Morris addresses the crowd at Mayberry Days
Welcome to the third official issue of "The eBullet," an online newsletter of "The Andy Griffith Show" Rerun Watchers Club (TAGSRWC).
"The eBullet" is sent out to subscribers approximately every two months (October, December, February, May and August). "The eBullet" is teaming up with our brand new paper newsletter, "The Pocket" (published in July, November and March), to replace our long-time paper newsletter, "The Bullet." (To subscribe to "The Pocket" and/or 2001's final issue of "The Bullet," go to Weaver's Dept. Store [http://iMayberry.com/tagsrwc/weavers/] and click on "The Bullet, The Pocket & eBullet" link.)
Weaver's Dept. Store also has its own online newsletter, creatively called "The Weaver's Newsletter," that usually comes out in months that don't have either an "eBullet" or "Pocket" (January, April, June and September and sometimes a bonus issue in November, including this year) and has more of an emphasis on news about new Mayberry products.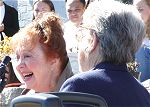 Betty Lynn at Mayberry Days
Because of the different formatting requirements of subscribers' computers, we'll provide photographs in the eBullet archive (http://tagsrwc.com/ebullet/archive/) rather than including photographs in the actual "eBullet," which necessarily must be a "text only" newsletter.
We very much want your feedback about what you like and don't like about "The eBullet," as well as any technical difficulties that "The eBullet" presents for your system. You can send e-mail to us at: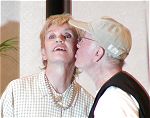 Maggie Peterson and Howard Morris at Mayberry Days
Between issues of "The eBullet," keep up with the goings-on in Mayberry with the more-or-less daily "Who's Been Messin' Up The Bulletin Board?" Digest. It's a free mailing list made up entirely of comments, news flashes, and questions & answers from subscribers. You can sign up for that list by going to the TAGSRWC Web site and clicking the "Mailing Lists" link. (http://tagsrwc.com/)
TAGSRWC's other main vehicle for Mayberry information is simply our Web site at http://tagsrwc.com/. It has extensive content and links for just about everything a Mayberry fan might be looking for.
We hope that, through "The eBullet," "The Pocket," the "Who's Been Messin' Up the Bulletin Board?" Digest, "Weaver's Newsletter," tagsrwc.com and our network of over 1,200 local chapters, all Mayberry fans can easily find desired information and ways to enhance their enjoyment of watching "The Andy Griffith Show."
Now on to this month's news.

**** UPCOMING EVENTS ****
Check the Event Calendar for a complete rundown by going to the "Event Calendar" link at tagsrwc.com. Several big events with cast members are in various stages of development for late 2001 and for 2002. Most are not yet fully confirmed, so they can't be announced at this time, but here are a few that can be:
Nov. 30-Dec. 2: Jim Nabors headlines the "Merry Christmas with Friends and Nabors" show at the Hawaii Theater Center in Honolulu.
Nov. 2: David "Mayberry Deputy" Browning pours on the syrup at the Exchange Club Pancake Jamboree in Lynchburg, Va.
Dec. 15: George Lindsey performs at the Stoweflake Inn in Stowe, Vt.
Dec. 25: "A Beautiful Day," Ron Howard's latest film as director, opens in theaters nationwide.
Jan. 6: James Best appears at the World of Wheels Auto Show at Bayside Exhibition Center in Boston, Mass.
Jan. 19 and 20: Hollywood Collectors Show at the Beverly Garland Holiday Inn in North Hollywood, Calif. For more info, visit the event's Web site at http://www.hollywoodcollectorshow.com. TAGS actress Margaret Kerry-Willcox is scheduled to appear. Other Mayberry stars likely will be added.
Jan. 27: James Best appears at the World of Wheels Auto Show at the Baltimore Convention Center in Baltimore, Md.
Feb. 3: James Best appears at the World of Wheels Auto Show at McCormick Place North in Chicago.
Feb. 9: Betty Lynn and Howard Morris perform "Love Letters" at the Cross Creek Country Club in Mount Airy, N.C. The evening presentation is sponsored by the Surry Arts Council. It will be a dinner theater-style show with the $30 tickets limited to the seating capacity of approximately 300. For tickets or information, contact the Surry Arts Council at 1-800-286-6193 or write to P.O. Box 141, Mount Airy, N.C., 27030. For updates, visit http://www.surryarts.org/.
Mar. 16: George Lindsey will be inducted into the Alabama Motion Picture Hall of Fame in Tuscaloosa, Ala.
Apr. 6 and 7: Hollywood Collectors Show at the Beverly Garland Holiday Inn in North Hollywood, Calif. For more info., visit the event's Web site at www.hollywoodcollectorshow.com. There are usually several Mayberry stars at this show. Also, if you're interested in being part of TAGSRWC member Mike Creech's annual escorted tour of Mayberry-related sites in Hollywood in conjunction with the Collectors Show, contact Mike at mayberyfan@aol.com or call him at (317) 839-8638. (Mike's L.A. itinerary spans April 4-8.)
April 18-20: Fifth Annual George Lindsey TV and Film Festival at the University of North Alabama in Florence, Ala. Special guests TBA.
May 4: George Lindsey performs at the Honeywell Center in Wabash, Ind.
September 26-28: 13th Annual Mayberry Days in Mount Airy, N.C. (It's not too early to make plans! Visit http://www.surryarts.org for info.)
Again, check the Events Calendar at http://tagsrwc.com for more information and updates.

**** HONORARY MEMBERS ****
We are proud to welcome our two newest Honorary Members of TAGSRWC. First is country music singer Phil Vasser, who has even worn a Barney T-shirt during one of his music videos. Also, we are pleased to welcome Marcus Hamilton, who now draws the "Dennis the Menace" comic strip. We are delighted to count these two distinguished Mayberry fans among our Honorary Members.

**** CHAPTER UPDATE ****
The following chapters have started since our report in the last issue of "The eBullet":
Tennessee TAGS - Nashville, Tenn.
Kickin' Mule - Tullahoma, Tenn.
"4:00 O'Clock Bus to Macon" - Macon, Ga.
"I'da Wove My Arms at You" - Jefferson City, Mo.
"This Is the Age of Science Know-How…Electronal Marvels" - Bryan, Tex.
"Plugs, Points, Bearin's, Valves, Rangs, Starter Switch, Ignition Wires,
Water Pump, Fuel Pump, Oil Pump, Clutch, Clutch Bearin's, Clutch Plates,
Brake Linin', Brake Shoes, Brake Drums, Radiator Hose an'
Radiator Hose Couplin'. An' I'd Give 'er a Good Wash, Too" - Donald, Ore.
"A Funny Little Runt with a Rock" - Johnson City, Tenn.
Johnny Shafo - Las Vegas, N.V.
"$6 a Week and What Do I Get? Heartache, Nothin' but Heartache!" - Indianapolis, Ind.
"Get to It!" - Altavista, Va.
At the TAGSRWC Annual Dinner/Meeting during Mayberry Days, we announced our 1,200th chapter of TAGSRWC: "Well, We've All Gotta Go Sometime" of Anna, Ill. .In a random drawing during the meeting, we also recognized one of our other 1,199 chapters. That chapter was "Glenn Ford in G-Men" of Conover, N.C.
In the past, we've commemorated chapter milestones like the founding of the 1,200th chapter with semi-lavish prize packages for the new chapter and one of our earlier ones. This time we are instead donating $100 in the name of both of the chapters to the Mayberry for America Fund, which will in turn be donated to one or more of the Twin Towers disaster funds. (We haven't selected which one or ones yet because we're waiting to see which charities are making the best use of donations.)
A group of fans in several places are in the process of starting a chapter, but are still working on a name. A new location working on chapters since the last "eBullet" is Milton, Del.
If you are interested in starting a chapter of TAGSRWC, all you have to do is pick a name that has not already been chosen (check online for a list of chapter names that are already taken: http://iMayberry.com/tagsrwc/wbmutbb/anewsome/private/searchchapters.htm) and submit a list of your founding members by postal mail to TAGSRWC's HQ at 9 Music Square South, PMB 146, Nashville TN 37203-3286. We'll verify your chapter name choice and send you an official Chapter Charter.
Or if you would like to join or contact an existing TAGSRWC chapter in your area, send a postal mail to TAGSRWC' s HQ and we'll help get you in touch.

**** AUNT BEE'S RECIPE FILE ****
This recipe comes from actor George Lindsey. It was first published in "Aunt Bee's Delightful Desserts" cookbook (available at Weaver's)..
Goober's Banana Pudding
¼ cup sugar
2 tablespoons cornstarch
pinch salt
2 cups milk
4 egg yolks, beaten
1 teaspoon vanilla extract
1 cup fresh whipped cream
vanilla wafers
5 ripe bananas, sliced
Mix the first three ingredients in a double boiler. Slowly add milk and cook, covered, over boiling water without stirring for 9 minutes. Uncover and cook for 9 more minutes. Add the egg yolks and stir while cooking for 2 more minutes. Cool. Then add vanilla. Fold in whipped cream. Line a casserole dish with vanilla wafers. Fill with alternating layers of pudding and bananas. Begin and end with pudding. Serves 8.

**** MISS CRUMP'S MAYBERRY QUIZZES ****
The deadline for our last trivia Quiz (#51) was Oct. 3. The answers and a brand new Quiz will be in the November issue of "The Pocket" newsletter and in the December "eBullet."

**** MAYBERRY WORD SEARCH GAME ****
Word search puzzles have been a frequent and popular feature of the printed "Bullet" since its very early days. We won't take up space (or wrestle with formatting problems) in our online newsletter, but we do have an online interactive Mayberry Word Search puzzle that you can have fun with. Follow this link (http://iMayberry.com/tagsrwc/wbmutbb/wbmutbb/wordsearch/wordscrh.htm) if you'd like to try it out. We have more puzzles on our interactive crossword puzzle site. Just drop by to play either Gomer's (http://tagsrwc.com/interactive/crossword/GomersCrossword.html) or Emma's (http://tagsrwc.com/interactive/crossword/EmmasJawalking.html) puzzle. We also welcome your new puzzles so send 'em in!

**** WEAVER'S DEPARTMENT STORE ****
You can find Mr. Weaver's full lineup of favorite Mayberry items at http://iMayberry.com/tagsrwc/weavers/ but here are some of the newest items.
* MAYBERRY FOR AMERICA T-SHIRT ($16.00)

We have created a "Mayberry for America" T-shirt as a way for Mayberry fans to have a colorful, wearable way to show not only their compassion for the victims of the recent terrorist attacks, but also their support for the ongoing effort to help the families of the victims. The T-shirts are white, 100% cotton Hanes Beefy T. All of the profits from our sale of this shirt will go to the Mayberry for America Fund supporting disaster relief. The available sizes are M, L, XL, 2XL and 3XL.
*MAYBERRY MOUSE PADS ($10.00 each)
We have brand new Mayberry Mouse Pads in three fantastic designs: "Andy & Opie Fishing" (in full color), "Bug-eyed Barney" and "The Loaded Goat." (They also make nice coasters if you're a giant.) Check 'em out in the "What's New?" section at Weaver's.
* THE BEST OF THE ANDY GRIFFITH SHOW DVD ($14.00)
This DVD contains the following episodes: "Class Reunion," "Opie and the Spoiled Kid," "Aunt Bee's Medicine Man," "Andy's English Valet," Rafe Hollister Sings," "And Discovers America," "The Darlings Are Coming" and "Mountain Wedding".
* THE BEST OF BARNEY DVD ($14.00)
This DVD contains the following episodes: "High Noon in Mayberry," "The Great Filling Station Robbery," "The Rivals," "Dogs, Dogs, Dogs," "The Loaded Goat," "Barney's First Car," "A Wife for Andy" and "The Big House."
* DVD 2-PACK ($25.00)
Get both of the above DVD's together for the Special Price of $25.00.
* MEMORIES OF MAYBERRY BY JEWELL KUTZER ($20.00)
This brand new book (not to be confused with "Mayberry Memories: The Andy Griffith Show Photo Album" by Beck and Clark, published last year) is a collection of Jewell's personal memories of growing up in Mount Airy during the same era as Andy Griffith. It's a very interesting look at Mount Airy and some of its connections, both old and new, to Mayberry. Lots of nostalgic and recent Mount Airy photos and drawings in 184 highly readable pages. The perfect companion for a visit to Mount Airy and almost like a visit there even if you can't visit the town yourself.
* "THINKIN' ABOUT MAYBERRY" CD with DAVID BROWNING as the Mayberry Deputy and VW BOYS ($12.00)

David Browning has brought smiles and laughter to fans of The Andy Griffith Show for years through his portrayal of The Mayberry Deputy. His wholesome family humor brings Mayberry to life at all of his performances. This CD will allow fans that have seen him in person to relive the fun over and over again and allow those that have never had the pleasure of experiencing his performance in person to share in the Mayberry fun.
David is not only a great performer but also, in the words of Gomer Pyle, "a wonderful human being." The VW Boys are a class act themselves. They have the talent to make you laugh along with them at the same time you're patting your feet to their great bluegrass music. The combination of music and comedy is something hard to do but these guys pull it off with style. The Mayberry Deputy and the VW Boys is a combination that you can't help but enjoy. It's 18 tracks of comedy and some music totaling about 40 minutes.
* ART GALLERY
The three newest sketches by artist Rod Sadler are Larry Hovis (Gilly Walker), writer Harvey Bullock and Sheldon Golomb (Opie's pal Arnold Bailey). There are now a total of 10 sketches, all signed both by Rod and the sketch subjects. There's also lots of other nice Mayberry-related artwork at the Art Gallery.
* WEAVER'S GIFT CERTIFICATES
With the holidays coming up, don't forget that Weaver's now has Gift Certificates for those who just can't decide what to get. Like all of the items at Weaver's, they're available online, by our toll-free number or by mail.
And just a reminder about several new items that were in the last "eBullet": "Mail Pouch" Thermometer (like the one at Wally's), Fife Security Thermometer, Fife Security Light Switch Plate, a new CD and autographed photo by LeRoy McNees (the Dobro-playing Country Boy in the "Mayberry on Record" episode), a collection of vintage Mayberry buttons, Goober's Memorabilia Grab-Bag of 25 Mayberry-related items (mostly printed programs from events and such) from the last 15 years.
Begining Oct. 1 and through Oct. 31, 10% of all sales at Weaver's are going toward the Mayberry for America Fund. On top of that, 100% of all sales (not just the profits, but all of the proceeds) from our "Special Items" section online will continue through Dec. 31 to go toward the disaster relief fund. And all of the profits from the sale of the "Mayberry for America" T-shirt will continue indefinitely to go toward the fund.
Before the next "eBullet" comes out in December, we're expecting several new licensed products, including embroidered golf shirts, long-sleeved denim shirts, sweatshirts and caps, and license plates. Keep an eye on the "What's New?" section at Weaver's for the arrival very soon of these new items.

**** CHAPTER NEWS ****
Since the last "eBullet," the biggest event for TAGSRWC's chapters and for Mayberry fans in general has to have been Mayberry Days in Mount Airy, N.C., at the end of September.


TAGSRWC Chapter Leaders
The weekend saw the largest attendance ever (including at least 85 chapters and fans from at least 29 states) and weather was as close to perfect as it could be. That, combined with the largest group of stars (Betty Lynn, Howard Morris, Doug Dillard, Maggie Mancuso, LeRoy McNees and George Spence) ever at a Mayberry Days, made this probably the most exciting Mayberry Days to date.
A special thanks goes to the staff and volunteers of the Surry Arts Council and all of the nice people in Mount Airy who make this event such a success and a joy for us fans-especially this September when we needed a good Mayberry experience perhaps more than any previous year.
Our online "Who's Been Messin' Up the Bulletin Board?" chapter organized a Silent Auction at Mayberry Days to raise money for the Surry Arts Council. This year's auction raised an impressive $2,291.50 (somebody must have added 50 cents for a tip for Olive over at the diner!).


Members of WBMUTBB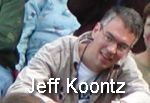 Jeff Koontz, who spearheads the auction and does so much for SAC and all of Mayberry throughout the year, was presented with the Mayberry Friendship Award, the highest honor bestowed by TAGSRWC, at the club's annual dinner/meeting during Mayberry Days.
Even with the record attendance, there were a few chapters who almost always attend that couldn't make it, including Mayberry Scout Troop #44 (Clear Lake, Wis.), whose leaders were saving up time off for delayed honeymoon, and Howard's Perfect Game (Russellville, Ark.), who were under the weather.
The Single Bullet Society (Bolivar, Ohio) also missed this year's Mayberry Days, but had a reason that would make Barney proud. Member Bruce Fisher traveled to Jackson, Miss., for the Police Nationals firing range competition. Bruce won First Place High Master/Industrial Division. And that was without his lucky rabbit's foot or even a four-leaf clover. But Bruce says that the best part was playing TAGS videos in the 30-hour round-trip van ride to and from the competition.
Members of "Mayberrry Goes Hollywood" chapter (a chapter made up of members of several chapters from throughout the country) made one of their regular trips to Hollywood for the Hollywood Collectors Show in October. Chapter members got to visit with Don Knotts, Betty Lynn, Howard Morris, Bernard Fox, Jackie Joseph and Margaret Kerrry at the show. Some members also got to visit with R.G. Armstrong, Kit McNear and Harvey Bullock during the trip. They were also able to visit Franklin Canyon Reservior which is the location where the Myers Lake was filmed. Check the eBullet Archives for this issue to see photos from the trip. http://tagsrwc.com/ebullet/archive/ (See the info for Mike Creech in the calendar above for plans for a trip to the Collectors Show in April.)
| | | |
| --- | --- | --- |
| | | |
| Franklin Canyon Reservior area where they shot the opening for TAGS. This shot is taken from above the camera level you see on the show. | This shot is from the exact angle you see on the show as Andy and Opie walk down the road going fishing. | Kit McNear opened his home and allowed the Mayberry Goes Hollywood Chapter to drop by for a visit. Kit still lives in the family home that was "Floyd's" (Howard McNear's) real home. |
| | |
| --- | --- |
| | |
| At Universal Studio the group spotted the home used for the external shots of Matlocks house. | Group members were able to visit with Harvey and Betty Bullock for a few hours during the trip. Harvey wrote 26 episodes of TAGS by himself and another five episodes with his partner Ray Saffian Allen. Harvey and his wife are two wonderful people and it was wonderful meeting them in person after e-mailing with them for so long.-Allan Newsome |
Many chapters have had meetings in the last couple of months, including a recent large gathering by Mayberryville chapter (Berryville, Ark.) and "Mayberry Says Thanks and Happy Motoring" (Phoenix, Ariz.), which held its 172nd meeting in October. With Halloween providing an extra reason to dress up as Mayberry characters for meetings (not that we ever need an extra reason!), October is always an especially active time for interesting chapter meetings.
Several chapters continue to publish chapter newsletters on a regular basis. Especially inspired recent issues have been published by the Mayberry Undercover Agents (Danville, Va.) with their "Mayberry Minute," by Mayberry chapter (Knoxville, Tenn.) with its "Mayberry Minutes" and by "Doggone Firefly Hit Me, Knocked Me Right Down" (Huntingburg, Ind.) with "The Firefly" newsletter. And we're pleased to report that the newsletter for Barney chapter (Greensboro, N.C.) is back to back up to full speed with editor Jim Ballance recovering well from eye surgery.

**** NEWS OF CAST AND CREW ****
Andy Griffith continues to stay close to home in Manteo, N.C., and continues to do well following last year's heart surgery.
See the mentions above in "Chapter News" for news about cast members who attended Mayberry Days in September and the Hollywood Collectors Show in October. Don Knotts was among the stars at the Collectors Show. He also performed with Tim Conway in their two-man show in Michigan in September.
Ron Howard's new movie, "A Beautiful Mind," is one of the most anticipated films of the upcoming holiday movie season. It opens on Christmas Day and features Clint Howard and other Howard family members.
Concerns about air travel caused Jim Nabors to cancel some of his performance dates for the last part of this year, but he's still planning his annual Christmas show in Honolulu. (See the calendar listing above.)
George Lindsey has had a very busy fall-having recently performed in South Dakota, Indiana and Tennessee, as well as having done some TV commercials in North Carolina. He has dates coming up in North Carolina and Vermont and likely Michigan, plus a schedule that's already filling up for 2002.
In addition to activities reported above, Howard Morris is working on plans to perform in a play next summer. We'll have details in a future "eBullet" once everything is confirmed. And don't forget about his special performance of "Love Letters" with Betty Lynn in Mount Airy in February!
Darlings boy Rodney Dillard has been working on some album projects, both as producer and performer. Also, his "Mayberry Values" program is heard on about 20 stations nationwide, and he performs his "Mayberry Values" concert/presentation for church groups and other organizations, including one organized by TAGSRWC's Aunt Bee Haven chapter that coincided with the 41st Anniversary of TAGS on Oct. 3 at a church in Anniston, Ala.
James Best has had an extremely active 2001, with several public appearances, including a "Dukes of Hazzard" reunion at Cooter's Place in Virginia that drew several thousand fans in August. He also had another successful show of his artwork in South Carolina. And he has filmed a pilot for a TV series called "Redeye" that will air initially in Europe. The series is being produced by Jim's daughter Janeen.
Bernard Fox appeared in an October episode of the hit ABC series "Dharma & Greg." And the door seems to be open for a possible return of his character in future episodes.
Jackie Joseph (our "Sweet Romeena") reports that she had a wonderful time at the Hollywood Collectors Show in October, when she got to see many friends among both the stars and the fans who attended. She also conveyed that she stays in touch with former husband and Mayberry star Ken Berry and that he is doing very well. Next up for Jackie is some more globetrotting (she has been doing a lot of that the last couple of years)-this time back to Europe for several months. But Mayberry is always close to her heart, just as she herself is to Mayberry's heart.
Joy Ellison, who played several school-aged Mayberrians, including Opie's first-grade girlfriend Mary Wiggins, has had a full year of doing dialect work for feature films. She recently finished work as dialect coach for a film with Jennifer Anniston called "A Good Girl." She also is working with Meg Ryan and Antonio Banderas on separate film projects. And she is working with Catherine Zeta Jones for the film version of the hit musical "Chicago."
TAGS music maestro Earle Hagen is putting the finishing touches on his autobiography. We expect to have copies (likely autographed) available at Weaver's as soon as the book is released-probably sometime before the end of January.
TAGS actor and Mayberry Days favorite George Spence filmed an episode of "FBI Files" that is airing this season, and he once again played the role of Governor White in the acclaimed outdoor drama "The Lost Colony." (George first appeared in the drama over 50 years ago when he performed with friend Andy Griffith.)
We're sorry to report the passing of legendary character actor Owen Bush, who appeared in three episodes of TAGS (as Jason in "Off to Hollywood," Episode #166; as Mr. Hammond in "Goober's Contest," #219; and as Doyle Perkins in "Opie's First Love," Episode #220). He passed away on June 12 at the age of 79.
Owen Bush, a native of Savannah, Mo., appeared in a couple of dozen films, including the acclaimed "Bonnie & Clyde" with fellow TAGS alums Denver Pyle and Michael J. Pollard and "The Apple Dumpling Gang" with Don Knotts. He appeared in many of the top series throughout the 1960s through the 1980s, including work with TAGS-related stars in "Gomer Pyle, U.S.M.C." and "The Dukes of Hazzard." He continued to work through the last years of his life. Some of his most widely seen work in the last few years was in an often-shown commercial for FedEx.

**** CLOSING ****
That's our news for this issue of "The eBullet." Look for your next issue in December.
The eBullet is copyright 2001 by TAGSRWC
To UNSUBSCRIBE from eBullet:
http://www.tagsrwc.com/ebullet/unsubscribe_ebullet.htm
To Tell Folks About eBullet:
http://www.tagsrwc.com/ebullet/joinebullet.htm
eBullet Archives:
http://www.tagsrwc.com/ebullet/archive/