To Subscribe click here
To Unsubscribe click here
---

Volume 1, Issue 2


---

---

August 27, 2001


---
*********************************************
The eBullet
Online newsletter of
"The Andy Griffith Show" Rerun Watchers Club
Volume 1, Issue 2 August 27, 2001
*********************************************

**** Editor's Corner ****
Welcome to the second official issue of "The eBullet," an online newsletter of "The Andy Griffith Show" Rerun Watchers Club (TAGSRWC).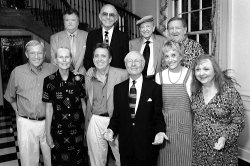 Click photo for larger image.
MEETING THEGOVERNOR - It was a fine "How do you do?" (but no Mrs. Wiley!) when eight of the stars of June's Mayberry Cast Reunion at Opryland Hotel attended a reception hosted by Tennessee Governor Don Sundquist and First Lady Martha Sundquist attheir official residence. Pictured here are (l-r, front row) Gov. Sundquist, Mrs. Sundquist, Rodney Dillard, Howard Morris, Maggie Mancuso, Betty Lynn and (l-r, back row) Bernard Fox, Doug Dillard, Don Knotts and George Lindsey. (Dillards member Dean Webb's flight unfortunately didn't arrive in town in time for the Governor's party.) Photo by Jed DeKalb.
"The eBullet" is sent out to subscribers approximately every two months (June, August, October, December, February and April). "The eBullet" is teaming up with our brand new paper newsletter, "The Pocket" (published in July, November and March), to replace our long-time paper newsletter, "The Bullet."
(To subscribe to "The Pocket" and/or 2001's final issue of "The Bullet," go to Weaver's Dept. Store and click on "The Bullet, The Pocket & eBullet" link.)
http://www.iMayberry.com/tagsrwc/weavers/
Weaver's Dept. Store also has its own online newsletter, creatively called "The Weaver's Newsletter," that comes out in alternate months to "The eBullet" and has more of an emphasis on news about new Mayberry products.
Because of the different formatting requirements of subscribers' computers, we'll provide links to photographs rather than including photographs in the actual "eBullet," which necessarily must be a "text only" newsletter.
We very much want your feedback about what you like and don't like about "The eBullet," as well as any technical difficulties that "The eBullet" presents for your system. You can send e-mail to us at: ebullet@tagsrwc.com
Between issues of "The eBullet," keep up with the goings-on in Mayberry with the more-or-less daily "Who's Been Messin' Up The Bulletin Board?" Digest. It's a free subscriber list that consists entirely of comments, news flashes, and questions and answers from subscribers. You can sign up for that list by going to the TAGSRWC Web site and clicking the "Mailing Lists" link.
TAGSRWC's other main vehicle for Mayberry information is simply our Web site at http://tagsrwc.com/. It has extensive content and links for just about everything a Mayberry fan might be looking for.
We hope that through "The eBullet," "The Pocket," the "Who's Been Messin' Up the Bulletin Board?" Digest, "Weaver's Newsletter," tagsrwc.com and our network of about 1,200 local chapters that all Mayberry fans can easily find desired information and ways to enhance their enjoyment of watching "The Andy Griffith Show."
Now on to this month's news.
**** UPCOMING EVENTS ****
Check the Event Calendar for a complete rundown by going to the "Event Calendar" link at http://tagsrwc.com/.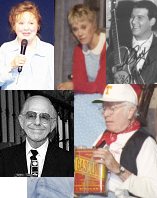 (Left to right) -
Betty Lynn, Maggie Peterson, LeRoy McNees, Doug Dillard, Howard Morris and George Spence (not pictured) are attending the 2001 Mayberry Days.
The big event coming up is the 12th Annual Mayberry Days in Mount Airy, N.C., September 27-29. Festival favorites Maggie Peterson Mancuso (Charlene Darling), Doug Dillard (the banjo-playing Darling boy) and George Spence (Frank the boyfriend in the "Guest in the House"episode) are the TAGS cast members who are returning this year.
We're also excited to report that Betty Lynn (Thelma Lou), Howard Morris (Ernest T. Bass) and LeRoy McNees (Dobro-playing Country Boy in two episodes, most notably in "Mayberry on Record") will be joining this year's Mayberry Days festivities.
And, believe it or not, another special guest star or two is possible. Visit http://www.surryarts.org/ for the latest information about the weekend's full schedule and ticket availability. It surely promises to be the most star-studded and action-packed Mayberry Days ever!
The weekend after Mayberry Days (Oct. 6 and 7) Don Knotts, Betty Lynn, Howard Morris and Bernard Fox will be among the dozens of celebrities signing autographs and greeting fans at the Hollywood Collectors Show at the Beverly Garland Holiday in North Hollywood, Calif. See www.hollywoodcollectorshow.com for more information.
And the Saturday after that (Oct. 13), Jim Nabors will be performing at the Governor's Palace in Pigeon Forge, Tenn. (For tickets and info, call 1-888-439-1111.) Again, check the Events Calendar at www.tagsrwc.com for more information and updates.
**** CHAPTER UPDATE ****
The following chapters have started since our report in the last issue of the last "eBullet":
"Nature's Been Real Good to You" -- Babson Park, Fla.
"Spread a Little Sunshine" -- Fort Worth, Tex.
"Barney, You Beat Everything" -- Christiansburg, Va.
"Well, We've All Gotta Go Sometime" -- Anna, Ill.
"Men and Blabbermouths" -- Culloden, W.V.
Floyd's Barbershop and Tonsorial Parlor -- Lebanon, Tenn.

At the TAGSRWC Annual Dinner/Meeting during Mayberry Days, we will announce which chapter has become our 1,200th chapter of TAGSRWC. The 1,200th chapter and one of the other 1,199 chapters (to be selected at random during the meeting) will receive a special prize as a way to celebrate and commemorate the milestone.
A group of fans in Greenville, S.C., is also working on starting a chapter, but their first choice for a name was already taken. If you are interested in starting a chapter of TAGSRWC, all you have to do is pick a name that has not already been chosen (check online at the URL below for a list of chapter names that are already taken ) and submit a list of your founding members by postal mail to TAGSRWC's HQ at 9 Music Square South, PMB 146, Nashville TN 37203-3286. We'll verify your chapter name choice and send you an official Chapter Charter.
http://www.iMayberry.com/tagsrwc/wbmutbb/anewsome/private/searchchapters.htm
Or if you would like to join or contact an existing TAGSRWC chapter in your area, write to TAGSRWC's HQ and we'll help get you in touch.
**** AUNT BEE'S RECIPE FILE ****
It's August, it's hot and Aunt Bee just doesn't feel like cooking this month. So we thought this would be a good time to run the only "unserious" recipe from "Aunt Bee's Mayberry Cookbook." It's from Darling boy Rodney Dillard and here it goes.
Rodney Darling's Blackened Pig
1 medium to large pig
1 medium size house
Sauce (optional)
Run the pig into the house. Shut all of the doors. Set the house afire. Return in 3 days with oven mitts. Search and serve. Serve with sauce if desired. Serves the entire Darling family.
Sooey! Now that'll make everybody's August just a little bit hotter!
**** ANSWERS TO MISS CRUMP'S MAYBERRY QUIZ #50 ****
We had several people get all of the answers correct to this quiz, which was presented in the final issue of "The Bullet" in April and in the first "eBullet" in June. We drew a name from Goober's beanie to select the winner: Stan Nicholson of Ash Flat, Ark.
Congratulations to Stan, who wins his choice of any one item available in that final "Bullet"! The answers that Miss Crump was looking for are:
When Andy thought he might be getting an offer to work there from Ed Crumpacker (when "Barney Runs for Sheriff") and also the visit with "Aunt Bee and the Lecturer" Hubert St. John, who wrote the book "I Know South America."
As Andy says, "The Maharajah of Singapore doesn't have lunches like that" when "Opie Steps Up in Class" and Aunt Bee goes all out to impress his rich friend.
Andy saw it as a potential investment before Laundercoin washed up.
"Gluttons, gluttons, gluttons, glut-tons" eat Aunt Bee's homemade pickles and "Gluttony" is the topic of an upcoming sermon during "Andy's Trip to Raleigh."
Since there's plenty of time to relax in "Crime-free Mayberry," Andy offers to sing this song to Barney.
BONUS: Even "Opie and the Spoiled Kid" know that the answer is Henry "Shopping Bag" Leonetti.
**** MISS CRUMP'S MAYBERRY QUIZ #51 ****
Here's another quiz from Miss Crump with the prize once again being the winner's choice of any one item still available from the final "Bullet" (or online at Weaver's Department Store, except in the Collectibles and Special Items sections). The deadline for entries to be postmarked or emailed is Oct. 3, 2001. If there's a tie, we'll draw a name from all of the correct entries. (E-mail your answers to ebullet@tagsrwc.com or mail them to TAGSRWC, 9 Music Square South, PMB 146, Nashville TN 37203-3286.) Good luck!
Who is said to travel during "the very witching time of night"?
What is Sandy the dog known to say?
Who in Mayberry reviewed the book "Roses Are the Backbone of Your Garden?"
Identify two poems from which Howard Sprague has recited portions.
Name a movie that has been rated 3½ clovers by "The Mayberry Gazette."
BONUS: Name three people in Mayberry who have done impersonations of Cary Grant. HINT: This question might require knowledge of "Mayberry R.F.D." (Well, it is a bonus question, after all.)
The answers to this quiz will be in the November "Pocket" and the December "eBullet." Good luck!

**** MAYBERRY CROSSWORDS ONLINE ****
Crossword puzzles have been a frequent and popular feature of the printed "Bullet" since its very early days. We won't take up space (or wrestle with formatting problems) in our online newsletter, but we do have a couple of new interactive Mayberry crossword puzzles that you can have fun with. Follow the link below to "Emma's Jaywalking" puzzle designed by Sue Wilkerson of "I'm in It for Keeps" chapter (Albertville, Ala.) OR the link to "Gomer's Crossword Fill 'er Up" puzzle by Lavell Hall for some puzzling fun that originally appeared in "The Bullet" several years ago. We plan to add more puzzles to this interactive crossword site in the future. (We also welcome your new puzzles!)
http://www.tagsrwc.com/interactive/crossword/EmmasJawalking.html
http://www.tagsrwc.com/interactive/crossword/GomersCrossword.html
**** WEAVER'S DEPARTMENT STORE ****
You can find Mr. Weaver's full lineup of favorite Mayberry items at:
http://iMayberry.com/tagsrwc/weavers/
Here are some of newest items.
* "Mail Pouch" Thermometer (Cool Stuff Section)
This all-weather item is the same brand and very close to the same design (mainly just a little smaller) as the thermometer that can often be seen mounted on the outside doorframe at Wally's (and Goober's) fillin' station. It measures 17 in. x 5 in. and tracks the full range of degrees worth measuring, but we know that Floyd's favorite will always be 92. Oh, yes, it's hot and only $21.00
* Fife Security Thermometer
(Cool Stuff Section)
You can always make sure that you stay "as cool as the center seed of a cucumber" (or else know if you're in hot pursuit, whichever the case may be) just like Barney with this brand new Fife Security Thermometer. Like the Mail Pouch Thermometer, this sizzling thermometer measures 17 in. x 5. in. and is made for indoors or outdoors. It's all weather and only $21.00.
* All-Season Special: Pair of Thermometers (Cool Stuff Section)
If you need to check the weather in two places at once or maybe if you just like an extra Mayberry touch around your home or place of business,
you can get the pair of Mayberry Thermometers (one Mail Pouch and one Fife Security) and save. The Thermometer Pair: $39.00.
* Fife Security Light Switch Plate (Cool Stuff Section)
This wiry new item is a real light touch. That's right, light up your Fife with this standard-sized light switch plate. Whether on or off, the light in any room is always just right with this fun switch plate. Endorsed by Mt. Pilot Fun Girl "Skippy." Each switch plate is only $9.00.
* New CD by Cast Member LeRoy McNees (Music Section)
Ace bluegrass Dobro player and singer LeRoy McNees, who performed in two TAGS episodes, has just released a new CD called "Together" with the Canadian bluegrass group Jerusalem Ridge. Weaver's offers the 14-song CD (including a cut called "The Andy Griffith Show Medley"!) for $17.00. Or you can get a combo deal with the CD and an autographed photo of LeRoy performing with Andy Griffith and the Country Boys in the "Mayberry on Record" episode for just $19.00. (Psst! Get the combo!)
* Mayberry Buttons Collection (Special Items Section)
Ben Weaver rummaged around and found three classic buttons in his storeroom. Two are from events that are no longer held. All we have is our memories...and these buttons: neat Mayberry collectibles from the 1995 Squad Car Rendezvous and the 1998 Mayberry at MeadowView events.
The third button is the only one ever produced by "The Andy Griffith Show" Rerun Watchers. It dates from the mid-1980s. We can't remember for sure, but we think only a couple of hundred were made. But the remaining few are included in this special button collection for as long as they last. A set of all three buttons: $9.00 (Available only as a set of three.)
* Goober's Memorabilia Grab-Bag (Special Items section of Weaver's)
Doing some more rummaging, Ben Weaver found a whole bunch of interesting odds and ends that he thought other folks might enjoy. Some of the items are more than 15 years old and are nearly impossible to come by. Most of these items are promotional literature from assorted Mayberry-related events and products. It's sort of a hodge-podge, but with a nice cross-section of Mayberry memories. Each Grab-Bag contains a minimum of 25 different, mostly paper items. Visit the Special Items section of Weaver's for more details about these and other newly unearthed items (including a rare magazine and 30th Anniversary T-shirt) with limited availability.
Also, folks have started asking for them quite a bit, so beginning shortly after Labor Day, TAGSRWC will b
egin stocking DVDs that contain the 16 TAGS episodes that are currently available for general retail sales (the same 16 are already offered on videotapes at Weaver's.)
And, before the next "eBullet" comes out in October, we're expecting several new licensed products, including a mouse pad, caps and embroidered shirts. Just keep an eye on the "What's New?" section at Weaver's.
**** CHAPTER NEWS ****
Bunches of TAGSRWC chapters turned out for the Mayberry event at Pigeon Forge and even more for the one at Opryland. The events were like mini-Mayberry Days, for which early indications are also suggesting a record attendance.
Among the chapters reporting highly successful recent chapter meetings this summer are "A Dollar and a Quarter" (New Philadelphia, Ohio), Barney chapter (Greensboro, N.C.), "Mother Figure" chapter (Huntsville, Ala.), and "Hearty Eatin' Men and Beautiful, Delicate Women" (Tuscaloosa, Ala.). "Mayberry Says Thanks and Happy Motoring" (Phoenix, Ariz.) is holding its 170th chapter meeting this weekend.
Several members of "Trivial Trivialities" chapter (Georgetown, S.C.) performed in a local stage production of "No Time for Sergeants." Among the actors was chapter founder Keith Brown, who snagged the Will Stockdale role originally played by Andy Griffith.
Members of Mayberry Undercover Agents (Danville, Va.) continued their tradition of providing a strong Mayberry theme to law enforcement's National Night Out festivities in their area. They displayed their chapter squad car replica during Night Out activities in both Danville and Chatham, Va. David "Mayberry Deputy" Browning was also on hand in Danville. The chapter will be out in force and cleverly undercover during Mayberry Days as well.
Just this week, Mayberry chapter (Knoxville, Tenn.) was to be spreading the Mayberry word at the first Mayberry Night at the Ballpark held by the Tennessee Smokies minor league team. Several chapter members were planning to dress up as Mayberry characters and the chapter was going to set up a booth to share its enthusiasm for Mayberry with any interested baseball fans.
And finally, "Who's Been Messin' Up the Bulletin Board?" chapter continues to thrive online with 1,750 subscribers/members. The online chapter is heading up a fund-raising silent auction for the Surry Arts Council during Mayberry Days. For info about how you can be part of the auction, visit http://www.surryarts.org/.
*** NEWS OF CAST AND CREW ***
Andy Griffith has mostly been staying close to his home on the North Carolina Coast. He has been spotted at a couple of performances of "The Lost Colony "outdoor drama, which he starred in himself more than 50 years ago.
Don Knotts is enjoying a nice period of deserved rest after a busy 10 weeks earlier this year performing in "Norman, Is That You?" in Kansas City and then performing at Mayberry Cast reunion shows in Pigeon Forge and at Opryland Hotel in Nashville this summer.
The other Mayberry stars appearing with Don in Pigeon Forge were Betty Lynn and Howard Morris. The three were joined at Opryland by George Lindsey, Bernard Fox, Maggie Mancuso and three of the original Dillards (Rodney Dillard, Doug Dillard and Mitch Jayne).
Ron Howard is into the home stretch of work on his latest movie, "A Beautiful Mind." Father Rance Howard has a nice role in the zany summer comedy "Rat Race." And brother Clint Howard is starring in "The Clint Howard Variety Show" online at CountingDown.com or get there directly by going to http://www.clinthoward.com/. But be warned: The show, which bills itself as "the shortest, cheapest variety show in history" has enough "grit and edge" to make even Ernest T. Bass blush.
Ron Howard is pushing frontiers of taste of a different sort with a voice-over role in the summer film "Osmosis Jones." He's the voice of an animated white blood cell.
Golllleee, Gomer Pyle finally got that second stripe from the Marines. Well, kind of. On August 9, Gen. James Jones, commandant of the Marine Corps, made Jim Nabors an honorary Marine and promoted him to the rank of lance corporal during a private ceremony with 300 Marines and their family members at Camp Smith near Honolulu. We know Sgt. Carter would have been proud, proud, proud!
"On his way" to the summer Mayberry reunion shows in Tennessee, Howard Morris and son David made time to swing up to New York City to see "The Producers," the smash-hit Broadway musical by Howard's dear friend Mel Brooks.
George Lindsey recently appeared at the Illinois State Fair where he endured scorching August heat to meet many endearing fans and see a few old friends.
George also visited Mount Airy, N.C., in July to film segments for a 2-hour Travel Channel special called "TV Road Trip." The special features real places with connections to fictional TV shows. George had a blast visiting Mount Airy again and hanging out at the Snappy Lunch and Floyd's City Barbershop. James Best also appears in the same special (in the "Dukes of Hazzard" portion), which is slated for its premiere next April.
Rodney Dillard's Mayberry Values (http://www.mayberryvalues.com/) radio show is now syndicated to about 20 radio stations nationwide. He's been busy in the recording studio, too. His latest album as the Dillard/Haynes Band is "There Goes the Neighborhood."
Among the events where LeRoy McNees has performed recently is the Blueberry Festival in Edomonton, Alberta. He even got play some tunes with Doug Dillard Band lead singer Ginger Boatwright. LeRoy also will be a special guest during the Doug Dillard Band's Mayberry Days concerts in September.
Another Mayberry Days favorite, George Spence, has been playing the role of Gov. White again this summer in "The Lost Colony" on Roanoke Island, N.C. And look for new granddad George in an episode of "FBI Files" that will be airing in the new season.
Jean Carson reports that she is doing well and spent much of summer up in the mountains of Southern California to escape some of the desert heat. Back down in the desert, she also enjoyed her work as a volunteer instructor at a local drama camp this summer.
Also in the Palm Springs area, TAGS music man Earle Hagen has completed his autobiography, which should be published in the next few months. (You can be sure TAGSRWC and Weaver's will be stocking this fascinating book!) And listen for Earle as an answer on an upcoming episode of "Jeopardy."
TAGS associate producer (and personal manager of many TAGS actors, including Andy Griffith) Richard O. Linke was in the hospital for a few days recently, but he's back at home, doing fine and enjoying his tropical paradise in Hawaii. Dick and Bettina are also looking forward to a splendid wedding for daughter Bettina Marie in Hawaii next February.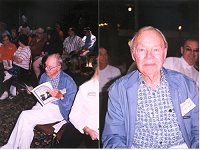 Sam Edwards at the Memphis Film Festival. Click photo for larger image. Photo by Mike Creech.
Sam Edwards, who appeared in several TAGS episodes, most memorably as the husband in both "Christmas Story" and "Andy Forecloses," appeared at both June's "Lum & Abner" convention in Arkansas and August's Memphis Film Festival. (To see a photo of Sam at the Memphis festival, visit The eBullet archive http://www.tagsrwc.com/ebullet/archive/ )
We're very sorry to report the passing of one of Mayberry's leading directors and one of the most prolific directors in all of film. Alan Rafkin died of heart disease at UCLA Medical Center on August 6. He was 73.
He was born in New York City and was a graduate of Syracuse University. His early show-business days were as a stand-up comic and actor. He then moved behind the camera, including a time as an assistant on "Captain Kangaroo." (His 1998 autobiography, "Cue the Bunny on the Rainbow," takes its title from one of his "Kangaroo" tasks.)
He directed episodes of more than 80 prime-time TV series, including virtually every major sitcom from TAGS, "Gomer Pyle, U.S.M.C." and "The Dick Van Dyke Show" to "The Mary Tyler Moore Show" and "M*A*S*H" to "Murphy Brown," "It's Gary Shandling's Show" (for which he won two cable ACE awards) and "Friends."
For TAGS alone, he directed 27 episodes. He was nominated for numerous Emmy Awards and won for a 1982 episode of "One Day at a Time." He also served as producer and executive producer for a variety of series.
Alan Rafkin had an especially good rapport with Don Knotts, with whom he worked not only on TAGS, but in several of Don's movies, including "The Ghost and Mr. Chicken," "The Shakiest Gun in the West" and "How to Frame a Figg."
EDITOR'S NOTE: In his autobiography (available at Weaver's), Alan Rafkin talks very candidly about his likes and dislikes about the shows he worked on and the people he worked with. He was a man who called things as he saw them. Fortunately, TAGS was one of the experiences that he singled out as being universally positive and completely enjoyable. His autobiography has an especially poignant resonance when read now because his honesty with himself, about himself and how he lived his life was just as straightforward as his observations about those he worked with.
That's our news for this issue of "The eBullet." Look for your next issue during the last half of October. Be sure to check the eBullet archives at http://tagsrwc.com/ to see the little extras (such as photos) that we can't send by email.
The eBullet is copyright 2001 by TAGSRWC
To UNSUBSCRIBE from eBullet:
http://www.tagsrwc.com/ebullet/unsubscribe_ebullet.htm
To Tell Folks About eBullet:
http://www.tagsrwc.com/ebullet/joinebullet.htm
eBullet Archives:
http://www.tagsrwc.com/ebullet/archive/